Review: Camelbak Repack LR4 1.5 Liter Lumbar Pack
Originally posted on January 7, 2020 at 0:03 am
In 1989, Camelbak founder Michael Eidson was competing in a 100-mile road race in the summer heat of Texas. Eidson, an emergency medical technician, decided to fill an IV bag with water and slip it into a tube sock. Then he stuffed it into the back of his jersey and secured it with a clothespin. No more stopping to fill bottles during a race; staying hydrated while riding, the concept of Camelbak hydration bags, was born.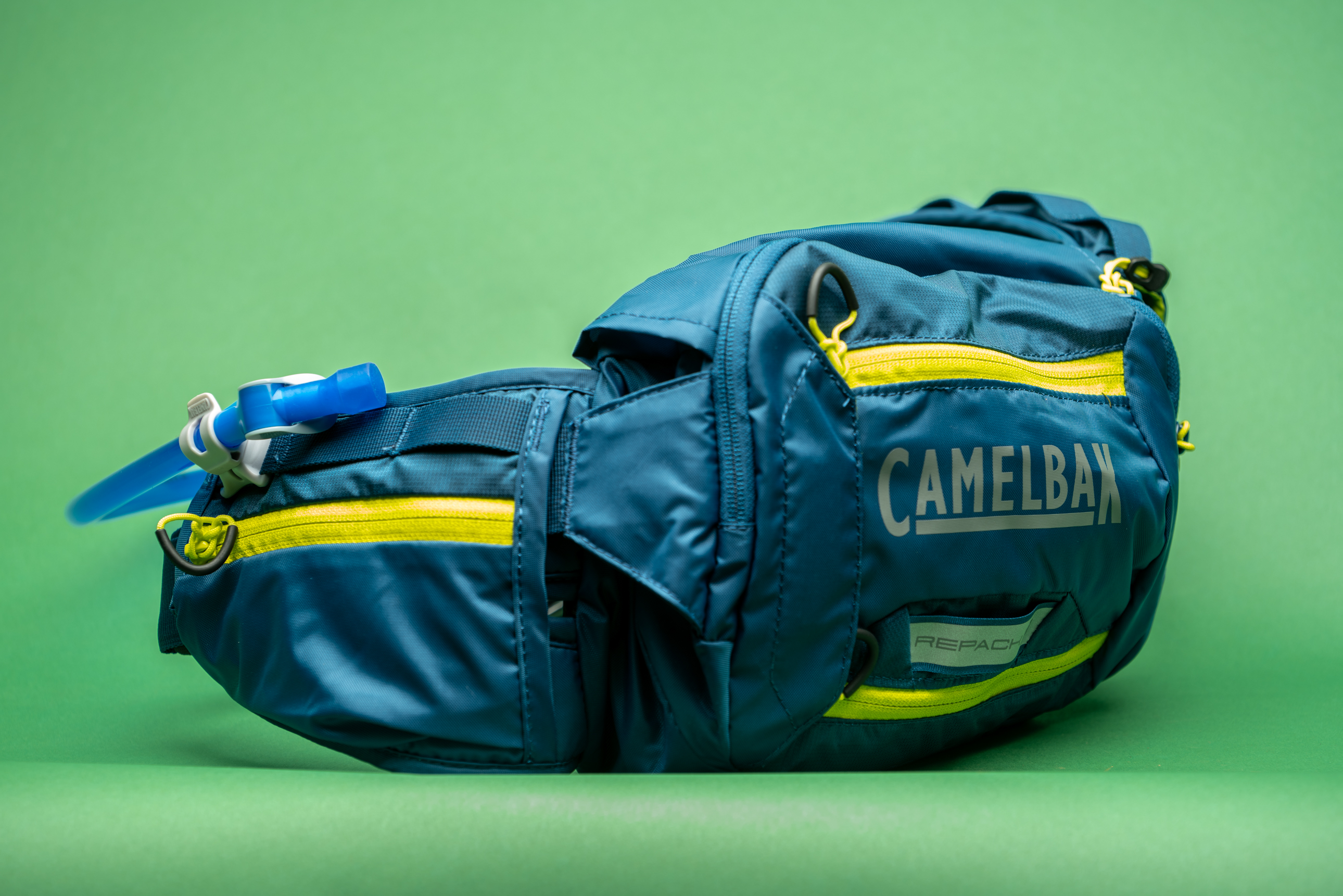 DETAILS
The Camelbak Repack LR4 Hydration Lumbar Pack has a 1.5 liter (50 oz.) reservoir with a waist fit: 71-116 cm (28-46 inches).  The waist adjusters have a buckle design taken from hiking packs. Both buckles cinch forward, which makes it easier to get leverage against the bag. Once adjusted, the straps stay snug. The pack also has Velcro straps to secure the excess strap out of the way once tightened and adjusted.
There are multiple pockets, including one large pocket near the bladder and two waist belt pockets. There is also an exterior pocket on the pack that has a Velcro closure and two zippers on the top and bottom for easy access to tools. The Velcro and zippers are quick to open and allow the pocket to open like a door providing easy access for on the trail repairs.
The Camelbak bladder hose has a  locking bite valve and a secure magnetic trap system for the tube.
FINAL THOUGHTS
Even when crammed full of water and trail essentials, the Repack LR4 rides well. With the 1.5 liter bladder, I can ride up to four hours, depending on the heat of the day.  One of my biggest gripes with lumbar hydration bags is often the hose attachment not staying on its magnet/clasp. The Repack LR4 shines in this area, never once flying off the Camelbak magnetic trap system.
Also, a big nod of "yes please and thank you" to Camelbak for the locking bite valve on the hose; I don't see this often with 1.5-liter bladders. I tend to leave my MTB bag with all my stuff in it, including my hydration bag with old water (dirtbag confessions) until the next ride. I've picked up my bag before and found it soaking wet.  A little thing, but much appreciated. The only constructive criticism with this pack is it's about 7 ounces heavier than other models I have, otherwise, it is one of the most comfortable lumbar bags I have experienced.
---
Camelbak Repack LR4 1.5 Liter Lumbar Pack
Price: $75
Specs: 20.49 ounces with reservoir and hose
Online: camelbak.com