Eat Me: Hog Wild in the Ozarks
Originally posted on December 18, 2019 at 0:34 am by Dave Joachim
Arkansas barbecue varies from place to place, but my Gramps taught me to love pig. (He grew up in Piggott, Arkansas.) Most Arkansans love pig. I mean, the state's football team is the Razorbacks. But residents now have a love/hate relationship with these animals. Free-roaming wild hogs cause nearly $1 billion in crop damage across the U.S. every year, and Arkansas is hit really hard. Feral pigs plow through fences, root around farmland, eat crops, destroy wildlife habitats and damage wetlands, making water pollution and soil erosion worse. They're definitely not helping maintain the awesome Ozark mountain bike trails, like the ones in Bentonville and Fayetteville. The state actually classifies feral pigs as an invasive species and public nuisance. Hunting them has helped a little, and it's encouraged, but trapping is more effective. Either way, don't be surprised if wild boar shows up on your plate in Arkansas. Gramps would be proud: Wild boar is delicious, especially when barbecued. Smaller ones — less than 200 pounds — taste best. Smoked real slow, pulled to shreds and mixed with lean, fiery BBQ sauce, the shoulder of any pig makes an incredibly satisfying sandwich. I almost always have a few containers of smoked pulled pork in my freezer. Sometimes I carry it on rides in a hot insulated water bottle with burger buns in a hip pack. Trailside pulled-pork sandwiches are a magical thing. Thanks, Gramps, for showing me the way! Keep in mind that if you use wild boar to make pulled pork, the meat is leaner than what you buy in a store. It helps to mix in some bacon drippings or even melted butter.
Smoked Pulled Pork
Makes 10 to 12 sammies
5 tablespoons BBQ rub
1 bone-in pork shoulder (Boston butt), about 7 pounds
5 cups (10 ounces) oak or hickory wood chunks or chips, optional 
1/2 cup bacon drippings or butter, optional
2 to 3 cups BBQ sauce, optional
12 squishy hamburger buns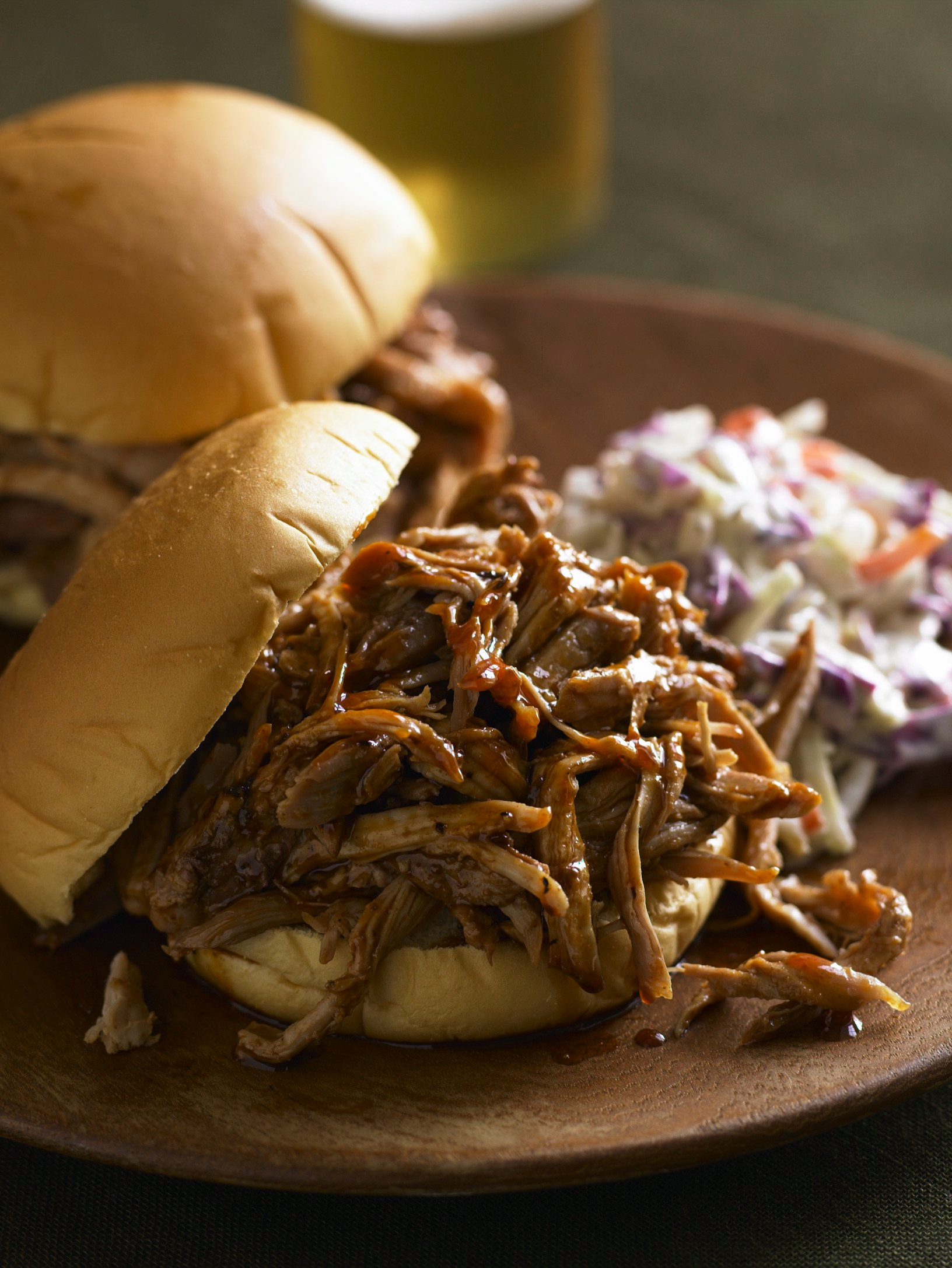 Use your favorite BBQ rub, or mix your own with 2 tablespoons paprika, 1 tablespoon brown sugar, 2 teaspoons salt and 1 teaspoon each mustard powder, onion powder, black pepper and cayenne pepper. Scatter rub over pork, cover and chill overnight or up to two days.
Fire up a smoker to 225 F. Or, on a grill, pile hot coals to one side or fire up the gas burners on only one side. Put a pan of hot water over the heat for steam and keep the pan full. For smoke on a charcoal grill, toss some wood chunks on the cooler edges of the coals. On a gas grill, wrap wood chips in a flat foil packet, poke holes in it and place it right over a lit burner beneath the grill grate. Replenish the wood whenever you no longer see smoke. 
Put the pork in the smoker or on the unheated side of the grill, fatty side up, and smoke it at 225 F, adjusting vents as necessary to maintain that temp in the cooker. (Try not to go over 275 F.). Cook until a fork turns real easily in the meat and it's got an internal temp of about 200 F. It could take anywhere from four to eight hours. Crack a beer. Mow the lawn. But stick around to maintain the cooker temp. If using wild boar, wrap it in foil after four hours, then put it in a pan in your home oven at 225 F for the rest of the time. That'll soften up the tough bugger.
When it's done, shred the meat with forks and/or chop it, discarding the bone and big globs of fat or gristle. If using wild boar, mix bacon fat or butter into the shredded meat. If it still needs sauce, mix in your favorite, then pile the meat on the buns and enjoy. My favorite sauce is lean and vinegary. To make it, heat all this stuff in a saucepot until just steaming: 2 cups cider vinegar, 3/4 cup ketchup, 1/2 cup water, 2 tablespoons sugar, 1 tablespoon mild hot-pepper sauce (such as Frank's), 2 teaspoons salt, 1 teaspoon red pepper flakes and 1/2 teaspoon black pepper. Coleslaw goes well on the side. You can also use pulled pork in quesadillas, omelets, nachos, pizza — whatever.  
Words by Dave Joachim, Photos by Alison Miksch
---
Editors Note: Does your stomach enjoy what you are reading here? Dave Joachim is a regular contributor to Dirt Rag Magazine and gifts us with one of his outstanding and delicious recipes each and every issue! If you would like to see more from Dave and his magical kitchen become a subscriber today here!