Eat Me: No Pancakes for Mothra
Originally posted on November 2, 2019 at 14:36 pm
Bzhiort! I can still hear the buzzing sound in my ear, like the Great Gazoo appearing out of nowhere. But this time the sound came with a tingling sensation. I was hanging with my crew at the 24 Hours of Allamuchy #eastcoastrocks XC race in the summer of … 2000, maybe? It was the year before the year it started raining every year. The time Dale brought his dee-luxe Kamp Kitchen with canopy, cookstove and worktable. On the first night, I'm in there making my go-to meal for a crowd, dump-and-stir pasta tossed with a tub of pesto, can of tomatoes, a jar of roasted peppers, a jar of artichoke hearts, sun-dried tomato bits, pine nuts and fontina cheese. Everyone's chilling in camp chairs, laughing, relaxed. I'm in the Kamp Kitchen having a totally different adventure. The lantern light's buzzing, the pasta pot's bubbling, my mind is reeling. I look out beyond the canopy and it's pitch black. Then, bzhiort! That sound! I fix my attention on the lantern in front of me and feel something in my left ear. Did a moth really just fly into my ear? I stick my pinky in my ear and feel it wiggle in farther. "Fuck!" I yell. That gets some notice. Selene, Christine, Dave, Dale and everyone else get up and hover around me, astonished, hazarding guesses on how best to extract the burrowed vermin. Eric grabs his tweezers. He pulls my ear to open the ear canal and goes in like he's playing Operation. He tweezes it — "I got it!" — then tugs and pulls and slowly removes … a single piece of wing. It goes from bad to worse: Now a one-winged moth is trapped in my ear. Finally, someone has the truly genius idea to shine a flashlight into my ear. Here mothy, mothy. Come to the light. It wiggles and a shiver shudders down my neck. It wiggles again. Then it eases out. Suddenly everyone lurches back away from me, gasping, putting their palms up like shields. What the hell?! Did Mothra just emerge from my ear?!
Before my race lap the next morning, to clear the buzzing memory of last night's monster movie and redeem the Kamp Kitchen as my happy place, I fry up my favorite camp pancakes. These cakes are somewhere between white-flour fluffy and whole-wheat heavy. You can make them however you like. Switch up the flours and nuts. Or go nutless. Add chocolate chips or shredded coconut. Make them your own. I always have some version of these pancakes in the freezer to toast in the toaster oven before rides or races. With berries in the summer and buckwheat in the winter, I eat them all year long. There's a special memory attached to them. Eating these sweet disks of chewy, nutty goodness reminds me that even if someday a damn bug crawls out of your ear, you keep going, and you follow your own line because sometimes the adventure chooses you.
*RIP Marty Epstein, who passed away in May 2019 after battling cancer. Marty's Reliable Cycle bike shop sponsored the 24 Hours of Allamuchy for many years.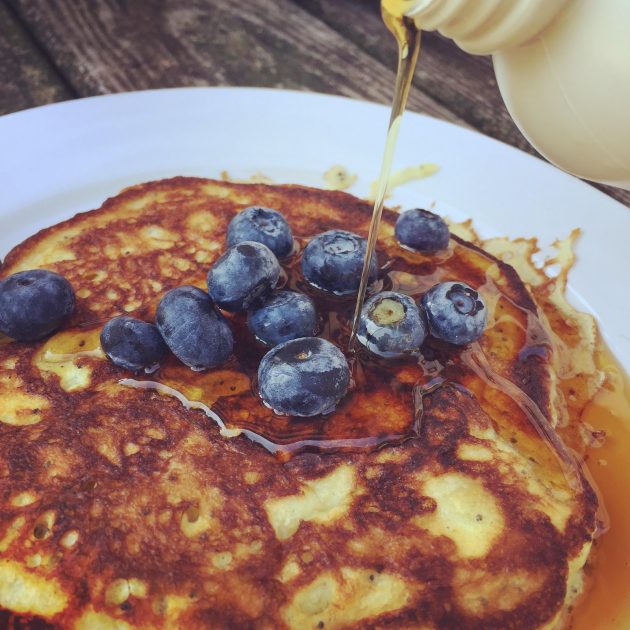 Camp Pancakes
Makes 14 to 16 five-inch pancakes
2 cups unbleached all-purpose flour
1 cup old-fashioned rolled oats
3/4 cup any chopped nuts
1/2 cup packed light brown sugar
1 1/2 tablespoons baking powder
1 1/4 teaspoons fine salt
2 eggs
2 1/4 cups any milk
2 tablespoons any oil (sunflower, coconut, etc.)
Put flour, oats, nuts, brown sugar, baking powder and salt in a big zipper-lock bag. Break up brown-sugar clumps, then shake bag to mix. Squeeze out the air, seal shut and stash pancake mix with your camp gear.
At camp, whisk eggs, milk and oil in a medium bowl. Pour dry ingredients into a big bowl, add liquids, then stir just until moistened, leaving a few lumps. Let stand 5 minutes to thicken.
Heat a nonstick griddle over medium heat. When hot, coat with oil or cooking spray and drop batter by half-cupfuls onto griddle; cook until edges look dry and the bottom is golden, 2 to 3 minutes. Flip and cook until golden on other side, 1 to 2 minutes. Serve with pure maple syrup. But not to moths.
Whole Grain: Replace all-purpose flour with whole-grain pastry flour. Or replace 1 cup of all-purpose flour with 1 cup any whole-grain flour(s). Add a little milk if the batter gets too thick.
Vegan: Replace eggs with any egg replacer and use any non-dairy milk.
CBD: Add your usual dose of CBD oil along with canola oil.
Fresh Berry: Drop a few summer berries on each pancake as it cooks, then flip.
Chocolate Coconut: Use coconut milk and replace 1/4 cup of flour with cocoa powder. Use up to 1/2 cup coconut flour, too. Replace nuts with 1 cup chocolate chips and 1 cup shredded coconut.
Fluffy Malted Buttermilk: Omit nuts and oats, and use 2 1/2 cups flour with 1/2 cup malted milk powder. Use white sugar instead of brown. Use buttermilk instead of milk, and use 1 teaspoon baking powder with 1 1/4 teaspoons baking soda.
Words and photo by Dave Joachim
---
Editor's note: This article originally appeared in issue 212 of Dirt Rag Magazine. Like what you see? Subscribe now at dirtragmag.com/subscribe to catch issue 214, we've got something big in the works!