First Ride: Ibis Ripley LS
Originally posted on October 26, 2015 at 12:33 pm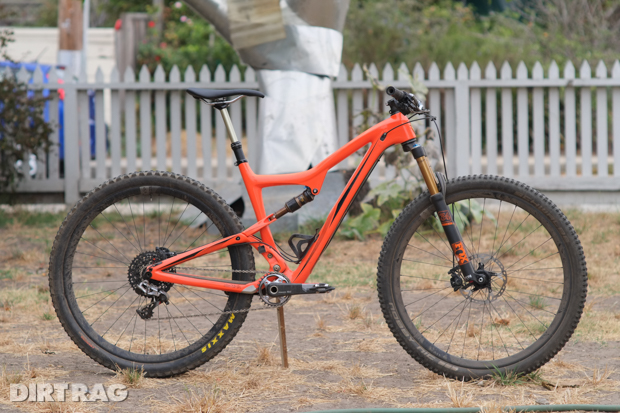 Last year, I reviewed the Ibis Ripley. I liked it well enough, but my tastes in mid-travel 29er leans towards low and slack, while the Ripley is more long-travel cross-country. I also got yelled at (via email) by for being too soft on the bike. Which was a valid complaint, as I had inadvertently cut a paragraph in editing that talked about my problems with the through-the-headtube cable routing, not super-stiff rear-end, and less-than-generous tire clearance in the rear end.
I did not know at the time that Ibis was working on an updated Ripley, but when I did, I was pretty stoked to see what Ibis had been up to:
From the Ibis website
– Two geometry options: The nimble geometry of the original or a new school long and slack version called the Ripley LS
– Internal cable routing using our flexible and easy to setup port system
– Increased tire clearance
– Threaded bottom bracket
– Seat mast lowered by 1/2" to accommodate today's longer droppers
– Choice of Boost 148 (staring in November '15) or 142mm x 12mm Shimano through axle (now)
– Stiffer eccentric cores
– New rubber molded chainstay and seatstay protection
– Two new colors (let's call them "Tang" and "Black")
I was very interested to try the LS version, and on a recent trip to Santa Cruz, Ibis was kind enough to loan me one of the few rideable production samples to take for a rip through some local trails.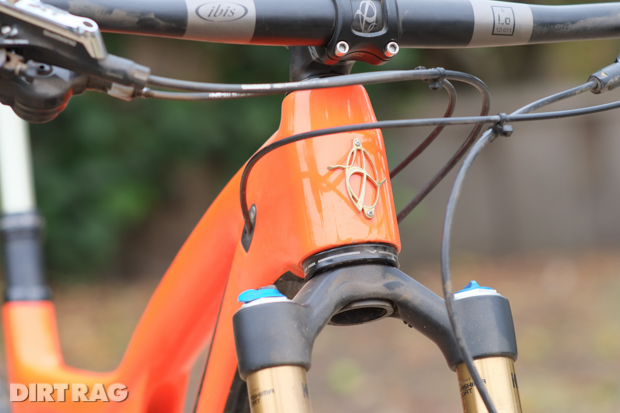 Much better cable routing.
\
Plenty of tire clearance.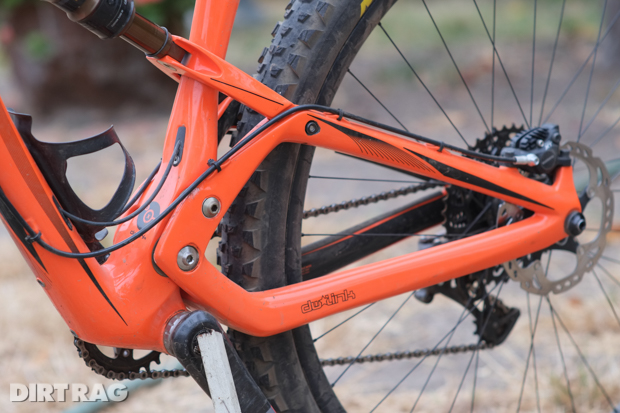 Is there a more elegant full-suspension design on the market?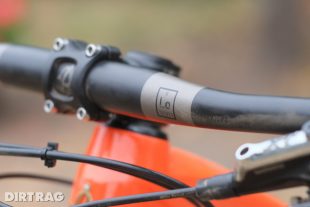 Ibis branded handlebar, stem and wide carbon rims.
I'd ridden the almost exact same route the day before on a loaner Santa Cruz Nomad, so the baseline was set pretty high for the Ripley LS.
As expected, the short-travel dw-link rear end pedaled very well, and offered more small bump comfort than I remembered, perhaps due to the 2016 Fox Float DPS EVOL rear shock. Or maybe all those acronyms confused me into a state of befuddled compliance.
Other than one super-fun rock garden, there wasn't much on this ride to test rear-end stiffness, and to be honest, I was too busy trying to find a clean line to worry if the claims of increased rear end stiffness were true or not. More riding is needed. More riding is always needed.
The long and slack geometry was very easy to notice, and to me, there is no question what option I would choose. What little "nimbleness" is given up with the increased wheelbase and front center is more than made up for with confidence when things get steep. The 17.4-inch chainstays are pretty middle of the road, and seem to offer a good compromise between stability, climbing ability and play-ability.
This isn't meant to be a full review; we plan to get a bike in for a proper long-term relationship as our first date was quite intriguing.
Ibis is making a pretty bold move here, offering two geometry options for the same bike, especially considering how small its product line is.
I appreciate Ibis listing the geometries for both Ripley and Ripley LS in the same chart, making it easy to see the important differences.
More details, as expected, on Ibis' website.
State with 130mm fork (537mm axle to crown)
| Nominal Size | | Medium | Medium (LS) | Large | Large (LS) | X-Large (LS) |
| --- | --- | --- | --- | --- | --- | --- |
| Seattube | A | 419 (16.5″) | 419 (16.5″) | 470 (18.5″) | 470 (18.5″) | 521 (20.5″) |
| Toptube | B | 587 (23.1″) | 600 (23.6″) | 607 (23.9″) | 619 (24.4″) | 640 (25.2″) |
| Headtube | C | 94 (3.7″) | 93 | 100 (3.9″) | 102 | 107 |
| Chainstay | D | 442 (17.4″) | 442 (17.4″) | 442 (17.4″) | 442 (17.4″) | 442 (17.4″) |
| Seat Angle | E | 72.2° | 73° | 72.2° | 73° | 73° |
| Head Angle | F | 69.2° | 67.5° | 69.2° | 67.5° | 67.5° |
| Wheelbase | G | 1105 | 1140 | 1125 | 1167 | 1187 |
| Standover Height (mid toptube) | | 745 (29.3″) | 740 (29.1″) | 745 (29.3″) | 740 (29.1″) | 750 (29.5″) |
| Stack | | 620 | 619 | 625 | 625 | 632 |
| Reach | | 390 | 411 | 406 | 428 | 448 |
| Trail | | 85 | 97 | 85 | 97 | 97 |
| BB Height (2.1″ tires) | | 331 (13″) | 325 (12.8″) | 331 (13″) | 325 (12.8″) | 325 (12.8″) |
| Sizing Guide (rider height) | | 163–175 (5'4″–5′ 9″) | 163–175 (5'4″–5′ 9″) | 175–188 (5'9″–6'2″) | 175–188 (5'9″–6'2″) | 183–198 (6'–6'6″) |
| 100mm KS seatpost minimum saddle height (center BB to center of saddle rail) | | 59cm | 59cm | 63cm | 63cm | 68cm |
| 125mm KS seatpost minimum saddle height (center BB to center of saddle rail) | | 65.5cm | 65.5cm | 66.5cm | 66.5cm | 71cm |
| 150mm KS seatpost minimum saddle height (center BB to center of saddle rail) | | 71cm | 71cm | 72cm | 72cm | 75.5cm |