Inside Line: New carbon Focus SAM C and Spine
Originally posted on June 29, 2015 at 6:42 am
When Focus first came to the U.S. in 2009, the brand made a name for itself in the road and cyclocross markets, but it wasn't able to bring its full mountain bike line across from Germany because of patent conflicts. Since that time, it has been able to expand its suspension offerings in the U.S., first with the aluminum SAM and now for 2016 the carbon fiber SAM C and the Spine.
SAM C
The SAM C is a 160mm travel all-mountain bike with 27.5 wheels and aggressive geometry with a slack head tube angle and long front center. Some key numbers:
65.8 degree head tube angle
75 degree head tube angle
430mm chainstays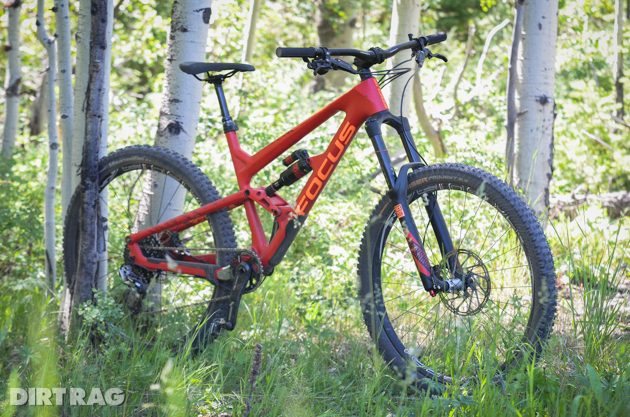 The new carbon fiber version is an evolution of the aluminum model retaining the traditional linkage-driven single pivot suspension. The entire structure is carbon, including the swingarm and linkage. This is a bike that clearly prefers descending, but it can get uphill thanks to a frame that weighs just 2,400 grams.
The frame also features internal cable routing through a port in the head tube and what Focus refers to as Stable Stiffness Per Size—the carbon layup changes throughout the size range to keep the ride quality consistent throughout the size range. The most visually striking aspect of the frame's design is the top tube's arrowhead shape that flares dramatically near the head tube.
There are three SAM C models. All three models ship with Rockshox Pike forks, dropper posts and single-chainring drivetrains though the frame can accommodate a front derailleur.
Team: SRAM XX1 build and DT Swiss wheels.
SL: SRAM XO1 build and DT Swiss wheels.
Pro: SRAM X01 and X1 mix with Concept wheels.
The aluminum SAM model will stick around for 2016 as well.
I took the SAM C for a quick demo ride and came away extremely impressed with its descending prowess. While the single pivot design lacks the more advanced axle path of more complex suspension layouts, the Rockshox suspension and carbon structure make it remarkably subtle over rough terrain. The combination of the light build and upright seat tube puts you in a comfortable position for climbing as well.
Spine C
While the SAM C would be the choice for all-mountain riding or enduro racing, the Spine C is likely to be a better choice for all-purpose riding. With a design similar to the SAM C but with 120mm of travel, it bridges the gap between cross-country and trail. Available with fork choices including a Rockshox RS-1, Rockshox Pike or Fox Float 32, it can be configured with sever distinct attitudes. It also features internal dropper post routing and a fixed front derailleur mount—It can even fit a triple chainring crankset.
Some key numbers:
68.3 degree head tube angle.
75 degree seat tube angle.
428mm chainstays.
The full carbon frame features all the same technologies as the SAM. While an aluminum Spine model is available in Europe, only the carbon fiber version is coming to the U.S. for 2016, in four trim levels:
0.0 – SRAM XX1 build with Rockshox RS-1 fork and DT Swiss wheels.
Factory – SRAM X01 build with Rockshox Pike fork and DT Swiss wheels.
SL – Shimano 2×11 XT build with Fox 32 fork and DT Swiss wheels.
Pro – Shimano 2×11 XT build with Rockshox Reba fork and Shimano/Concept wheels.
Pricing hasn't yet been set for the new Foucs models in the U.S., but it will be sorted by the time they go on sale in August.