Inspired Riding in the Swiss Alps
Originally posted on January 10, 2020 at 8:00 am by Cristina Olds
My friend and her husband were planning a trip to visit his mama in Russia, and they were considering a stop in Switzerland for a five-day mountain biking tour to break up the trip. "Would you all want to go, too?" she asked her girl posse on a ride. "Um, let me think about it. Hells YES!" was the obvious answer from all of us.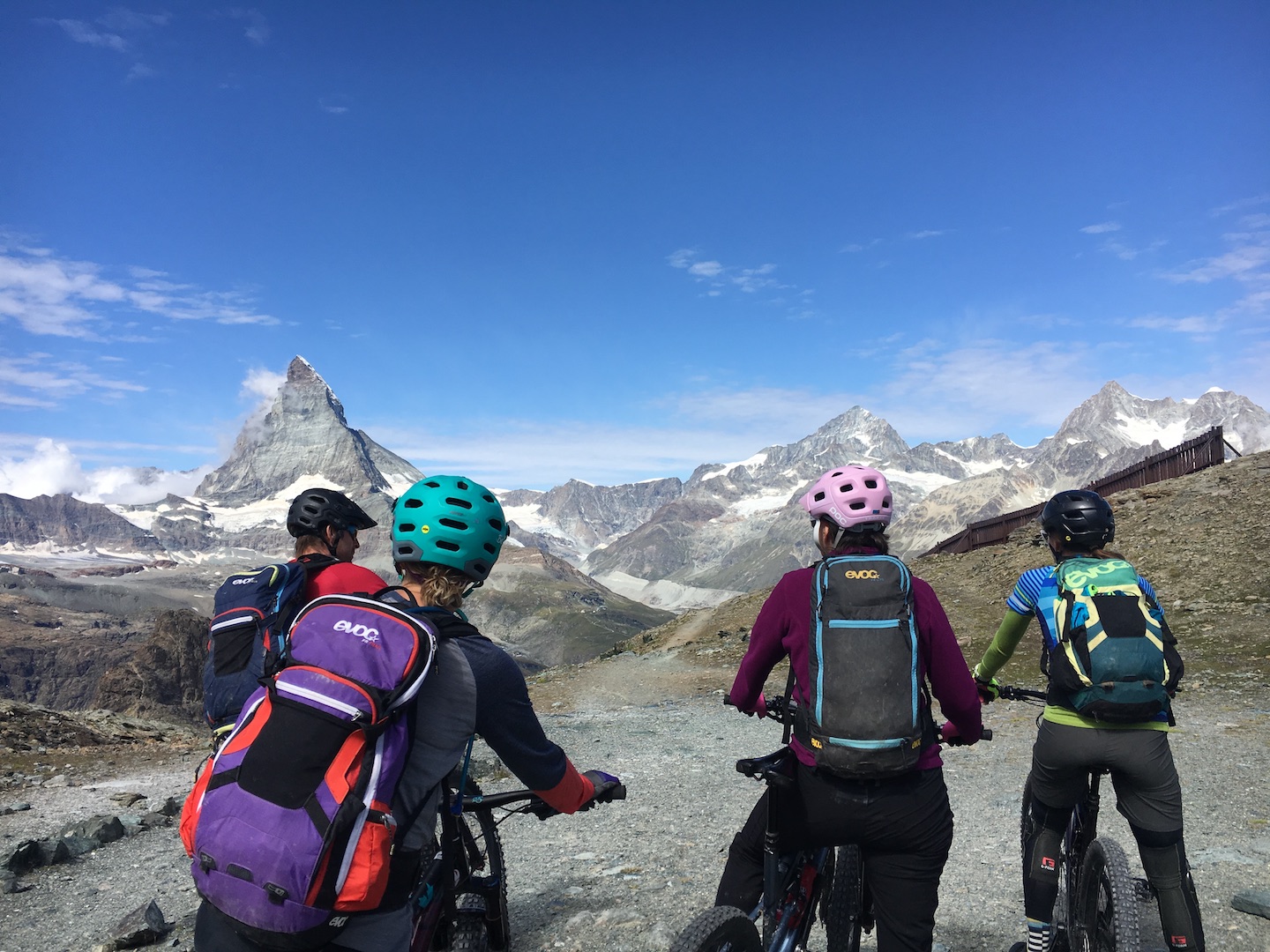 And the planning began. Another couple of our friends had found Inspired Mountain Bike Adventures, a small custom tour company, with an Internet search for mountain biking in Switzerland, and had raved about their experiences. It was an easy decision to follow their lead with this vetted company for our five-person group.
Owner and lead guide, Gabriel Klouda, was born in former Czechoslovakia and immigrated to Queens, New York, in 1981 — his English is perfect albeit interspersed with profanities in several languages. His family moved to New Jersey where he discovered mountain biking and cross country racing as a teen, and he worked at a bike shop there through college. He bike toured for a couple of summers in Europe and started guiding for a summer camp in Switzerland in 2000. In 2003, Gabriel moved to Lyon, France, where he married his French wife, and now has three kids there.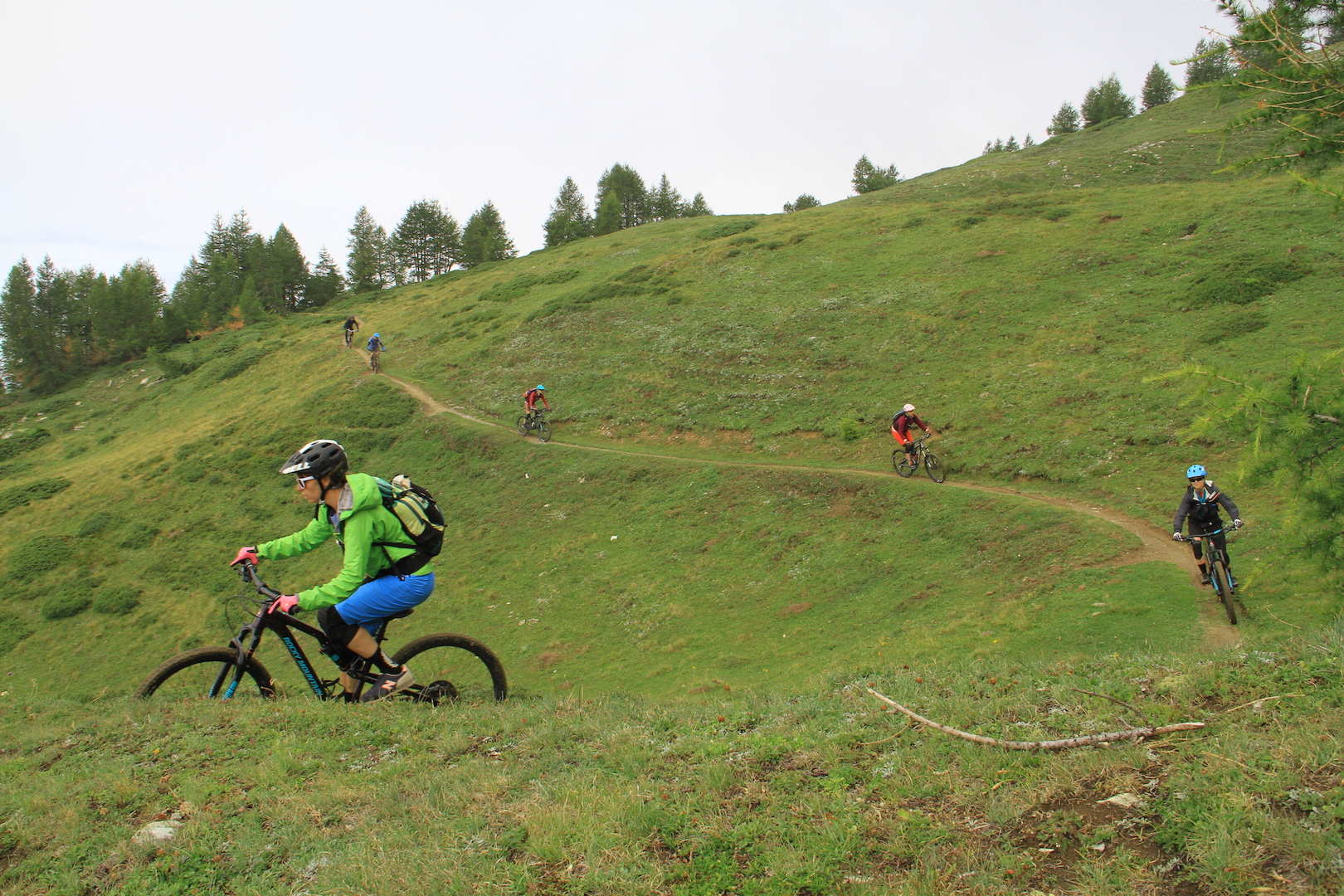 He makes a living as a systems engineer, but this charismatic and outgoing bike-loving guy genuinely enjoys leading mountain bike tours with Inspired Mountain Bike Adventures a few weeks each summer since he started the business in 2012.
This past year, Gabriel and a couple of riding buddies launched a high-end mountain bike shop in Lyon called EXACYCLE specializing in suspension maintenance and optimization. "More mountain bike destinations are in the very near future as I've been exploring the Italian Riviera now for over seven years," he added.
Gabriel's right-hand man on these tours is Clement Causero, a playful jokester and master mechanic whose tireless cooking and riding skills kept us inspired in our adventure. Clement often demonstrated how a trials rider might clean a technical section that we could barely walk down. When he's not writing about bikes that he's test riding for Big Bike Magazine, he's a manager of high ropes specialists in Grenoble, France.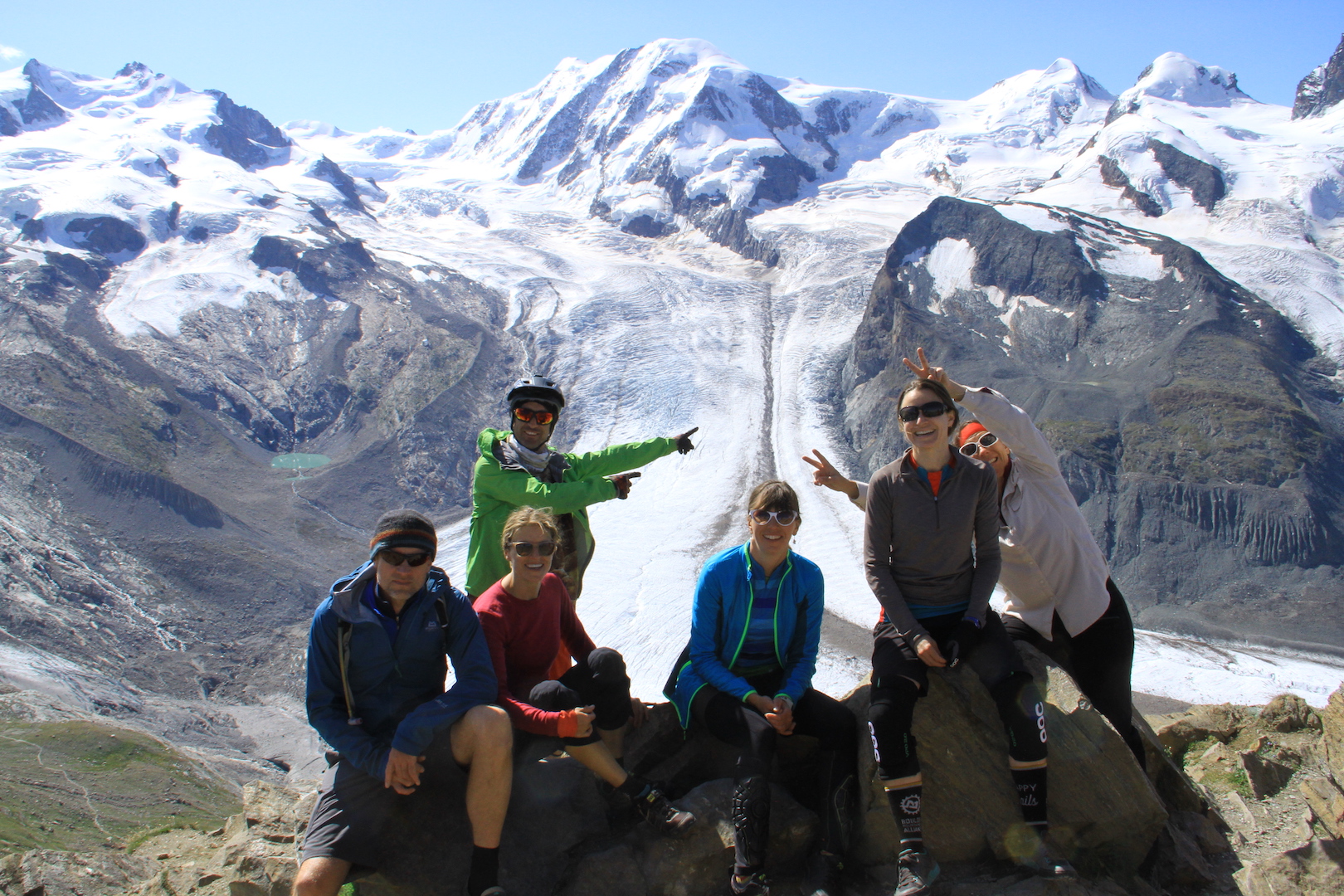 Yellow euro-shorts and cheese in Lausanne
We stayed one day in Lausanne to acclimate to the jet lag and spent it walking up and down the steep hill from our hotel to stroll lakeside around Lac Léman (Lake Geneva) and passing through the Olympic Museum.
One pal's luggage was lost in transit between Lisbon and Geneva and would remain MIA for five days, so she took advantage of shopping options at the Coop, Switzerland's second-biggest supermarket chain store. She found yellow euro-shorts she'd end up riding in some days, but you can get everything from tampons and chocolate bars on the first floor to tropical fruit smoothies and a view in the rooftop restaurant. When her luggage did get delivered, it was at 2 a.m. to the chalet, where Gabriel woke to receive it with typical good cheer.
Another highlight of Lausanne was the free hotel breakfast of eggs, ham, sausage, soft cheeses, Nutella, plum jam, and delicious cafe au lait from a machine.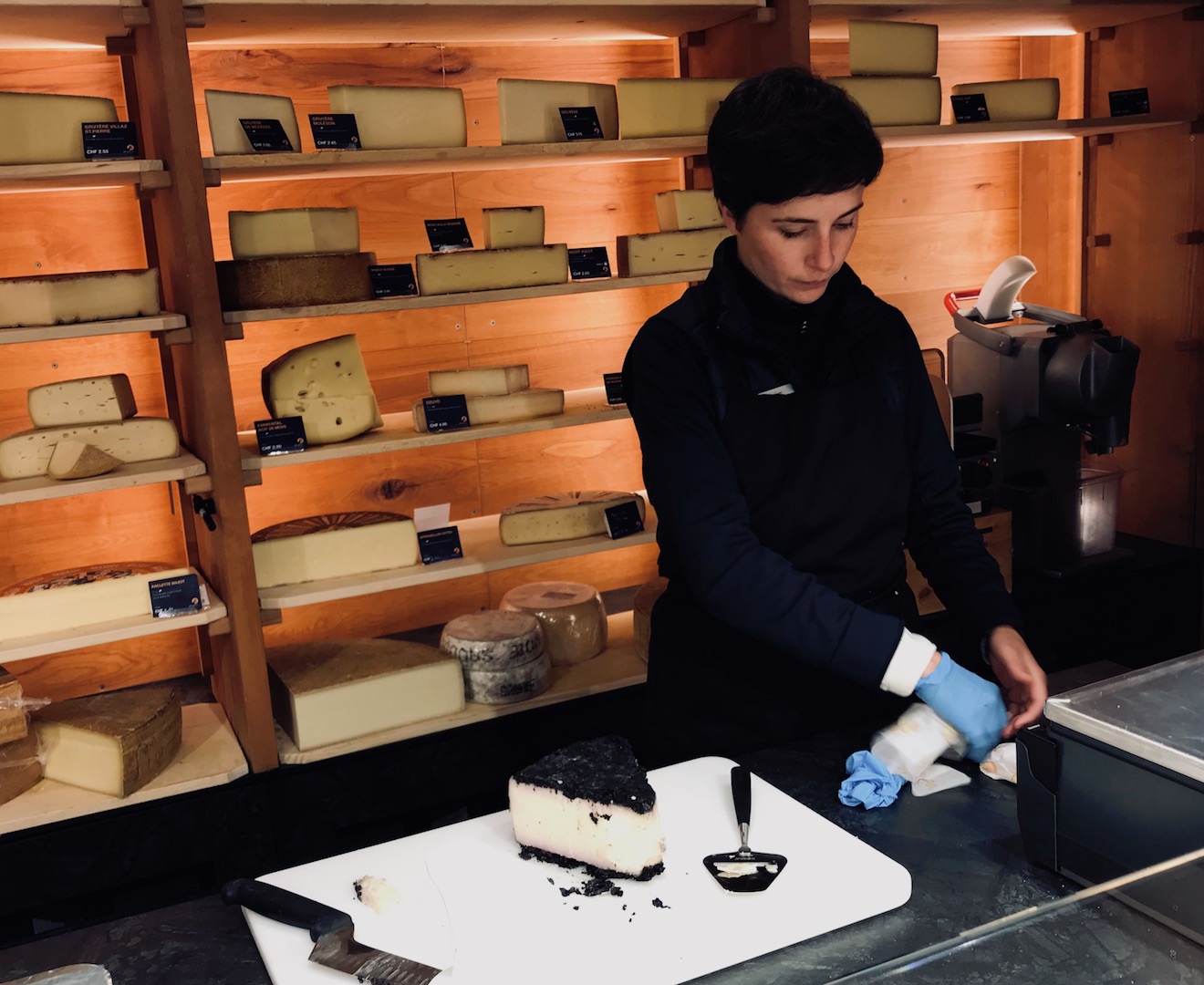 Chalet in the clouds
Gabriel drove the vanload of us five Americans to the canton (member state) of Valais in the southwestern part of Switzerland. We twisted up mountain roads into the hills above Sion, the capital with about 35,000 residents, where our home base chalet was located. We all felt we'd won the lottery as we admired the modern rooms and especially the light wood decks for outside relaxation.
One of our group said the pointy Alps towering above the Rhône Valley spread before us gave him some anxiety. I said the prospect of riding in them makes me nervous, but I was super excited, too.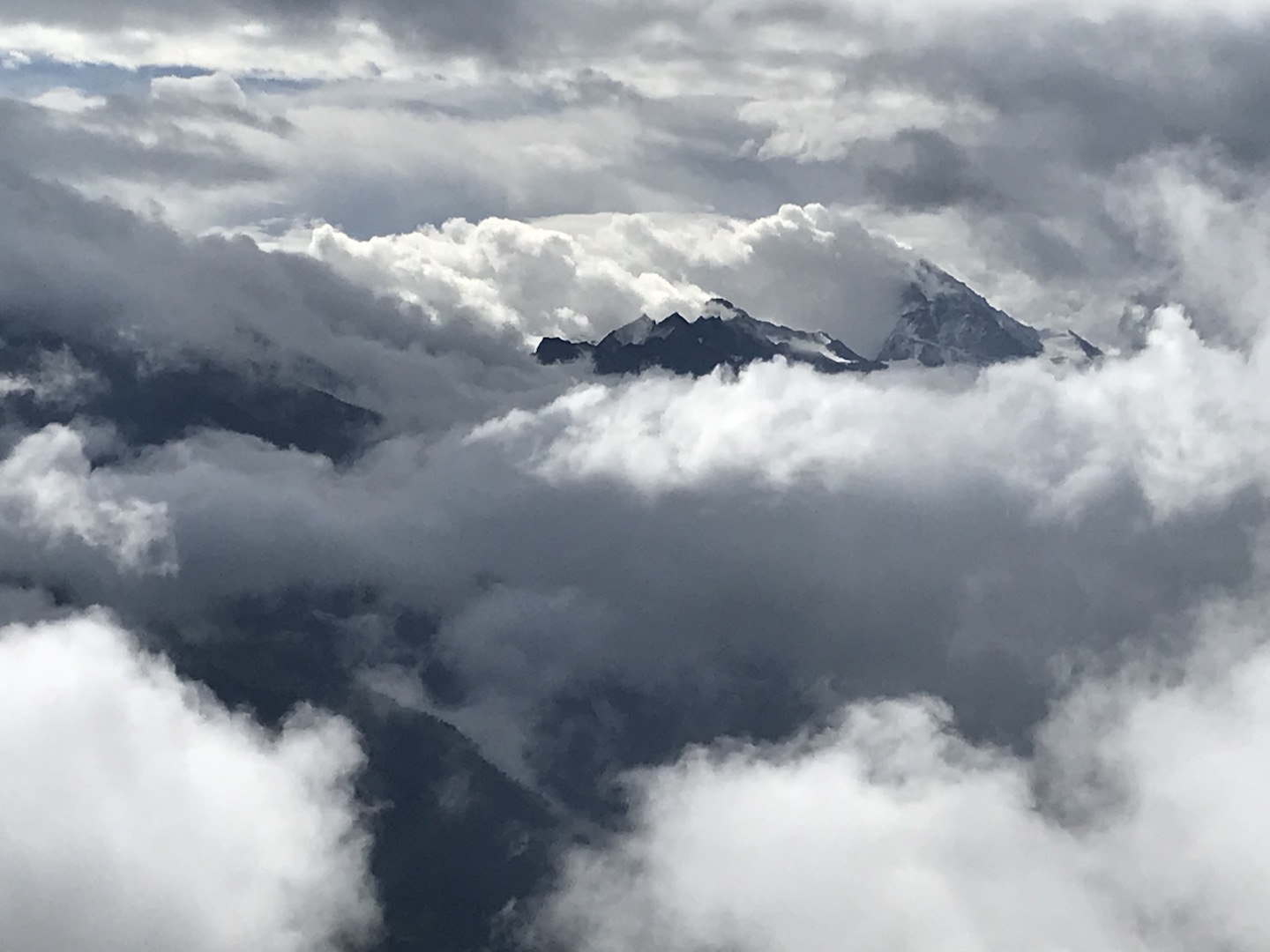 Gabriel didn't call it a test ride, but we realized it later that's what it was, and confirmed we all passed. We rode from the chalet up the paved road to one of the 252 ski areas near Sion where we challenged our skills on what is best described as goat trail switchbacks: deep, narrow ruts in the grassy hillside. Gabriel gave all of us tips on cornering which involved confidence besides just skill.
I developed a bit of a blister on my palm from braking so long and hard, but we all agreed the enduro-style, 27.5" Rocky Mountain bikes were the right tool for the trails.
The all-downhill ride ended at a locals-only warm spring pool beside the raging churned gray waters of the Rhône River where Gabriel convinced everyone but me to crawl into some creepy caves in their swim suits. Clement, the second guide, said it was going to rain just as giant drops pelted us. He and I threw on our clothes and ran to the van rolling two bikes each on the path from the pool, and soon it was a drenching downpour and our friends joined us in the steamy van.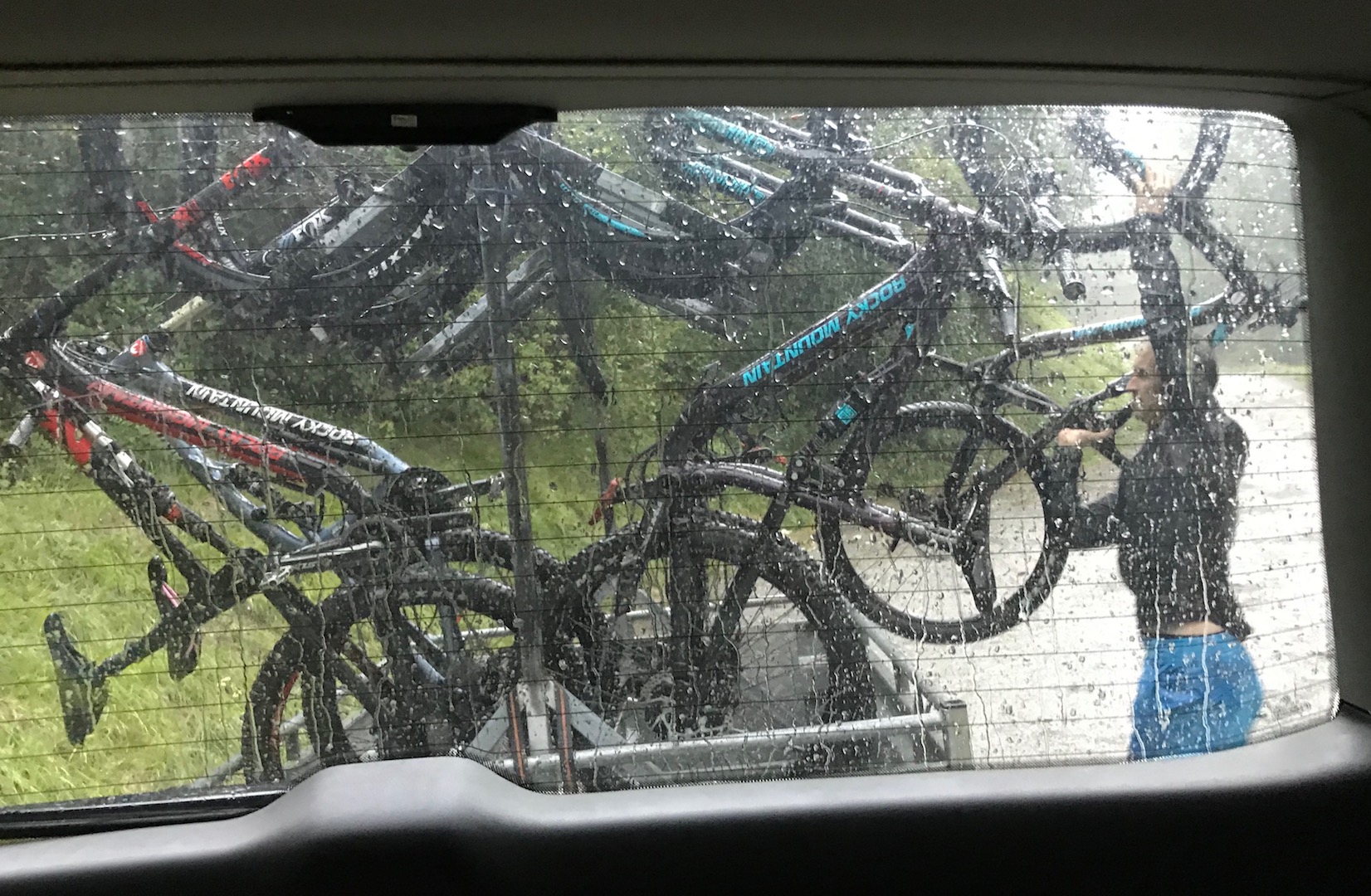 Rain day hot springs and castles
We woke to early rain and a view of dense clouds in all directions. Gabriel offered us options: hike to a dam, sightsee the castles and shops of Sion, or soak in the Leukerbad Therme hot springs. We voted to do both the touring and the soaking.
In the tiny town of Leukerbad in the German-speaking part of Switzerland, the natural hot springs date back to Roman times. Since then the sprawling complex of slides, pools, saunas and relaxation areas has been updated with clean-feeling, metal-lined facilities. We picnicked beside the via ferrata fixed-rope climbing areas with the longest route in Switzerland.
We met the famous fighting cows of Hérens living next door to us — they are apparently known for their "feisty temperament" and the people in Valais stage competitions where the winner is crowned "queen of queens." We gave them space.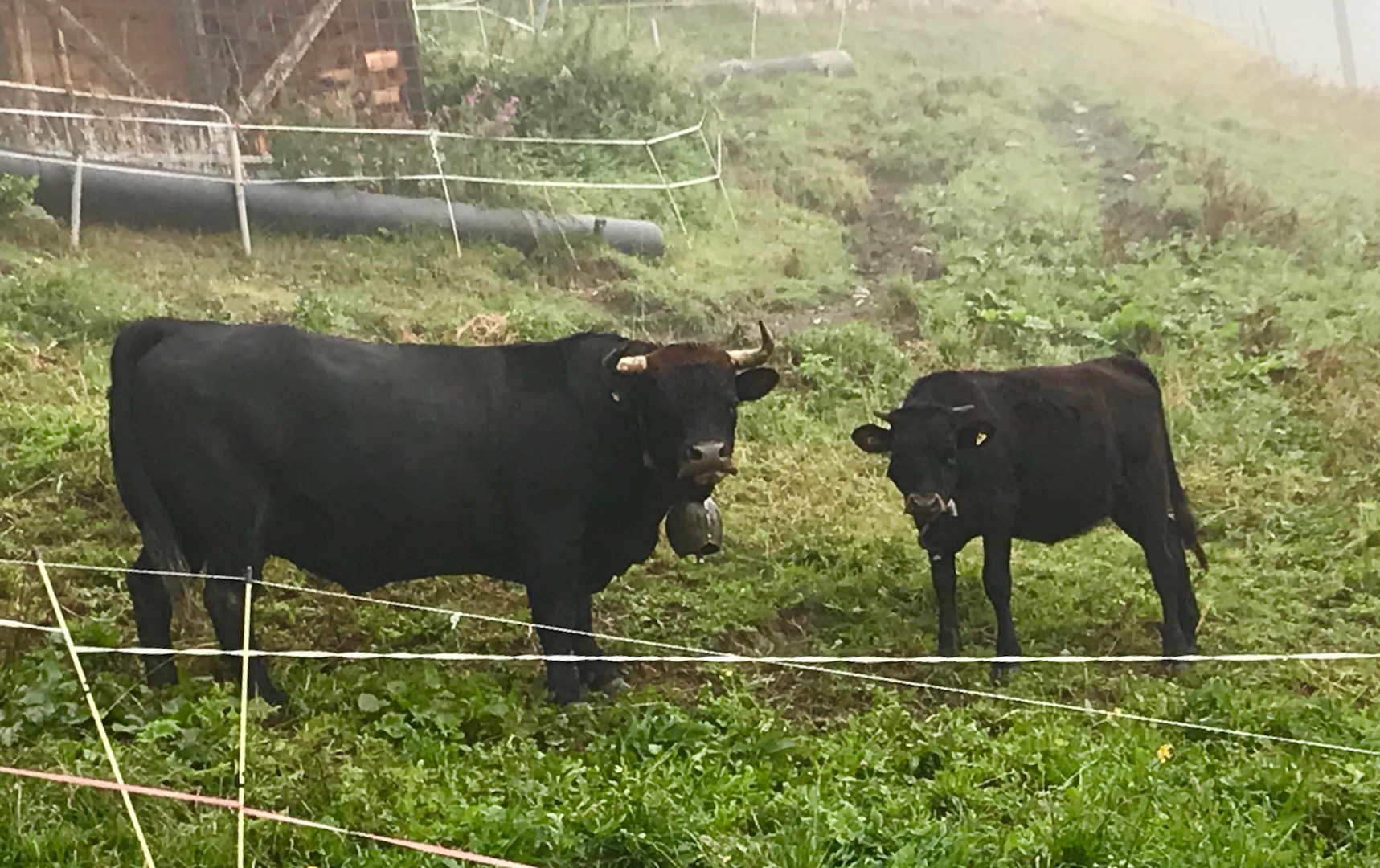 Crossing all the ecozones in one day
The view from the chalet's floor-to-ceiling windows changed regularly, gracing us with a different take on the same amazing view of the Rhône River Valley. This glorious morning the sun burned off the early fog to reveal Dent Blanche ("white tooth") and the Matterhorn in the distance.
We caught a bus to the base of the gondola that took us to the start of our 15-mile ride from Torrentalp ski area. The clouds lifted revealing the source of the clanging bells — loads of cows grazing on hillsides — and lowered again to hide the ranges of mountains in all directions. The narrow singletrack trail cut through green grasses and rolled along ridges, through high mountain trees, and across rooty, muddy traverses. A few of us slipped out of our lines that required steady speed and focus.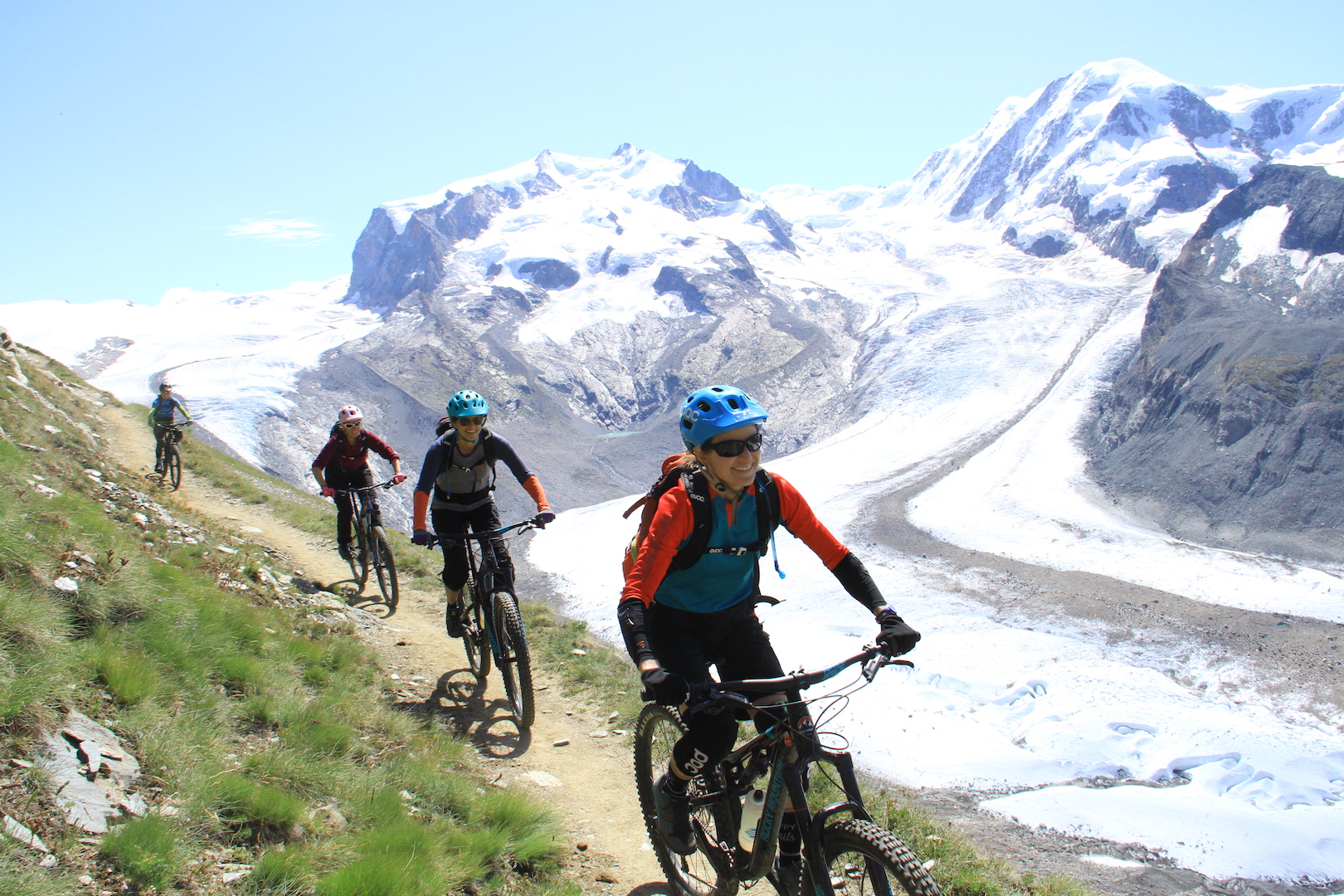 We dropped into some gravelly two-track for a fast descent into another small town where our guides directed us to another tight singletrack descent, now in a drier ecozone as we continued down the mountain.
While hauling our bikes over a downed tree, we realized we were next to an alpaca ranch, and stopped to offer them weedy grass and take in their valley view.
Lower in another village, we passed a series of satellite dishes we'd seen while driving, and finally ended in another town where my berry-picking pals helped themselves to ripe mulberries from a tree on our way back to the van.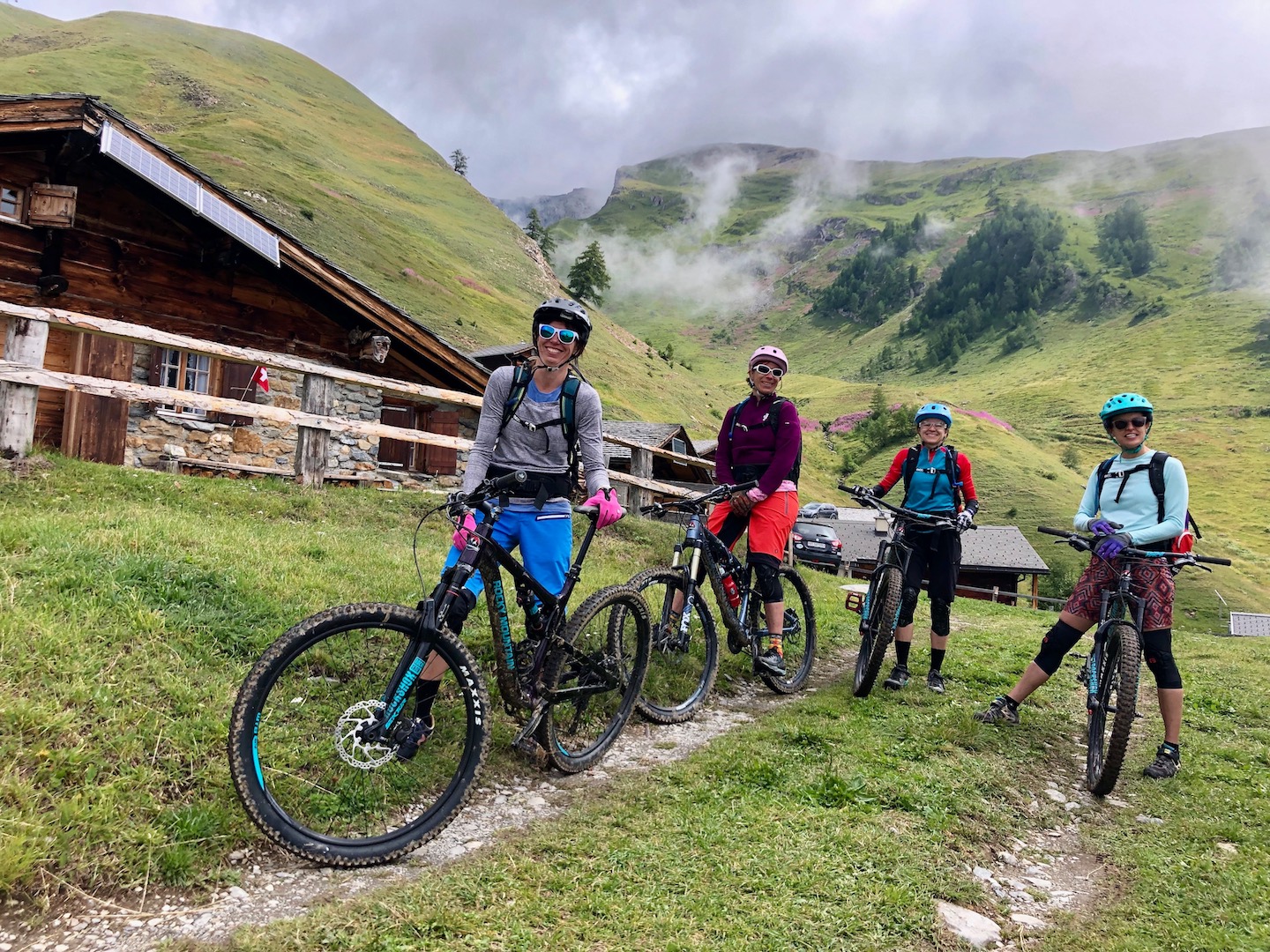 Van to Tram to Gondola
We took a giant tram into the clouds to stuff our bikes into a two-person/two-bike gondola to arrive at the amazing Aletsch Glacier (Aletschgletscher Grosse in German), the biggest glacier in the Alps at 23 km long. The glaciers are of course shrinking, but there are still many — the whole area is considered to be the largest glaciated area in western Eurasia and we saw several on our rides.
With some technical hike-a-bike down the slick bouldered trail, we cautiously rolled past warning signs about rock slide areas to ride parallel to the long ice bed of the glacier far below. I got stuck in my pedal and fell over early in the ride, but managed to pull my nerve together to enjoy the exposed, rocky trail ride.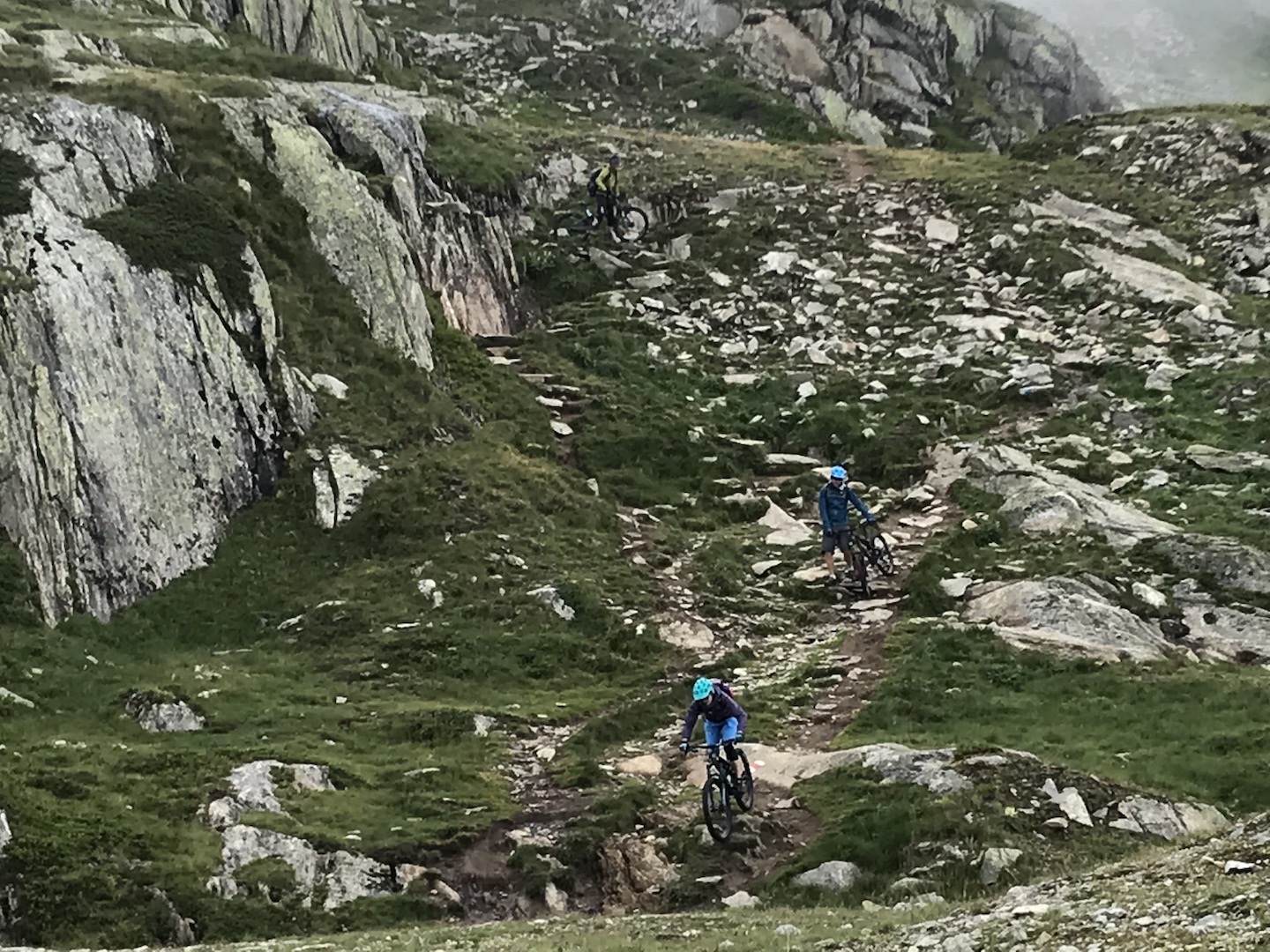 We greeted the throngs of hikers with, "Bonjour! Merci!" and "Hallo! Dankeschön!" and sometimes, "Hi, sorry, 'scuse me." Lines of tiny glacier trekkers could be seen crossing the splintering ice mass below, and above us, paragliders spun on kites.
After the glacier trail, we continued along a narrow ledge with some major drops and steep switchbacks down into the woods. We'd carried our bikes down at the end of the previous section that I'd consider unrideable, and I warily got off a few times on this later section again. That said, I was proud of myself for the many challenging parts — out of my comfort zone — that I did clean.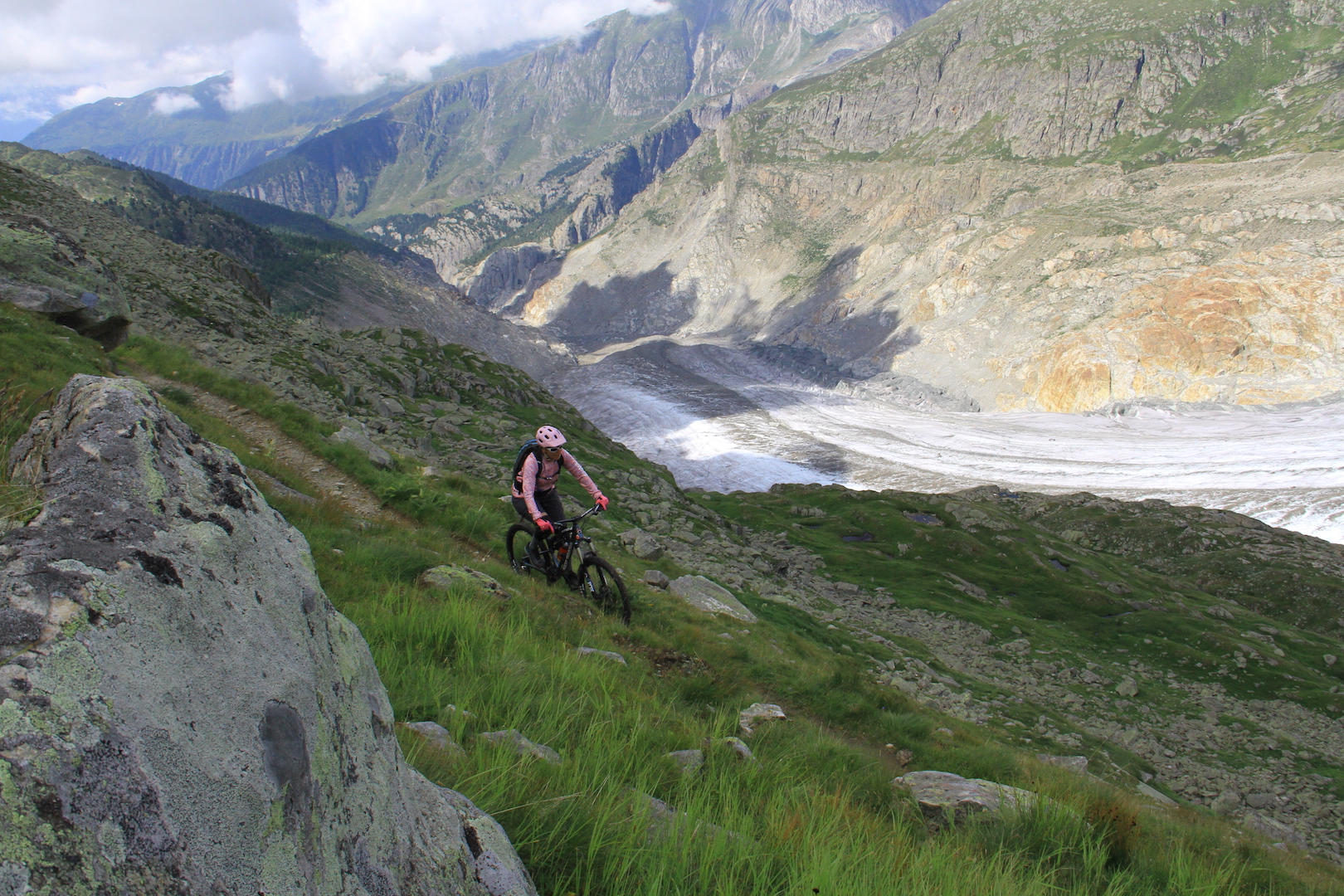 Allez! Matterhorn!
I wrote in my journal that I was "so fatigué today" — I took French in high school and can pretty much speak like a native (not.)
After the big day riding beside the big glacier, we hopped the train to car-free Zermatt where Gabriel had found a hotel that would store our bikes. After a buffet breakfast of breads, cheeses, fruit spreads, eggs, meats, chocolate and more, we rode the cogwheel train that took us nearly 5,000 feet up to Gornergrat, the ski area of Zermatt at 10,135 feet.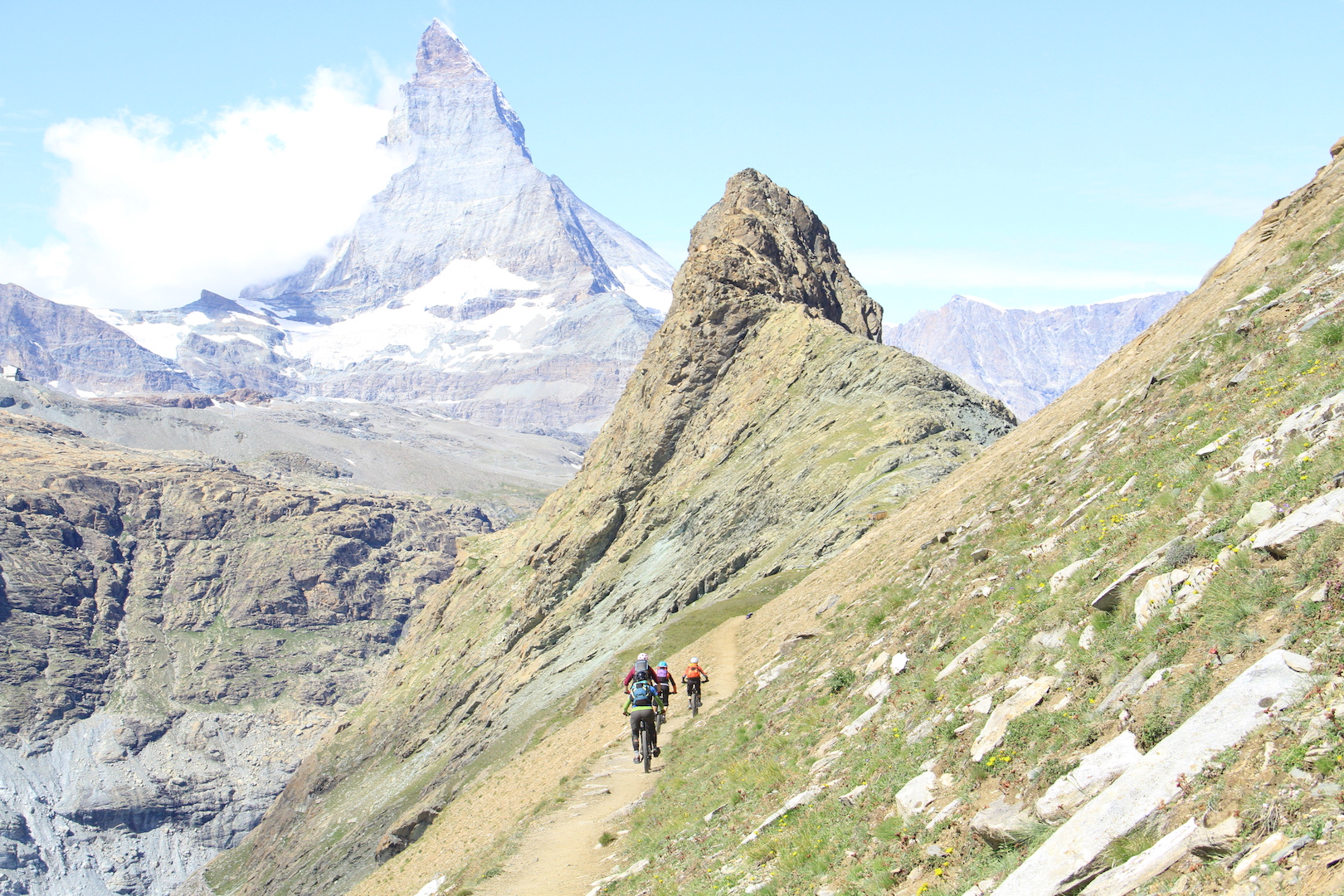 Many photo shoots later, we rolled to the start of our first descent with the Matterhorn looming in the near distance. Gabriel told us to take any line and try not to run over more than five tourists — the trail system is haphazard with too many possible routes crisscrossing the slopes away from the main ski chalet.
We'd been forewarned of a two-track climb that I was dreading, but the angle was manageable and a friendly tourist pushed my slow ass up for a short bit, both of us yelling, "Allez! Allez!"
We lunched on the usual giant slab of delicious cheese, hard sausages, and bread, nearby a herd of resting rare Valais Blacknose sheep with their dark faces and curly bangs.
The big descents and short climbs on this day were techy, punchy, sketchy, and fun. We were cheering each other on when I dumped for my second endo of the trip on a switchback with a water bar at the bottom of the turn. I rolled to the next switchback with a gentle landing in soft grass and got up to do it again.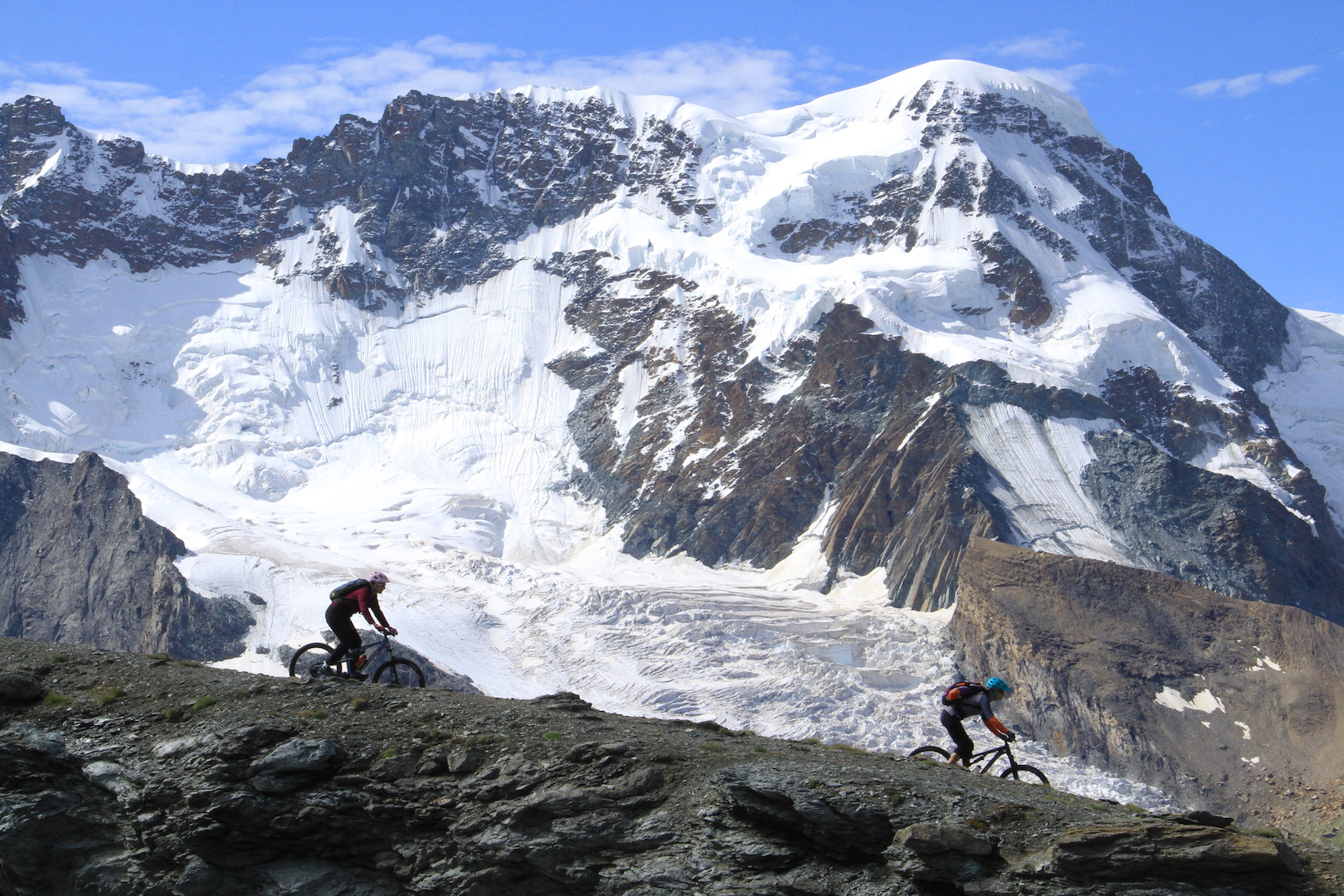 Bee In My Bonnet
I'd hoped for an endo-free day, but it wasn't to be, despite the much gentler nature of our ride. We drove to Anzère, just 20 minutes from Sion, and rode through long tunnels to check out the Lac de Zeuzier and its giant dam. We then hopped on the tree-lined trail beside the Bisse de Sion, an open irrigation ditch delivering mountain waters to the vineyards and orchards far below since 1901.
Our guides led us on another route of pieced together trails through towns and valleys, consulting the map often to avoid recent slide areas that closed some trails. Despite their map skills, we found ourselves at a sign warning the trail was "fermé." Nonetheless, Gabriel and Clement persuaded the workmen to let us walk our bikes across a partially reconstructed bridge. This trail section also required we remove our front tires and crouch-walk through a low tunnel blasted in the rocky mountainside for another canal.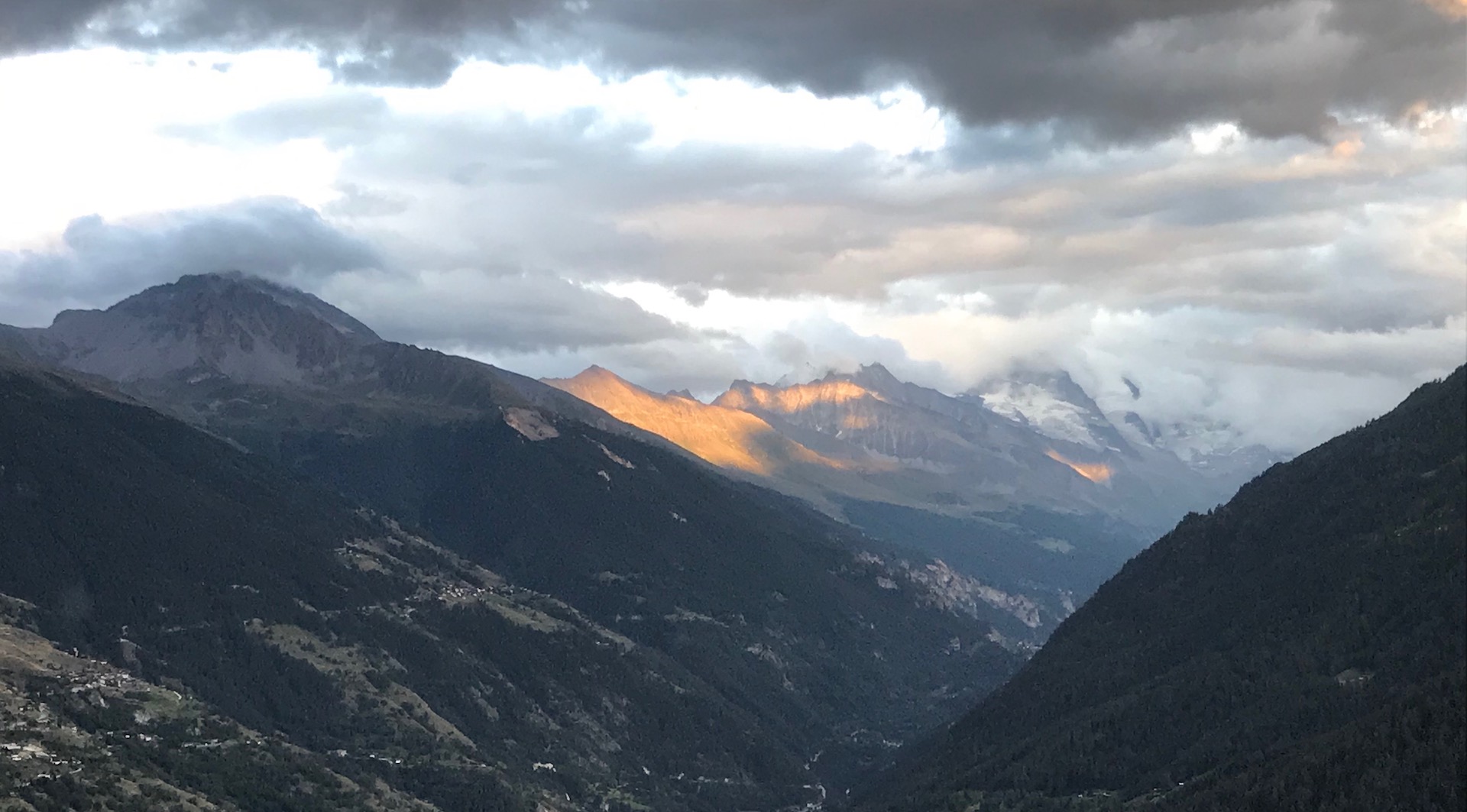 Back on the buff bisse trails through some grape vineyards, we hit some of the highest speeds of the trip as we raced to return the rental bikes before the shop closed. I was thrilled to safely be flying down the trail while still gawking at the scenery of castles above terraced fields and the verdant valley below. And then a bee smacked into my temple, stinging me with force and blowing my buzz, so to speak. I threw off my helmet to make sure it wasn't caught in it and decided the sting wasn't a big deal.
The next day when I woke up on the plane from Barcelona to Chicago, my face around my eye on the side of the sting had swollen so that I looked like a boxer — the losing one. It was my worst injury of the trip, and all so worth it.
---
Words by Crisitna Olds
Photos by Inspired Mountain Bike Adventures