30 Months of Rust Belt Mud
Originally posted on January 9, 2020 at 4:20 am by Greta Daniels and Ryanne Palermo
The oldest continuously operating mountain bike race series in America (or at least on the East Coast) is a low-budget, unsanctioned, volunteer-run event that you've probably never heard of. Sure, Leadville 100 has been running longer, but that's just one race. Pearl Pass Tour and Downieville also predate this Pittsburgh-area institution, but they aren't series either. Month of Mud (MoM) is a five-weekend series happening in and around October that has been forcing riders into freezing creeks, through impossible mud and over endless boulder fields in Western Pennsylvania since 1989. It's garnered local cult status and an epic reputation over its 30-year history, even grooming more than a handful of nationally recognized names in the sport.
Of course, notoriety and acclaim were never the goals. Like most mountain bike races, the Month of Mud began with a small group of intrepid riders, few rules, fewer good trails and a whole lot of Type 2 fun.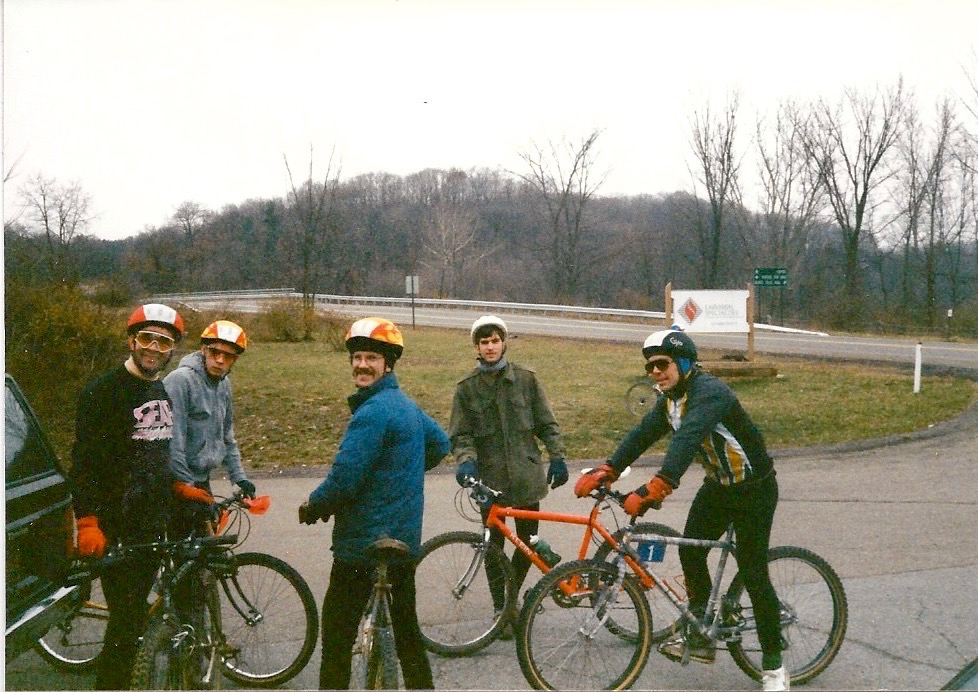 In 1989, Pittsburgh and the surrounding region had fallen on hard times. The collapse of the steel industry set off a chain reaction of events that led to mass depopulation, unemployment, and economic depression. Boarded-up buildings, empty lots and barely recovered communities surrounded defunct mills in and around the city. It would be decades after the inaugural MoM race before people and prosperity returned, following the reinvention and reinvigoration of Steel City as a center for biotechnology, robotics, and medicine. Yet whether in times of feast or famine, area cyclists sought sanctuary from the daily grind by taking off on two wheels. The thing was, most of those wheels had been dedicated to pavement (albeit pavement pocked with endless potholes, thanks to brutal freeze-thaw cycles).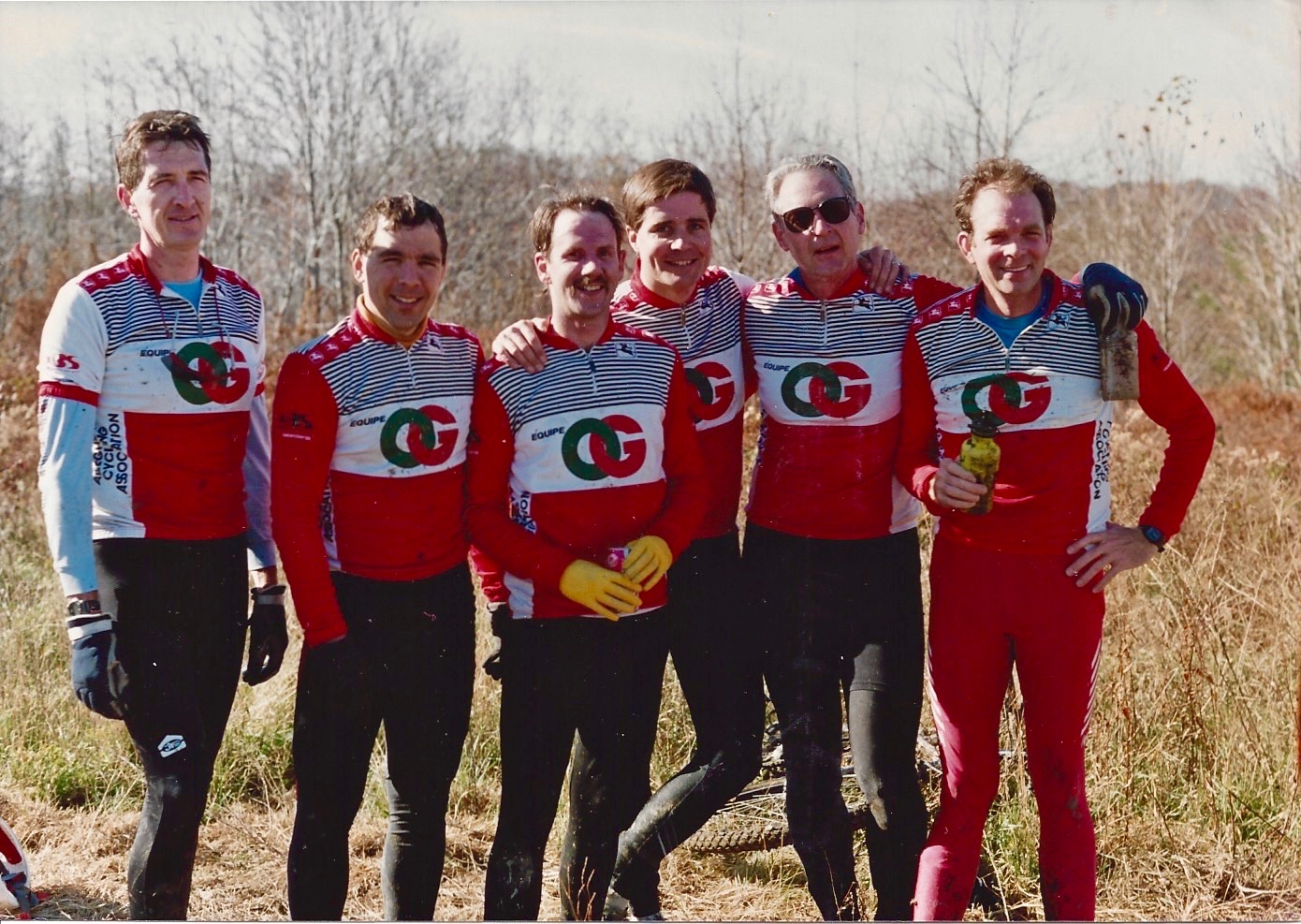 Early Beginnings
"The half-baked idea to get a bunch of roadies to buy mountain bikes, learn about them and then start a Sunday race series was met with bewilderment and surprise, as none of us [knew] what to expect," recalls original MoM racer Pat McCloskey. "It was the beginning of an era of local mountain bike racing thanks to the wisdom and creativeness of one Gary Bywaters." 
Bywaters, a Burgettstown local and former competitor on the national race-walking circuit, was a permanent facet of Pittsburgh's bicycling scene. Though many referred to him affectionately as "the By," the Ambridge Bike Shop mechanic and long-standing USA Cycling official became known to many as "the Sheriff."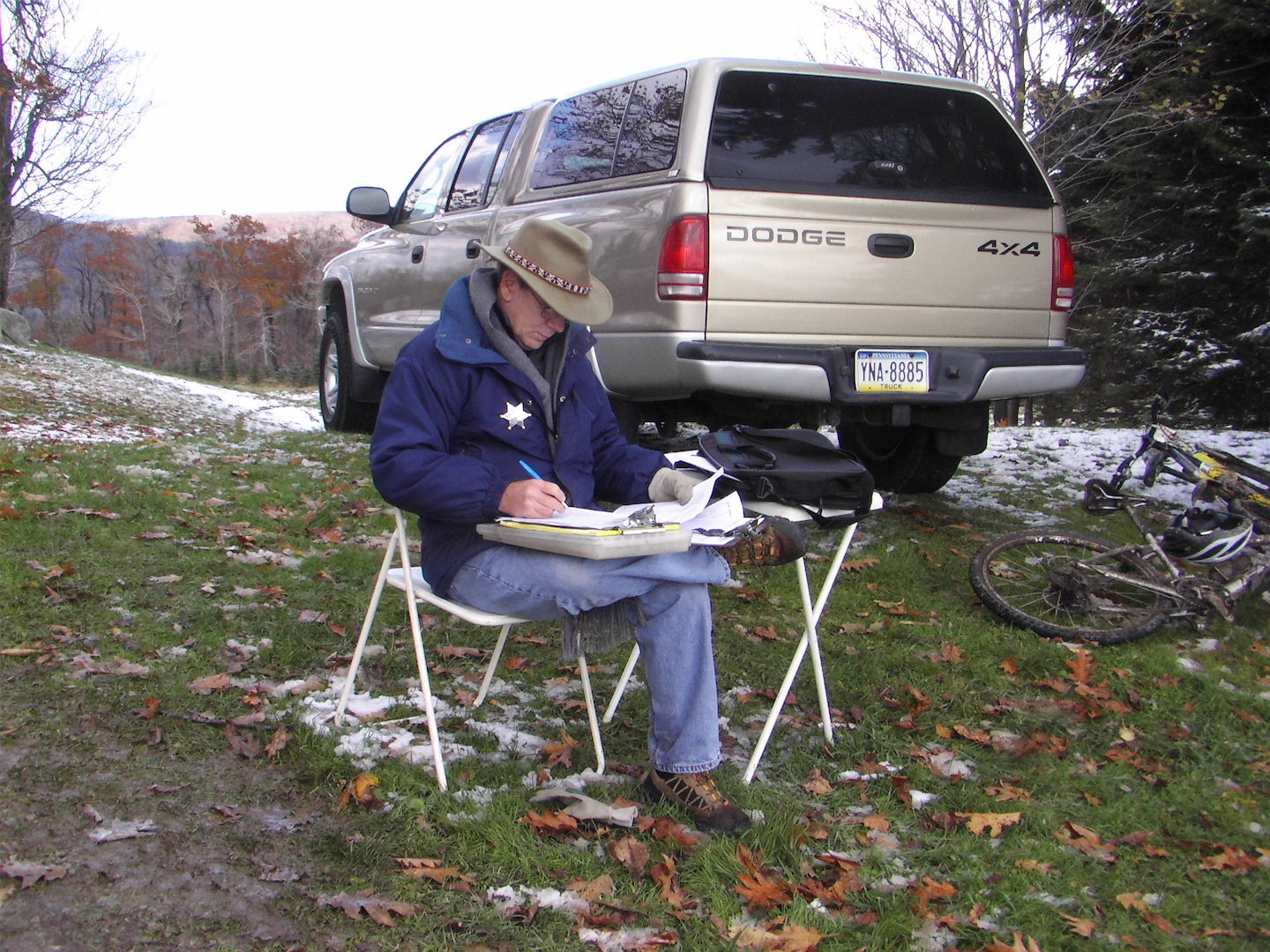 The persona wasn't a reflection of an intimidating or rigid rule-keeper; his quiet word was law, and, paired with his signature Indiana Jones–style cowboy hat, he personified a lawman. It's unclear who coined the nickname (or who gave Bywaters his first sheriff's star), but his hat, badge and John Wayne style of quietly corralling his riders accompanied him throughout his long tenure as a race official. Nevertheless, he did revel in organizing races that tested competitors' fortitude and blood flow, and he sometimes joined in on the "fun" himself. In the early days, he would line everyone up, blow the whistle, then jump on his bike to see how many people he could catch.
Early races had fields of a few dozen racers split between unlicensed "citizen" racers and U.S. Cycling Federation (USCF) riders. "Basically, these early races consisted of a bunch of roadies getting together and having some fun in the mud during the off-season. During that period, mountain bike racing was in its infancy, and I don't think anyone thought it would explode in popularity as quick as it did," says U.S. mountain bike legend Gerry Pflug.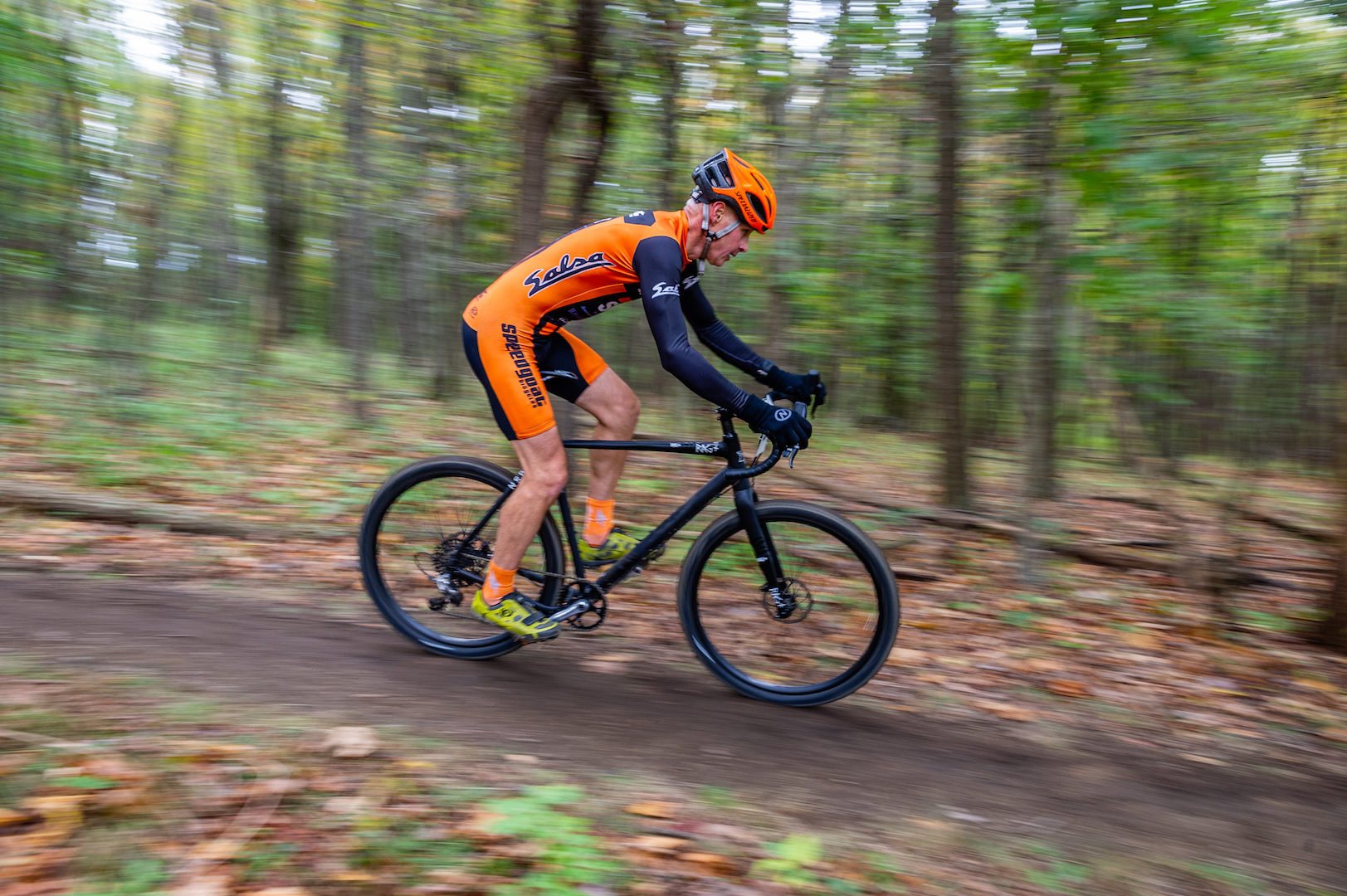 "By's enthusiasm was the glue that took all of us ham-and-egger road racers and made us into mountain bikers," says McCloskey. "Roadies tend to take themselves seriously, but By saw to it that humor and fun were part of this original series." The racers were out of their element, and their gear showed it.
"We all had purchased one form of mountain bike or another with balloon tires, cantilever brakes — some with U brakes, which caught every form of debris on the trail. Suspension had not been implemented yet for these bicycles, so we all had straight forks and very 'boat anchor'-type Chromoly frames," shares McCloskey.
Reigning national masters champion Gunnar Shogren remembers early mountain bike racing as an ongoing experiment: "Everyone was a little clumsy and awkward, but we were all in it together. Month of Mud was racing, for sure, but not all of us were taking it too seriously. I remember trying different tires a lot, maybe using a different frameset and experimenting with gearing and such. More than a few racers could be found using road bikes with 700x25c knobbies thrown on for good measure. We didn't have all the high-tech equipment that there is off the shelf now, but we were into seeing what would and wouldn't work, for sure." 
It all worked well enough to bring people back Sunday after Sunday.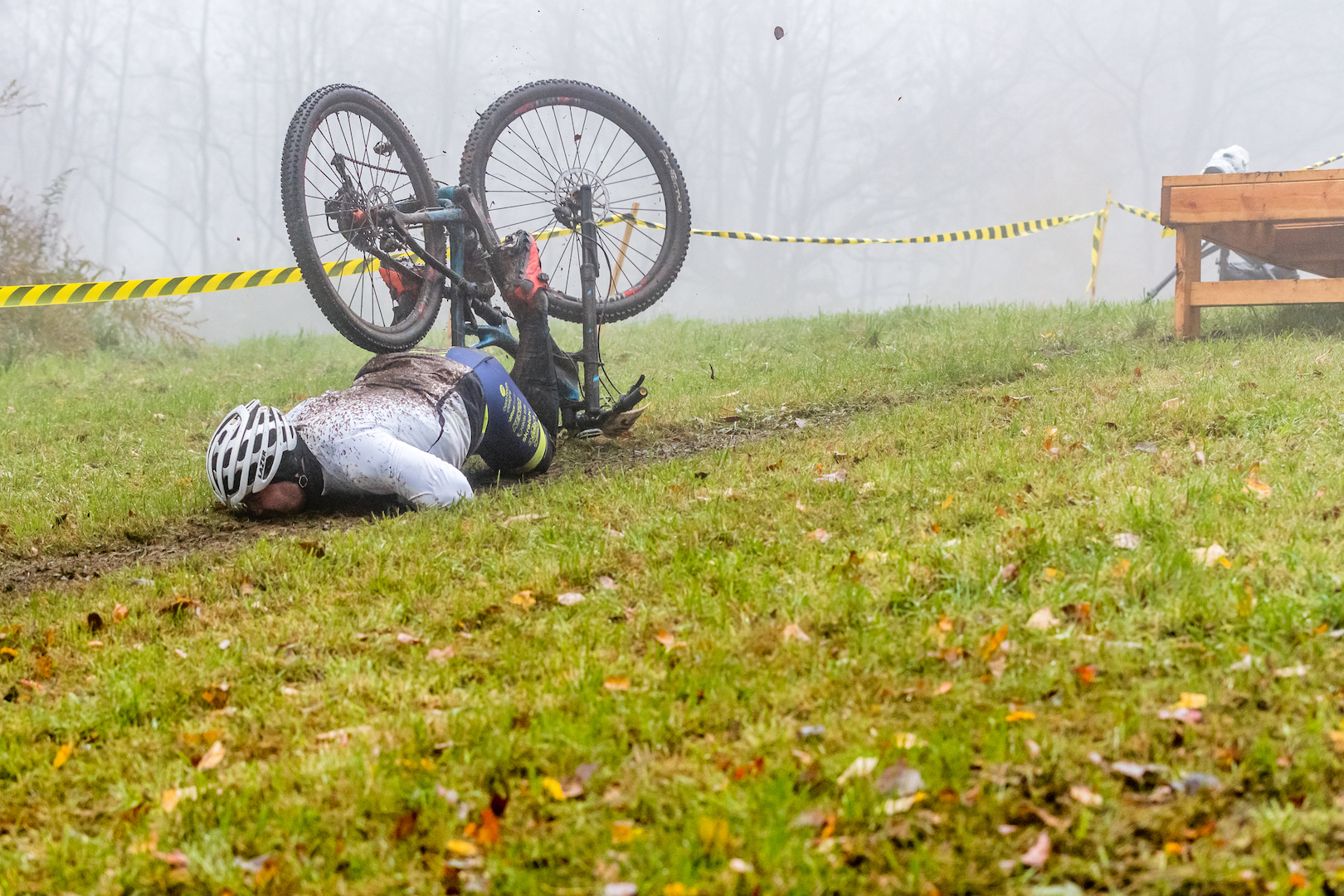 Venues
Race venues were a mixed bag. "There were lots of different venues early on. Some were great, some were not so great. But because the races and laps were so short, it really didn't matter," remembers Shogren. "Everyone was doing the same lap; we all had to contend with the same amount of goodness or crap. At the end of the day, most of us weren't critical of the courses; it was another great opportunity to race nearby, and that's what mattered most. That and going to Kings Family Restaurant afterward."
Courses were riddled with obstacles bordering on cruel, especially considering that temperatures were often near or below freezing. One venue, near the Pittsburgh Airport, called Brothers Grimm, featured a deep stream crossing. "It was not a strange occurrence to see [expert rider] Jay Humphrey flying off the lead of the race only to bury a wheel in the deep water and launch over the handlebars into the frigid creek with snow flurries in the air," remembers McCloskey. Past-due vegetation was also on the circuit. Trax Farms, a family-friendly farm known for its apple orchard and pumpkin patch, featured a climb through a field littered with rotting pumpkins. Knob Hill Community Park in Cranberry Township was a Bywaters favorite. He strategically placed pink flamingos in the course swamp so that the riders could have a good laugh.
Brady's Run was a typical season-ending venue that included the Descent of Death, a treacherous off-camber downhill where racers were almost systematically launched off into oblivion, never to be seen again. It was at this venue that Matt Eaton — the 1984 U.S. National Road Race Champion — was inaugurated into mountain biking and consequently (if inadvertently) bumped off a cliffside. Life and limb were quite literally risked for some rather unconventional prizes. 
"[Bywaters] spared no expense with prizes," jokes McCloskey. "I can remember the awards ceremonies where third place was a rock, second place was a banana that was left in the backseat of By's car and first place was whatever else By would find at Ambridge Bike Shop to give away. The season-ending prizes were By's old race-walking trophies, where he cleaned the dust bunnies off the top of the award and pasted the class winner's name on the trophy over his nameplate. Lots of old garbage trophies were cleaned out of By's basement for those end-of-season awards."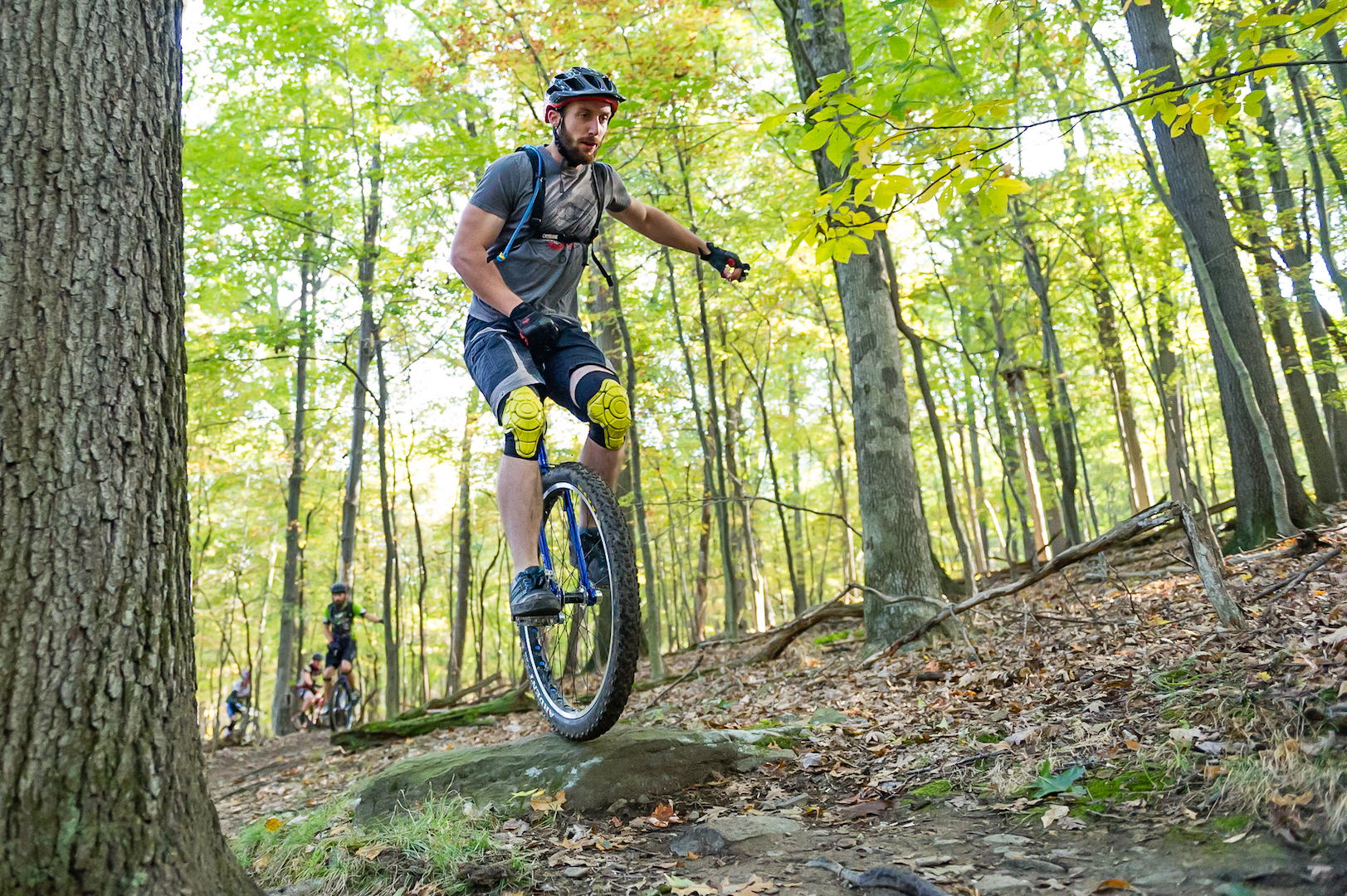 Modern MoM
Today the Month of Mud consists of off-road races that range in style and difficulty from the uber-technical boulder fields of Moraine State Park and bone-rattling descents in Ohiopyle, Pennsylvania, to lung-burning cyclocross and cross-country courses that keep riders pinned to the red line for the duration. The goal is to identify the best all-around rider by throwing at the racers every type of obstacle that can be reasonably conquered on a cross-country mountain bike, then seeing who rises to the top. The result has been a race series that showcases the region's rich natural resources and extensive trail networks, exposes corners of the county and state parks previously unexplored, engages new partners in conservation, trail building and tourism and annually reinvigorates the area's collective passion for dirt, rocks, roots and, of course, mud. 
Series categories continue along the old National Off-Road Bicycling Association (NORBA) tradition, but its unsanctioned status has given MoM the flexibility to add categories such as Unicycle, Fat Bike and Single Speed that help to maintain the spirit of fun exploration that has surrounded MoM since day one. (If you think the Unicycle category is a joke, you have never seen someone ride through a maze of razor-sharp rocks and hit jumps on a 29-inch mountain uni. Truly a sight to behold.)
The Month of Mud is run by a small corps of dedicated volunteers, captained by a chief steward affectionately titled Head Honcho. The series makes just enough money to put some cash in the coffers of the various trail-building organizations that maintain the organizers' favorite parks and to buy supplies to start it all over again the next year. Courses are marked with construction tape and wooden stakes, numbers are paper race plates that riders use for the duration of the season (with varying degrees of success, given the generally rainy, muddy conditions) and prizes are cash payouts handed to you as you cross the finish line. Instead of podium pictures and champagne, there are post-race beers in the parking lot.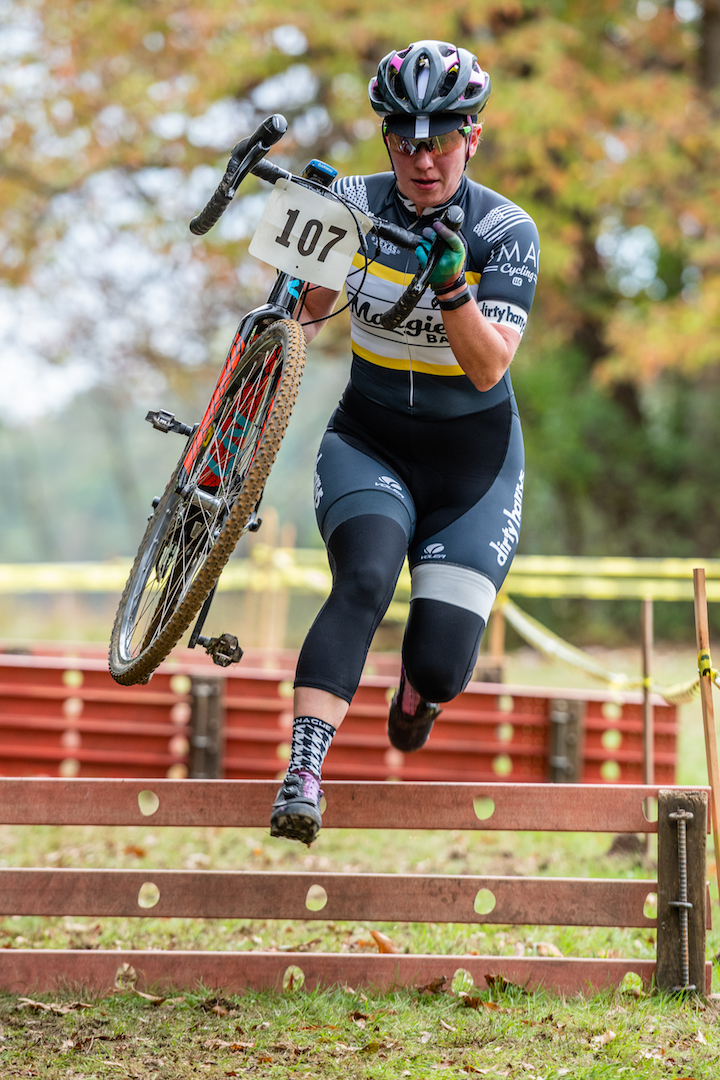 Races at the Month of Mud have always been managed on a shoestring. There are no fancy timing chips or race cameras to catch numbers as they cross the finish line — just a person with a stopwatch and a clipboard feverishly writing numbers and times on his homemade chart. Even if you've never worked as a race official, it's not difficult to imagine the skill it requires to track 150 to 200 racers in 13 different categories with varied distances and laps, record their finishes, calculate total race times and determine winners, all while precariously perched in the always muddy, likely rain-soaked rocks of Western PA and dealing with the onslaught of racers who scream across the finish line and then immediately bound over to find out how they did.
Despite the low-budget, no-frills approach to mountain bike racing, MoM has continued to attract a cult following that includes everyone from youth and beginner racers to some of the region's most accomplished cyclists. 
"I was riding a lot with [local guys] when I first started riding, and they told me that anyone who rides bikes does Month of Mud," says racer James Litzinger. Since that first series invite, Litzinger hasn't missed a race. While he went on to achieve success on the national stage, he is likely better known for his role as the five-time MoM Single Speed champion. The Single Speed category has taken on a life of its own; contenders assume wrestling personas and vie for the novelty Single Speed Championship Belt. Litzinger's common use of Macho Man Randy Savage memes on the Month of Mud Facebook page are often instigated by potentially the loudest personality in Western Pennsylvania singlespeed circles, MoM Hall-of-Famer Donald Powers. 
 Powers, or "Pahrs" in Pittsburgh Yinzer slang, is infamous for his weekly social-media campaigns designed to peer pressure area riders into defending series titles or vying for their own piece of glory. The Campaign of Shame typically begins in early September, ending only after the last starting gun of the season sounds off. While this type of pre- and in-season bantering adds another layer of color to the series, it's the spirit of its founder that pulled people in and has kept them coming back for more.
"By was in his element whenever he was helping anyone, whether that was at the shop, at a race or whenever he gave a cherished 'atta boy' or 'atta girl' not only to the good racers but especially to the beginners who were intimidated. By always made them feel special, as they all began to fall in love with bike racing and come to respect and love the guy who made it all happen," says McCloskey.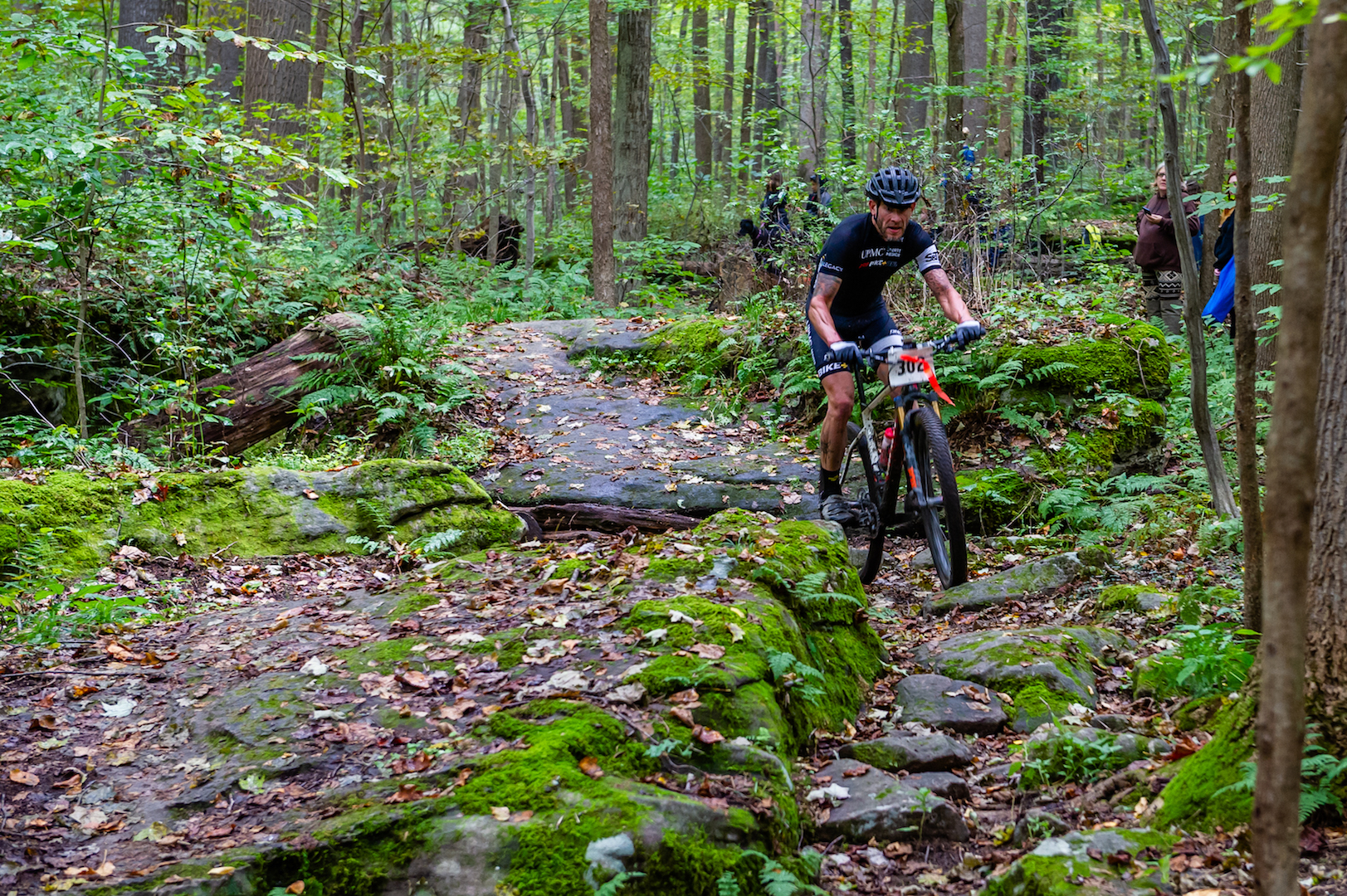 The perfect mix of challenge, encouragement and flamingo-filled swamps has continued to draw moms, dads, kids, teachers, accountants, business owners, factory workers, bike-shop mechanics … All the people Gary Bywaters gave something to look forward to on Sundays in October gave something to Bywaters in return.
"When I got the paid gig with Diamondback [on its professional team], Gary was so proud," Shogren remembers. "On more than a few occasions he would recount how he would let a customer know that the bike they were looking at was raced by me, or that company-sponsored me, and I was the local pro. It really was important to him. [As for MoM], he was proud of the series, proud of the folks that helped, proud of the folks that kept on showing up race after race and season after season. Even with a four- to a five-week stretch of races, it felt like just about the time that it got started, it was over."
End of an Era
Gary Bywaters served as Head Honcho for the first 10 years of MoM. Even after handing off management responsibilities to the next Honcho, he continued to serve as the series' chief official and widely recognized leader. Head Honchos throughout the years—Gary Dugovich, Ty Musser, Chris Huffman, Rob Riddell, and Greta Daniels—all leaned on Gary's knowledge, expertise, and wisdom and deferred to his judgment when it came to weighing in on what might be technically correct against what was truly fair.
"On October 26, 2016, I emailed with [Bywaters] to decide whether we would allow folks to zip-tie their derailleurs to compete in the Single Speed category the next weekend," says Daniels. "We talked about this kind of innocuous minutia all the time, but never would I have imagined that this would be my final conversation with the man who had become one of the most influential mentors in my life." 
Bywaters died suddenly the next day, on Oct. 27, due to complications related to his asthma. For the first time, on Sunday, Oct. 30, the Sheriff missed the race.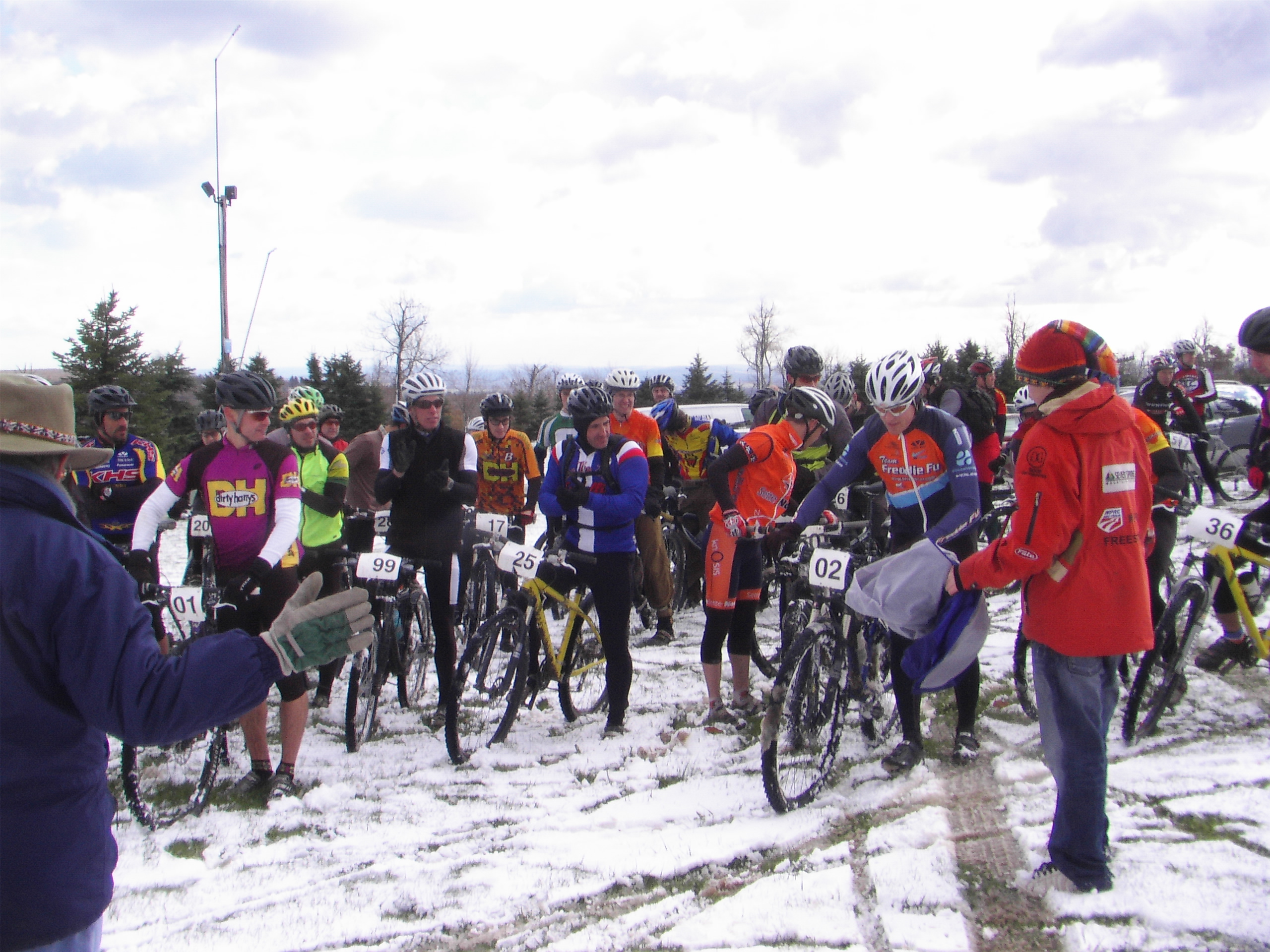 His absence is still felt by all who knew him, but the unique culture he created and the community he fostered rides on. The Month of Mud manages to be a welcoming place with opportunities for everyone to participate and feel good about their day, regardless of their experience and ability, while also providing a forum for some of the fastest dudes and dudettes in the area (and the nation) to duke it out for local glory. Somehow MoM manages to provide high-level competition without inviting the elitism or standoffishness commonly seen at other race venues. It is not uncommon to find national champions alongside newbie riders pulling stakes and tape from the course to help with cleanup after the last person has crossed the line. 
Bywaters would frequently stand and watch the army of unsolicited volunteers (often still in their chamois and helmets) helping to sweep the course and clean up all the race detritus with a smile on his face and say, "We have the best people." That feeling continues to resonate for everyone involved today.
A Series Thriving
"The feeling of community is definitely a strong driving force of the series," says Pflug. "All the help given by racers to design and set up courses, plus enthusiastically help with all the other duties of putting on a race, is something that keeps this series from falling apart. There are few race series where racers have such an active part in putting on a race, and I think it is this group effort that will continue to keep the series strong."
The camaraderie doesn't end when the bikes get packed up. "Anyone who has raced MoM," according to Powers, "has friends in their lives today because of it." 
Of course, camaraderie breeds loyalty, which hopefully leads to lineage. "I feel the number of people participating in races will continue to grow," says Litzinger. "I could only hope that I will be racing alongside my Litzinger boys, as well as other current racers' children." 
Some family legacies are already part of MoM folklore. The series' first official champion, Jay Humphrey (1989), is brother to 2015 Hall of Famer Christa Humphrey Ross. The 2018 Expert Men's category was shaken up by 15-year-old Wyatt Rodgers, who won the final contest and took second overall for the series, while his dad, Jim Rodgers, cheered him on from the Vet Expert class. There are plenty of examples of the MoM being a family affair, and the number of young riders is on the rise. 
One of the most highly decorated riders in recent MoM history is a young woman named Angelina Palermo, and her story is a testament to the impact that a local race series can have on the trajectory of a young rider. 
When Palermo started mountain biking with her parents, her custom-painted lime-green-and-pink bike was bigger than she was. Her experience racing MoM as a teenager resulted in a new confidence in her riding that ultimately led to much more.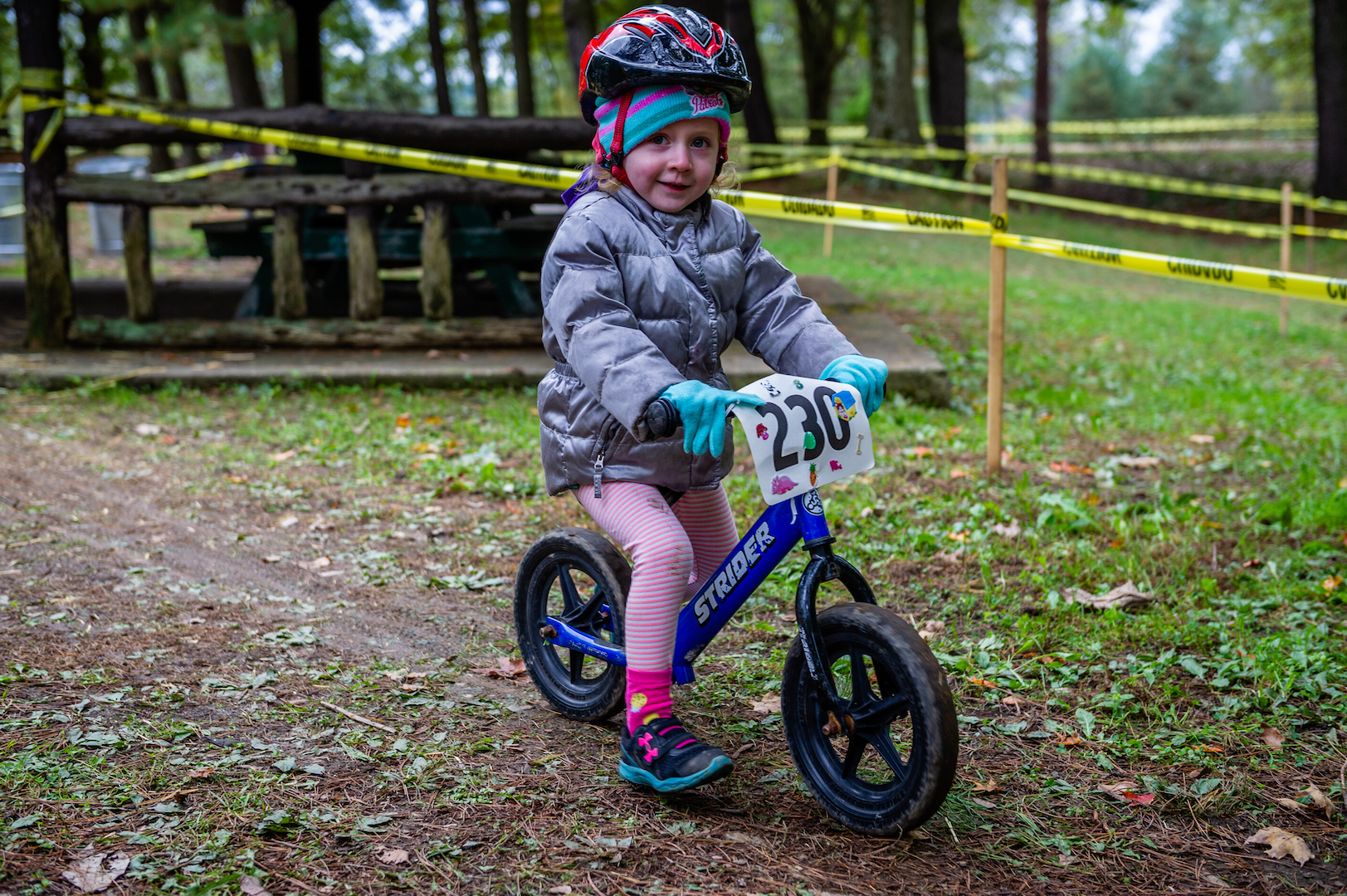 "I never thought I could race at expert level," says Palermo, "but once I was competitive at the MoM, I got the confidence to register for my first state and nationals races." It was there she first discovered opportunities in collegiate racing. In addition to becoming a standout rider at Marian University, she has several national titles to her name, including Dual Slalom, Downhill and Mountain Bike Omnium National Champion. "I got a lot of mentors from the Month of Mud," Palermo says. 
There will be more youth to groom for greatness: The 2018 season saw more than 40 high school and junior racers, with the youngest just 7 years old. The growing presence of the National Interscholastic Cycling Association (NICA) in the region may also be instrumental in recruiting the next generation of contenders destined to dethrone current series champions, or at least have a few fun weekends in October. 
Regardless of racers' age, skill or pedigree, Month of Mud has become more than a race series in Western Pennsylvania: It's a tradition. While the Sheriff kept the rule of law and, possibly, more importantly, the air of excitement going for most of these first 30 years, the Head Honchos to come plan to keep the series flourishing for at least another 30.
---
Words by Greta Daniels and Ryanne Palermo
Photos by Mike Briggs and MoM Archives
---
Editor's note: As we celebrate our 30th birthday, we would be remiss not to acknowledge the other Pittsburgh-area staple that has helped elevate our mountain biking community: Month of Mud. We reached out to former Head Honcho Greta Daniels and multi-time Month of Mud Women's Expert winner Ryanne Palermo, both Month of Mud Hall-of-Famers, to give us the background on this local treasure. RIP Sheriff.