SWTPYITFB#32
Originally posted on December 30, 2019 at 0:27 am by Stevil Kinevil
When I was a small child, I was completely fixated with a magazine called CARtoons. Essentially it was a black-and-white comic book featuring artists like George Trosley and his feature, "Krass and Bernie." And then there was my other favorite, Shawn Kerri. If you're not familiar with her, head to the internet and get up to speed on not only her extensive body of artwork, but also the mysterious details (or lack thereof) surrounding her disappearance from either Earth or just society. No one's quite sure. Anyway, besides the standard array of notable hot-rod artists celebrating all things internal combustion, there also was a revolving door of other, less notable artists who consistently submitted work to be published.
One strip that I remember especially clearly was done by said anonymito. The first frame depicted a long-haired, somewhat disheveled-looking fellow who started his day with fantasies of the mural he was going to paint on his van. As he sleepily trudged through his morning ritual, first getting dressed, then brushing his teeth before finally preparing breakfast for himself, each thought bubble floating above his head was more visually explosive than the last. Finally, standing in his garage as he dons his respirator and prepares his paint sprayer, his proposed fantasy has more winged eyeballs and psychedelic jellyfish than a warehouse full of Zap Comix. The artist sits down on a little stool in front of his canvas, and as he raises his arm in preparation to take that first step in completing his masterpiece, his. Mind. Goes. Blank.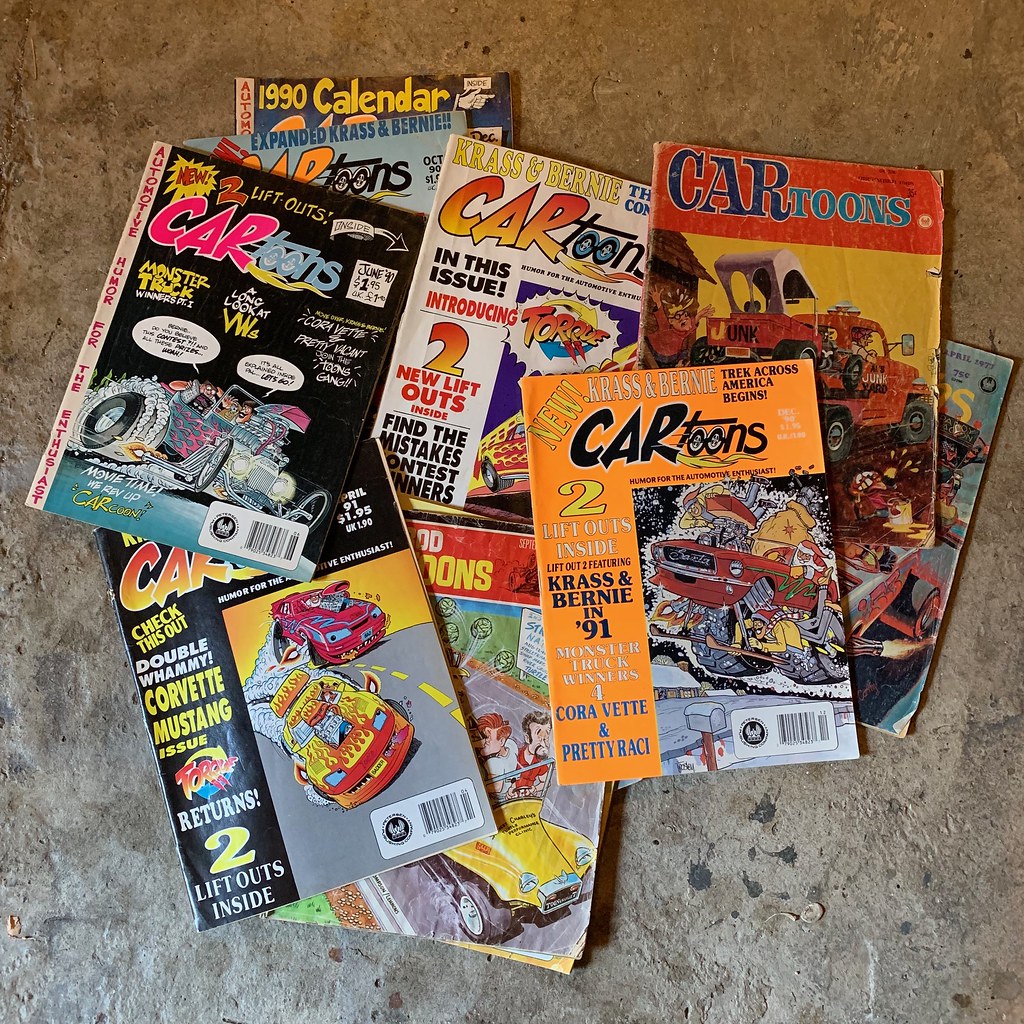 Having first seen that strip sometime between 1979 and 1982, it's made a return to my consciousness at least once a week ever since. Besides being applicable to just about any project of a visual nature that I might attempt to wring from my wretched soul, it travels in lockstep with the written word just as agonizingly. Sadly, the only issues of CARtoons I currently have were found after scouting the internet, as my original collection is, by now, well beyond lost to the annals of time.
But I digress. Occasionally, while enjoying a cup of coffee in the sun, pedaling out across the lonely nowhere or perhaps bounding across a field of baby heads, the universe may in her infinite power bring forth a bounty of catchy phrasings and perfectly cadenced sentences whose sole purpose is to provoke and delight. But I'll tell you what, Jack: More often than not, just as soon as I get home and receive the email from my editor reminding me that, just like every month, it's time to punch out another carefully selected and intentionally organized array of wordy-words, the right lobe of my brain becomes as empty as a MENSA meeting on the Jersey Shore. No offense intended to smart people living on the Jersey Shore, but based on what I've accidentally witnessed on the show of the same name, I can only conclude that the region's libraries are lonely places indeed.
So what's a man-child who is suddenly crushed under both a deadline and unwavering writer's block to do? In this instance, drink a beer — though I should reiterate that a beer is just my choice; if you'd rather I drink a frosty glass of sparkling water with lime wedges, I can get behind that, too — ride a bike, go to bed and try it again in the morning. Worst case, I just end up writing about a comic strip I saw almost four decades ago. Lucky for both of us, I'll always have next month.
---
Stevil Kinevil is a regular contributor and columnist if you would like to keep up with the SWTPYITFB subscribe today and be sure to check out more things Stevil on All Hail The Black Market.