Review: Chumba Sendero
Originally posted on December 23, 2019 at 1:00 am
Chumba's lineup offers two hardtails: the Stella and Sendero. As the Stella collects its accolades on the cross-country and endurance race scene, the Sendero is off-course looking for anything and everything to pop off. Downcountry, a fun cross-country bike or simply modern hardtail geometry, whatever you want to call it, the Sendero is titillating.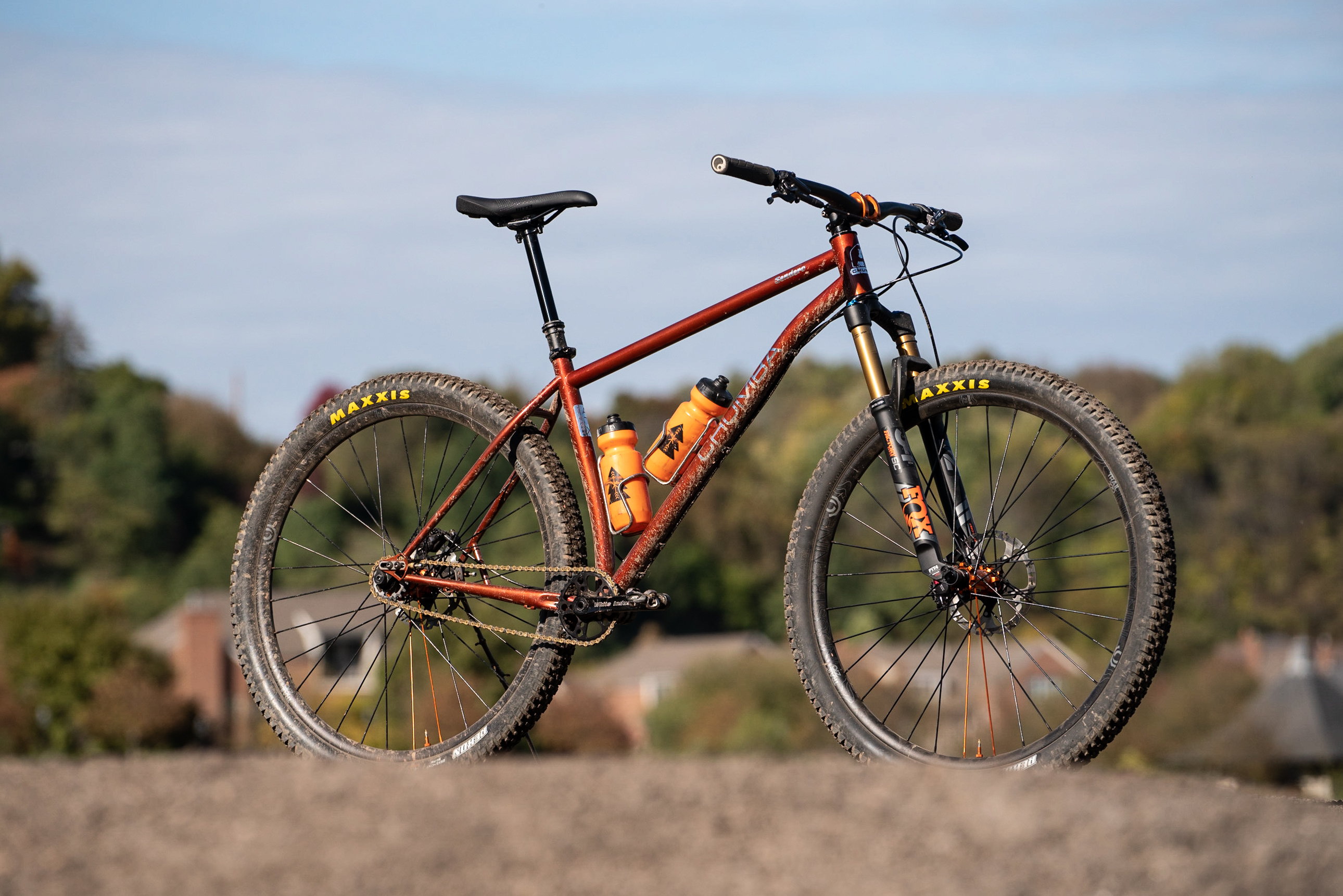 THE BIKE
The Sendero is available as a frame only starting at $1,650, or Chumba will work with the customer for a custom build kit. When ordering a frame, the buyer is presented with optional add-ons such as pump pegs, rack mounts, and small geometry tweaks. The Sendero's natural color is Perfect Avocado, but for some extra moola, you can choose from eighteen additional colors including the Root Beer Float paint job seen here.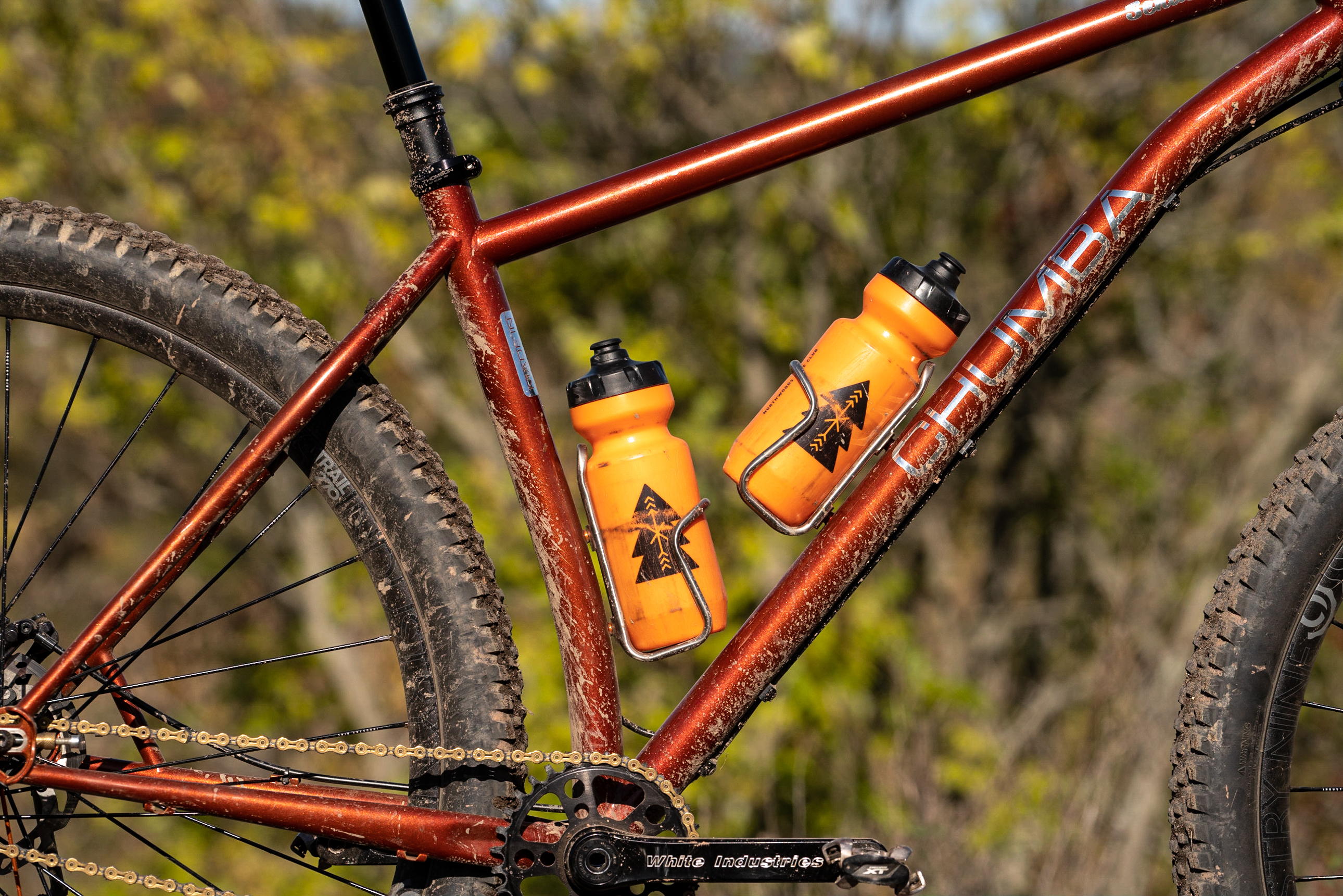 Built from Chumba Oversized Select Double Butted steel tubing that is a blend of materials from Paragon Machine Works (PMW) and includes signature PMW sliding dropouts. A curved seat tube allows clearance for up to 29×2.8 or 27.5×3.0 tires and is welded to a standard threaded bottom bracket offering a 34T max chainring. Other features include externally routed cables beneath the downtube, three bottle cage mounts on sizes M-XL and "internally covert" dropper routing. The dropper routing is internal before exiting a small port on the non-drive side of the seat tube and running externally under the down tube to the remote.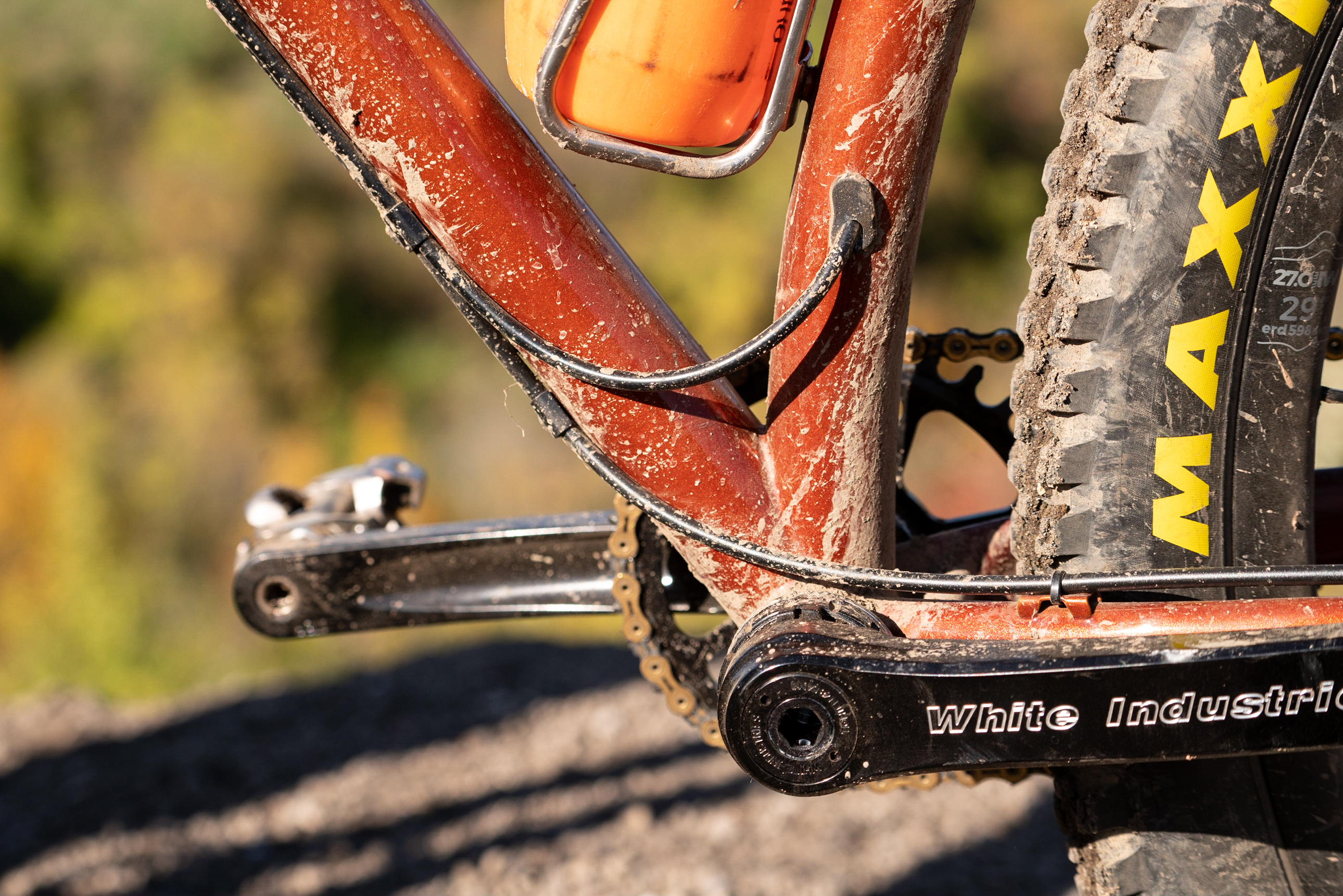 Our build kit is decked out with a mix of my personal favorites. Fox helps maintain control when the Sendero is pointed down with a 34 Step-Cast fork and 150 mm dropper post. An Industry Nine Trail 270 wheelset keeps the Maxxis Rekon 29×2.4 tires rolling straight while White Industries keeps the pedals turning smoothly with the MR30 crank and 32T chainring. Check out the full build kit below.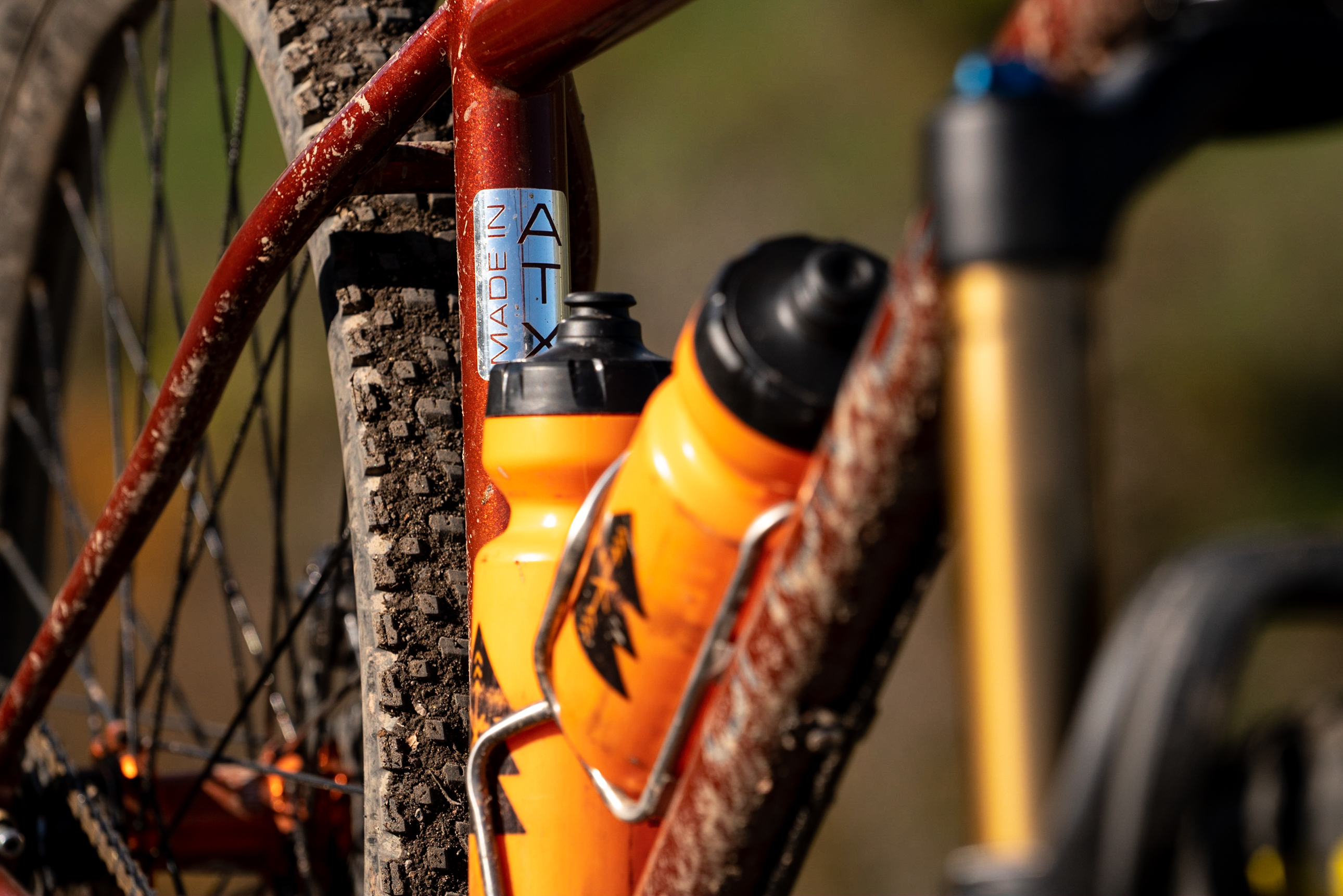 Frame: Chumba Oversized Select Double Butted tubing and PMW SS dropouts
Fork: Fox 34 Step-Cast Factory Series, 120 mm / 51 mm offset
Headset: White Industries ZS44 / EC44
Stem: Industry Nine A35, 50 mm / 35 mm clamp diameter
Handlebar: Race Face Aeffect (not pictured)
Grips: Ergon GE1 Evo
Brakes: Shimano XT 2-piston 180 mm front / 160 mm rear
Crankset: White Industries M30, 175 mm
Chainring: White Industries TSR 32T, 0 mm offset (Boost)
Bottom Bracket: White Industries 73 English threaded BSA
Cog: Wolftooth Components stainless steel 18T
Chain: KMC
Wheelset: Industry Nine Trail 270 with Hydra hubs
Tires: Maxxis Rekon 3C EXO 29×2.4
Seatpost: Fox Transfer Performance Series, 150 mm / 31.9 mm
Saddle: WTB Volt
THE RIDE
Lately, I have found myself in a lull. My brain was fried, my body longed for some rest, and in all honesty, I was ready for the change that comes with winter. Then, the Texas-born Sendero arrived at the doorstep. Like all new bikes that arrive at Dirt Rag headquarters, that first peek at the paint is a must. As I peeled back just enough of the meticulously wrapped steel beauty for a peek, the sparkling root beer powder coat took control of my hands, and soon enough the entire bike was unwrapped. At this point, payroll duties would need to wait, the Sendero was getting built right then and there.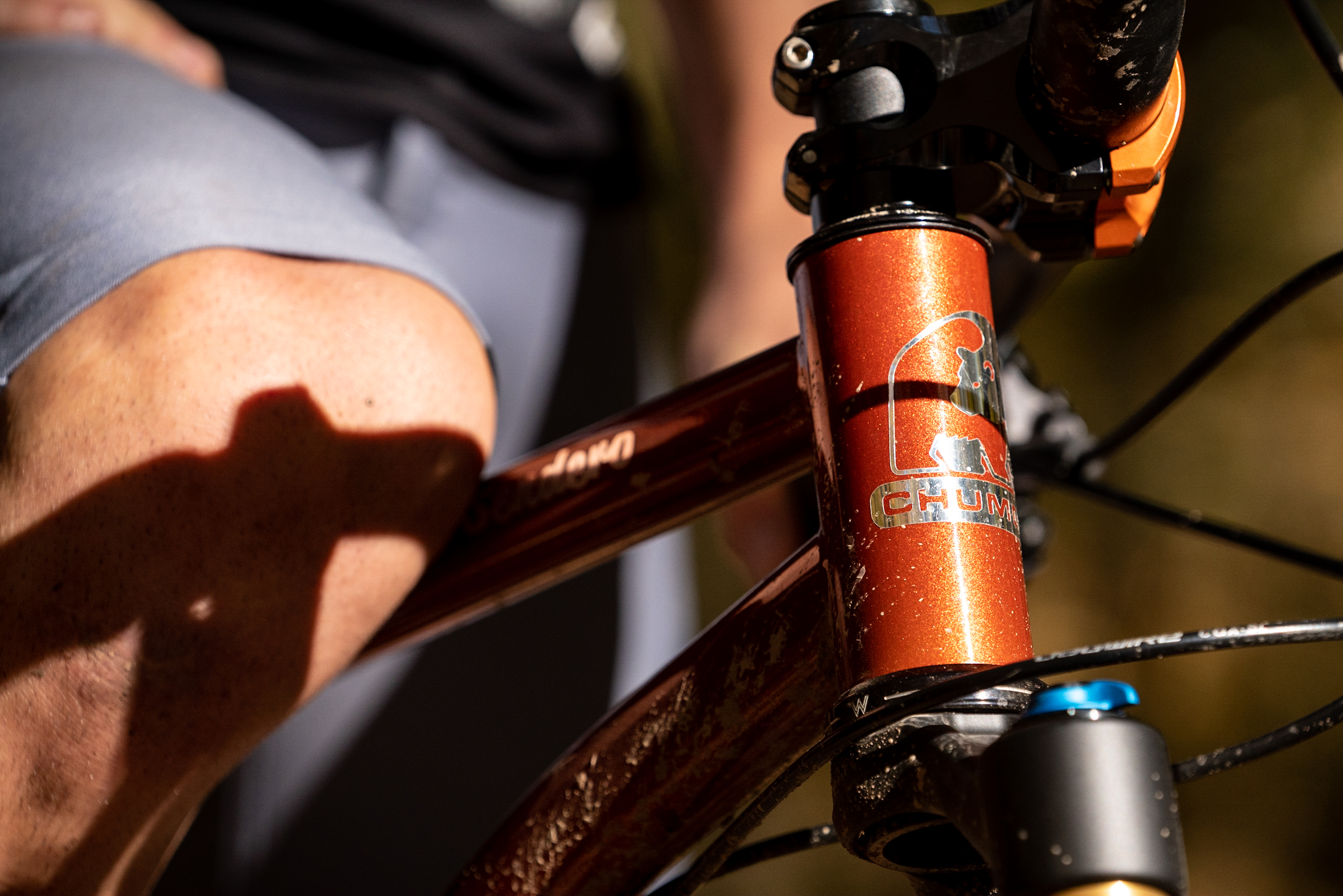 One ride aboard the Chumba Sendero and that motivational smolder had developed into a full-fledged inferno of excitement. I've been on a lot of hardtails this year, and the Sendero may be my new favorite. At no point did I feel the frame flex laterally, even when under heavy load as I tried to mash my way up a steep rocky pitch. Yet, riding the trail, every rock or root felt muted; it was the Goldilocks of stiff and compliant for my 165-pound stature. Diving through corners, twisting through tight S-bends, and shooting step-downs, the Sendero flourished. I relished every moment aboard the Sendero, even joking to Vince Colvin, director of operations and product design at Chumba that he may find a different bike returned back to Austin.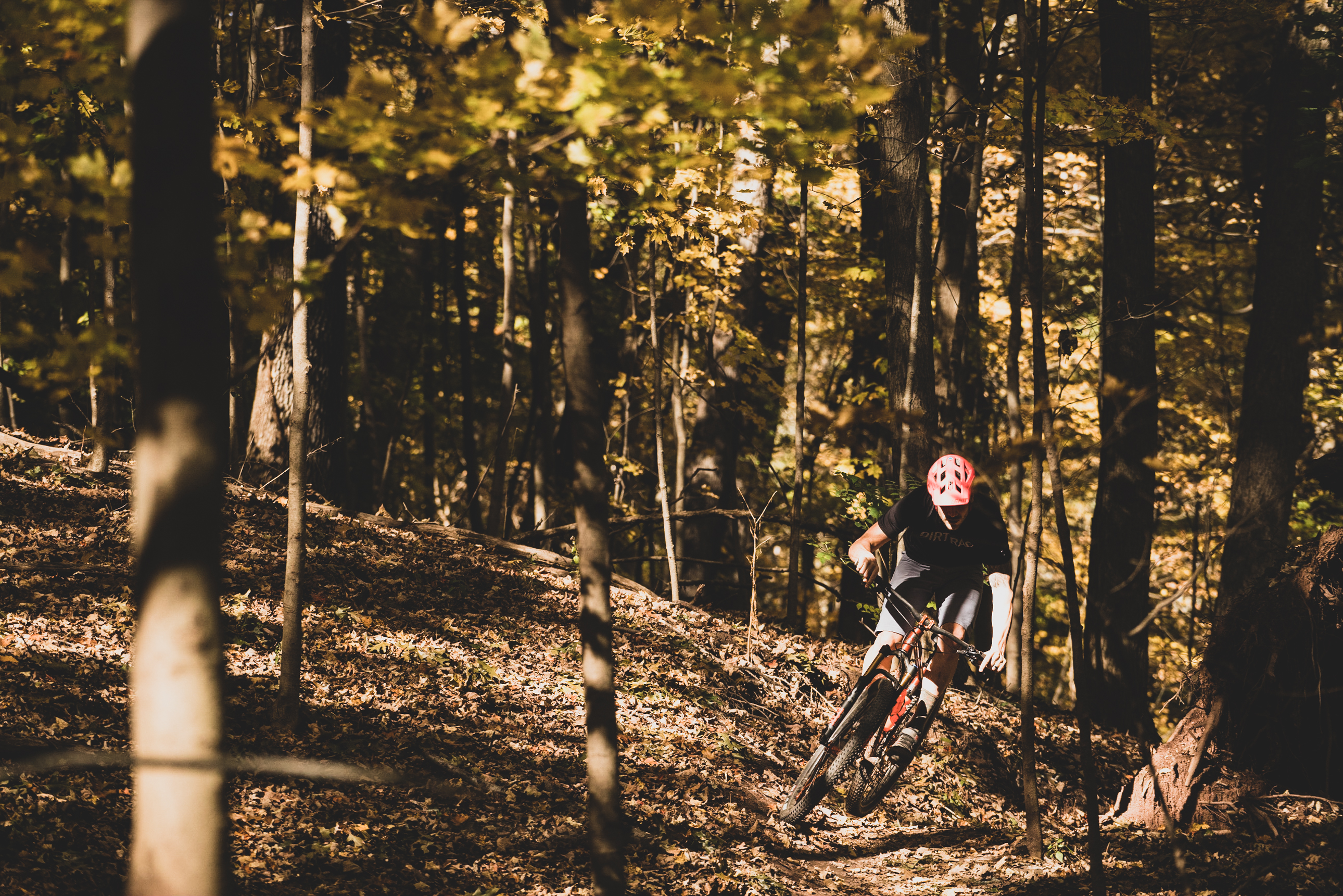 Comparing the steel Sendero to my personal Pivot LES, geometry and bike setup are almost a spitting image with the exception of carbon hoops on my personal bike. The Sendero came in at the 25-pound mark putting it roughly three pounds heavier. My LES is constructed from carbon, but it falls on the more compliant end than stiff in comparison to other carbon hardtails.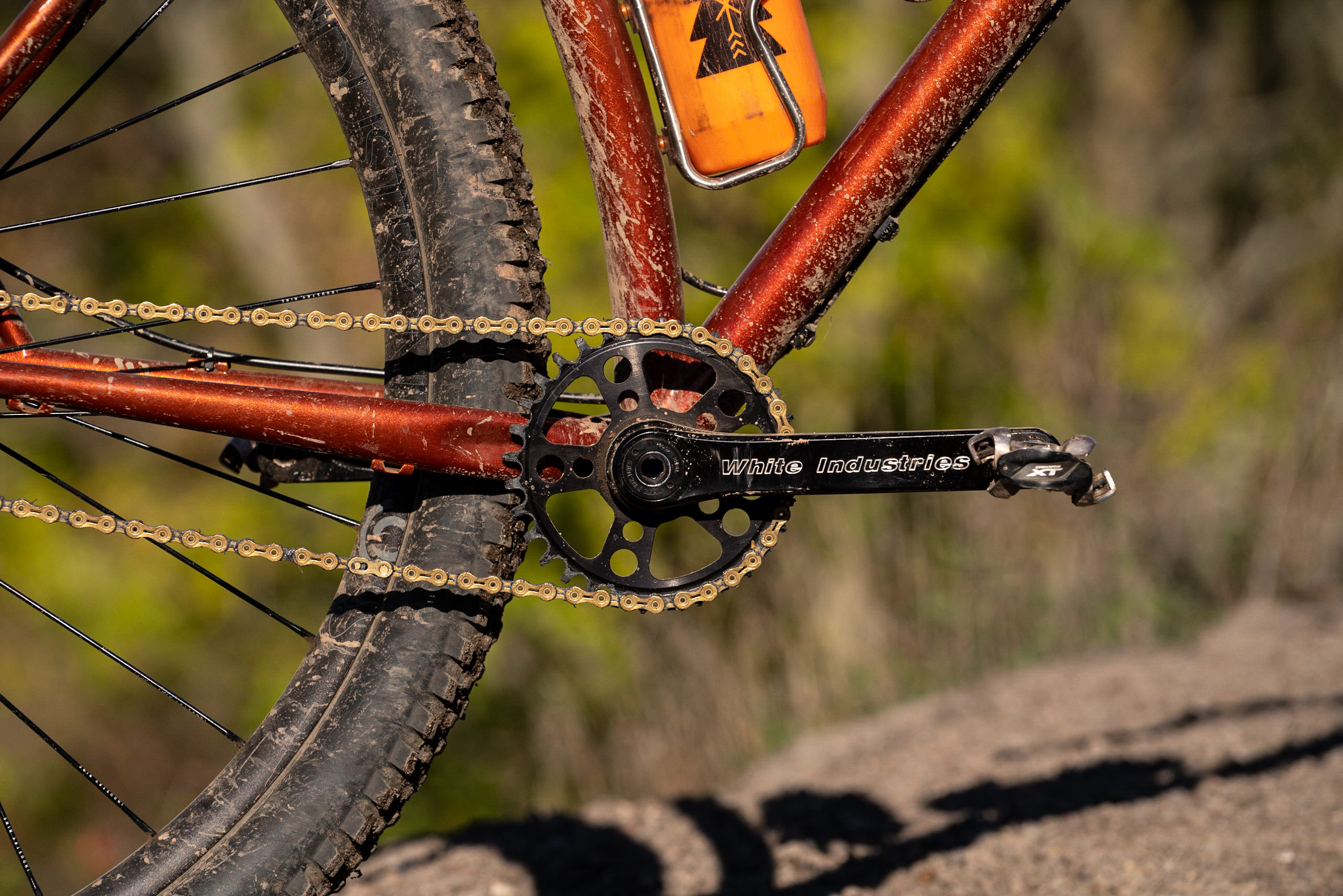 The LES is pretty spot-on in terms of the numbers; the only tweaks would be getting the head angle maybe a half-degree slacker and tucking in the rear wheel a bit more, which just so happened to be the differences the Sendero offered. At the time, I also loved the ride characteristics of the LES; I thought it was riding really well for a lightweight cross-country bike, and no other hardtail really ticked all the boxes that the LES did for me, until now.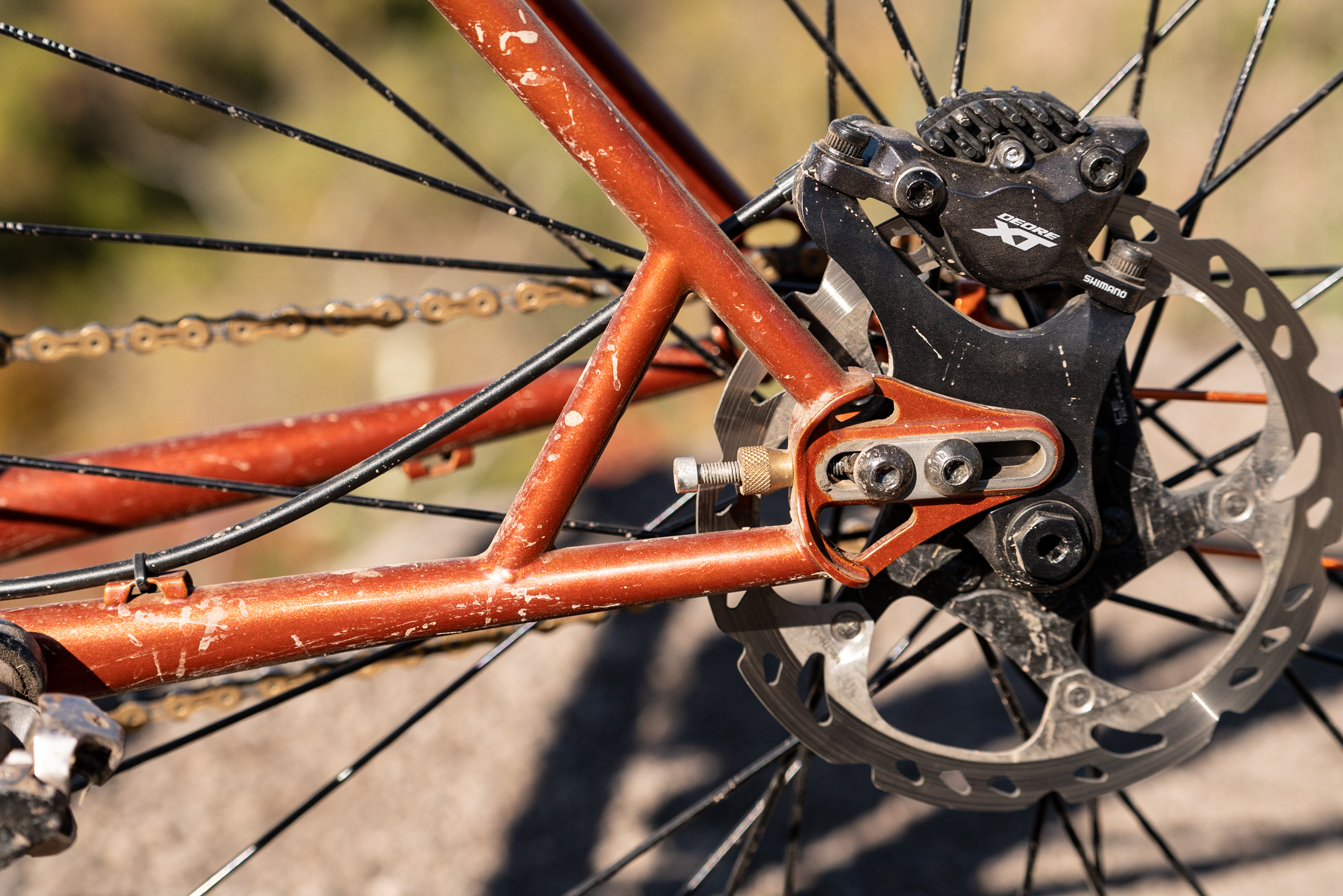 The Chumba Sendero is an unbelievably well-balanced steel hardtail, and the only caveat I found was that the power delivery from the cranks to the wheel was not quite as responsive as the carbon framed LES. Which isn't that big of a deal unless chasing podiums is your priority.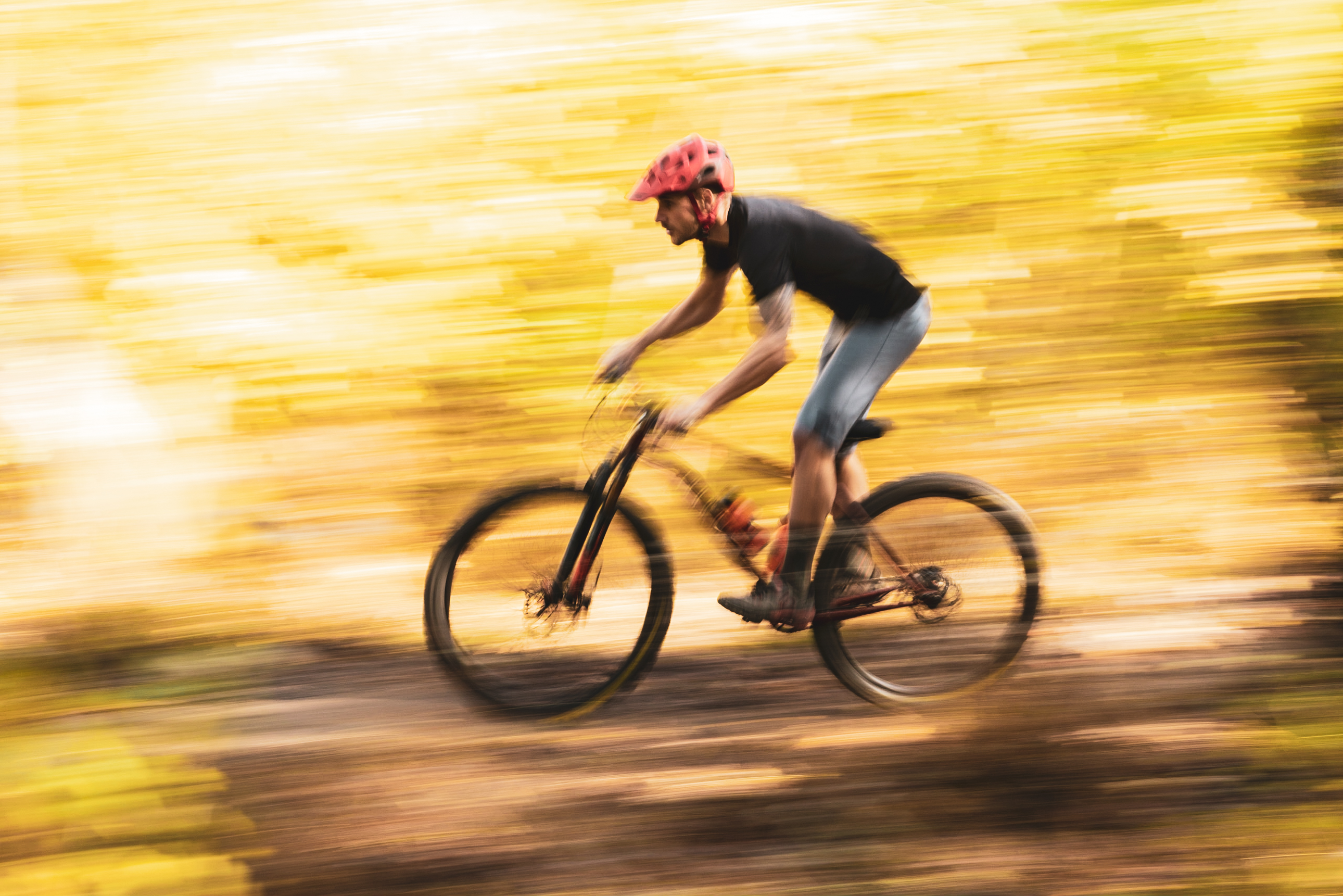 As much as I love getting out in the mountains in baggies for a fun ride, I still occasionally pull out the Lycra and toe the line for some endurance races. Initially, I gave the lighter LES the nod for this scenario, but that too soon changed. After spending back-to-back five- to six-hour trail riding days, my body felt less fatigue than it normally does if I were to ride the similar loops on the carbon bike. Chumba's steel soaked up a lot of the sharp hits and chatter that are normally transferred through the carbon allowing me to feel fresh longer, and for an endurance race, I think that would pay off nicely if you're willing to muscle up for the climbs.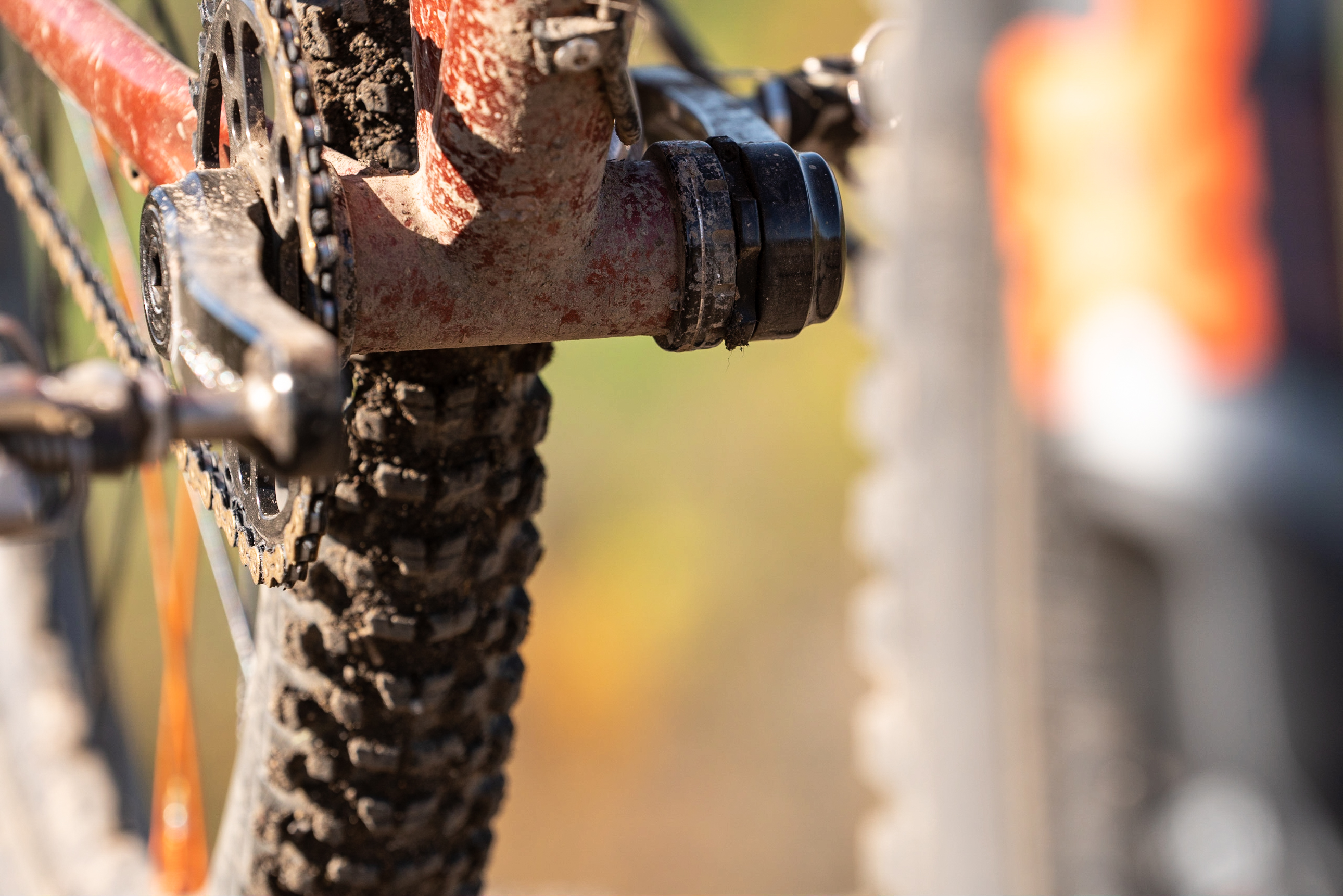 FINAL THOUGHTS
The Chumba Sendero would make any rider happy who revels in riding all day between mountain passes or boosting ledges in the local city parks. Racing, riding, exploring, bikepacking, whatever, just throw a leg over the Sendero and go ride. The perma-grin is hard to hold back, so embrace it and appreciate knowing that the crisp frame miters are born and raised in the state of Texas.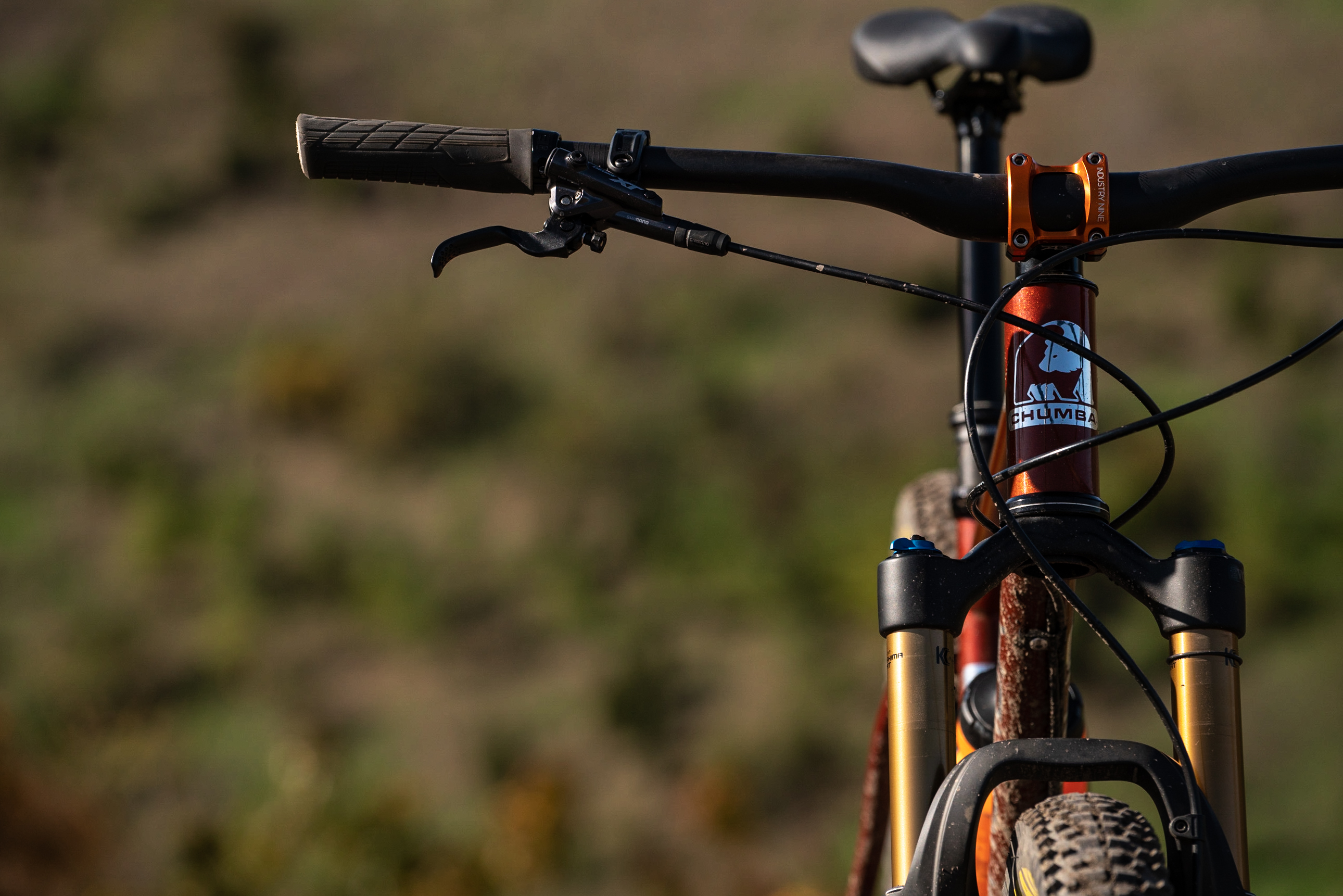 As an added bonus, if you head over and place an order from now until January 15, 2020, you will receive a free White Industries headset in the color of your choice; just let Chumba know Dirt Rag sent you. Not ready to pull the trigger? Check out the Chumba lineup at NAHBS March 20-22, 2020 in Dallas, Texas.
Words by Scott Williams | Photos by Brett Rothmeyer
---
Chumba Sendero
Suspension: 120 mm, optimized for 120 – 130 mm
Wheel Size: 29×2.4", max clearance of 29×2.8" or 27.5×2.8"
Head-tube Angle: 68 degrees with 120 mm fork
Price: $1,800 frame only with Lvl2 Root Beer Float colorway
Sizes: M, L (tested), XL * size small should be available starting Jan. 2020
Weight: 25 lbs. w/o pedals and size tested
Online: chumbausa.com
---
Tester: Scott Williams
Height: 5'10"
Inseam: 32"
Weight: 165 lbs.