Review: Skullcandy Vert Earbuds
Originally posted on December 12, 2019 at 0:05 am
Music is good. Mountain biking is good. Listening to music while mountain biking? Good, good, good. Yes, one should monitor the level at which the music is played so as to be aware of one's surroundings and to be respectful of other trail users. Outside of that, have fun starring in your own fantasy video part.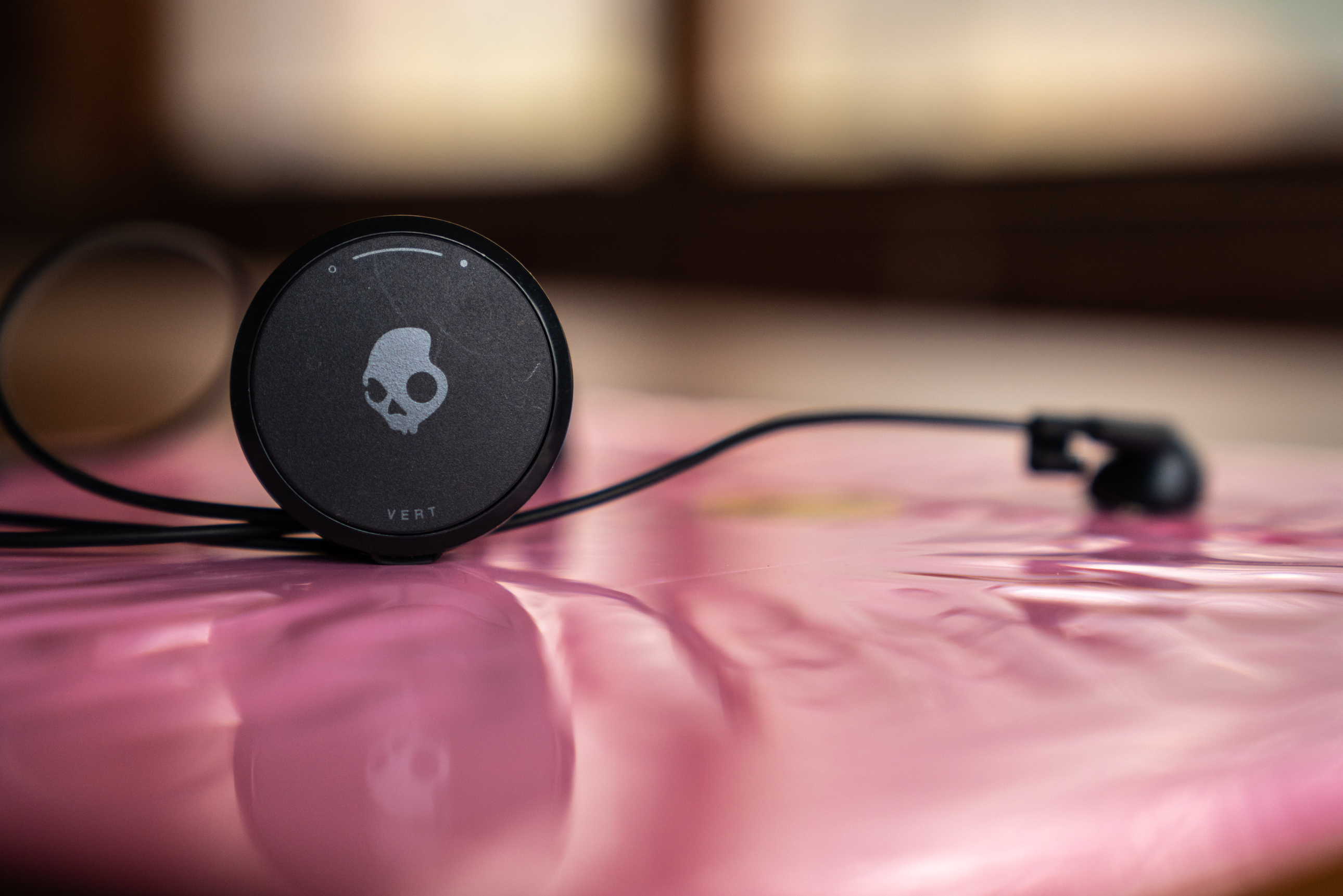 The Vert clip-on earbuds from Skullcandy provide quality audio output in a unique package. Rather than connecting to your device via traditional 3.5 mm plug and roughly 3 feet of cable you have to fish through your clothing, the earbuds on the Vert sprout from a central control button and are only about 18 inches long. The central control button clips to your jacket, bag, goggle strap, or anywhere else that's relatively close to your head, hence the shorter cables. 
Sound quality from the Vert's is pretty robust for such a svelte package. Having experienced Apple EarPods and Skullcandy Hesh 2 over-ear headphones, I'd say the Vert's are closer to the latter in terms of noise-canceling and warmth of tone.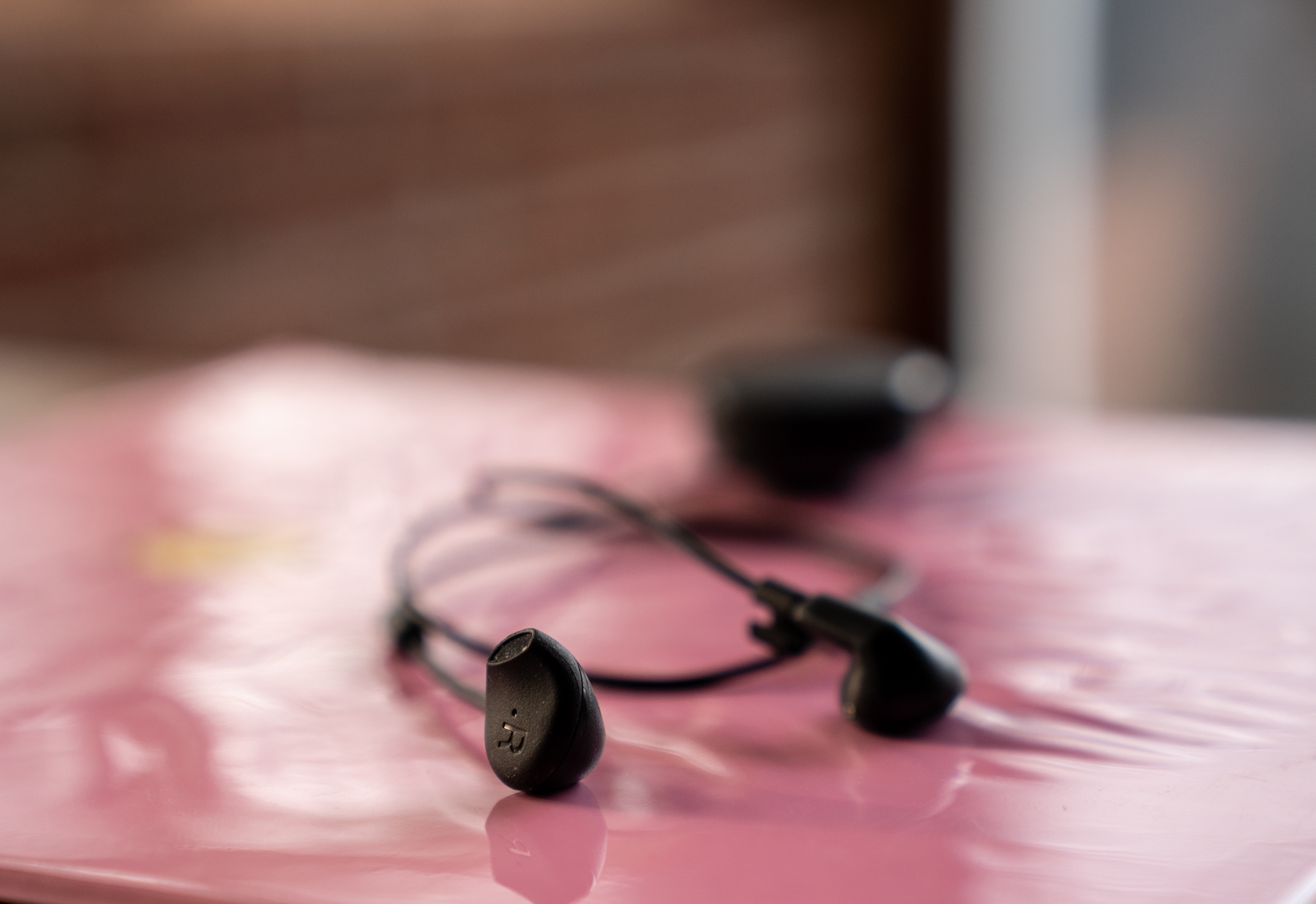 The fit and feel of the Vert are in line with other earbud-style headphones I've experienced, and at this point, it wouldn't be a surprise to anyone who's been alive the last twenty years. Despite the jostling of the trail, the buds stay put, bar crashing.
One conundrum for the Vert is the fact that you must clip the pushbutton control somewhere; goggle straps, collar, backpack strap, etc. (as mentioned previously). But what if you don't have a spot that can adequately hold the weight? I don't typically wear an over-the-shoulder style bag when I ride, nor do I wear goggles. Through the last warm days of summer I was forced to clip the control button to the collar of my riding jersey, which totally worked, but felt a little floppy, and probably looked about as cool as it felt. When riding with a backpack, or jacket, or goggles, the control button easily clips to the more robust material with little forethought.
Using the device is pretty straight forward; push and hold the control button to turn the device on, pair it with your phone or other Bluetooth enabled music device and you're ready to rock. Pause a track by pushing the control button again, skip to the next track by twisting the button to the right and listen to the previous track by twisting left. The beauty of this system is that engagement is easy with gloves on, giving me some optimism for riding through the upcoming Pennsylvania winter.
If you're looking for a sound solution to your music deliver needs, check out the Skullcandy Vert clip on earbuds. I've enjoyed them thus far and will continue to do so into the future.
Words by Stephen Haynes Photos by Brett Rothmeyer
---
Skullcandy Vert Earbuds
Price: $80
skullcandy.com
---
Dirt Rag's creative director Stephen Haynes may move slowly, but he gets a lot done. When he's not testing products, laying out pages or making illustrations for Dirt Rag, he's out plein air painting bucolic fields somewhere. He's also a father of two, a lover of comic books and consumer of vast amounts of black coffee. Check out more of Haynes' work at stephenhaynes.com or follow him on Instagram @stephen_haynes_art