Review: 45NRTH Ragnarok boots and Torvald jacket
Originally posted on November 2, 2019 at 14:55 pm
With the cold, fluctuating temperatures of the transitory seasons of autumn and spring, cycling gear can be hard to pin down. Feet get cold easily on metal pedals while freezing puddles splash up from the freeze-thaw trails. Meanwhile, the start and end of a ride can be exceedingly cold, especially on the way to and from the trails, and visibility is always an issue on these short days where sometimes the sun barely makes an appearance at all. However, hardcore winter boots are too extreme, hot, and stiff for this relatively mild weather, and too much body insulation quickly becomes overbearingly hot and bulky once the ride gets going.
45NRTH, the boutique cold weather footwear and apparel company, has come out with a new line to address this conundrum.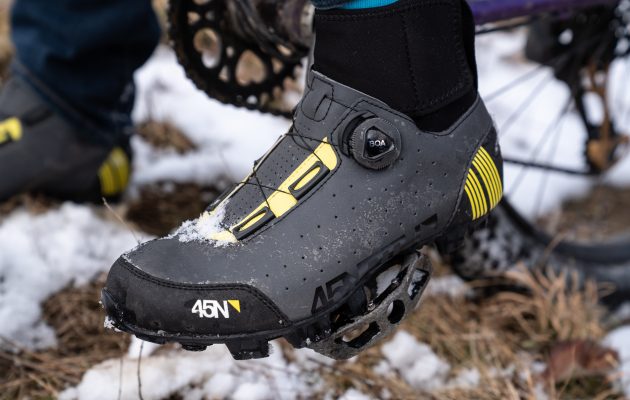 Ragnarok Reflective Boots – $235 ($195 for nonreflective black)
I try not to ride below freezing, because I'm sick of getting bronchitis, but when the trails have been muddy for so long, it's hard to resist a cold day with frozen trails, or even a sunny commute along railroad ballast that you know will inevitably dip well below freezing once the sun goes down. I used the recommended foot measurements when ordering my boots, and these still came in a bit big on my feet. This is great, however, because it allows for plenty of wiggle room in my toes, and can fit a second pair of socks easily. These are spec'd at +25° F but inevitably, when the temperature dipped below 30° my feet started to get cold (not nearly as cold as they would be in my regular riding shoes, though). An extra pair of socks did the trick on the next cold ride to keep my whining to a minimum. Plus, once my rear blinky light died, I felt at least somewhat safe with these hyper-reflective shoes glowing as I rode home in the dark. The reflective gear always looks a little nerdy, though, so if you like a stealthier look, then you may be interested in checking out the all-black version.
I also rode these boots in the woods in marginal conditions, giving a good test to how they held up walking on ice, as well as handling cracking through thawing mud puddles and slushy leaves. I was surprised at how sturdy I felt walking on slick ice (still be careful, though), since these have rubber traction and not metal spikes, and they were waterproof enough to keep the ice water outside the shoe, where it belongs. The neoprene ankle seemed to do a good job at keeping the heat in the boot, and the Velcro closure kept it snug and comfortable, while still fitting neatly under my jeans. Meanwhile, the BOA closure for the structured, foot part of the boot was really helpful in getting the boot on and off when my fingers were too frozen to deal with laces.
Finally, since these aren't the most hardcore boots, they offer a lot more flexibility than footwear spec'd for colder temps. They are still stiff and not the kind of cycling shoe you can wear to work and hang out in all day, but they are comfortable to pedal in for a few hours and not fall on your face or get blisters walking into a café for some hot cocoa. All in all, I'm very impressed by these boots and think 45NRTH really hit the mark in terms of transitional footwear for mountain biking and commuting.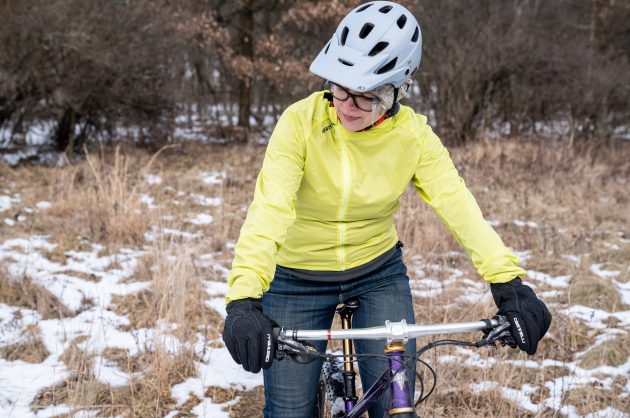 Torvald Jacket – $135
This super-thin jacket surprised me. I expected it to be the typically swampy and still cold plastic bag that is most wind jackets, but this was as close to a delight to wear as I can imagine something colored safety yellow to be. It's a good jacket to throw on at the beginning of a ride when you're still warming up, and have on-hand for the end of the ride as temps drop when the sun starts to set. It certainly won't do the job of a proper shell on a downright cold day, but for those milder and transitional days, this jacket is the trick to getting home safely. Paired with a thermal base layer and a vest, I was very comfortable on a hilly ride that is typically hard to dress for, with long climbs that overheat me and descents that immediately make me freeze up. It's about as breathable as can be while still retaining some heat and breaking wind (heh, heh).
The extra-nice touch on this jacket is the asymmetric front zipper, which allows for easy one-hand use and also prevents chin rub, especially when wearing a gaiter that might pull the collar in close. It has one rear pocket, which can be used as a stuff sack for the jacket for easy transportation in a pack or jersey pocket; in packed form, it could probably stand to be more compact, because the pocket is big enough to function when worn and carry basic riding essentials. This coat isn't waterproof, so be prepared and pack a real raincoat if you think it might properly rain, but it is water-resistant for those grey days that threaten snow or a light mist. For style points, pair this with a few cough drops, a flask of mid-shelf whiskey, and of course the Ragnarok boots to get through any ride with fluctuating temperatures.
Words by Carolyne Whelan and Photos by Brett Rothmeyer
---
Editor's Note: This feature first appeared in issue #209 of Dirt Rag Magazine. Like what you see? Subscribe today and don't miss out on some new stuff coming in 2020!