United Bicycle Institute Closes Portland Location
Originally posted on October 15, 2019 at 0:53 am
On October 4, 2019, a friend from Surly Bikes posted news on social media. The United Bicycle Institute was closing its Portland location. She, amongst many others, had a life-changing experience there. Education, friendship, and bikes, they have that power. On a positive note, UBI is keeping open their Ashland, Oregon location! Phew.
When any of us hear of a small business closing, most of are saddened. Hoping people that work there will find something else, that things are just tough right now and will change, we can hope.
We reached out to Ron Sutphin, Owner of UBI. As you guessed, he is just a wee bit busy packing up the school. The amazing Co-Owner and his "other half", Denise Sutphin, took some time to answer a few questions for us. 
DR: Not being a Portland of Oregon resident, did the rent get to high, and UBI was priced out of the building and Portland in general? 
UBI: We have been in the same location for the past ten years in Portland, and our lease was up for renewal. The new lease's rent was out of our budget. Portland and the county that Portland is in has very high taxes, especially property taxes, which causes landlords to increase rent to pay the taxes and for infrastructure. UBI moved into a neighborhood that was in the starting process of gentrification in 2009. After ten years, this process is nearly complete and is now a high demand area, which in turn has priced us out of the market.
DR: We are seeing this same thing in Pittsburgh, it's sadly not surprising to hear. Was there not enough incoming revenue for UBI to make up that difference in rent? 
UBI: We could have made the rent but at a significant loss of profit. We would have had to raise tuition costs for students to make a profit with the proposed rent increases. We didn't want to raise tuition prices to pay the landlords. 
DR: So you put the students first. That's fantastic. Did the rise of builders in Portland create a lot of competition for consumer dollars?
UBI: No, UBI is a school, and the builders in Portland are just that – builders. Only about 7% of UBI students come from within the state of Oregon, and only about 4% of those are from the Portland area. We have had students from nearly 50 countries that attend UBI. However, with the current anti-immigrant political climate, UBI is seeing fewer and fewer international students, which hurts our bottom line. Usually, we would have about 10% of our students as being foreign, but within the last 2 -3 years international student enrollment is down to about 2%.
DR: I did not realize that UBI had such a substantial percentage of international students; it's unfortunate to see that dwindle to such a point. The QBP scholarship remains to be an essential part of UBI. Can you give me a few sentences to close the words on a positive note? 
UBI: We are proud and honored to be able to support a more diverse bicycle community through the QBP Bike Mechanic Scholarship. The program is in its 7th year, and over 100 scholarship graduates have attended UBI! UBI used to teach a women's only class in the 1990s to early 2000s, and we stopped. That was due to perceived discrimination, female only, from our school's state licensing commission. We were looking for a scholarship sponsor(s) to continue the class, and QBP was looking for a program like UBI's. Thus the scholarship was born!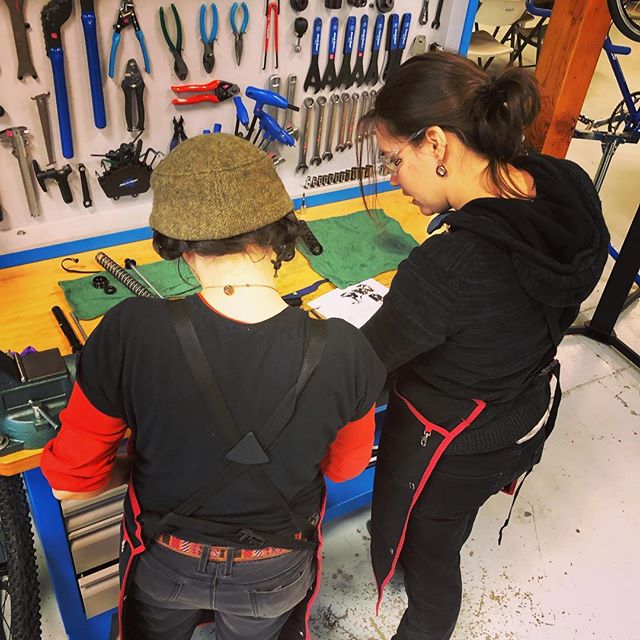 DR: We wish you, Ron, and all the teachers all the best, much love to UBI and the future generations of mechanics that you create. 
To everyone out there, head to the UBI website and check out everything they offer: the ins and outs of bike mechanics, frame building, tig welding, and much more. If you would like to read more about this topic from folks who live in Portland, check out Bike Portland's article here.