Hypo and hyperthermic prevention
Originally posted on October 4, 2019 at 0:36 am by Keith Huff
A temperature-based guide for cold weather mountain bike riding
By Keith Huff
Now that fatbiking has become a popular sport, more riders, both skinny and fat tire, are riding through the winter months. This has allowed not only extended (or continuous) seasonal recreational riding, but it also promotes base mileage achievement for competitive riders.
Winter riding, however, brings the challenge of temperature control, as the rider will face freezing temperatures, rain, and snow. Although exercise increases body heat, hypothermia (core body temperature below 95°F) and frostbite (peripheral tissue freeze occurring when the skin temperature drops below 31.1°F) are major concerns while riding in the winter months due to wind-chill and perspiration.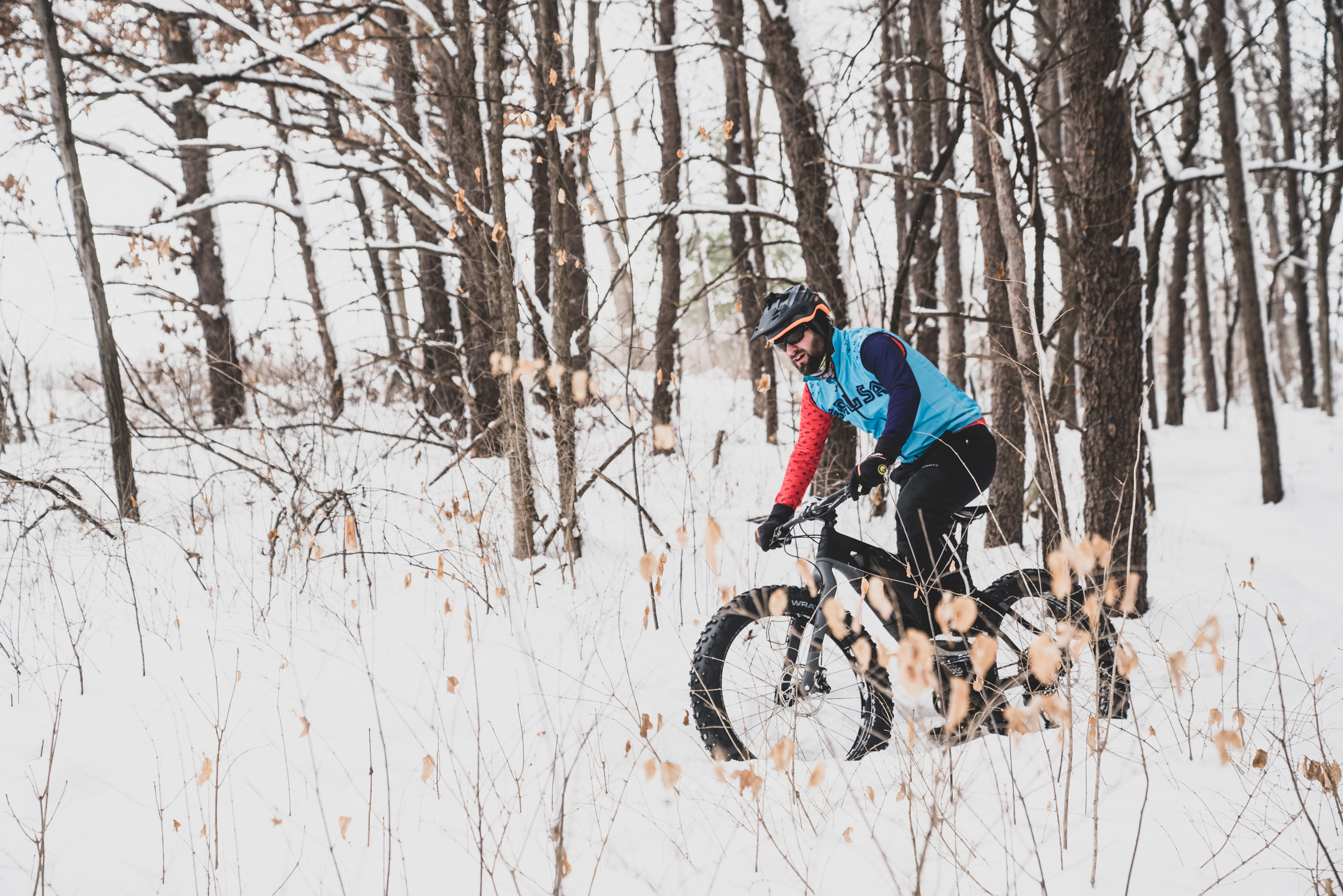 Signs of frostbite include:
cold skin at temperatures around 28°F
localized burning or pain around 20°F and
tingling and subsequent numbness below 10°F.
Signs of hypothermia increase and become more severe as the core body temperature drops. Symptoms include shivering, social withdrawal, pupil dilation, cardiac arrhythmia, confusion, loss of consciousness, severe bradycardia, ventricular fibrillation, and cardiac arrest.
Prevention of frostbite and hypothermia can be accomplished successfully with proper education, awareness of the changing climate, and appropriate clothing. Cold- weather riding is best when the body is not too warm (excess perspiring leading to cold evaporation) or too cold.
The best strategy is a layered approach, which regulates heat through the layers and also allows for easy cooling by simply removing layers as needed. Every person's body is different in heat regulation and perspiration based on skin and fat composition. Below is a guide based on temperature ratings geared towards the mountain biker, as average riding speeds are less than that of the roadie and therefore wind-chill factor comes less into play. Even for the mountain biker, the below recommendations are based on higher exertion riding, whereas slower, recreational riding may require heavier layering.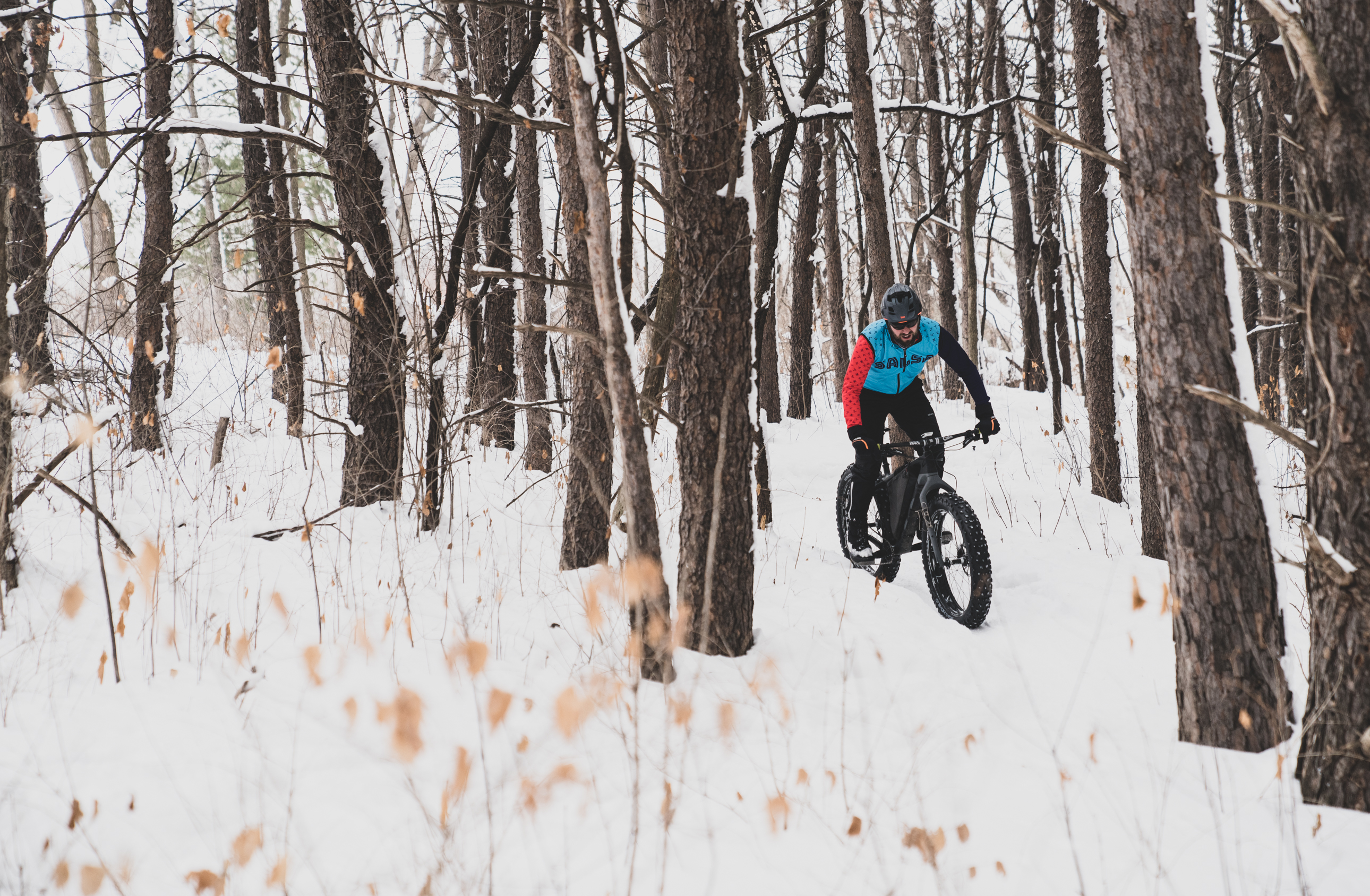 Never wear cotton, as it does not maintain heat when wet. Instead, wool or microfiber is a better choice.
Headwear: two weights are available, light microfiber Skullcap beanies (without fleece) and heavier Thermal beanie (with fleece). [Editor's note: the author recommends Headsweats, though we have no affiliation with them.]
Environmental temperature-based mountain bike clothing recommendations:

<50°F: chamois short, riding shorts, 2 microfiber shirts, light glove, helmet liner beanie hat, normal weight socks, normal Mtb shoes
<40°F: chamois short, riding shorts or thin riding pant, 2 microfiber shirts, +/- wind vest (stuff-able), light glove, helmet liner beanie hat, wool socks, normal Mtb shoes
<30°F: chamois short, thin layer pant, 3 long-sleeve microfleece shirt, +/- wind vest (stuff-able), heavy finger glove, warm beanie hat, wool socks, normal Mtb shoes
<25°F: chamois short, thin layer pant, microfiber shirt, softshell jacket or windbreaker, heavy finger glove, warm beanie hat, wool socks, winter boots
<20°F: chamois short, thin layer pant, long-sleeve microfiber shirt, softshell jacket or windbreaker, lobster glove, warm beanie hat, wool socks, winter boot
<15°F: chamois short, thin layer pant+microfiber long-john or fleece pant, long-sleeve microfiber shirt, softshell jacket, lobster glove +/- silk liner glove, neoprene ski half-mask, warm beanie hat, wool socks, winter boots
<10°F: chamois short, thin layer pant+microfiber long-john or fleece pant, +/- knee warmers, long-sleeve microfiber shirt, softshell jacket or light puffer jacket, lobster glove+/-silk liner glove, neoprene ski half-mask, warm beanie hat, wool + silk liner socks, winter boots, groin protection (either wind briefs or a baggie duct-taped to inside of pants)