Dirt Rag 212 is on its way! How will you get yours?
Originally posted on August 15, 2019 at 11:58 am
Issue 212 of Dirt Rag Magazine has hit the doorstep of Dirt Rag Headquarters, which means it's on its way to bookstores, bike shops, ports, rabbit holes, hobbit huts, sasquatch pits, alligator caves, marmot nests, clown fortresses and, of course, subscriber mailboxes. If you haven't already subscribed, be sure to stop by your local bike shop or raccoon pod to get yours. This issue is jam-packed with adventure, mayhem and reviews of camping gear, the Cannondale Habit Carbon 3, Specialized Stumpjumper ST Comp Alloy 29 and the Diamondback Sync'r Carbon.
Leslie Kehmeier, our Access editor, takes us to Grand Staircase-Escalante National Monument and Capitol Reef National Park to gain some insight into public lands, our great American pride and joy, and what risks they currently face and actions we can take.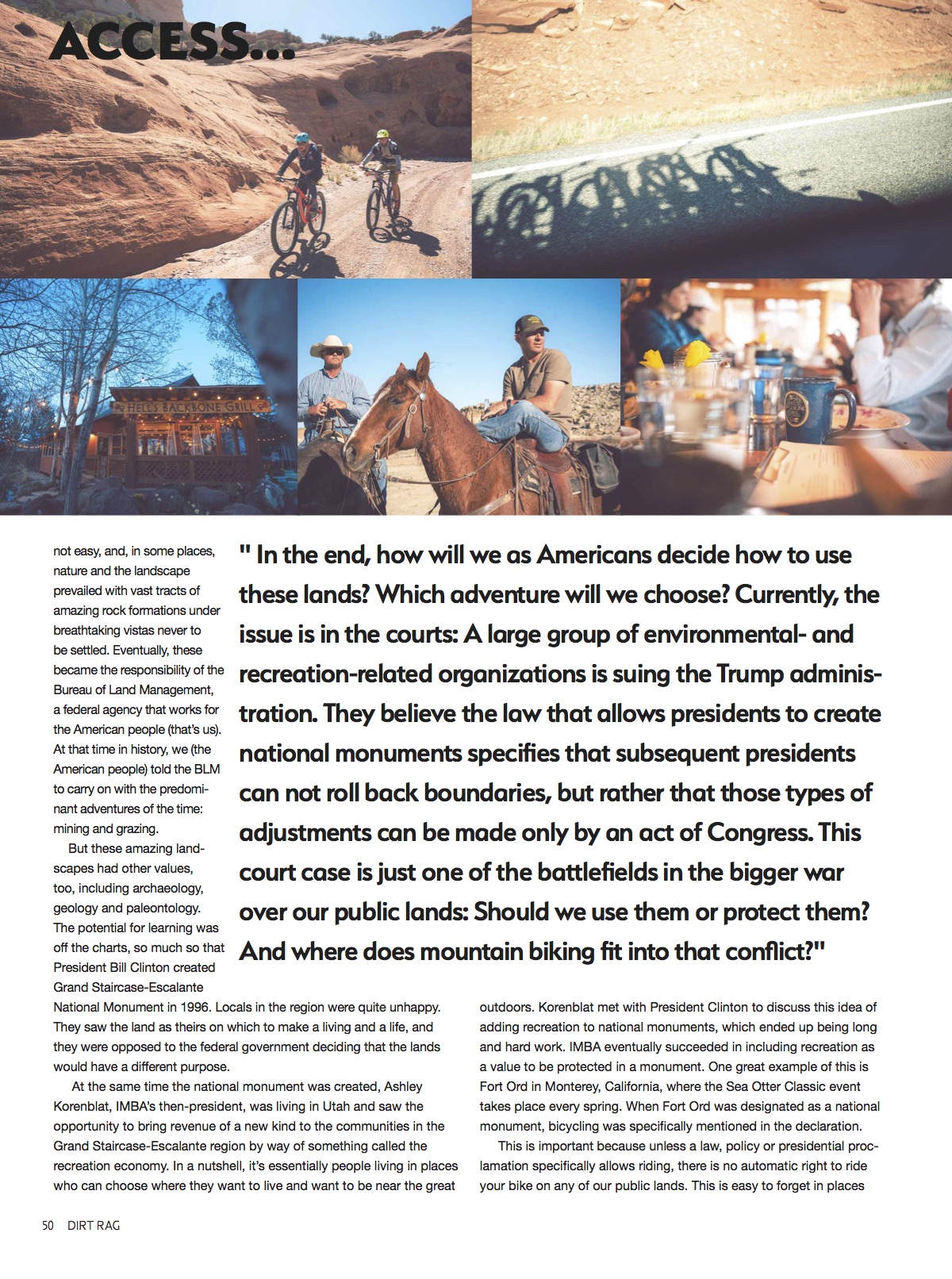 Abby Cooper, meanwhile, explores the northern Canadian territory Yukon on a bike-focused road trip that gives her (and us!) a deeper look into the community, culture, history and, of course, sick riding that all help this beautiful region thrive. Read all about it in Road to Gold.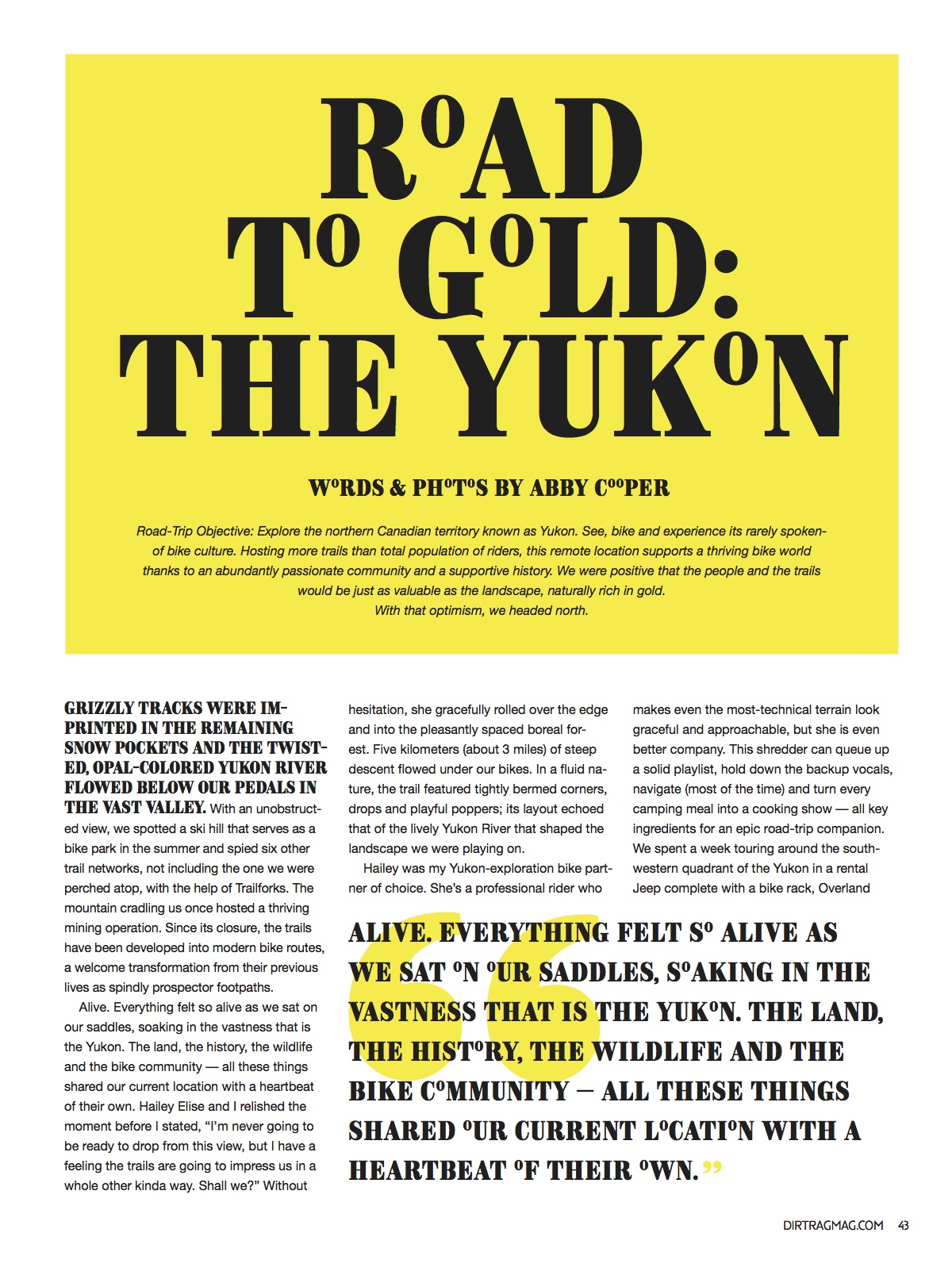 Carolyne Whelan and Stephen Haynes, Dirt Rag's faithful supreme editorialship and visual warlock, try to get away from the gloomy Pittsburgh winter, only to end up having to make some tough decisions. Stephen gets sidetracked chasing down his elusive best friend Beardo in Ohio…or is it Utah? You decide. Meanwhile, Carolyne keeps heading toward the Florida sunshine to ride bikes at Alafia and Balm-Boyette, only to find herself in some hair situations with Bigfoot, alligators, and nonplussed manatees. Help them find their way to safety (or meet their demise if you're that sort of adventurer) in Cruise Your Own Adventure, a choose-you-own-adventure mountain bike tale.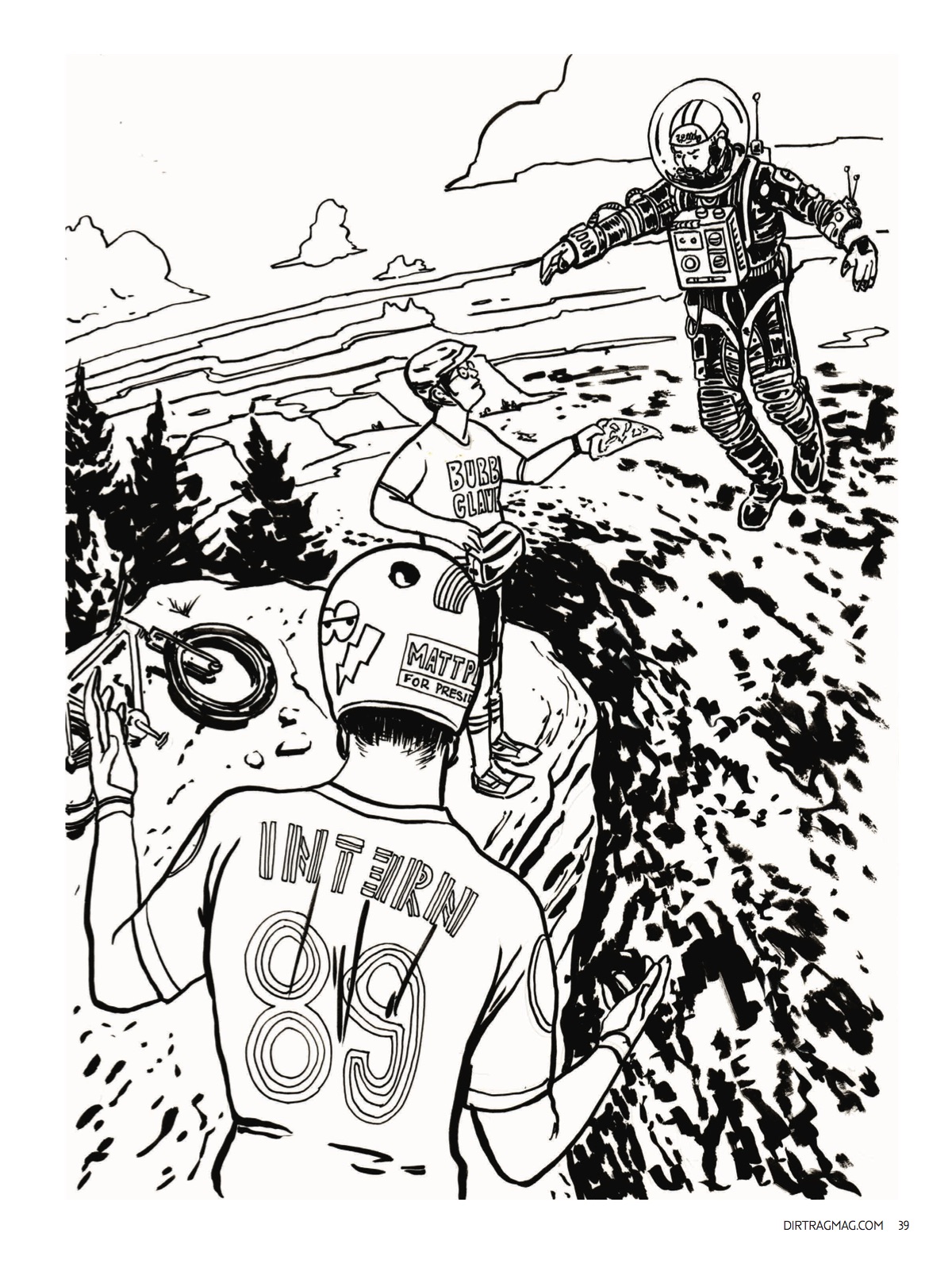 Pete Scullion is back with more mountainous bikeventures as well, this time trying his hand pedaling up Europe's highest peak, Aiguille de la Grande Sassiere. Does he make it? Read to find out!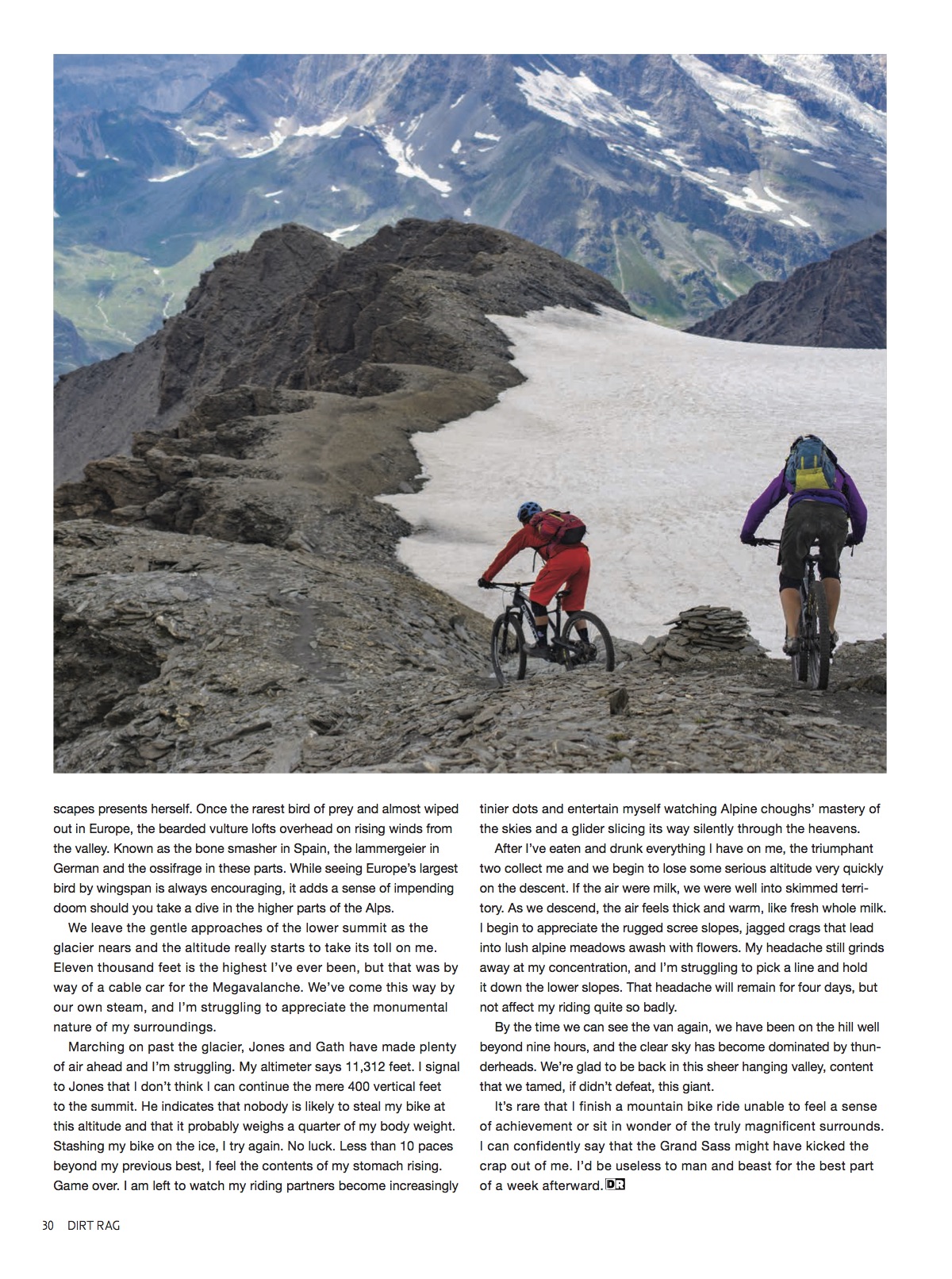 But even on the flat track, things can feel dangerous. Read along with V. A. Nirode as she shares her experience riding the 10,000-kilometer (about 6200 miles) Silk Route cycling trip from Mongolia to Turkmenistan at the same time another group of cyclists in the same region were brutally attacked, including four who were killed. It's a story about culture, community, friendship and keeping an open heart. Take yourself halfway across the world in From the Roof of the World.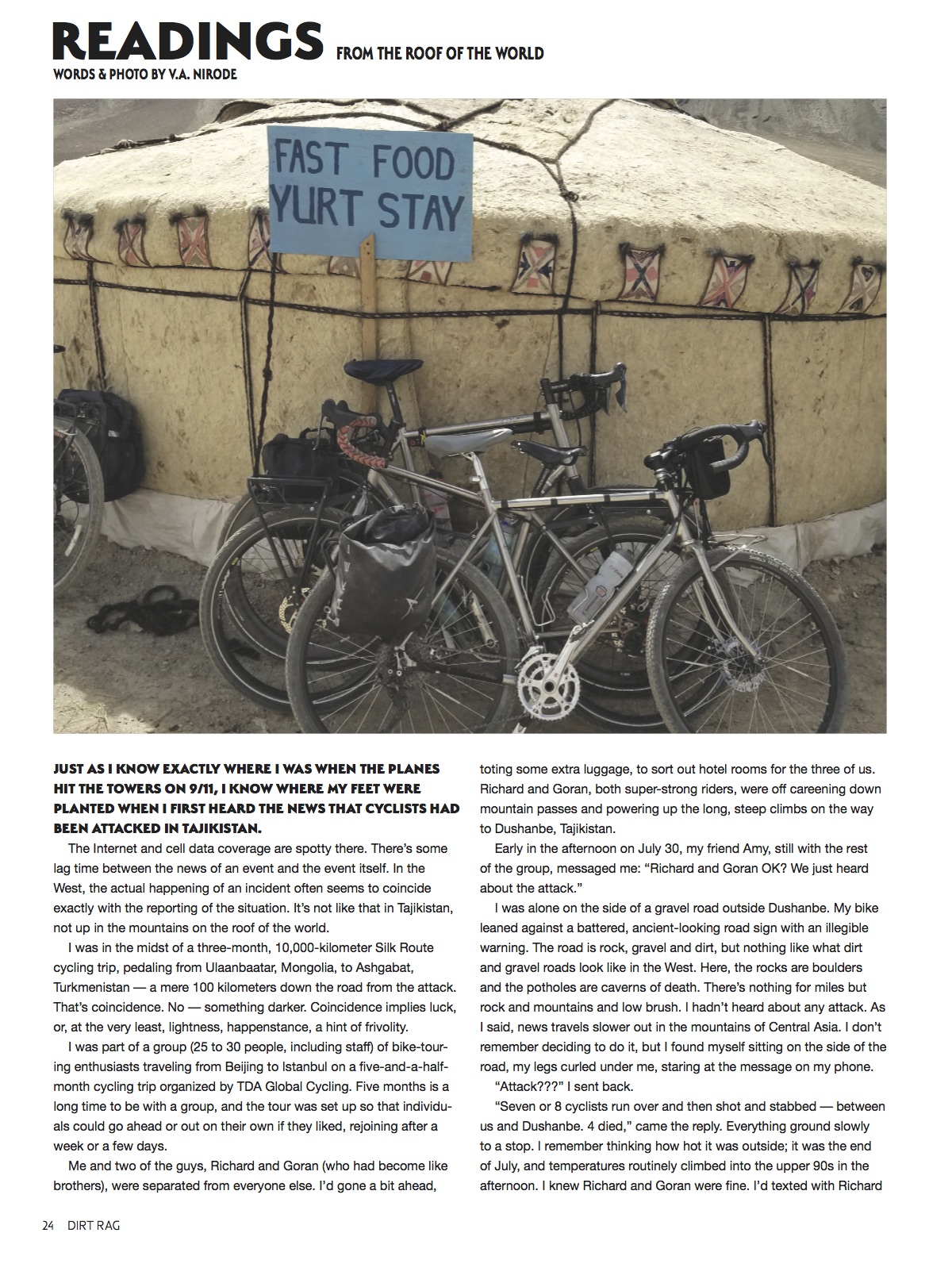 All your favorites can be found as well. Stevil waxes poetic about writer's block, Watts gets semi-belligerent (or maybe just annoyed) at an industry event, Brett gives us the low-down on Gunnison, Colorado, David shares with us a downright horrifying story before placating us with delicious pancakes (works every time) and Martin gives us a tour of the Carbon Frames Onyx with a history lesson on carbon as a bike material. Hopefully his brief lowdown gives us all some deeper appreciation for the bikes reviewed in this issue, because wowee zowee have bikes come a long way since then.
Stop by your local bike shop and pick up your copy. They don't sell it? DEMAND a copy! Hold a sit-in! Don't get off your mountain unicycle until they order a stack and sell you one. This is the Cruise-Your-Own-Adventure issue, after all, not the passively-regret-not-having-subscribed-last-month-or-checked-in-with-my-local-bike-shop-when-I-was-getting-my-suspension-serviced issue. Take life by the handlebars and steer! Lift your front wheel out of the rut of linear time and cruise down the babyheads of multidementional possibilities. You can both be a subscriber and support your local bike shop. Make all your friends subscribe: be a friend and a bully.
Read Dirt Rag, get muddy, stay weird.