Passing Through: Little Creek Mesa, UT
Originally posted on June 20, 2019 at 0:30 am by James Murren
by James Murren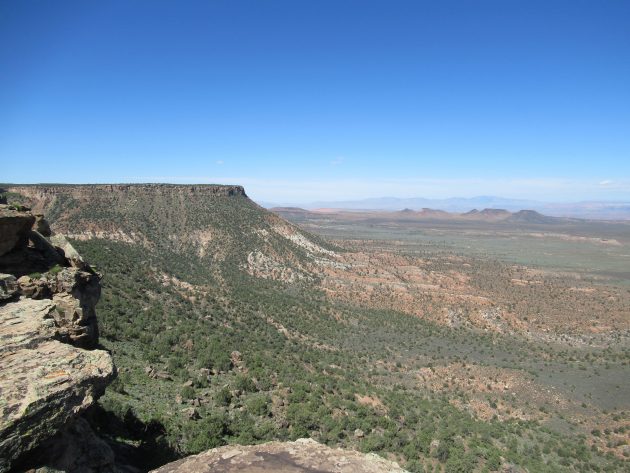 Southwestern Utah, with St. George and Hurricane, is a true mountain bike destination. Add in Gooseberry Mesa, and you easily have an extra-long weekend of riding available to you. Throw in Little Creek Mesa, and you now have a week of riding red dirt and slick rock in your purse of riches.
I woke in a yurt on Gooseberry Mesa after a day of riding the Goose and an evening of drinking beers while long view gazing at the red and white cliffs of Zion National Park from the yurt deck. I needed sustenance that my food stash could not provide, especially since I was planning to ride Little Creek.  Camp stove coffee in the mug, I drove down to the Little Creek gas station on Route 59, knowing there was a café inside that had hot food.
A quick look over the menu board and I was a bit miffed: no breakfast sandwiches. Huh?
"Would you be able to make me a breakfast sandwich?"
"Already made 'em. They're right over there," the very kind woman said with a soft, sincere, warmness, pointing to one of those gas station heated tray things where sandwiches sit under a light. No doubt, she had seen people like me passing through over the years.
I grabbed a bacon, egg and cheese muffin and sat down at a table. I got back up and got a packet of hot sauce. I ate it. I felt better.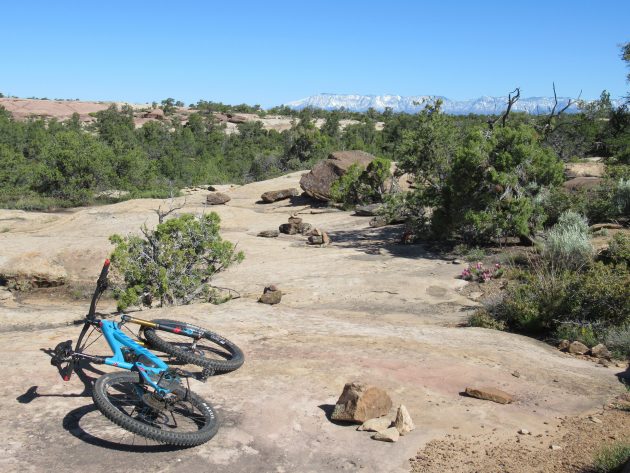 On over to Little Creek I went. The parking area was much fuller than the last time I rode there, some four years ago. A chilly, steady breeze blew while I got dressed. I reached for my windbreaker vest and put it on quick.
For me, following the rock cairns as I made my way up to the point was an absolute blast. I marveled at the landscape, or maybe moonscape of sorts is a better way to put it. At the same time, I smirked and grinned and sometimes laughed aloud at the positioning of the cairns that seemed scattered across the moonscape.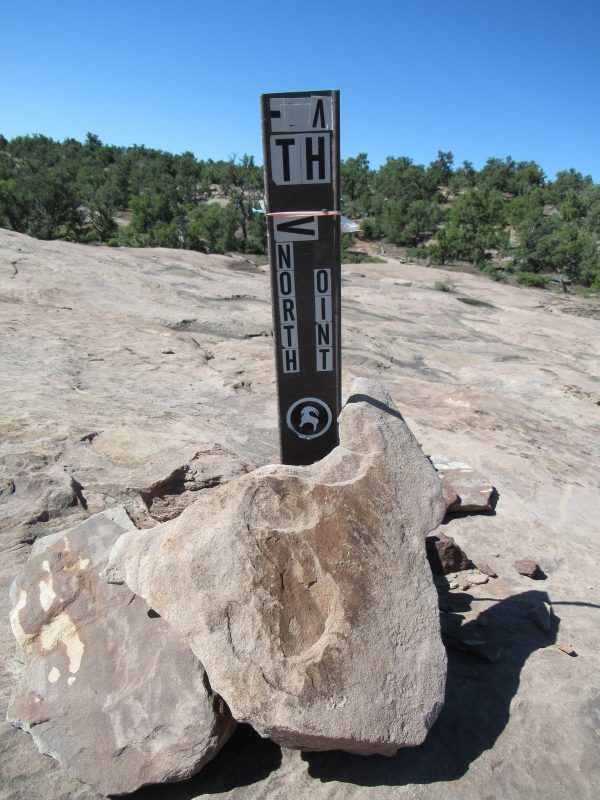 Who thought of laying it out this way? Up and down and around and … wait, where is the next one? I missed one or a few but saw another one out there somewhere and simply rode over rock to get back on track.
Working my way up to the point, the sun continued to climb in the sky, adding warmth to the air, but every now and then, a gust blew up and smacked me in the face and chest. Brrrr. Hunker down and pedal on, is what I told myself.
At the point, the views were endless: snow-capped Pine Valley Mountains; across the way was Gooseberry Mesa and its point where I had lunch the day before; a vast desert floor sprawled below me, roads—paved and dirt—ran in various directions. Out there, I was living the dream, as they say.
After finishing up the ride and back at the hard road/Route 59, I turned my car to the right and drove 20 minutes or so to Colorado City, AZ. Why? Word was that a little brewpub opened up there a year ago and that the beers were damn good and the pizza was delicious.

I got to Edge of the World Brewery and immediately enjoyed the atmosphere. People were simply hanging out and some were playing cards and Yahtzee. Laid back vibe might be an understatement. The wait staff was super friendly in a very unpretentious way, meaning they were simply being themselves.
A couple of beers and more than half of a 12-inch pizza later, I was satiated. True, the beers were damn good and the thin crust chicken alfredo pizza was delicious. I drove with belly full back up to the Goose where my yurt rental was waiting for me. I cracked another beer and sat and watched evening fall on Zion's walls.
The following morning I stopped by Over the Edge Sports (OTE) in Hurricane. I learned that Little Creek is a significant archeological location, with fifty or more sites on the mesa. I also learned that not all trails on the mesa are on the maps, but they are open to ride. One major rule: stay on the trails. OTE runs shop rides out there. Give 'em a call to get the schedule.