In print: Fire Mountain
Originally posted on May 22, 2019 at 0:30 am by Ian Lloyd Neubauer
Editor's Note: This story first appeared in issue 207 of Dirt Rag Magazine. Like what you see? Subscribe now to catch issue 211, on its way to mailboxes real soon.
---
Downhill mountain biking on the flanks of Indonesia's most active volcano
Words and photos by Ian Lloyd Neubauer
For the past 20 years, I've made a living riding dirt bikes around the world and writing about my adventures for glossy motorbike and travel magazines. From Fiji to Cambodia to Spain to New Zealand, it's taken me to the beyond.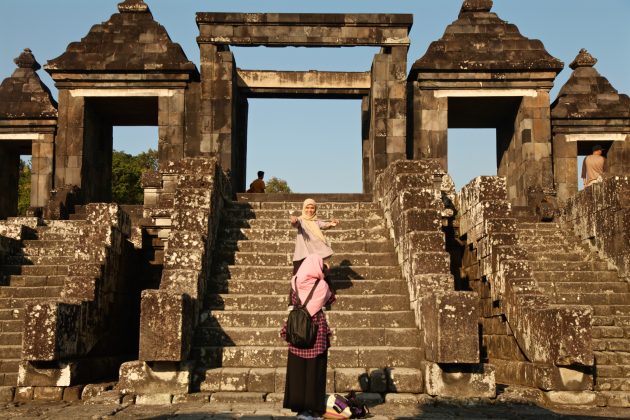 But now that I'm in my mid-40s, I've found I need to exercise more to maintain a high level of fitness and that my body takes longer to recover from the sprains and bruises that are parcel of dirt biking.
So I've taken up downhill and cross-country mountain biking, which gives me not only a solid workout, but also a solid buzz. My stomping ground is the Mount Agung volcano on the famed Indonesian resort island of Bali, where I spend my winters; my riding buddy is a mad Scottish bastard called Will Meyrick who happens to own a tour company called Infinity Mountain Biking.
This year, Meyrick expanded to the neighboring island of Java, only an hour's flight from Bali, and invited me to join him on the first ride: a two-day trip exploring Mount Merapi and the ancient Hindu and Buddhist temples that lie at its base.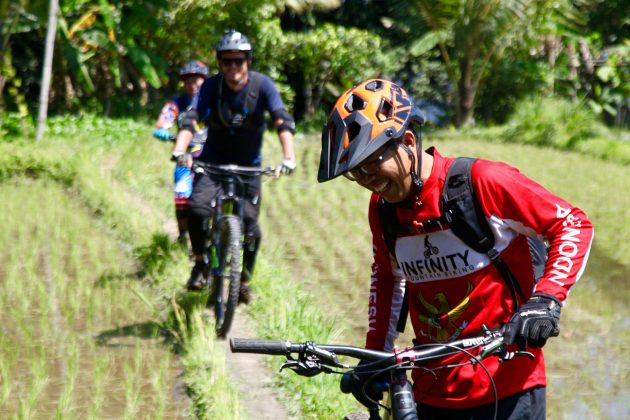 But there was one catch. In the Javanese language, Mount Merapi means "Fire Mountain." They called it that for a good reason: It's the most active volcano in Indonesia, which happens to be the most volcanically active country on the planet. When Merapi last erupted, in 2010, 347 people were killed and 320,000 more had their homes flattened by ash.
But there was a very small upside to the eruption: The lava that oozed out of the crater created hundreds of kilometers of new terrain on Merapi's flanks. "All the downhill terrain in Bali was formed following Mount Agung's eruption in 1964, and the trails are very well-trodden," Meyrick says. "But Merapi's last eruption was only seven or eight years ago and it created new landscapes few riders have explored."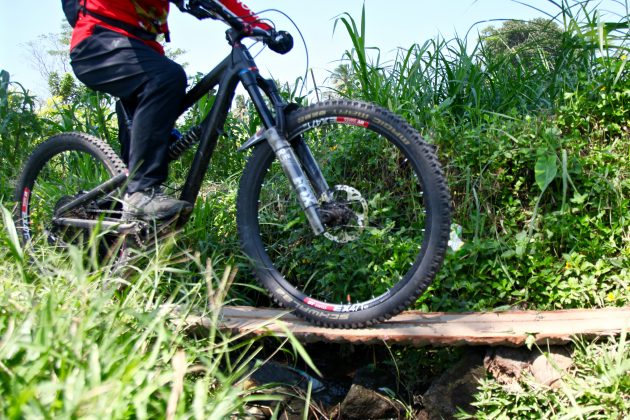 With that, I was sold. After all, Merapi had been relatively quiet since 2012. The probability of it erupting over the coming weekend was slim to none, I told myself as we boarded a plane at the Bali airport bound for the city of Jogjakarta in central Java.
DAY ONE: THE SOUTHERN SLOPE
At Adisutjipto International Airport,we rendezvous with Yossy, Meyrick's Man Friday in Java, who's brought a car, driver and three Trek suspension bikes. "Before the eruption, we never really took much notice of Mount Merapi. It was just there," he says. "But about a year after, a few of us at the local club started exploring the slopes on our mountain bikes. Now it's just about the only place we ride."
After a quick breakfast, we spend two hours being thrown around the back of a car until we reach a clearing on Merapi's southern flank at 5,000 feet above sea level. The peak is another 5,000 feet farther uphill, but from here we can see the entire crater poking out through the clouds. "During the last eruption, we would hear it go 'boom' every night for weeks and get woken up by the earthquakes," Yossy says.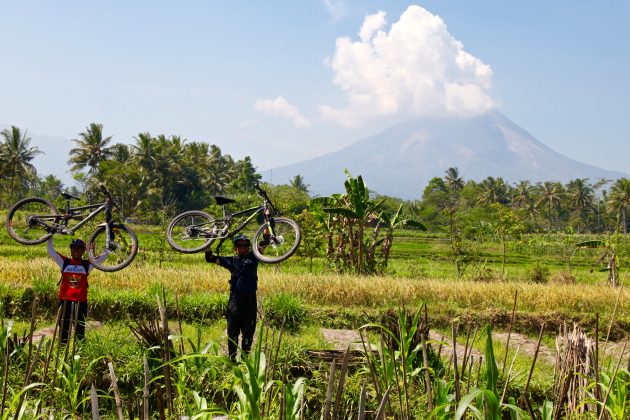 After assembling our suspension bikes, we roll down a steep gravel road before veering onto a machete track that weaves tightly between the trees. Soon the track disappears and I find myself muddling through increasingly technical terrain with nothing to guide me but Meyrick's rapidly disappearing backside. It takes every ounce of my concentration to circumnavigate the roots, fallen branches, rock gardens and hidden drops that rush at me as I barrel down the mountain while white-knuckling the brakes.
When I catch up with the guys a few minutes later, it's only because a link on Yossy's chain has snapped — the first of half a dozen mechanical problems Merapi is to throw at us this weekend. "The rides in Bali are generally soft adventures, whereas here they're a lot more technical and require a different kind of mindset," says Meyrick as Yossy gets to work on his chain. "The wear and tear on the bikes is also much more intense. Two or three days of this and your brake pads are gone. And with all the rocks flying up and hitting the underside of the bike, the mechanisms cop a serious hammering. The last time I rode down Merapi, I had to replace an entire gear set."
After an hour of bush-bashing we reach Kali Woro, a channel where lava superheated to 2,000 F sheared a path through kilometers of solid rock during the eruption in 2010. In the pit far below, we see men digging out gravel with picks and loading it with wheelbarrows into the backs of small trucks. "It's dangerous work," says Yossy. "The tunnels they dig sometimes cave in on top of them."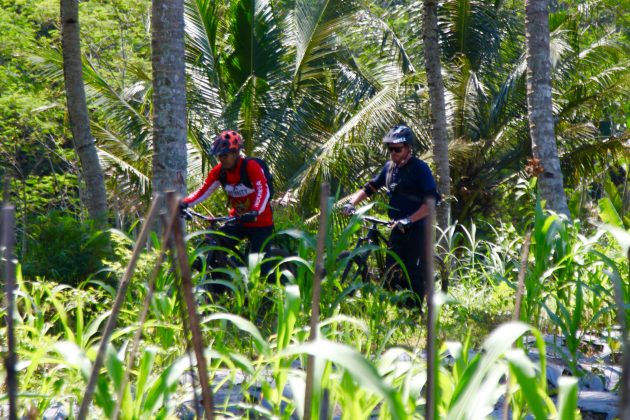 Early in the afternoon, we reach a series of gravel roads that take us through villages lined with terracotta homes and mosques with silver domes. We overtake locals on scooters whose faces light up with surprise as we pass, and groups of kids that run alongside us whooping, cheering and high-fiving. This is what I love about traveling by bicycle. Do it in a car or bus and you're stuck in a metal box. A motorbike will take you out of that box, but the intimidation factor and engine noise create barriers between you, locals and the elements. Only a bicycle puts you right in the box seat and allows you to experience a destination in 3-D.
Onward we ride, for 35 dusty, bouncy, thrilling kilometers, until we reach Prambanan, a sprawling 1,000-year-old archaeological park with more than 500 Hindu temples. The tallest of the lot is 47 meters and dedicated to Shiva the Destroyer, a Hindu god whose supreme manifestation lives inside Bali's Mount Agung.
DAY TWO: THE WESTERN FLANK
We spend the night at Amanjiwo, a regal hotel set in limestone buildings with dramatic domes and colonnades. It'd be a nice place to sleep in, but that's not our thing. At 5 a.m. we're back in the car. At 6 a.m. we're standing on a clearing on Merapi's western flank with my new guide, Agus, an IT salesman who knows this part of Merapi like the back of his hand. When I ask Agus if he'd like to work as a mountain bike guide full-time, he laughs. "Sure. That's my dream," he says. "But you're the first bule [foreigner] who's been here in weeks."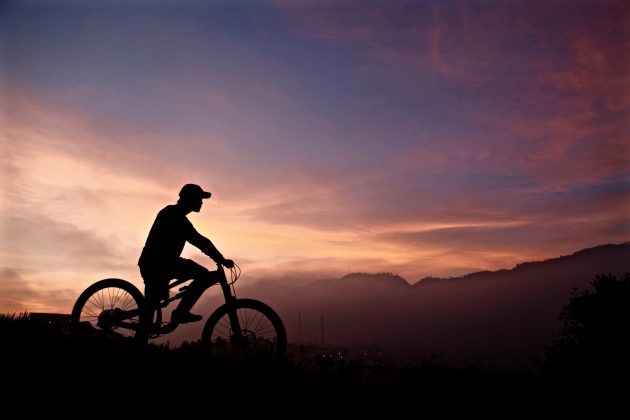 For me, the lack of tourists in Java is what makes riding here so fucking awesome. There's no discounting the beauty of Bali, but the last time I mountain biked down Agung I had to share the trail with hundreds of other riders. But as the sun rises over Merapi and the sky morphs from black to blue, it seems we have Fire Mountain all to ourselves.
We do, however, bump into a group of local riders farther downhill at a short but thrilling purpose-built mountain bike park riddled with banks and jumps. Like most Javans, they're a super-friendly bunch and insist on sharing their breakfast with us: strong black Indonesian kopi (coffee) and gorengan (fried potato and onion cakes).
After exiting the mountain bike park we reach a smooth asphalt road that follows a steep ridge with deep valleys on either side. But the easy riding is short-lived as the asphalt is replaced with a carpet of sharp, rectangular rocks that appear to have been put there for the sole purpose of puncturing tires.
Agus takes us into a steep watercourse with meter-high walls. At one point the channel drops so sharply over the corner of a hill that I think it's going to spit me into a canyon far below until I inch forward to see the trail fold into an impossibly tight switchback.
When the watercourse finishes, it dumps us out onto a plain covered with emerald-green rice paddies where farmers in conical hats tend their crops. From there we follow a series of narrow elevated walkways that leave no room for error, and soon both Meyrick and I end up face down in the mud. But it's Agus who cops the worst of it when we rejoin the road and, in a momentary lapse of concentration, he clips a pedal against a concrete barrier. I gasp in horror as he lands with a hard thud on the ground, but sigh with relief when he jumps back up. He's torn his pants and cracked a kneepad in half — without which he almost certainly would've landed in the back of an ambulance. "I'm fine," he says, grimacing through the pain.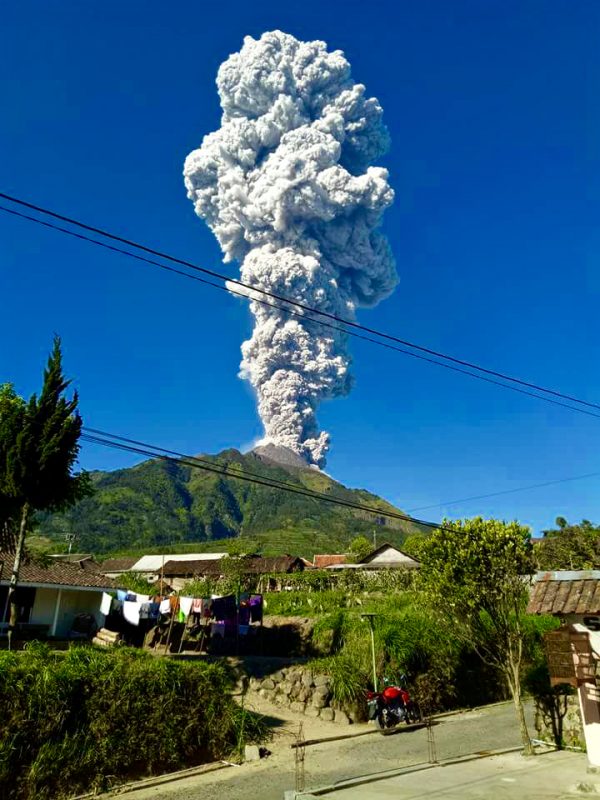 After 11 hours of solid pedaling, we reach Borobudur, a ninth-century Buddhist temple that was buried in volcanic ash for hundreds of years until it was discovered by British archeologists in 1814. After watching the sunset from the top, we rendezvous with our driver in the car park below and drive back to the airport in Jogjakarta.
The next day, I get a message from Agus. "Merapi," it reads, with a photo of a gargantuan plume shooting out of the crater and kilometers into the sky. I jump online and confirm it's real. Mount Merapi has erupted for the first time in eight years. The Jogjakarta airport is closed and people in some of the villages that were so full of life only yesterday have been ordered to evacuate.
Seems I was right about Fire Mountain not erupting over the weekend.
FACTFILE
Getting There
Garuda Indonesia (www.garuda-indonesia.com), Indonesia's safest airline, has daily flights code-sharing with Delta from Los Angeles to Jogjakarta.
Riding There
Infinity offers a range of two- to 14-day mountain bike tours in Java and Bali. Prices, including meals and basic accommodations, range from $150 to $300 per day depending on the size of your group and the style of mountain bikes you rent.
Staying There
Treat yourself to a night or two at Amanjiwo (aman.com), a luxury resort overlooking the 1,000-year-old Borobudur temple in central Java. Lavish villas with four-pillar beds and open-air bathrooms start at $700 per night.
Read On
To learn more about riding around Indonesia, visit indonesia.travel/gb/en/home.