Trail Report: Spider Mountain
Originally posted on May 27, 2019 at 0:27 am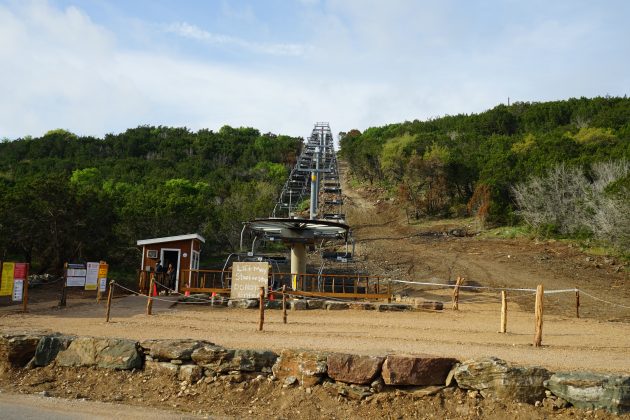 In a recent issue of Dirt Rag, we went to some bike parks to check out what new developments are happening in the world of designated bike trails and downhill riding. Windrock in January scared the goggles off me, but I took another stab at downhill bike parks when I visited Spider Mountain outside Austin, Texas last month. The area was bought by Mountain Capital Partners (MCP), which owns a lot of ski resorts in the southwest, including Pajarito in Los Alamos, New Mexico, Purgatory in Durango, Colorado, and Sipapu in Vadito, New Mexico.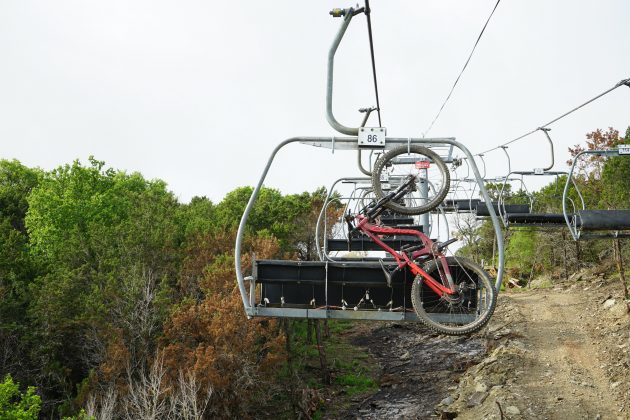 Spider Mountain is currently the only year-round, lift-access, designated bike park in the United States. From the winding desert byway, it looks like a petite, out of place ski mountain. it isn't quite as big as the mountains that offer mountain biking in the snowsport offseason, but it's open all the time and the trails can be seen cutting in and out of the mountain, getting a lot of use out of a smaller scale. In the shop, a few women worked behind the counter, renting out bikes and all manner of protective gear. They had been working there for only about 10 weeks at the time of my visit, and just started "really" mountain biking since coming on board but said they were picking up a lot and having a blast. The lift, too, was run by women, at least at the bottom.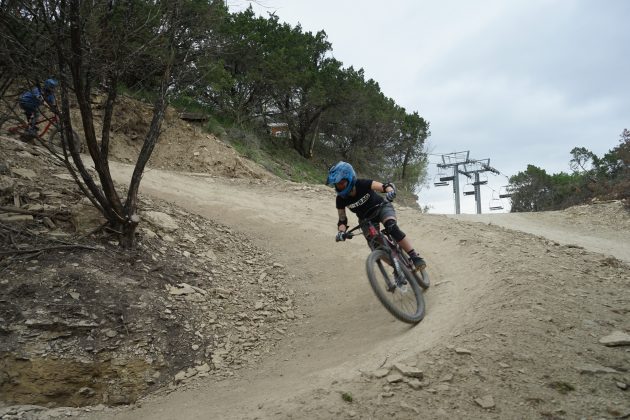 It was early in the season, and my pal Rob and I had the park to ourselves, save for the folks working the lift and building trails. Staci Beckwith, the park supervisor, met up with us outside the pro shop and gave us a tour of the lower area. Shortly, Trey Rush showed up to get us fitted on bikes. Rush said he doesn't really have a title and called himself a trail builder, but he is more like the trail dreamer, the mountain Michelangelo, a shred architect. Rush is responsible for a number of gnarly trail systems, most notably Snowshoe including the race route.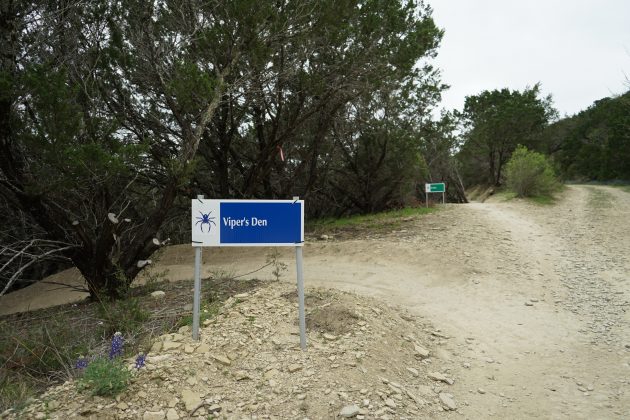 While Spider Mountain has just 5 trails at the moment, Rush and his crew are actively designing and building new trails every day, 50-60 hours of building per week. They aim to have a new trail out every month, though at the moment that's a tall order. These trails are largely machine-built, though the black trails were originally handbuilt by volunteers and the difference between the two build styles is apparent. Regardless, every trail I rode was fun, regardless of the grade, and the levelling up that happens from green to blue to black is sensible and organic-feeling.
After our Dirt Rag adventure at Windrock (read all about it in Brett Rothmeyer's feature in issue 210, out now), my skills were instantly upped but I also was excited to try a bike park that didn't make me want to pee my pants on the proverbial bunny slope. Trey Rush, Rob and I did runs of every grade, to get a sense of what these handbuilt trails had to offer at each skill level. After riding the green trail Itsy Bitsy, it made sense why the two women at the pro shop below were getting into mountain biking at the bike park. The greens were very mellow trails, suitable for a beginner who knows how to ride a bike but has never ridden at a bike park before. And yet! It was still really fun! Because it was so gradual, there were a few times I found myself pedaling, but I like to pedal a bike so that didn't really bother me.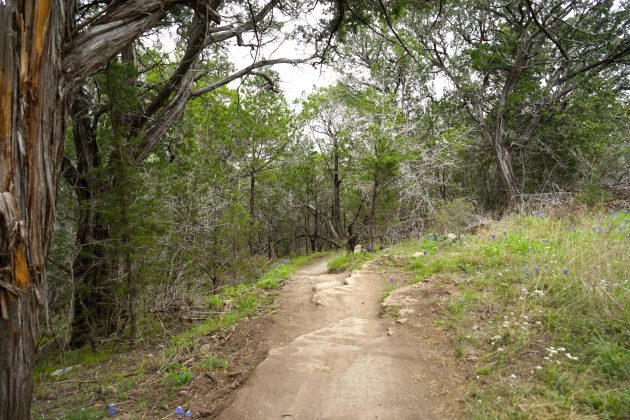 Venom, a blue trail, can be reached by riding the first half of Itsy Bitsy.  It has a solid little jump section to create a fun, flowy bike park experience with a whoop-dee ending (and yes, I did whoop in delight). Viper's Den, another blue trail, also has some little tabletops at the bottom. I felt very cool and in-flight going over them, though the photographic evidence suggests that I didn't get as high off the ground as I thought I did. The newest trail, another blue, is a short trail at the top of the mountain called Antidote. If you stop by later this summer, the next trail currently in the works should be finished — it's a shoots-and-ladders type trail with lots of wooden features.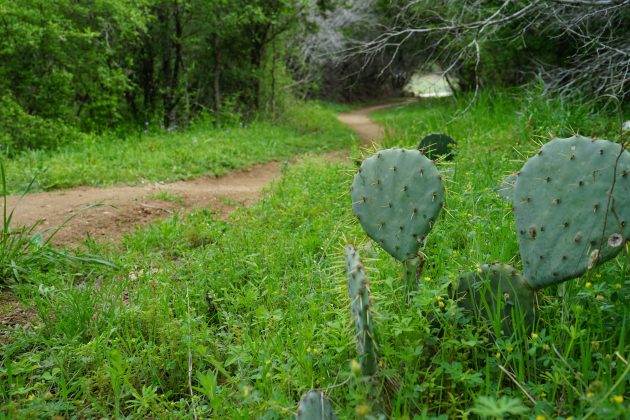 For experience's sake, I rode one of the black trails. I had already crashed into a tree on Viper's Den, but my journalistic integrity was on the line. Having seen the straight drop-down of Stinger, we chose Sticky Icky. It was adequately graded, in line with the green and blue trails. Given the type of trails I am typically enthusiastic about riding, I rode a good amount of this trail but there were a few sections I chose to not press my luck. Riders can look forward to some rock rolls and drops, steep trail sections with well-made turns, and a few sections that look and feel gnarlier than they are. I would have loved to have more time sessioning just this trail, piece by piece, because the design is evident and the flow was interrupted only by my own cowardice.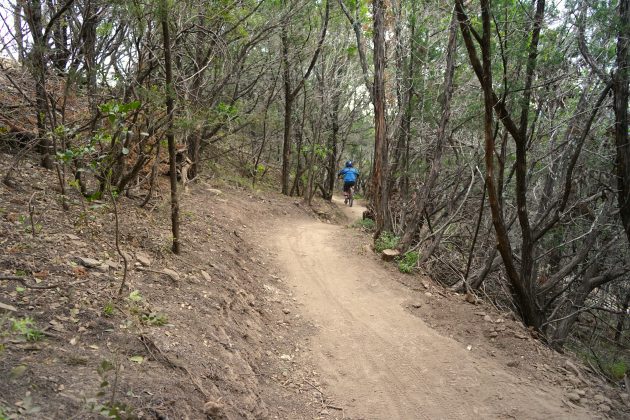 For lodging, there are a few options. In addition to camping on-site in either a tent or RV (no hookups), Thunderbird Lodge is basically an onsite resort. Owned by the same MCP company, Thunderbird Lodge is technically its own entity, but it is on the same driveway as Spider Mountain. This means if you are booking a vacation, you'll have to make two phone calls to check hours, availability, and bike rental options. Otherwise, it's a great viable option for anyone who doesn't want to sleep in a tent after riding all day, wants access to showers, a roof overhead, and even a swimming pool. There is a barbeque grill available for use, but my cabin had plenty of room to sleep a pile of close-knit bros, plus a kitchen with basic amenities like pots, pans and a coffee maker. The shower was more like a campsite shower than one found in a hotel, with weak, spritzy water and a rust-stained tile floor. But there are plans to renovate the rooms shortly, and the lodge and some of the other cabins have already been upgraded substantially. Being a dirt bag, I felt more comfortable in this clean, worn in cabin that felt like a camp, and after a day getting dusty and bloody under the hot Texan sun, any shower feels incredible.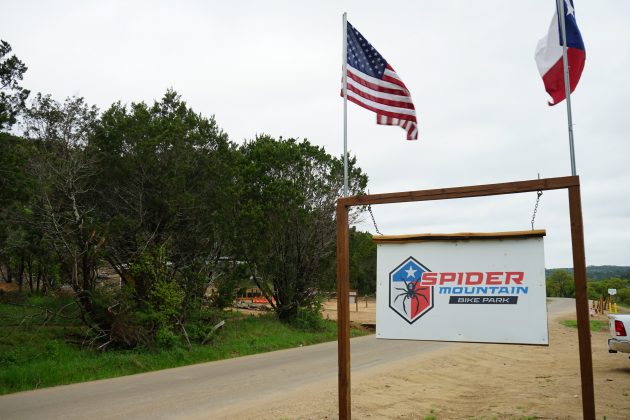 I'm excited to go back to visit at the soonest opportunity, to put my ever developing skill and bravado to the test, and check out the trails Trey Rush and crew are continuing to develop.