In Print: Making Do on the Colorado Trail
Originally posted on May 16, 2019 at 0:07 am
Editor's note: This article originally appeared in issue 208 of Dirt Rag Magazine. Like what you see? Subscribe now at dirtragmag.com/subscribe to catch issue 211, coming real soon. 
---
by Carolyne Whelan
When Rim Tours invited me along for their Colorado Trail guided trip, I was warned that it was "advanced," due largely to exposure and elevation. What does "advanced" mean, anyway? I've been riding trails for over 11 years, and I've ridden exposed terrain at elevation before and didn't die. So here I was on the Colorado Trail with a bunch of strangers who all checked that same "advanced" box on the application form, heading into the backcountry with no way out but on two wheels. This is the way I make do: We can work only with what we have, whether it's skill, privilege, bravery or gear.
The first day was a warm-up, with lots of rocks, roots, and steep climbs and descents. For most of the day, I was giggling or downright laughing as I descended through a wildflower field or the tight switchbacks of the aspen forest. Mountain biking is as much a mental exercise as a physical one. We need clarity to ride over technical stuff without getting overwhelmed with line options or psyched out about what can or can't be ridden. I need to have fun, to laugh and smile and look up. Not just at the trail in front of me: to the trees, the birds, the trail just a bit farther ahead that is so frigging gorgeous with a bit of perspective.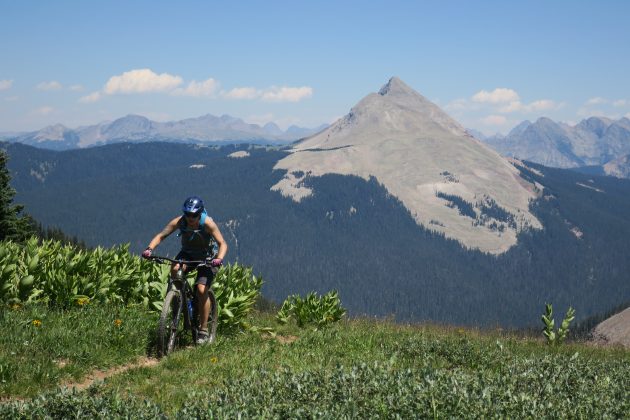 Day two was 23 or so miles of singletrack. The altitude sickness I'd felt the day before had somewhat subsided, but I still had a hard time breathing and focusing. There was a descent that was the sketchiest and second-longest I'd ever done, but I surprised myself in riding it with some skill and confidence. It was super rocky and fairly steep, descending down from way above tree line through the coniferous forest and then into the aspens before climbing back above the trees and wobbling up and down along a ridge for miles. I was pretty fried mentally and had a hard time picking a good line. I walked a fair amount, but it was heartening to look up and see people walking in front of me. This went on for most of the ride: lots of hiking and white-knuckle descents.
I had a feeling I was in a bad spot when I wasn't hungry when everyone else was eating. I made an effort to eat my sandwich, but just sort of nibbled, and I proceeded to feel terrible for the next hour or two. My mood started to waver as I began to question my ability to continue on, especially on the following days. If I was so tired on day two, how was I going to make it on day three, four, five? And this wasn't even the hardest day. Over lunch, we all commiserated about how tired we were, and that changed my spirit.
That night at camp, I drank some nice whiskey with my new best friends and compensated for not eating anything all day by enjoying a full plate of curry made by our guide Reid and a healthy serving of dessert. I didn't drink enough water and, generally speaking, set myself up for failure by making all the mistakes I know can trigger altitude sickness and bonking.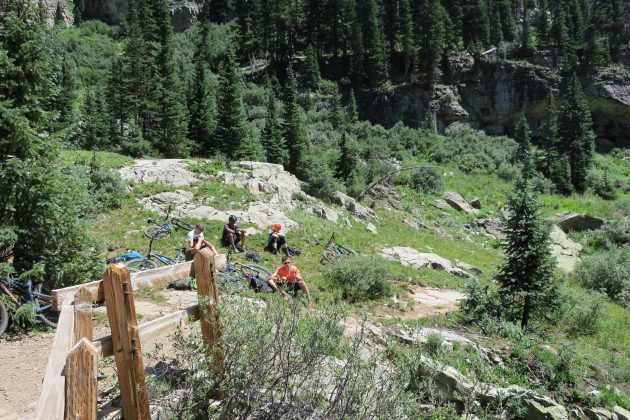 At breakfast, my stomach was still full from dinner, and by the time we stopped for lunch on day three, I was already feeling the effects of altitude sickness and still wasn't hungry. I gasped for air so much that I had no ability to drink water. I was shaky, and frustrated with myself for not being able to ride sections of trail confidently (or at all) that were so similar to stuff I'd just ridden the day prior, or years ago. I kept on; what other option was there?
After we crested tree line, there was a switchback with some loose rocks in the tight inside line. I hesitated and put my foot down, my right foot — on the exposed side. In a moment I was plummeting down the hill. I fell only a few feet, nothing dramatic, but it shook me up. As we continued on, I had an increasingly difficult time picking good lines or controlling my speed. Was this a panic attack? It was late in the morning and we still had so much to ride. There was no time or place to sit and gather myself. I could only go forward.
Most of us hiked a good chunk of the next exposed, rocky, off-camber climb. At the top, we were gifted 360 degrees of mountains. The haze of the forest fires was sitting heavy, and the sky turned from red to gray to white to blue as the eye moved forever up until it again hit white, gray and red; the mountains on the other side were also sitting heavy with smoke from yet another fire. This view made some in the group excited for the descent, but a good handful of us walked the first section. Once back on the bike, I marveled at how fun riding can be and at how I could have forgotten this feeling. I was thankful for the group I was with, which never once made me feel like a lesser rider for deciding to walk.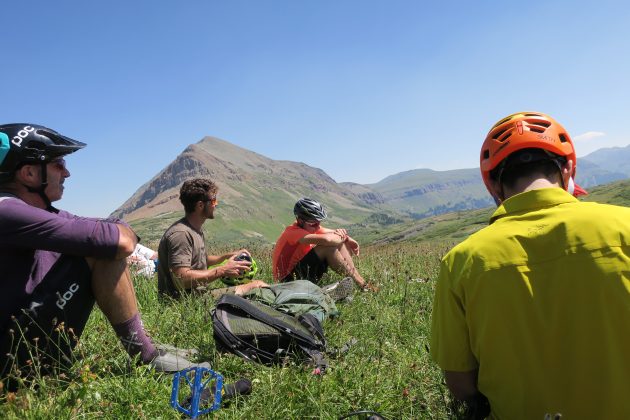 Once we were a bit lower, though, the shakiness didn't subside. Back in the trees, still at probably 11,000 feet of elevation, I chose another poor line; my foot hit a rock and I toppled over again. This is mountain biking, and people tumble, but this was more than my usual. This whole trip was more than my usual. I pedaled slowly through the pines, hating myself for being so shaken up on such a beautiful day doing my favorite thing. Dave, the guide tasked with riding with us that day (as opposed to driving the truck to camp and setting things up for our arrival), took one look at me and told me to relax and smile, that I was doing a fine job and that that section was indeed very sketchy. It was one of the very few times that a man has told me to smile and I've genuinely appreciated the reminder. (The other was when Eric, one of my group members, helped me out of the ravine and gave me a pep talk.)
Dave looked at my face and glossy eyes and told me I was likely suffering from vertigo. My symptoms—blurry vision, panic, dizziness, poor equilibrium—were the same he'd experienced during a high-elevation race, perched on a rock before the drop-in. We rode together for a bit, him waiting ahead for me after each section of trail. Eventually he offered to ride the Forest Service road to camp with me, and I thought it would be in everyone's best interest and conceded. We crossed down into a lower elevation and I felt much more confident riding. I could see again and feel my legs, and while my judgment was still slow, it was certainly better than it had been. I buzzed down that descent and actually enjoyed this thing I had convinced myself in a matter of hours that I had no business doing.
In no time, I was back with the group. "Thanks for waiting for me, guys," I said with my tail tucked firmly between my legs. "We aren't waiting for you; we are here eating our lunch! This is a group ride. We have no schedule." It was, after all, barely noon. I picked at a bar, still unable to eat much of anything.
Brendan, who the day prior went ahead of the group and got lost, said, "On trips like this there is no reason to be a hero. None. A lot of that trail was super sketchy and I could feel the altitude too." I didn't feel redeemed, but I did feel accepted. This is where mountain bike culture is most evident: in the post-ride hangout, where the focus is on how gnarly the trail was, how fun, how beautiful the day or how epic the weather, the obstacles and how we felt about them. In that sense, even though I let myself down as a person who should be able to handle a descent at altitude after 11 years of trail riding, the sport hasn't let me down.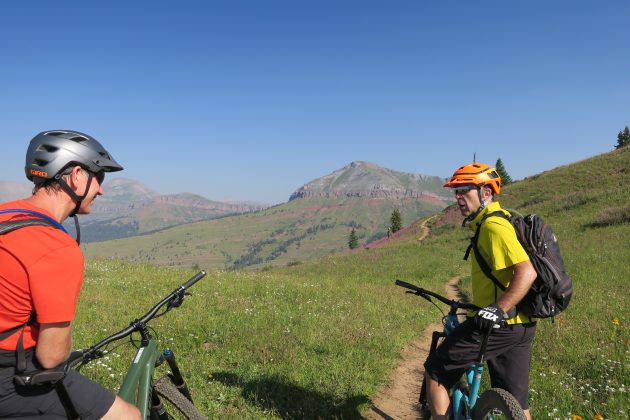 By day four, I had a faraway stare as I ate my quinoa pancakes in silence. There was a storm in the forecast. Mitch, one of the two guys from Aspen, gave me a couple of hits from his inhaler while we were waiting to take off. I had a nasty chest cough from the thin air that he thought might have been asthma, and I was reminded of Eddie, one of the seven Losers in Stephen King's "It," whose inhaler was both crutch and secret weapon. With a right arm that barely worked after my fall and a sore chest full of mucus, I was willing to try anything to give me an extra push over the final mountains.
The beginning of the ride started with some flow through pines, which was a great confidence booster. The trail climbed considerably, but at a grade that was doable, as it traversed along a ridge to a lookout where we caught our breath. I finished the climb riding the wheel of an Icelandic bikepacker who would keep pace with us more or less all day. As the trail went on, I felt strong and confident, and Eric, one of the guys who'd done this trip a few times, asked me to go in front of him because I was riding really strong. We climbed and descended in and out of the pines, on and off the ledge, until we hit the main climb, one of two hike-a-bike sections that took up most of the last 6 or so miles. The climb went along an almost razor ledge, getting steeper until the trail turned to loose rock and scree.
To my surprise, I was never lost from the pack, and for all but the last ascent and descent, I was somewhere in the middle, or at least the front of the rear. The descent was steep, loose and overgrown and we were cautioned against riding most of it. The bushes along the side kept grabbing my handlebars and I didn't want to get caught up on one of them at high speed, so even after entering the "safe" zone I was still cautiously dabbing when I finally decided to saddle up.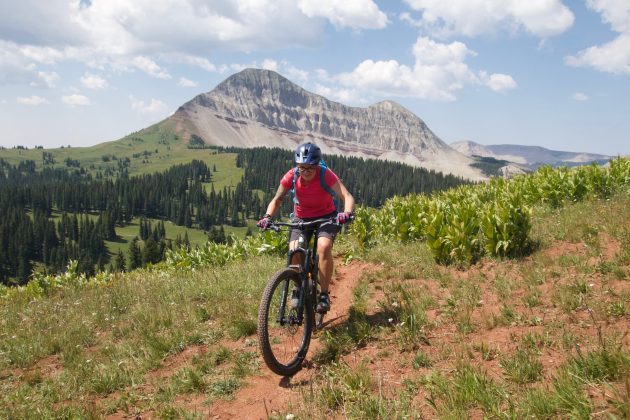 I got to the group and they all cheered for me and handed me the bag of chips that had been passed around. The Icelandic bikepacker was there as well, hanging out and enjoying the snacks and company. He had been low on food, but people were passing snacks for the rest of his trip. We had a final mile and a half left to go, a flowy, relatively flat section (as flat as the Colorado Trail can be) that was fun to push ourselves on to go fast.
We got to the trailhead just as guide Dave had pulled the truck in. He and the Icelander were chatting, and the Icelander said we had saved his life. "That is a huge exaggeration," Reid said, inviting him over to the truck to load up on more snacks, water and electrolytes, as well as some first aid for his infected saddle sores. The Icelander headed on toward Durango, aiming to do 55 miles a day. We rode down the dirt road to find a secluded spot in an abandoned quarry to camp for the evening, surrounded by canyons and with a creek rolling past us. As soon as we finished pitching our tents, the afternoon rains hit. It was a bit later than the forecast had predicted, but exactly on time for us to curl up in our tents for a siesta before regrouping for dinner and post-ride chatter.
The last night of camping, the sadness of completion was overshadowed by the excitement of knowing I was going to finish, the anticipation of knowing I'd done something out of my comfort zone. There was no way to have done it but to have done it myself, with my own resources and skills (although having the support of Rim Tours and my riding buddies made all the difference in the world). The brook babbled next to my tent as a marmot stared at me from inside the rusted-out mining equipment; mule deer walked through our campsite with no fear of humans, and the canyon walls glowed in the sunlight that is always so much more golden after the rain, the dirt so much more red and silver. The temperature dimmed as we ate dinner, all of us satisfied, and I went to bed when the sun was still up, ready to face the final day.
After a short detour to some cliffside ruins, the trail back into the woods was a narrow, loose cut through a scree field. I was terrified. Eventually, where the edge of the cliff was overgrown, I gave myself a talking-to. "Carolyne, you big weenie, get on your bike. You are on a bike ride, so just get up there. There are bushes on both sides of you; you'll just fall into a bush, or maybe you'll actually do the thing you've been doing for as long as you can remember — over 31 years without training wheels. This is literally your job." So I hopped on and was feeling pretty good — then WHAM! I flew through the air and in a moment was on the ground, rolling and grunting. I had hit a root that was hidden by the bushes. I knocked my kneecap on a rock, then scraped the top of my knee, landed on my wrist and rolled onto my bad shoulder. I was so mad.
Todd came rolling in behind me, and Dave came running up after he saw me flip over the bars. I explained that I was indeed OK, I'd just hit a root; he stomped down the bush a bit to keep the next people from the same fate. I walked the narrow scree and felt uncomfortable getting on my bike for the next bit. I encouraged Todd to ride ahead, and Dave rode behind me as I yelped and shook like a scared puppy in a thunderstorm.
The trail would have been really fun if I could have just enjoyed it, but mountain biking is so psychological, and I have such a hard time getting over my self-doubt and fears once they're activated. Dave, remembering the previous time we rode together and I got vertigo, went ahead to give me space. I took my time but rode along, seemingly forever, down the mountain we'd climbed the day before. The forest changed from tree-line shrubs and wildflowers to pine to aspen, with the flowers shifting along with the temperature and air quality. Eventually, I hit a creek crossing and could hear Dave cheering me on. He was finishing his sandwich on the other side of a steep switchback climb up ahead. "Everyone just took off a couple minutes ago," he said. "It's just like I told them: You just need some space to clear your head, but you know what to do." He was right; as much as I appreciated Dave riding behind me for support, I ride alone 90 percent of the time, so when I'm shaken up, I feel really out of my element when there's someone behind me. Alone, I can yell at myself (which I did, a lot) and release my frustrations. I had a bit of my sandwich and then we both headed up the next mountain.
The trail continued up and Dave pushed on ahead as I went at my own pace, riding as much as I could, trying to remember that this was a fun thing that I wanted to do, and occasionally stopping to hyperventilate in the thin air. My arm still felt dead, my hand uncomfortably cool from the crash, and my socks were sticking to my ankles where my blood had pooled and dried, but I focused instead on the wildflowers and the smell of dust and pine.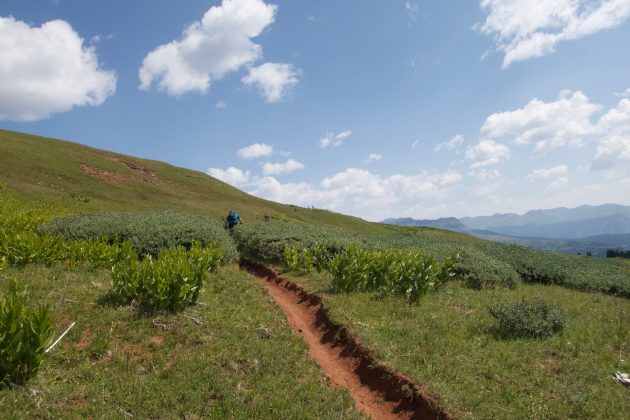 I got to the top and saw the majority of our group hanging out, eating snacks and commiserating. Everyone cheered when I showed up. "Hi, everyone," I said. "Thanks and sorry." They all gave me high fives, then Eric came over with the Dad Face. "Hey," he said. "You are doing great. Stop with that negative self-talk. This is a hard ride. Even 22-year-old Sabastien is having a hard time. You just missed him by a few minutes; he's not that far ahead of you, and he was complaining about that climb. This is a hard trail. One of The Hardest. So you crashed a few times. You're still out here riding, still smiling, still pedaling. That says more about you than how hard it is to breathe or how scared you feel. There's no oxygen and a lot of this trail really is sketchy. You make good judgment calls. That shows a good rider. You are a Good Rider. So remember that. It's not that you can do this, it's that you've done this. You've already completed the hardest parts of this ride, and you completed them well. So be proud of yourself. This is hard, and you did it."
If that were a bit shorter, I'd get it tattooed on me, but I don't want to shorthand it. The whole group fist-bumped, packed up our gear, sucked some water, then headed down the mountain. I felt good. It was a fast descent with lots of loose rocks, but I dropped my saddle and rode over them. I focused on Eric's rear wheel and his smooth, playful line down the mountain until the group began to drift away after a technical section. I knew I had gotten my mojo back and I tried to focus on having fun. My giggles came back, as I could not believe the terrain I was riding, how fast I was going, how insane it is to ask a body to do this wild feat.
I was so tired. I tried to sit down when I could to give my legs and injured arm a rest, but it was a 5-mile descent with not a lot of places to pedal or pull over. A hornet got caught between my watch and glove and stung me on the wrist I'd crushed earlier that morning. "Ah, fuck!" I yelled and tried to fling it away, but it was adamant about stinging me again before I managed to swat it.
As we closed in on Durango, the trail became increasingly populated with hikers, runners and day-riders. One trail runner came up on me, and I swerved and acknowledged him. Todd was close behind me and cut to my right so as not to run into me as I slowed. I didn't see the rock right in front of me. I again toppled, this time onto a rock and into Todd, my bad arm instinctively jutted out to catch my weight against his bike. We both apologized and felt bad for our poor judgment, and I rode ahead. The trail got tight and congested, and I could tell I was tired. My legs were looking pretty rough too, covered in blood and bruises and dirt.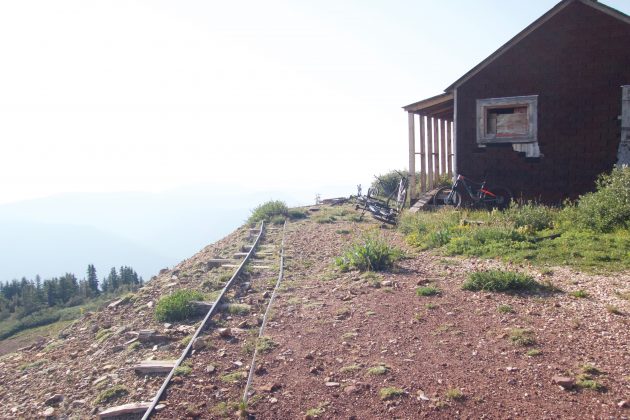 Back in Durango, I was dropped off at a friend's house, government housing for firefighters managing the forest fires. I looked in the mirror. I had a crazed look in my eyes and couldn't stop smiling. However stressed I'd been at times on the ride, however self-loathing or self-doubting, I had finished the Colorado Trail. That couldn't be taken from me, and I felt proud, euphoric, strong. Did I feel advanced? Is advanced anything more than a feeling? Of course it is! But I'd say at least 65 percent is a willingness to try, and to keep a positive attitude, and to trust in yourself to get yourself out of whatever jam you get yourself into, and then use the skills you have to figure out how to make that happen. I checked my dilapidated body in the mirror. I was covered in blood and dust. My hand hung limply from my wrist from going over the bars in the morning and I could barely hold the bar of soap. Later, back in Pittsburgh, X-rays confirmed that I'd broken my wrist, but in the moment, the swelling from the hornet and the adrenaline from the ride made the pain source hard to pinpoint. I felt feral and wanted to finish showering quickly to get back outside, as soon as my legs would walk again. I laughed, a wild cackle in a strange cage. I'd finished. I made it.
Thanks to Rim Tours for inviting me along. If you want to give this trip a try for yourself, check them out at rimtours.com.

Epilogue
Back in Pittsburgh, I eventually made it to urgent care to get some X-rays for my wrist. "Does it hurt?" the doctor asked. "It just feels … wrong," I answered. Pain, at this point, was such an empty word. My fingers felt either hot or cold — I could barely tell — and I couldn't hold a coffee cup, but I had no interest in amputation. The X-rays confirmed my suspicions that something had broken. Because I am bad at calibrating my language of pain to that of medical professionals, most of whom don't live with chronic pain while still participating in intense sports, I was given a brace, rather than a cast, as well as a pat on the head and a guarantee that I could not make the break any worse — that it would be 95 percent better in another month, the typical six-week healing time. It's been two months since my crash, and I have worn my brace trail running, shooting variable objects in the air and at friends, smashing my body down a homemade slip-n-slide, and mountain biking on less-aggressive trails (which I was told was fine). It still hurts, and I feel like I've done my due (enough) diligence in keeping my wrist safe. Healed or broken, I'm considering my tenure on the easy trails complete.