The Future is Now! Issue 210 has landed on the moon (and in your boxes)
Originally posted on April 4, 2019 at 0:01 am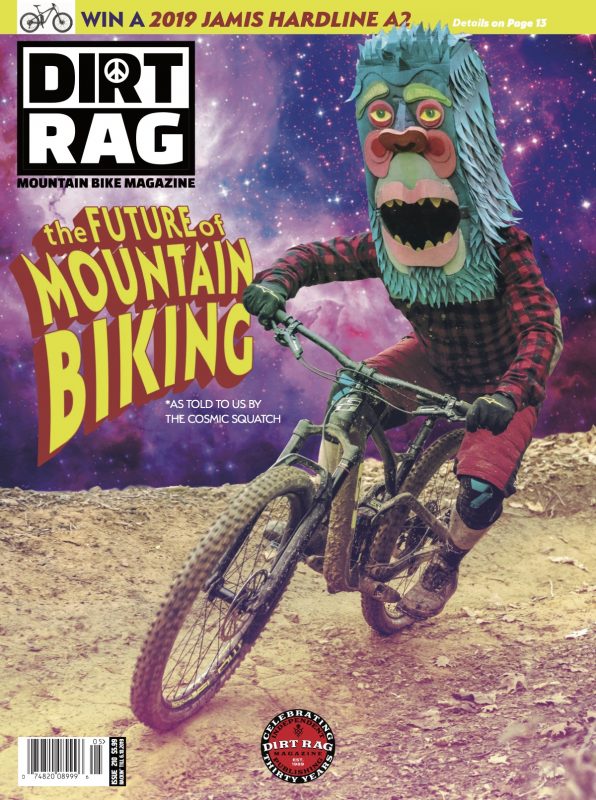 A cartoon I love told me that Today is Tomorrow's Yesterday. Just think: last month we were working on a magazine that now exists in my hands and will soon be in yours. That's right, issue #210 of Dirt Rag Magazine is on its way to you, and future readers have a lot to look forward to reading. If you aren't a subscriber yet, you can stop by your local bike shop and beg them to sell you a copy, and then be sure to subscribe today so you don't miss issue #211. The theme of the issue is The Future, which is why it's on my mind today. "The Future" is so expansive, but we didn't stop there; the location focus is Arkansas and the Stuff theme is bike park. Luckily Sass, the Cosmic Squatch, helped us navigate these multi-realms.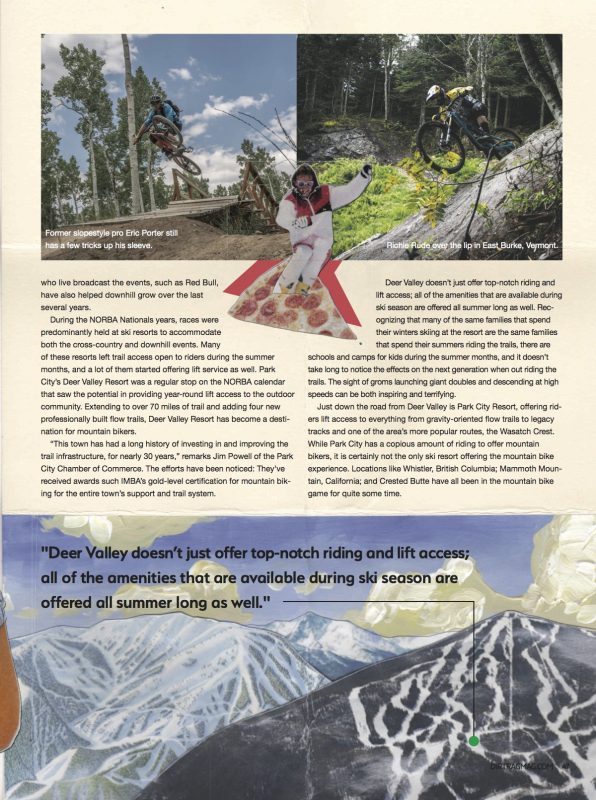 First, our Eat Me columnist shares with us a story of his Gramps and wild boar and Arkansas barbeque. Be Kind Rewind takes us back to the future with the 1990 Bradbury Manitou, a bike truly before its time and a big part of why we have things like rear suspension, Boost hubs, hydraulic brakes, and more. We visit Push Industries for Fast & Loose, and later in the mag review a Push shock on a Trek Slash 8. Watts tells us about his rad mechanic in Hangdown in the Wheelstrings, while Stevil waves poetic about the friendship we have with our bikes in SWTPYITFB.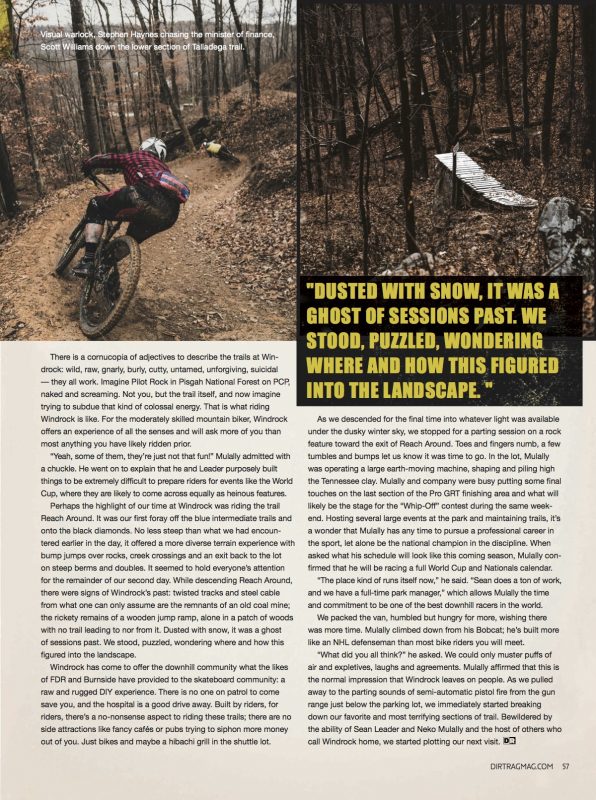 We Pass Through Knoxville Tennessee on our way to Windrock, a rad and wild-feeling mountain bike park about 45 minutes outside city limits, and write about both. Think Mad Max and fried chicken, a dusting of snow on a soft berm and a dusting of flour on a soft biscuit. And in Access, a dad and son share some rad trails in Colorado and check out Guerilla Gravity.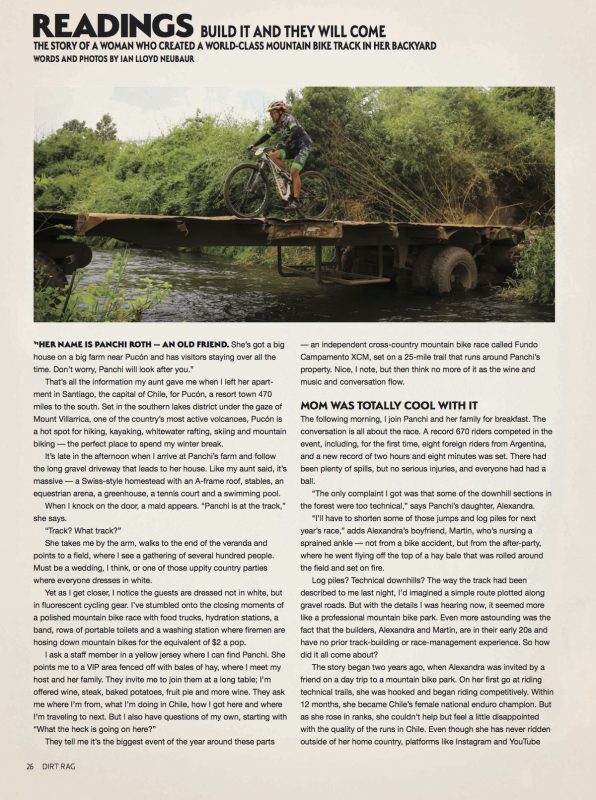 Also in Colorado, a refugee seeks a path to religious and cultural freedom, as well as to the pro mountain biking circuit. And in Hot Springs, Arkansas, we check out the booming ride scene and, of course, eat some tacos. Meanwhile, in Chile, a woman realizes there are no trails she wants to ride so she builds them on her family's farm.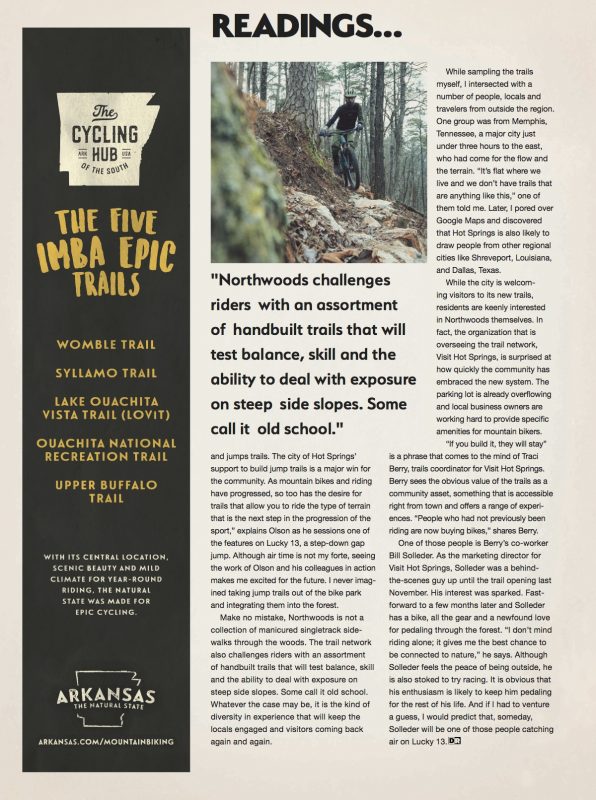 We also take a moment to think about the future of our sport. On one hand, we have the growth of mountain biking from bushwacked trails through the woods to machine-carved, groomed and buffed trails at resorts. We think about how this shift happened, and what that might mean for mountain biking as we know it, or as we will come to know it. On the other side, there's the mountain bike community: where we are headed together and the paths we are taking to get there, and talk to a bunch of people to see how they're forging ahead.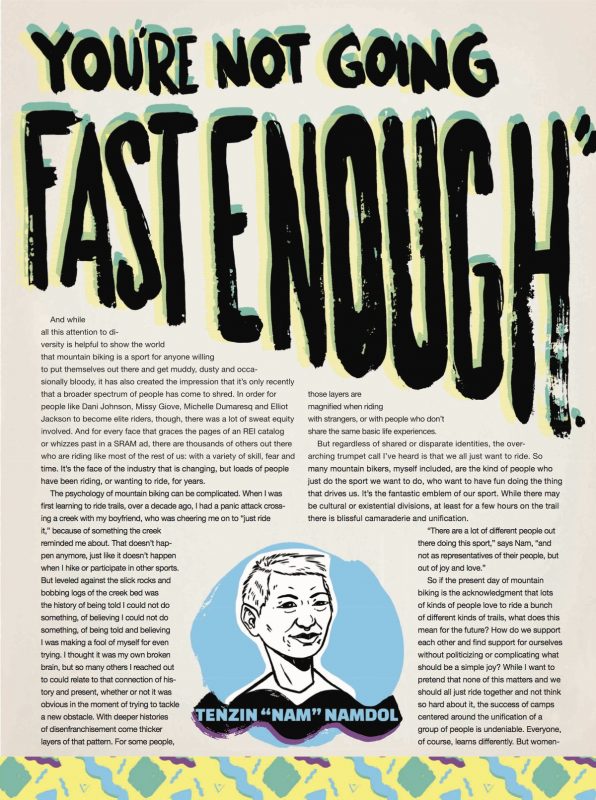 Finally in the Stuff section, in addition to the Push ElevenSix shock and the Trek Slash 8, we also review a GT Force Carbon Expert, Scott Ransom 910, Liv Intrigue Advanced 1 and an Ibis Mojo HD 4. We put all this gear to the test riding in Windrock and the nearby trails of Baker Creek Preserve, and beyond!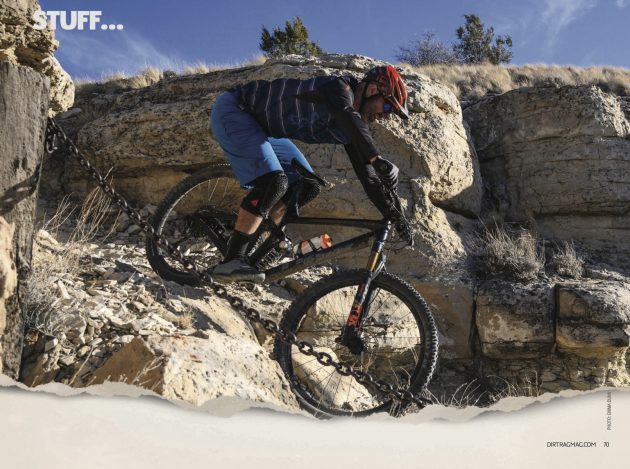 Where do you see the future of mountain biking headed? What is important to you as a rider? Pick up a copy of Dirt Rag #210 to see how we feel about the direction things are moving (hint: we're over the moon about it), then drop us a line to let us know how it resonates.