SRAM expands 1×11 drivetrain to include gravel, road, adventure and more
Originally posted on April 15, 2015 at 8:07 am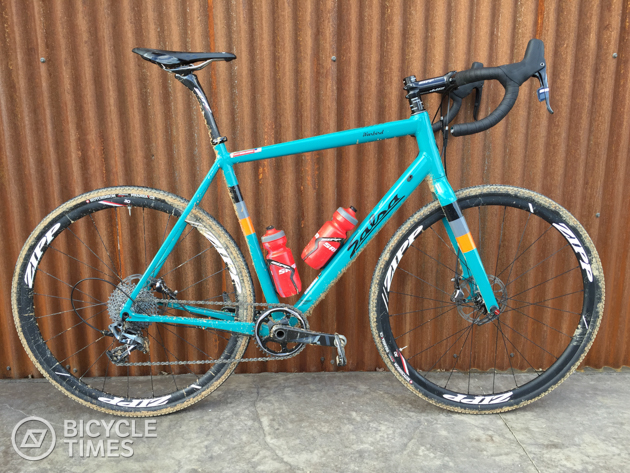 What would you say if someone took your favorite bike, swapped out your go-to compact gearing or reliable triple crankset, and installed a single chainring with a ginormous 11-speed cassette? Then, to pour salt into the wound, told you to climb nearly 3,000 feet of elevation on California's central coast? On nearly 15 miles of rutted jeep trails? It happened to me and my small posse of journalists, and the results were quite impressive, as SRAM announced plans to expand its popular 1x drivetrain platform from mountain and cyclocross to include aero, criterium, gravel, adventure, urban drop bar, and fitness. 
"We're not proclaiming that 1x drivetrains will replace 2x; we've had huge success with 1x on the MTB and 'cross side," said J.P. McCarthy, SRAM's road product manager at the recent launch in Pismo Beach, which included the introduction of Zipp's 30 Course wide rim wheels. "Our feature focus for those categories has been on chain retention, keeping the bike clean. What we get out of 1x drivetrains on road bikes is simplifying the shifting process, and quieting the sound of it. It also features one-hand shifting."
What is 1x (pronounced 'one-by')?
Defined by SRAM's X-SYNC single chainring, which now extends its range from 38 to 54 teeth. When appropriately paired to SRAM's wide or super-wide cassettes, and managed by SRAM's dedicated clutch rear derailleurs, 1x ratios allow riders to push gearing comparable to that of double (2x) chainring systems. SRAM's cassette lineup now features a 10-42*, 11-36, 11-32, and 11-30. (*requires XD driver body option)
 
What's new?
There are three elements critical to the of the 1x drivetrain: the chainring, the cassette, and the rear derailleur. SRAM is expanding nearly all of its new 1x offerings into the renamed Rival 1 and Force 1 groupsets.
 
Chainrings
Essential to the development of 1x are the expanded chainrings options, which now extend from 38 to 54. The new configurations offer plenty of gearing for gravel and adventure riders, cyclocross racers, multisport or time trialists, as well the criterium racer and fitness fanatics. 1x provides the most secure chain and chainring interface available defined by simplicity, range and durability.


The single chainring defines the 1x system with X-SYNC technology, whose tall square teeth edges engage the chain earlier and the traditional sharp and narrow tooth profile, as well as rounded chamfer edges, help manage a deflected chain. SRAM's X-SYNC chainrings are designed for optimal chain line and frame clearance.
Rear derailleurs
SRAM's new 1x rear derailleurs have adopted all the same technologies from MTB but in a road specific package, including the addition of a barrel adjuster.


The new long cage version is capable of managing the chain across SRAM's super wide 10-42 and 11-36 cassettes. Short cage (up to 28T), mid-cage (up to 36T), long-cage (up to 42T) Other technologies include:
X-Horizon: a rear derailleur's 'straight parallelogram' design limits all movement to the horizontal axis, which makes ghost shifting nearly impossible and maintains a constant chain gap across all gears;
Roller Bearing Clutch: derailleur bounce and chain slap are eliminated without sacrificing precision;
Exact actuation: SRAM 1:1 actuation ratio (shifter cable travel/derailleur movement) helps to simplify and stabilize the uneasy act of balancing rear derailleur hanger design, tight cog spacing and exact cable tension.
Cagelock: wheel removal and installation—as well as chain installation—becomes faster and simpler. Just pushing the cage forward to create slack and lock it into place. We witnessed this in action when Zipp brand manager Declan Doyle got a pinch flat toward the end of our dirt ride; click the magnifying glass to enlarge photos taken by Nils Nilsen N2Photo:
[wonderplugin_gallery id="50″]
Cassettes
The new PG and XG cassettes provide 1x riders the gearing options needed for challenging climbs, fast descents, sprints and everything in in between. SRAM's strong, lightweight and precise PC 1130 and 1170 chains are the perfect match for SRAM Rival 1 and SRAM Force 1.


"Last year I used Force 1 exclusively," said reigning national cyclocross champion Jeremy Powers, who spent three days riding with us in Pismo Beach. "We had zero mechanicals; I didn't drop out of any races, never dropped a chain. I like its simplicity. Picking up and dropping the bike in a race didn't affect the Force 1. In 'cross the mud usually causes chainsuck; the Force 1 totally eliminated that. I used a 44T with a 11-32T cassette for most of my races, modifying my gear ratio a few times based on the course."
Cutting the number of gears in half means cutting some gear ratios and eliminating a range in exchange for a simpler, better-looking bike for some riders.  "Rider-to-bike interface is pretty limited to bars, saddle and pedals; the 1x drivetrain changes the way a rider interacts with his or her bike," McCarthy added.
Here's more from McCarthy:
"We determined that approximately 150 – 170 grams are saved with the Force 1x versus Force 22, depending on cassette choice. A real-world change might zero it out, but we know riders will ask."
Gravel
"Chain retention is a real priority; eliminating chain slap makes a better ride; simpler drivetrain with fewer parts."

Criterium
"Crit racers don't use a small chainring anyway, so the benefits of a 1x drivetrain are most noticeable for them. The aftermarket opportunities are huge."
Fitness
"Less complication for the bike path rider or new cyclist by eliminating the front shifter."

Adventure
"The loudest request for 1x drivetrains came from product managers for adventure bikes; one less part for potential for failure."
Hydro
"We have hydraulic brakes (disc and rim) across the board for 2015."
Name changes
What was originally referred to Force CX-1 is now Force 1; the products have always been labeled as such, but the brand mavens at SRAM pushed the CX moniker on us. With the expansion including nearly every discipline but unicycles (wouldn't that be cool?!), the CX was retracted.
Force 1 crankset
A few changes includes adding 48- and 50-tooth chainrings in the popular 110 bolt circle diameter (BCD), and 52- and 54-tooth in 130 BCD. Force 1 cranks will have carbon arms with detachable spider, come in GXP (24 mm) and BB30 (30 mm) spindle options, while magically offering the same exact Q-Factor as Force 2x (the distance between the inner crank arms and the outside chainstay, a term coined by Rivendell Bicycle Works founder Grant Petersen when he designed and specced Bridgestones in the early 1990s; legend has it that Petersen—after creating a geometry graphic—ran out of letters to label an important and little-known spec, and chose Q for 'quack', because he thought of how ducks walk and the similarity to how road racers walked with clipless pedals ~ Ed.).
Force 1 chainrings
"We eliminated the mud evacuation grooves on the road rings compared to the 'cross rings, which also allowed us to keep weight down and durability up," McCarthy explained. "We also kept the running noise down."
Force 1 rear derailleur
Long cage variant accepts a whopping 10-42-tooth 11-speed cassette, providing road specific actuation with barrel adjust, a clutch retention system to stop the chain from moving around and bouncing around, even on the nasty stutter bumps we experienced riding near Santa Margarita. 
Cassettes
"We do not have a 2x rear derailleur to accommodate up to a 36-tooth cog," McCarthy added. "So, the SRAM PG 1170, 11-36T 11-speed cassette is specific to 1x drivetrains. Great application for gravel racing!"
According to SRAM, its XG 1180 10-42T 11-speed cassette provides the widest possible range for all applications, providing almost the same range (97 percent) as a current SRAM WiFli drivetrain (50/34 x 11-32T). "Up until recently this would require a 29er frameset; now, with the 30 Course wheels, gravel racers can benefit from this cassette," McCarthy said. New refinements and features include:
Force 1 brake levers
Hydraulic and mechanical (with new hatch that covers shift area for better feel). 
Rival 1 crankset
Forged arm, forged removable spider; 110 BCD 38, 40, 42, 44, 46, 48 50T X-SYNC rings. Same exact Q-Factor as Rival 2x.
"SRAM chainrings begin as a 7 mm plate, then are machined down to the proper chainline, where the teeth are sitting over the spider for best frame clearance," McCarthy said. "We polled our OEM customers to get it dialed in.
"Our current 11-speed chains are compatible with our 1x and 2x drivetrains," he added. "They share the same dimensions for shifting and chainring retention; the chain plates on our shiny finished chains are so hardened for durability the chainring will wear out before the chain will."
Early efficiency comparisons between 2x and 1x, according to an outside testing resource, have shown that a small fraction of a watt is the difference, with the 1x coming out on top.
Rival 1 rear derailleur
Material differences between Force and Rival (stainless vs. galvanized hardware); Medium and Long Cage only (no Short);
Rival 1 brake levers
Hydraulic and mechanical (with new hatch that covers shift area for better feel) like the Force. Now offered as a pair with newer ergonomics.
Rival 1 Cassette
PG 1130 11-36T 11-speed; heat-treated cogs and steel lockring. "For weight savings we riveted more than one cog (no aluminum spider)," McCarthy said. "On the SRAM XG 1150 10-42T 11-speed cassette; cogs are pinned to one another to save weight, with an aluminum big cog."
SRAM S350-1 Crankset
"Modelled on our Apex platform, specifying almost exclusively with a pant guard for fitness and lower-priced 'cross bikes. This will come with 38, 42 or 44-tooth rings with no mud grooves, and is slightly heavier."
S700 11-speed Trigger shifter
Based on the SRAM MTB shifter for flat-bar Rival 1 or Force 1 rear derailleur. 
New groupset highlights:
Criterium: crankset, cassette, brake/shift levers, hydraulic brakes, chain;
Cyclocross: crankset, cassette, brake/shift levers, hydraulic brakes, chain;
Fitness: derailleur, cassette, chain, crankset.
Retail availability is June for the Rival 1 brake levers, disc brakes and all rear derailleurs; July for all cranksets and X-Sync road chainrings, and August for PG-1130 11-36 cassettes. Click on the magnifying glass to enlarge photos of my Salsa Warbird:
[wonderplugin_gallery id="49″]