Catching the last rays on the Sunshine Coast
Originally posted on April 5, 2019 at 5:00 am
Editor's note: This article originally appeared in issue 209 of Dirt Rag Magazine. Like what you see? Subscribe now at dirtragmag.com/subscribe to catch issue 210, coming real soon. 
---
by Abby Cooper
Single droplets fell from the heavy grey skies and temperatures threatened snow. The timing for a trip to the sought-after loamy trails of Canada's Sunshine Coast couldn't have been more favorable. Preparing to leave behind our mountainous and soon-to-be-wintery home base of Whistler, British Columbia, the crew gathered to load the boat. We were prepared to test the bold claim of "sea level means no freeze level" as we set off to sample the remote coastal offerings.
Usually, getting to the shores of B.C.'s isolated Sunshine Coast requires a car loaded with bikes and a ferry crossing. This method is recommended, as you'll have a vehicle with which to explore the expansive shoreline upon arrival. Always trying to turn an adventure into an epic, it wasn't hard to convince fellow biker and soon-to-be-crewmember Kris Harris to make the notoriously rough ocean crossing in his 19-foot center-console boat, the Belafonte.
"You guys ready?" Ryan Harris greeted us while sporting a life jacket, fishing boots and a bike helmet. I laughed; the four of us looked like kids playing dress-up in our parents' garage. Kris and Ryan are brothers, friends and the best company that "Sendy Biker Dave" and I could have asked for.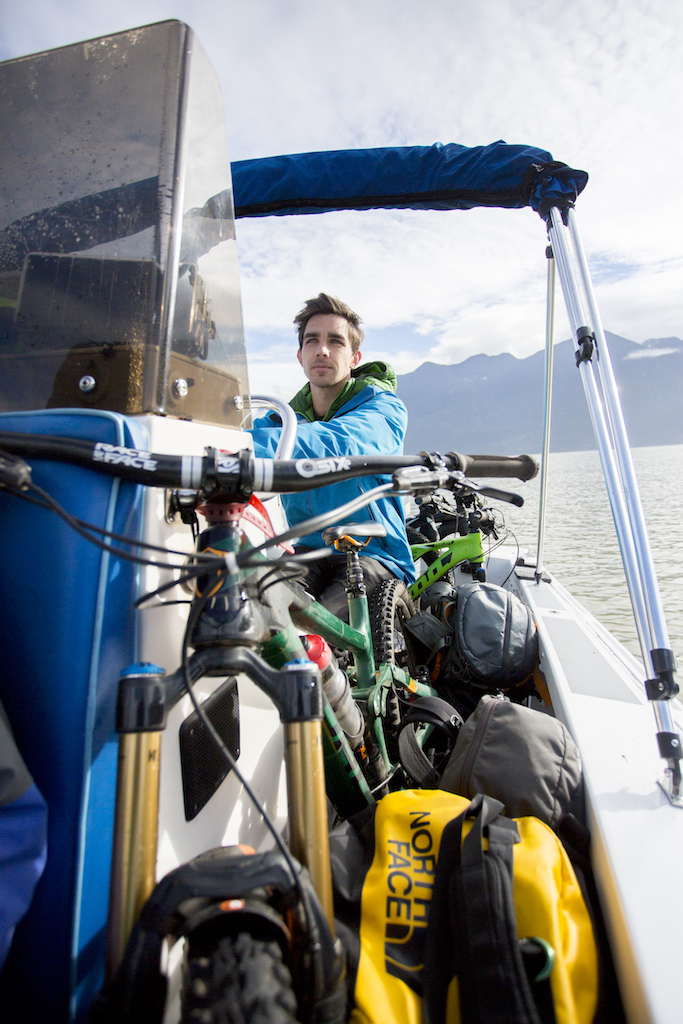 Slotting the bikes into the homemade bike rack on the boat, we left the scenic Squamish shores. We hoped that what the Belafonte lacked in horsepower it would make up for in willpower. High tide appeared in our favor; the glassy Pacific felt empty aside from a few friendly seals. Classic Pacific Northwest islands dotted our journey, each unique in shape and familiar in ruggedness.
"A7 portside," beckoned the boat radio as we arrived at Gibsons Marina. Eager to taste the trails we'd scoured on Trailforks, we gave the bikes a hasty hose-down on the docks to free any lingering saltwater and started to navigate to the good stuff. The quiet town of Gibsons was lined with colorful shops, not a single one looking like its neighbor.
Humid, salty air was a treat for each breath as we pedaled up into our first zone, Sprockids. Biking from sea level will make you feel like a hero — cardio for days. Ferns and moss painted the forest floor, amplified by the sun that had greeted us upon our arrival to the Sunshine Coast — no surprise there.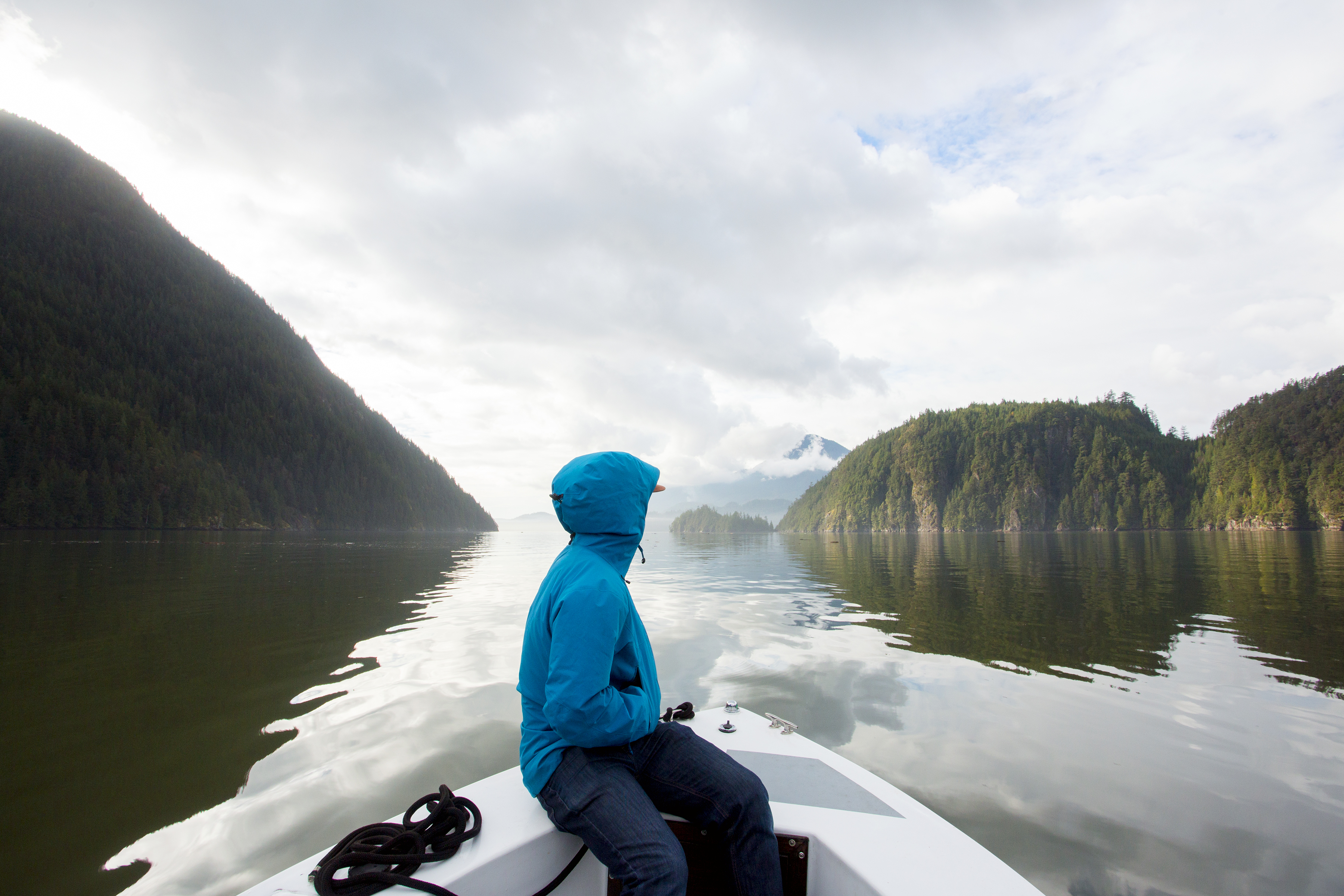 Wide yet playful ups led us to a maze of trails. Googly-eyed, we noted remarkable features and perfectly bermed corners that we hoped our descent would include. Lap after lap, each down revealed a new "Can we do that one next time?!" moment. Frothy, you might say; we just couldn't get enough.
Later we learned that Vancouver's Capilano University has a Mountain Bike Park/Trail Design and Building program. These students venture to the Sprockids trail network to practice what they've learned. Each trail built must include a certain number of features, perfect angles and encompass a variety of styles; no wonder we felt like each descent was so entertaining and smooth. It wasn't us; it was the trails. Most noteworthy? Doug's Detention.
Time not spent in transit via boat or bike was consumed by decadent eats. A strong unity exists on the Sunshine Coast over sourcing local, from Persephone Brewing Company's homegrown hops to the locally harvested pear–infused dishes at Buono Osteria to the freshly foraged meals served at the Farm to Feast Food Truck. Biking past the food that someone was going to prepare for us that evening was a very grounding experience.
Coast Gravity: We'd heard its name whispered before. Open year-round on the weekends, this shuttled bike park is what dreams are made of: manicured, rut free and with plentiful ocean views if you dare to take your eyes off the trails. Pros like Brandon Semenuk are regulars here and utilize the park as a training ground for Crankworx. Coast Gravity merges everything you want to ride with all of the laid-back coast vibes you crave — complete with a snuggly dog, good tunes and evening fires. Feeling on top of the world with an adrenaline-induced high after lapping the prime collection of trails all afternoon, we settled in to watch the sun set over the ocean below us. The atmosphere screams intensity and stoke, while the company feels like lifelong friends. Ah, the bond that is born so quickly from biking.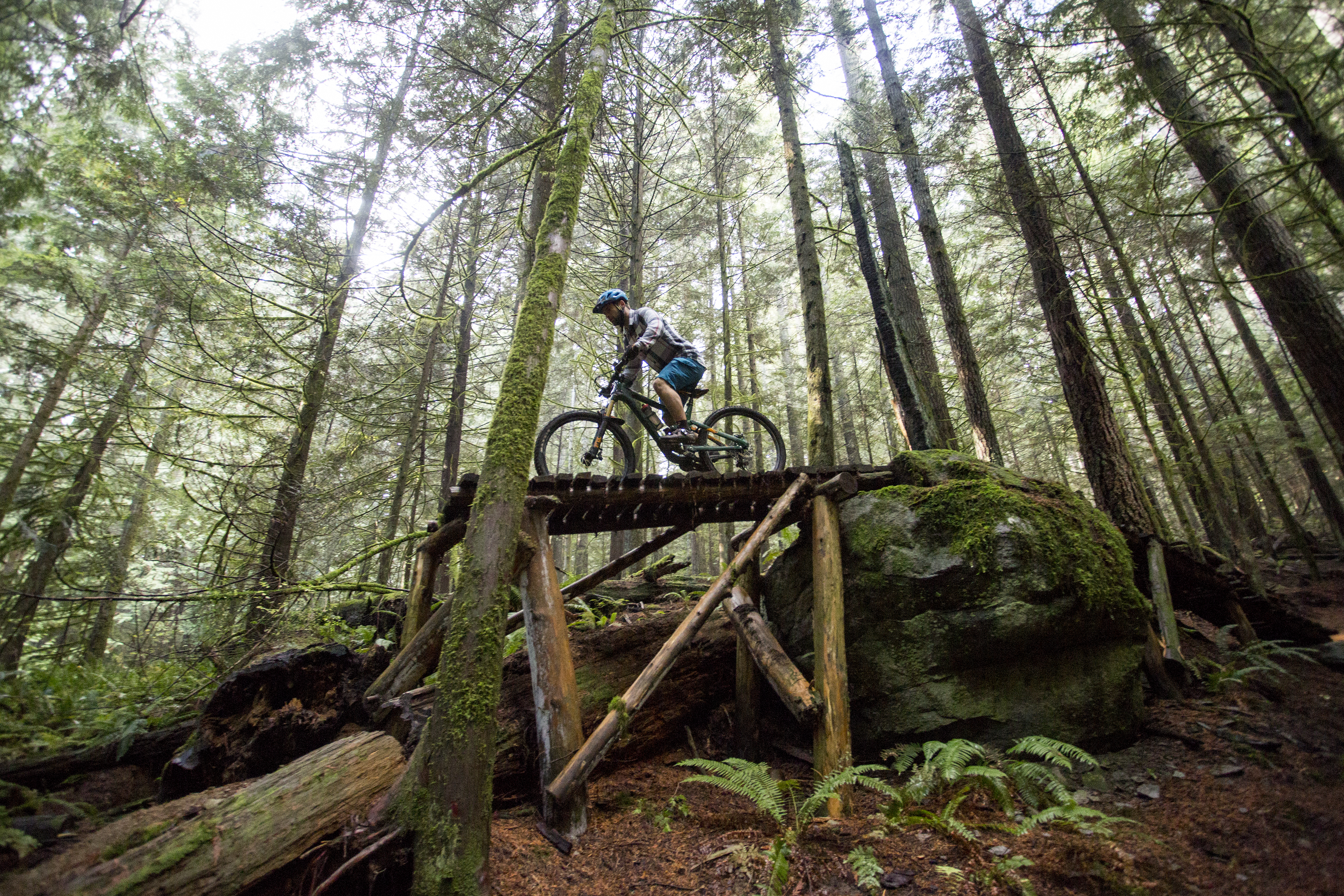 Neighboring the Coast Gravity Park is the Porpoise Bay network, a quality collection of trails just northwest of Sechelt — another boating destination, I might add. Staring back at us from atop the Sechelt trails was the terrain that hosted the nearby West Sechelt, Connor Park and Trout Lake trails; we drooled and vowed to make it back to see them. There are probably more trails on the Sunshine Coast than there are bikers. In all of our biking escapades, we crossed paths with only a handful of other riders.
Fishing isn't a sport on the Sunshine Coast; it's an essential part of life. Whether you fish for a living or get your rain gear from the local fishing store, it's something that's outspokenly intertwined with the coastal culture. Already feeling at one with the trails on the coast, we craved feeling the same connection with the culture. Step one? Fish.
The Sunshine Coast is famous for abundant salmon and cod, but we'd managed to time our trip during the one and only "down month" of November. Fishermen and women were cleaning their boats and spending time on land; it wasn't prime out there, but we convinced Greg Suidy from Sunshine Kayaking to show us the ropes on his majestic fishing vessel. Turns out even when it's off-season there are still fish to be had. With the help of a seasoned fisherman, we managed to feel a few bites and hook one. Heads spinning with new terminology and a long list of fishing locations to explore at a later date, we vowed to get some better fishing supplies for the Belafonte.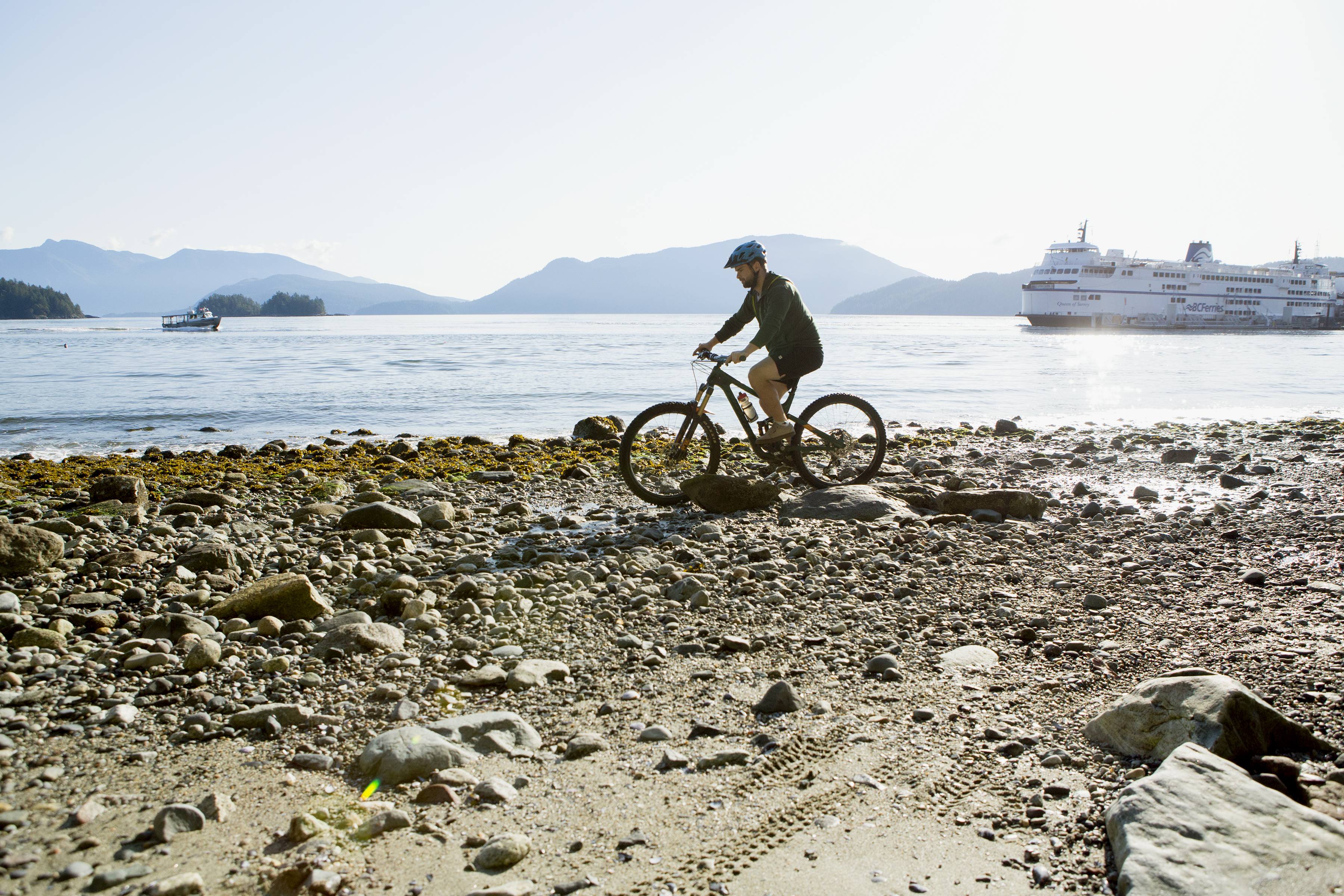 Sealegs back to bike legs: The transition was getting easier. Onto day four of big trail days and long town commutes via bike, we were all feeling a bit stiff. Tempted by the option of hitting the boat early, we decided it would be seemingly rude to miss an opportunity to bike one last time on the coast.
When biking in our enduro gear throughout town, we'd been asked multiple times if we'd hit Mock Chicken yet; today we'd see what the fuss was about. And there should be a fuss. This trail was one of a kind. In fact, the whole network above Roberts Creek was something else, encompassing techy old-school North Shore features and some of the biggest flow-state berms I've ever seen into drops. These trails were complex, loamy and seriously kept you on your toes — a flow like I'd never flowed before.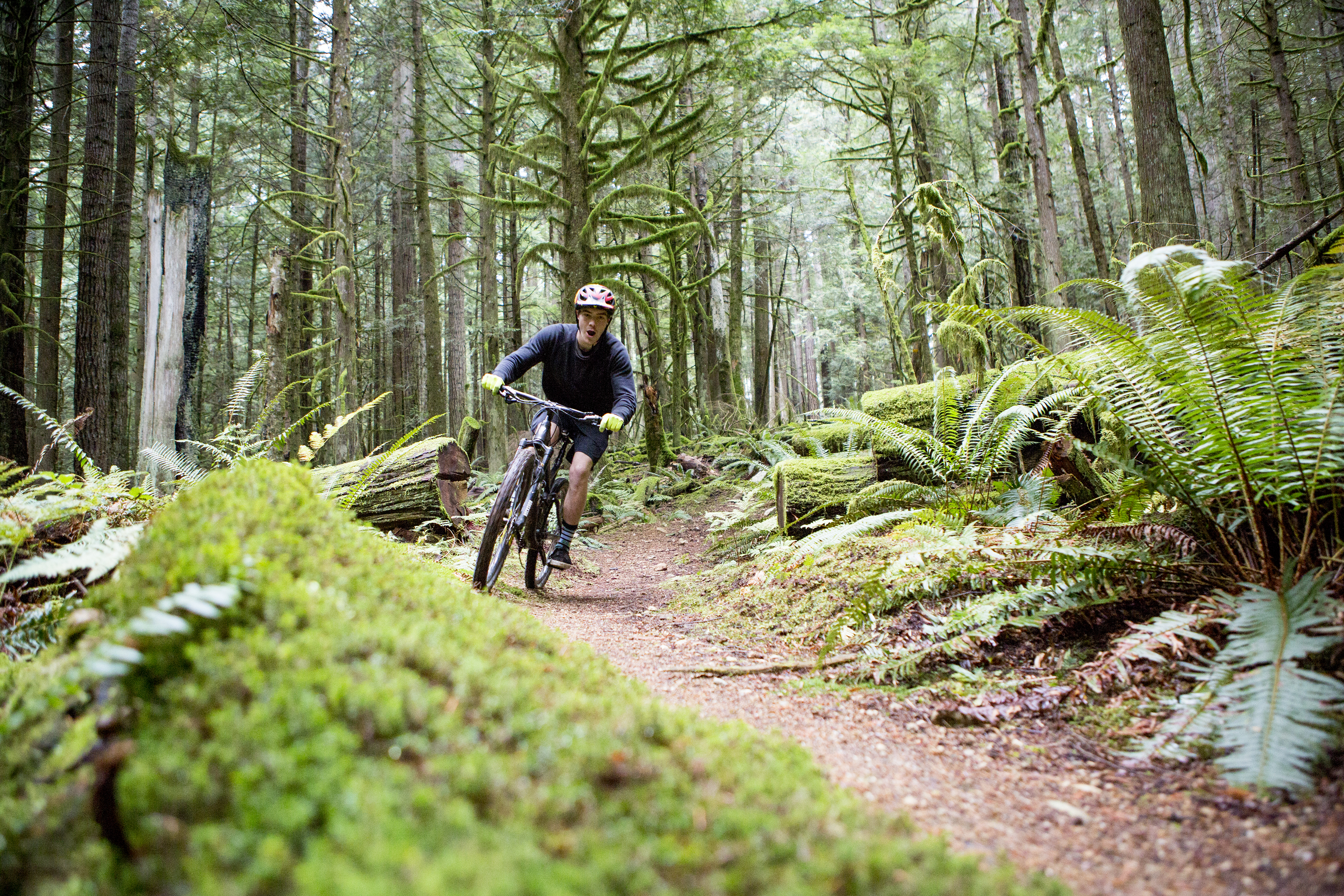 Overjoyed with the Roberts Creek trails, we did some poor navigating and ended up with a spicy river crossing at the end. At least bike shoes are kind of waterproof, right? The 6-mile pavement pedal back to the marina felt long. Long because we'd crammed more biking into a week than most get in an entire summer. Long because we'd already conquered multiple new trail networks and we still had to boat home. Long because we didn't really want to go back to real life — life on the Sunshine Coast was treating us pretty well.
Glistening in the water, the Belafonte stared at us as we biked down the docks to the mothership. We made the final crossing back to the mainland quietly. All of us seemed to be consumed with watching the rugged coastline that had so graciously hosted us disappear into the horizon. When we caught eyes with each other, we just smiled; we'd done it. We'd biked countless miles of trails, traveled nearly 60 miles by sea and experienced a whole new place and culture in a week. Reaching our place of origin, we all parted ways content with adventure, the Belafonte included.