Pulled up by their toestraps: Katahdin Gear Library revives a small town
Originally posted on March 20, 2019 at 0:47 am
By Bryan Chambala
In 2017, there was no bike shop in Millinocket, Maine, but there was a librarian with a Karate Monkey frame in his garage and a bunch of parts that didn't fit.
"I had a garage full of road bikes that I had assembled over the years, but I was having a pretty hard time figuring out how to put this bike together. I didn't have the right tools, the parts I was ordering were not compatible with each other and the cost in time and money was piling up," said Matt DeLaney, a longtime recreational cyclist and Director of the Millinocket Memorial Library.
"And I thought if I was having this much trouble getting out on a mountain bike, how hard was it going to be for the kids around here who didn't have any experience, money or resources to get out riding?"
The eventual response would redefine the role of the library in the community – a community that had closed the library only a year before, in 2015 – and begin to create a genuine community cycling movement in Millinocket.
A group of library supporters called the Friends of the Millinocket Library got the town to set aside $30,000 in the budget just to keep the doors open and eventually raised enough to recruit a real, full-time director. Our friend Matt, the one with the disjointed Karate Monkey, was in Syracuse, New York at the time, working for the county library system but stuck in administration downtown and missing the whole reason he'd gotten into libraries in the first place: the people, the communities.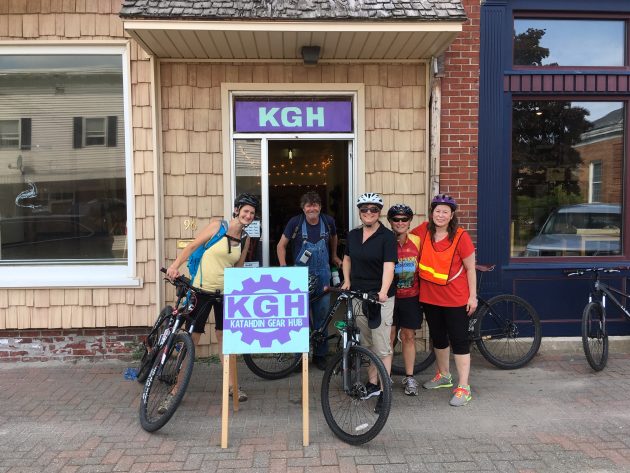 And here was this community and these people and this library in need of a director with a different kind of vision. And there it was, sitting in way the fuck up there Maine, in a place where civilization feels like an aberration.
Syracuse paid pretty well. But Millinocket – now that was intriguing.
—
DeLaney showed up in Maine with his partner, Emilie, two dogs, and a year's salary accounted for at the library. His first job: Get the library funded beyond that year. The concurrent job: Make the library an indispensable part of the community.
He learned quickly that Millinocket was not dead or dying, but rather reconstituting after the devastating loss of the logging industry that once sustained the town before shutting down its mills in 2008. It might be unlikely to attract a major industrial employer due to its location (although a good deal of tension in town existed based on the idea that it might), but it could make that very location an advantage and turn itself into a hub of adventure and recreational tourism. The entire strategy was three-pronged: Take advantage of adventure tourism opportunities. Add universal broadband to attract young businesses. Invest in innovative wood products to take advantage of one of the Northeast's largest remaining wood baskets (that's a fun wood industry term).
Matt Polstein had already gotten a head start on the mountain biking part of the plan. Polstein owns the New England Outdoor Center in Millinocket, under which he also operates Katahdin Area Trails, a 501(c)3 charity organization with the goal of building "environmentally and economically sustainable destination mountain biking and x-country trails" just outside town.
"So this is the scene that I walked into when I moved to Millinocket in late 2016," Delaney said. "I'm hearing how Matt Polstein is already working to build a state-of-the-art mountain bike trail system and destination for mountain bikers in the region and that this is part of a larger economic development strategy for the region. I'm learning that within a few years people will be coming from all over country to visit this unique mountain biking mecca. I'm super excited, and I sell my cyclocross bike. I buy a karate monkey frame and a bunch of parts and set about building my first mountain bike."
Then the plight of the rural amateur bike mechanic set in: Why the hell don't these wheels fit?
"We had now identified a significant gap between this prosperous future that the adults were envisioning, and the on-the-ground reality for people living here now, specifically kids. My own experience struggling to build a mountain bike with limited knowledge and resources gave me personal insight thinking about a Gear Library," said DeLaney.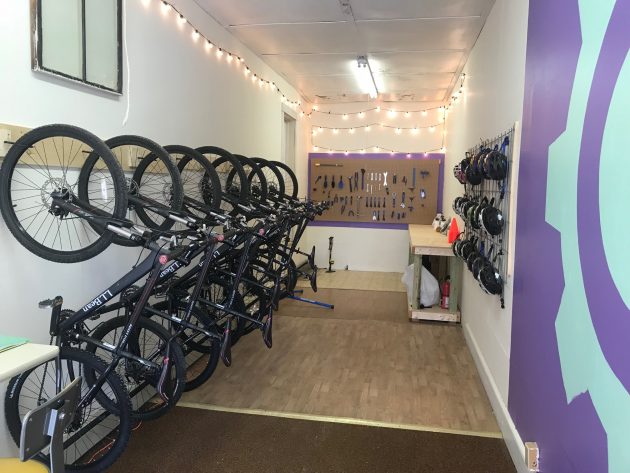 "Ultimately, one of the core ideas was to create a space that was accessible and welcoming to everyone in our town, rich or poor, young or old. I thought about how fun it is to browse gear shops and see these sexy, bright, shiny bikes and skis in storefronts, but I also realized that for a lot of people, those shops are not inviting to kids or families that don't have a lot of money."
Instead of burying the Gear Library in the basement of the library itself, it opened in a storefront downtown – where so many storefronts have remained vacant in recent years.
"We started talking to property owners and found somebody who was happy to support out project and put us up for free in the center of downtown," DeLaney said.
With the help of the Outdoor Sport Institute in Caribou, Maine, which donated 20 mountain bikes, the Gear Library opened in 2018. That gave the library an extended presence in the community and, as Delaney said, increased the value of a library card significantly. In its first summer, the Gear Library was open three days a week and saw 550 visitors, checked out 135 bikes, and repaired 71 bikes for patrons. It runs primarily on volunteers – once he got it started, DeLaney said, he was primarily occupied with the library fundraising project and left the heavy lifting to the volunteers. Eventually they created, well, something hard to define.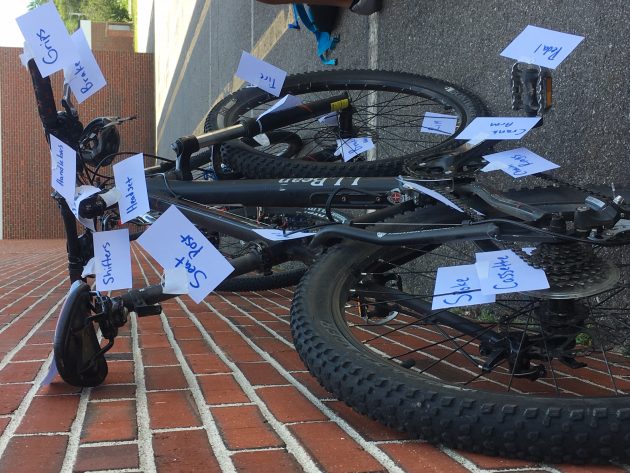 "Initially, I had a hard time defining for myself and for others what it was we had put together. Was it a bike repair shop? A riding club? A community workspace? A bike rental shop? The fact that I was having a hard time explaining it should have been an indicator that we needed to simplify our talking points," he said.
"In the end, we didn't simplify, we made it even more abstract – I decided that we were creating a bicycle movement in Millinocket."
Over this past summer the Gear Library offered bike mechanic classes, wilderness first aid certification, a mountain bike leadership workshop, and participated in an IMBA trail-building school, among other things.
"One night we had pizza, a bike documentary, and a community discussion about what it will take to build a mountain bike trail destination," said DeLaney. "We filled the room with kids, parents, business owners, outdoor enthusiasts, elected officials, philanthropists – it was incredible! I felt so proud because I couldn't think of another public event that could pull together such a diverse cross-section of our town.
"It kind of confirmed my suspicion that mountain biking could be one of the great unifiers for a town that had become divided and contentious in the aftermath of the mill closure."
And if a privately owned bike shop wanted to open in town?
"If the Katahdin Gear Library is no longer solving a problem or serving some need, I would be happy to move onto the next project. Part of the goal for the KGL was to build a movement and establish a case for a bike shop in town. Maybe the market didn't support it in 2018, so we had to lay the groundwork as trails were built and people began noticing what was happening in Millinocket. I would love to see a business open up and see some jobs created for high school kids.
"I will always advocate for creating an environment that is safe and inviting and welcoming to anybody that wants to participate and hopefully we can have a rad bike shop open up that is just that.
"That was sort of the goal anyway, right?"