Review: Rapha winter kit
Originally posted on March 18, 2019 at 8:22 am
In these deep winter months of cold, damp darkness, my typically preferred riding garb of whatever-I'm-already-wearing just doesn't cut it. I wanted something that would be insulated without feeling like I was wearing three pairs of pants, and easily wicked off rain and mud without feeling like a plastic bag. Rapha is known primarily in the road and gravel scenes, but with most of our trails here in Western Pennsylvania being in perpetual freeze-thaw in the depths of winter, a good chunk of local riding is done on gravel roads, railroad ballast, and maintained double-track anyway. Still, I was in search of something that could hold up not only to the long, steady burn of a gravel ride but also the energy bursts of riding trails that have punchy climbs and descents.
SOUPLESSE WINTER TIGHTS WITH PAD — MSRP $285
For how well these tights protected against wind and rain/snow, these tights were remarkably breathable thanks to the rear panels that allowed sweat and heat to escape. The waste is high, which added additional insulation in the torso as well as an added level of comfort by not digging into my gut like most non-bib tights. Inside, the material is soft and cozy, making these a go-to choice for me on any day the temperature dipped below 45 degrees (so, most of them). The top of the tights was very comfortable with straps that fit nice and wide to accommodate my bust, with a lightweight fabric that stayed close to my body without restricting movement or digging in with thick seams. In the back, wide reflective strips are a nice touch on days never get brighter than dusk. For how thick these tights feel with the cozy insulation and wind/waterproof front panels, they are still thin enough to fit under any pair of jeans I felt like wearing, making these a great option to keep me pedaling on those days that dipped well below freezing, whether to enjoy some frozen trails before they turned back into peanut butter or just catch a friend's band playing across town.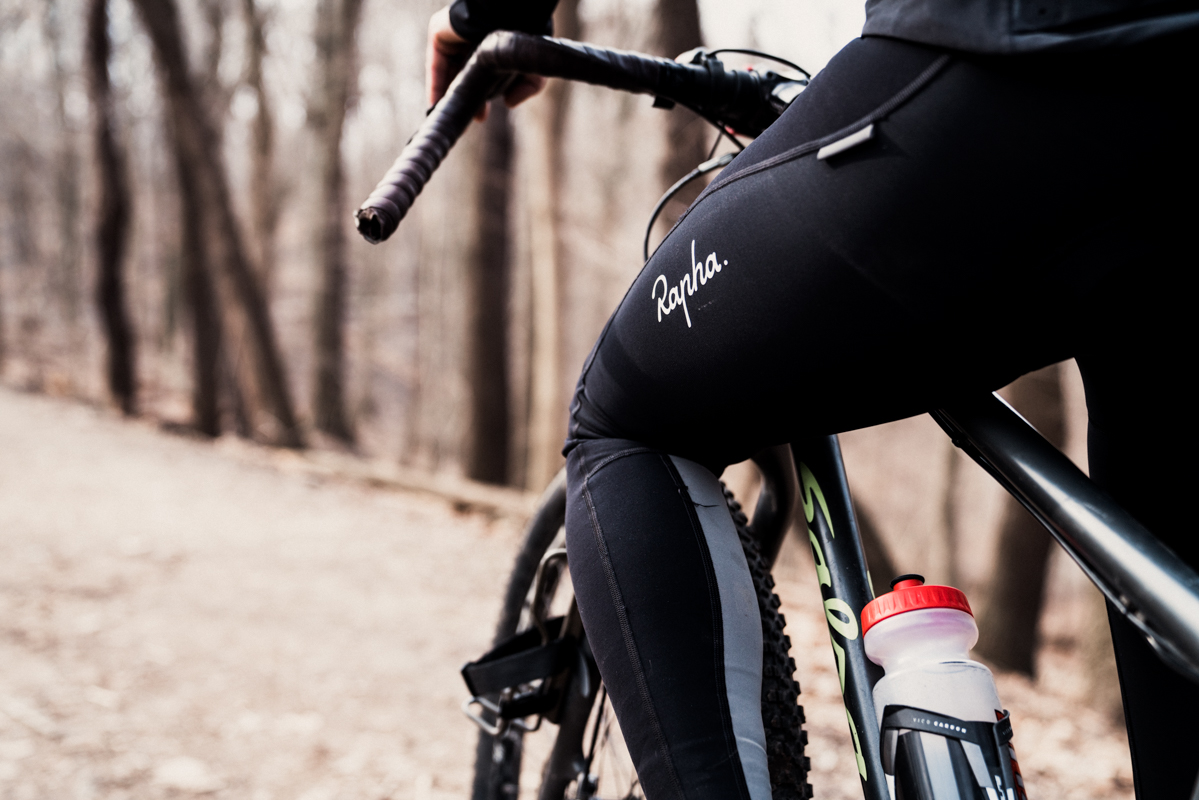 LIGHT SUPPORT BRA — MSRP $40
In the coldest months, layering is key. For some of us, that first layer is a sports bra. The Light Support Bra is indeed very light, with a longer torso that creates a surprising amount of comfort: Surprising because I have worn probably over a hundred sports bras over the years, and this was the most comfortable bra to put on that remained comfortable while in sports use. The cut creates adequate and confident support that doesn't have the nasty side effects of swampiness or rib-squeezing that sometimes occurs, it offers a good amount of coverage, the only tag is a stylish label sewed on the outside, but the smartest feature might be the seams that are so thin it was hard to tell which side was in or out, if not for the aforementioned stylish label on the outside.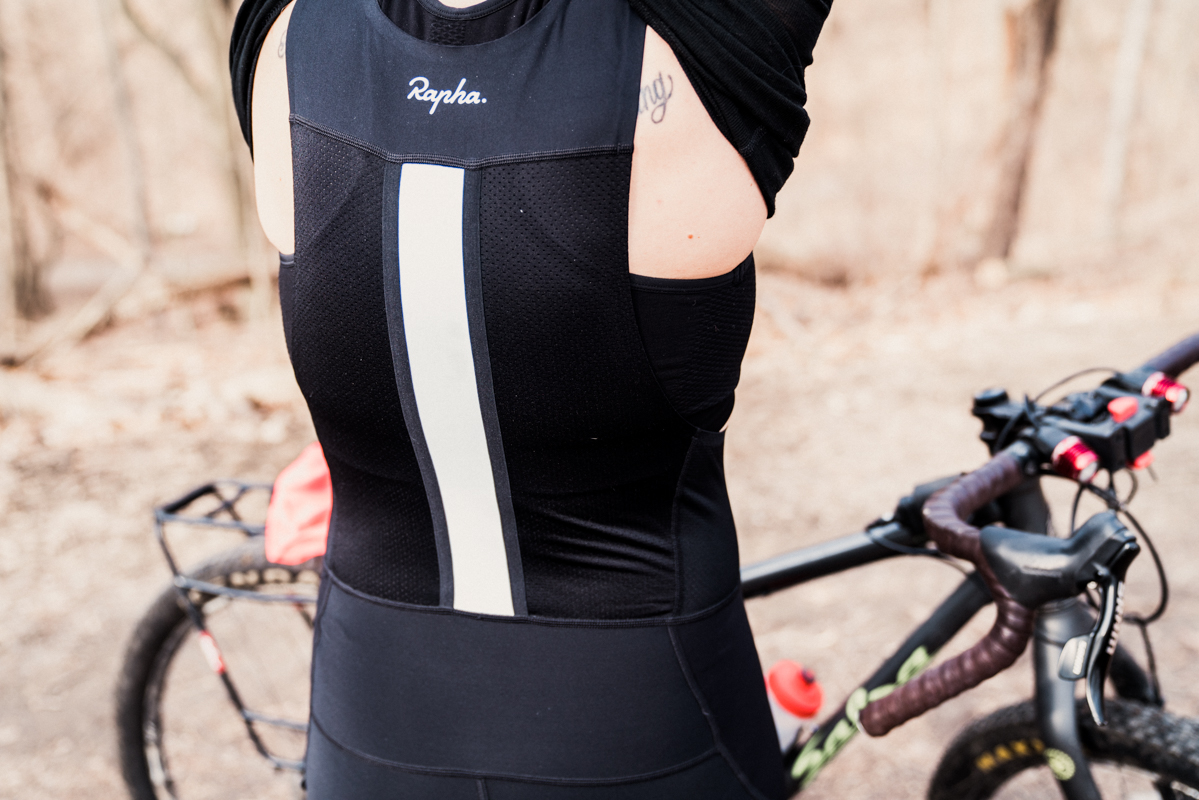 WOMEN'S BASE LAYER – LONG SLEEVE — MSRP $90
This Merino wool base layer is lightweight enough to be translucent. At first glance, this went against everything I thought I knew about staying warm. But of course, this is a base layer. Matched with a sports bra and the torso part of tights, this is a very warm, yet breathable layer. It's incredibly soft, and the wool keeps you from smelling sour or musky or whatever word you might use to describe a gym bag. The thin material worked well with the Classic Winter Jacket, though on the coldest days I did need an additional layer (or two). The subtle V-neck and classy thin material made this a sweater I hung in my closet and had a hard time remember it was a sports shirt with many hours of sweat woven into that sweet Marino wool. But if I can wear jeans and hoodies riding, then certainly I can wear a base layer to dinner, right?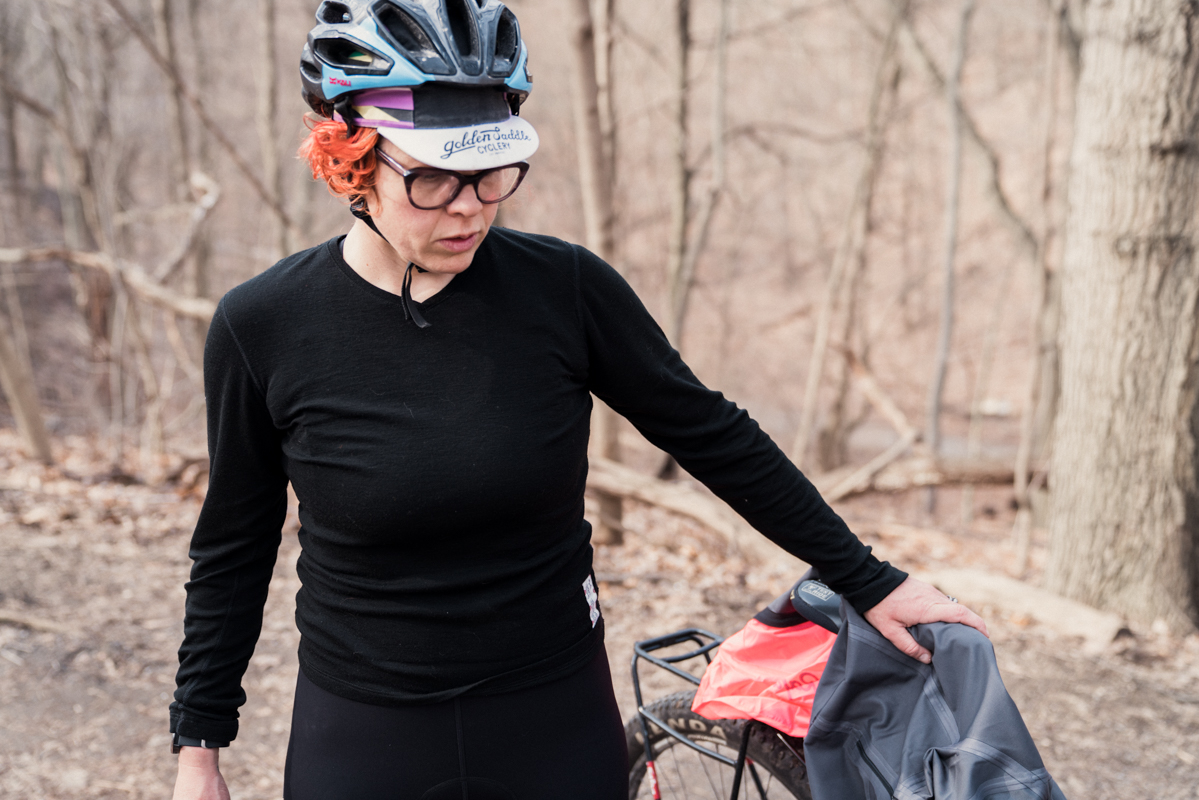 WOMEN'S CLASSIC WINTER JACKET — MSRP $355
Like each item in this collection, this jacket is much thinner than you'd expect for something that is doing so much work. I have ridden this coat through mud, rain, snow and wind and it has completely blocked all elements completely, down to the taped seams. The cuffs have no zippers but are just naturally thin tight to the wrist. While this is different from other cycling jackets I've owned, that have zipper to allow for sleeves to go over gloves, these zipperless cuffs mean there's no awkward managing of zipper with gloved hands (or teeth, as occasionally happens). The front zipper is asymmetrical for an easier one-hand pull, and the back pockets are deep and slender, another smart feature that finally takes into account how useless fingers can be when wearing thick winter gloves. Just be careful taking this coat off if you have things in these pockets, as there's nothing but gravity keeping your belongings in place. They perfectly fit a wallet/toolkit/phone, phone/can/keys, toolkit/spare tube/phone, hand pump/phone/tool kit — choose your own adventure here with whatever you most often grab for. There's a small backward pocket in the front as well as a mini pocket layered atop one of the back pockets, making for multiple options for storing some extra cash or keys without fear of them slipping out of the pockets. Like most winter riding coats, there are armpit zippers for ventilation. Finally, the already dipped rear has an inside zipper that unveils a flashy hot pink tail. This is a big diversion from my Crass logo butt-flap days, but this virtually weightless addition not only adds an important level of visibility for an otherwise stealth-black coat (OK, there are a few other small tabs here and there that are also hot pink, but they are more for style than safety), it also was an appreciated barrier against the mud spray that would have otherwise soaked my butt.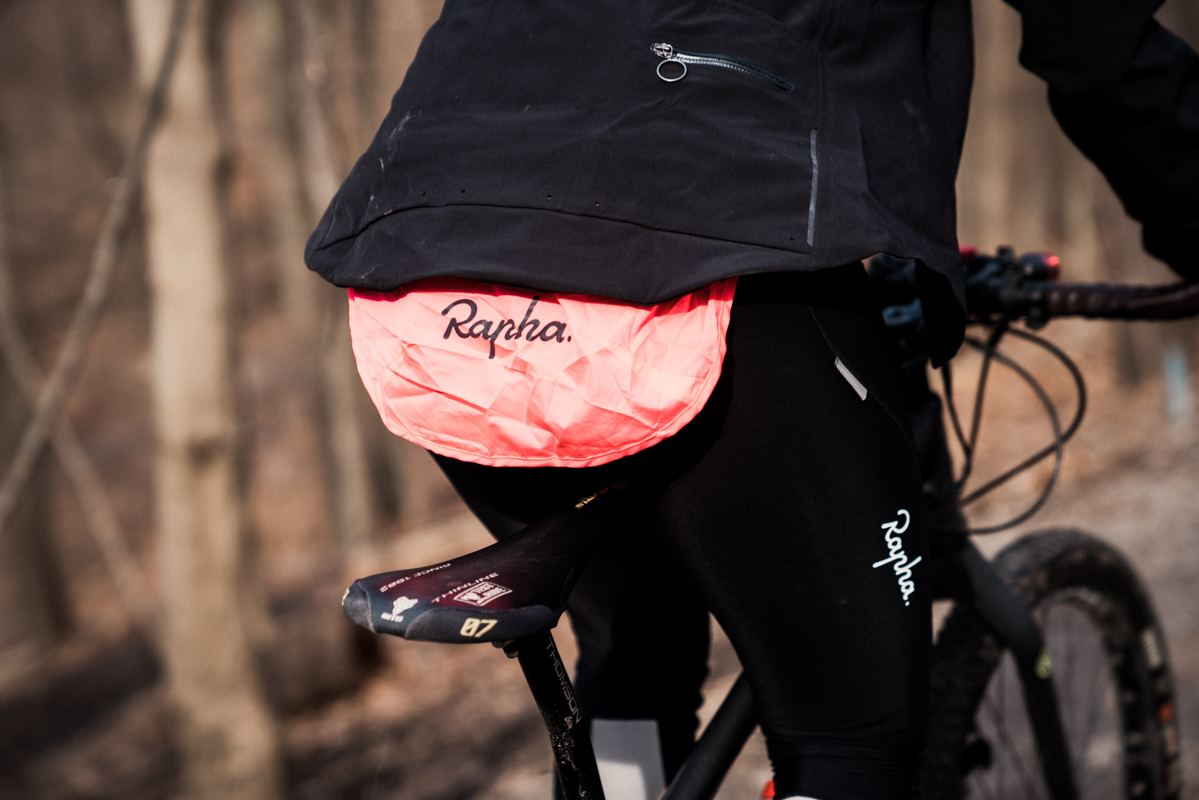 ---
Former Dirt Ragger Karen Brooks once told me there's no such thing as bad weather, just bad gear, and I staunchly disagreed from my bronchitis-infested sickbed. This Rapha kit has changed my opinion, if even slightly. While I refresh my weather app in hopes of warmer weather and longer days, a part of me now revels in these last remaining frosty mornings, and looks forward to the next winter season, knowing I'll be prepared from the get-go to romp around in the woods without catching frostbite.