Winter Layers With Kitsbow
Originally posted on January 24, 2019 at 4:20 am
Depending on where you live the winter months can be challenging to stay out on the trail as much as you would like to. Whether it's wet and muddy trails or they are buried under two feet of snow, our time on the bike is limited to the few days where conditions are favorable. When we get the opportunity to ride it helps to have the right gear to maximize our time out on the trails. I often stand at the door before heading out on a winter ride contemplating precisely what I should wear? You would think after nearly two decades of riding through the winter months I would have some sort of parameter for the right amount of clothing for the days given temperature. Luckily for me, Kitsbow came through with a few of their pieces for colder weather riding, and they have all become favorites in my winter gear rotations.
Power Wool Baselayer $125
Much like your cycling fitness going into the season, dressing for the weather requires a solid base. Kitsbow's Power Wool base layer is a great piece to start with for when the first signs of winter begin to chill the air. I wear this shirt a lot, under flannels, under vests, just lounging around. The fabric is comprised of 34% Merino wool and 66% Polyester, giving this shirt the comfort of merino while still being incredibly durable. I have quite a few 100% merino wool base layers in my cold weather riding line up, and after time and abuse, they really begin to show the wear.
What I like the most about the Power Wool is its versatility in varying temperatures. It is perfect for cool to warm days on its own and as temps start to drop just throwing a vest on as an outer layer goes a long way. The merino and polyester blend does a great job of helping you regulate sweat and body heat and the Henley style three button design keeps you looking good in the woods. When the air temperature goes full arctic around here, I have been wearing the Power Wool under a thicker wool jersey or soft shell, and the combo has been working flawlessly in temperatures ranging from 16º F to 35º F.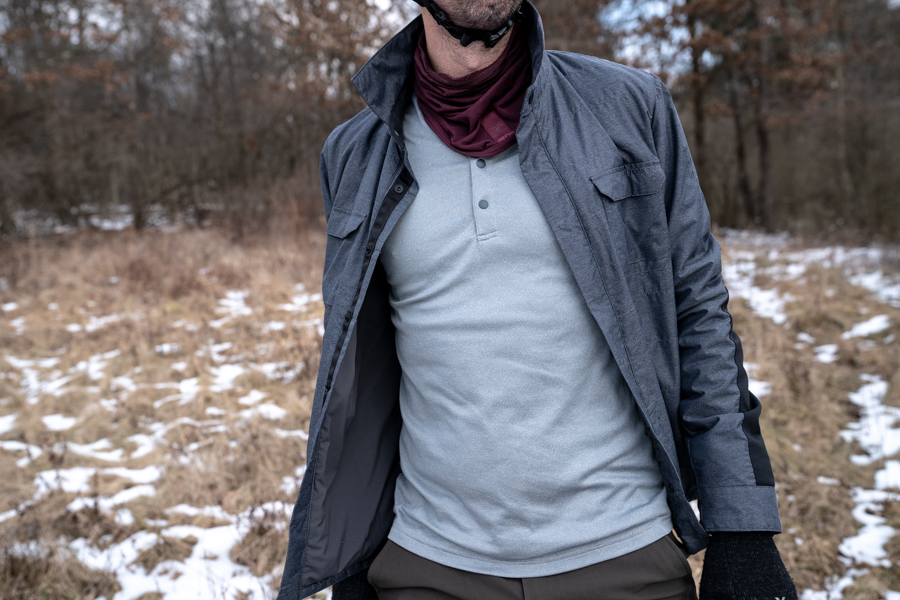 Haskell Pant $185
I am a full convert when it comes to wearing pants for colder temperatures in the woods. Before I discovered the magic of the soft shell style pants, I would layer on bib tights and baggies, and by the time I was ready to go, I felt more like I was going scuba diving instead of riding a bike. An old basketball coach once said to me "Kid, if you look good, you feel good and when you feel good you play well." I never knew if he was referencing my constant state of bedhead or maybe it was my mismatched Umbro shorts clashing with our red jerseys, but I took it to heart. When I wear the Haskell Pant, I have to say I feel good. The fabric has just enough stretch, and the cut is ideal for all-day riding. The Haskell is slim enough that they never get in the way on the bike but not so slim that you look like you are trying out your best impression of Jack Skellignton.
Water repellent and breathable the Haskell has been my go-to for any foul weather activities. From winter hikes to standing around in the mud and the rain shooting bike races these pants have become a must pack for all excursions. The Haskell features a five pocket design with mesh stretch material inside as well as a zip pocket on the left leg for keys, phone or any other precious items.
Alpha Jacket $350
Yes, I have actually ridden my mountain bike in this jacket, it was a frigid start to a long day of riding, and the Alpha kept me nice and toasty until the sun was high enough to warm the air a bit. Do I ride in it all of the time? No, I don't, and I can honestly say the reason being is because this may be the most excellent article of clothing I currently have. The thought of decking it around an icy corner or snagging it on a branch or thorn gives me heart palpitations. That being said, I literally wear this jacket almost every day. Like the other offerings From Kitsbow, this thing looks good, and it looks good on you. Perfect for around town, commuting to work or dinner out and keeps me from looking like I just crawled out a tent when I usually would wear a puffy. There are plenty of pockets, including a zip pocket on the rear of the jacket to keep things organized and out of the way while you are pedaling. My personal favorite is the two snap button pockets on the chest of the jacket, they are great for tossing a spare roll of film in or a snack for a day out and about.
I am a big fan of any ridding apparel that transcends merely being trial gear. Kitsbow is designed to be a performance first clothing without looking like it. Transitioning straight from the trailhead to the taco shop without a need for a wardrobe change is a feature that I truly enjoy. I understand that the price point is high and that it isn't likely for everyone, but if you are looking for durable and multifunctional riding gear Kitsbow has got it on lock.