Radical Maneuvers: Miki Vuckovich
Originally posted on November 28, 2018 at 2:24 am
Words and photos by Brett Rothmeyer
The following article was featured in Issue 206. It was truly an honor to hang out with Miki and to be invited into his home. The work he did at his time with Transworld Skateboarding during the late 80's and through the 90's greatly influenced how I looked at the world around me. While this story was a one-off for the magazine I am hoping to continue the theme of skateboarders, BMX riders, artist, musicians and visionaries that have found a passion for the bike under the working title of Radical Maneuvers. Stay tuned for more stories in the coming months, until then remember to Skate and Destroy!
Heading north on the 5 between San Diego and Carlsbad, California, the sky glows warm and orange as the sun makes its way into the Pacific Ocean. The palm trees sway just a bit as the breeze passes through, and the traffic speeds in either direction.
"See that metal building? That's where it was." Miki Vuckovich peers out of the driver's side window as we pass the Del Mar Heights Road exit. For your average person, that metal shed off the side of a freeway in one of California's many canyons has little to no meaning, but for skateboarders — and especially for Vuckovich — that location was the beginning of a life and an eventual career.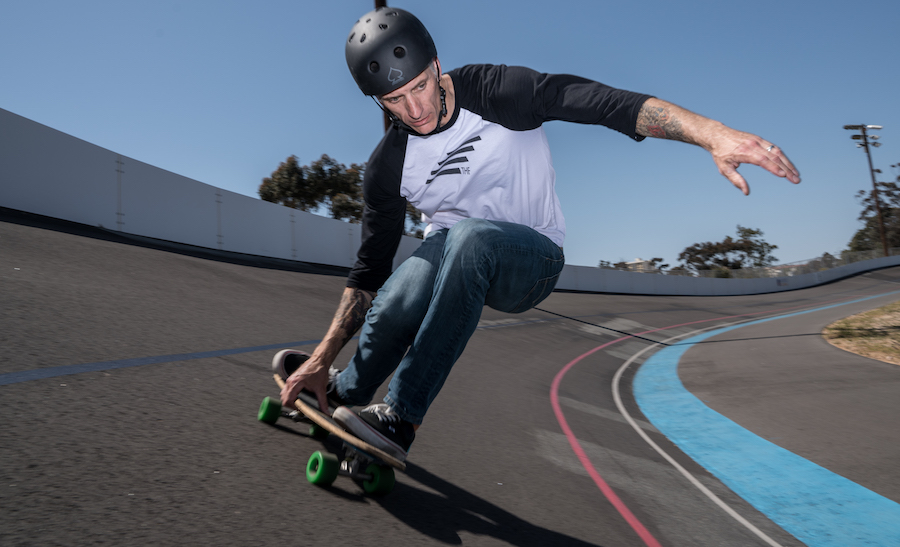 Soft-spoken, Vuckovich stands a fair bit over 6 feet; his lean, athletic build could have seen him leading the likes of Andy Hampsten over mountain passes in the Giro d'Italia as much as it had him slashing grinds in the deep end of pools. Like most skaters, Vuckovich still dresses the part: in jeans and skate shoes, as if a session could break out at any moment. If his attire doesn't give away his allegiance, the tattoos on his forearms will. His home is decorated with images of skateboarding's history, from Tony Hawk to Duane Peters; it's hard not to stop and look at each one for a long time. They were shot by friends and artists and by Vuckovich himself during the time he spent working as a staff photographer for TransWorld Skateboarding.
Vuckovich pulls a book off of the shelf. "Have you seen this one?" he asks, handing me a hardbound volume featuring a racer covered in grit and mud on some cobbled lane in Europe. I flip through the book, agreeing that it's a good one as I look up on the wall to a photograph of someone flipping his board next to a glass pyramid. "Where is that?" I ask. Vuckovich takes a quick look. "Oh, that's Marc Johnson in Russia," he explains casually, turning his attention back to the shelf of cycling books.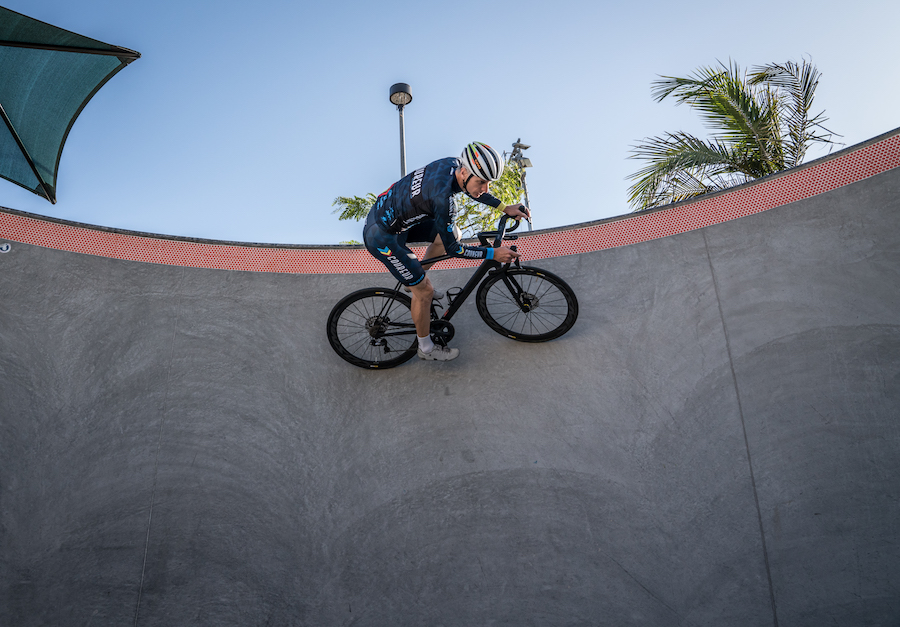 In the early 1980s, Vuckovich was falling in love skateboarding in and around the San Jose, California, area, spending countless hours at Winchester Skatepark until it was shut down in July of 1981. About the same time, Vuckovich's mother and father decided to split up. "I had visited Del Mar Skate Ranch on vacation a year or so prior and I just kept bugging my mom to move there," says Vuckovich. "It wasn't the greatest park, but it was a mile from the beach and had a pretty good pool and banks and just a rad scene." After a fair amount of torment from her son, Vuckovich's mother moved the two of them into an apartment in Cardiff in 1982, two blocks from the ocean. "I couldn't fuckin' believe it," he remembers.
It wasn't long until Vuckovich started making friends with the locals, one of whom was Tony Hawk. Hawk and Vuckovich ended up going to the same school and becoming close friends; they took a photography class together and tackled their assignments at the Del Mar Skate Ranch, where they spent as much time as they could after school. While Hawk was honing the tricks that would win him countless contests and send him on the path to becoming the world's best-known skateboarder, Vuckovich was sharpening his eye for photography under the guidance of another legend, J. Grant Brittain. Besides shooting some of the most iconic images in skateboarding, Brittain also ran the Del Mar Skate Ranch during the early '80s before setting off to help start TransWorld Skateboarding. Brittain would often help Vuckovich out with his art and later hired him to shoot for TransWorld. "We would often stay at the park until close. Grant and I lived in the same neighborhood and he would give me rides home and talk about photography," Vuckovich explains. "When he started TransWorld in 1983, I kept showing him the photographs I was taking, and eventually he started running them in the magazine." Vuckovich ended up working for TransWorld Skateboarding until 2001 as a photographer, writer and editor.
It's just after 6 a.m. on a spring Sunday morning in San Diego; thousands gather on bicycles just as the first ray of sun lights up the corner of a warehouse in an adjacent parking lot. A voice comes over the loudspeaker: "Riders, we will be rolling out in exactly 30 minutes. Thirty minutes until start!" Participants cram down their last bits of waffles and coffee, pinning on numbers and nervously checking tire pressures. Vuckovich's demeanor rarely changes; calmly, he gathers the rest of his gear from the car as he prepares to head off on a 140-mile ride of pavement and dirt at the annual Belgian Waffle Ride.
In 2011, Vuckovich caught himself inside of Mellow Johnny's Bike Shop in Austin, Texas. Sweaty, with knee pads down around his ankles from having just finished a skate session, Vuckovich began looking around the shop. "I began to notice how much my knees were hurting after skating and started to think that riding a bike might help with that," he remembers. After pricing out some basic hybrids, Vuckovich went back home to San Diego and worked on restoring a 1982 Peugeot PF 60 and exploring the local roadways. It wasn't long after that Vuckovich saw a video of a cyclocross race and was instantly drawn to the sport. "It reminds me of being a kid and racing around the orchards near where I grew up, and that was it," he says.
"As I've met more people in cycling, I realize that the cultural aspect of it is very similar to skateboarding — an activity that nonparticipants don't understand or may even be hostile to. And the more I run into skaters I know at bike races or events, the more I realize there's a natural, if indefinable, affinity between the two cultures."
We discuss these similarities further and wonder why it is that so many skaters seem to be hopping onto bikes, blasting down singletrack and jumping into races and local group rides. Skaters such as John Cardiel, Eric Koston, John Rattray and, of course, Rob Roskopp of Santa Cruz all have been spending a lot of time on bikes. While analyzing his own relationship with cycling, Vuckovich remarks, "I can't skate like I used to, but close enough. And my time on the bike is making that easier. I just feel better overall. I see cycling as a key to aging gracefully, physically, while skateboarding helps keep my mind and perspective young-ish."
Vuckovich continues to explore his abilities on the bike in his free time, whether he is pushing corners at the local 'cross race or getting lost on the dirt paths connecting the many canyons and mountains of the San Diego region. When he's not on the bike, he is figuring out how to get skate parks built in the communities that need them most as the executive director of the Tony Hawk Foundation. Since the foundation was created in 2004, it has helped build 500 skate parks in 50 states. "Not quite 1,000, but we will get there," Vuckovich says.
At the end of his 140-mile epic, Vuckovich, while a little tired, seemed as unfazed as he was when he started the day. He sips a beer and tries to replace the calories it took to get him to the finish some eight hours after he started. "On the bike, if you're having a bad day, you just go slower," he says, thinking on the biggest separations between skating and cycling.
"Cycling definitely came to me — or I to it — as a midlife crisis, [like] here's a really physical thing I can do to prove I'm not an old fucker. Reality? I'm an old fucker — just an old fucker on a bike. So I guess that makes skateboarding my whole-life crisis — the thing that still truly connects me with my youth."
Vuckovich takes another bite. "And my knees," he says, "are good, by the way."
If you would like to hear more about Miki he was just recently a guest on our friend over at  CXhairs podcast you can listen to that here.