Hike-a-bike diaries: Colorado's (yearly) Gold Rush
Originally posted on October 16, 2018 at 0:01 am
Words and Photos by Andrea Wilson
I hail originally from the hot, flat realm of Memphis, Tennessee. I moved to the Colorado Front Range almost three years ago, and I've been obsessed with finding all of the nooks and crannies of the mountains ever since. When I realized that the population density of the Denver Metro Area was slowly driving me mad, I moved to Salida, a small town in the Arkansas River Valley. The prospect of living in a place where I can disappear into the backcountry for days led to endless hours of staring at every map I could find on the internet (and in print).
If you follow a Coloradan on Instagram, chances are you've experienced a recent bombardment of fall aspen pictures in your feed. It may seem like we've forgotten that photoperiodism happens every year, and we've been somehow caught off guard by this process. However, I can assure you that the magic of aspen leaves changing from green to an extraordinary shade of yellow for a brief few weeks in September is something that every person should experience sometime in their lives. I'd personally never seen anything like it anywhere else prior to moving to Colorado. Onward…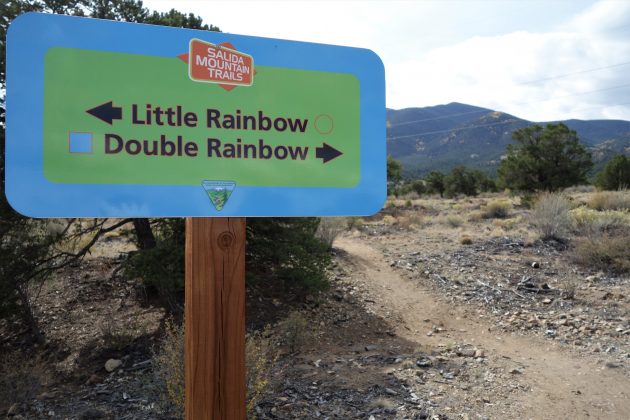 The Rainbow Trail. I could write an entire book about what seems to me like the least-known long trail in existence. It's just over 100 miles in length with a northern terminus just outside of Salida. Somewhere around its halfway point, the trail was burnt to a crisp, flooded, and now awaits re-building. It's not "popular" because it solidly skirts the boundaries of several user types- those who are extraordinarily fit, those who aren't hike-a-bike averse, and those who like downhill terrain a touch outside the comfort zone of your typical cross country sled. This ride is one of my favorites from town because it involves extreme physical exertion alongside a descent that is delightfully rowdy. The one feature that pushes it to the top of my favorites list is the large aspen grove at the top of the short but formidable Poncha Mountain. Since I first discovered the section of trail that everyone told me to avoid with plague-like diligence, I've vowed to return in the fall to observe their change up close and with a camera.
The ride itself starts on the bike path in Salida proper before climbing a quiet county road up to one the local trail systems.
One of the things I appreciate about most of the rides out of town is that they all get progressively more difficult as you go. The first trail- Spartan, is new, wide, smooth, and flowy. It leads into a trailhead where you pick up the Double Rainbow Trail and continue upwards on slightly narrower, more exposed, and steeper terrain.
Several miles later, Double Rainbow ends at Sand Gulch road, a steep, rugged 4×4 trail that lives up to its name- especially when it's been dry for months. However difficult, it's still a beautiful spot to watch the first signs of fall appear as you leave the Pinyon pines and head upwards into higher elevation flora.
The junction of Sand Gulch and the Rainbow Trail marks the beginning of an arduous hike-a-bike that deters most users who aren't riding a moto. The yellow and orange in the trees and bushes at 8-9,000 feet made me worry a little that the aspens at the top (just over 10k feet) would have already changed and dumped their leaves. The hike up takes nearly an hour, and how many short, rideable spots there are along the way depends on recent rains as well as recent moto traffic (nothing against the moto peeps, of course. This area has CCMR- one of the most active and conscientious clubs of moto enthusiasts most trail users have ever seen).
A large portion of the hike-a-bike is slated for a re-alignment sometime within the upcoming years. I have mixed feelings… on the purely selfish side, I feel like the steep roots and sandy gravel chutes serve as a qualifier for the techy, awesome descent on the other side as well as making the aspen grove at the top feel like an exclusive spot for only the toughest mountain bikers, hikers, and skilled moto riders. On the "big picture" side, most of it is a shitty, eroded, probably-not-even-fun-on-a-motorcycle path up the side of a mountain. It's only going to get looser, deeper, and more eroded as time passes, and soil erosion isn't an exceptionally healthy thing for local watersheds, even on a small scale. I digress…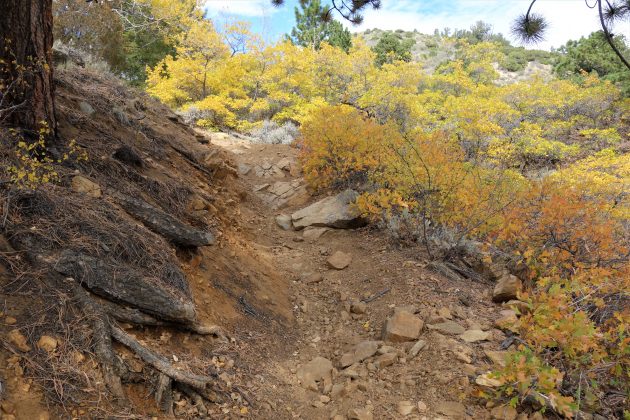 A small rock outcropping that I've dubbed the "diving board" in my head marks the end of the mostly unrideable portion of trail. At that point, if you turn around, you can see the awesome view of where you came from.
A short ride later, I was at the top. I was not disappointed by what I found.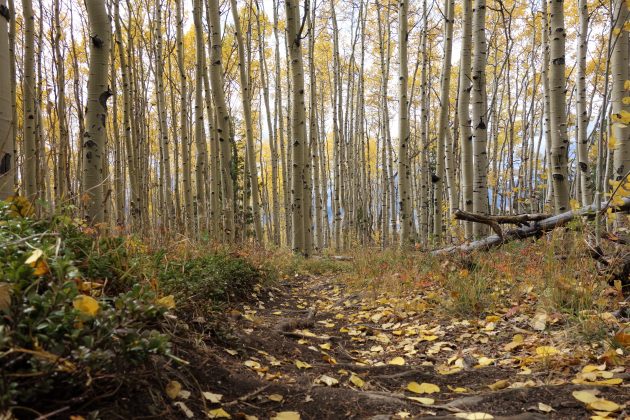 Just past the aspens, the trail turns the rowdy level up to 11. It's a high-speed, rocky/rooty brap-fest through the forest until the trail dumps you into a meadow with one of the best views in the area before continuing into an onslaught of rocks. I stopped there for a photo and to don my rain jacket… only to realize I'd ignored the advice I've preached to readers all summer- I didn't bring my rain jacket. I stashed my camera into the less rain-penetrable but equally less accessible middle section of my pack and hustled to the bottom without additional photos.
Luckily, between the damp end of the trail and my warm & dry house, lies Elevation Brewery. I stopped in there to wait out the rain shower with a False Summit Belgian Quad and a snack from my pack.
The bike path back to town lends itself to quiet reflection as "S" Mountain (the iconic Salida hill adorned with a large white "S") grows larger on the horizon. Salida is an amazing anchor point for adventures, and I'm eternally grateful for the opportunity to live where I do. As summer bike excursions into the high mountains draw to a spectacular, yellow-clad closure, I can start banking the ideas for what corners I'll explore into next year.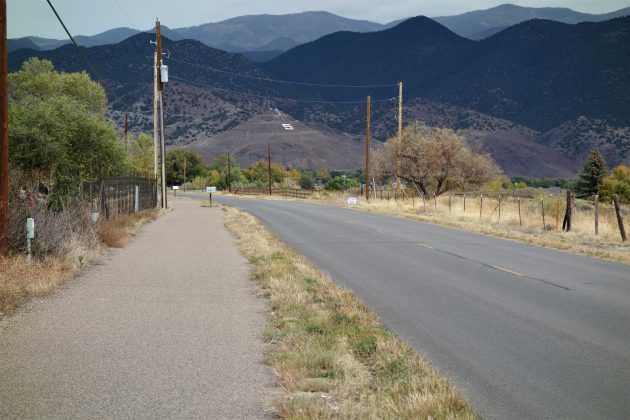 How to get there:
Start in Salida… there are several public parking areas around town and places to camp just outside of town. If you're out on a longer adventure, ride the Great Divide MTB or American Trail Race routes to get here- they both share tracks through the western edge of the city!
What to bring:
A rain jacket (ha!) and enough food/water for a 3-4 hour ride. Also, don't forget your ID & some $$ to stop at Elevation Brewery on the way back to town!
Strava Route: https://www.strava.com/activities/1878233096