All Of The Trails With Brittany Konsella
Originally posted on October 12, 2018 at 0:01 am
Photography provided by Meyvn Creative
On September 15th, Brittany Konsella became the first person to ride all 750 miles of unique trail in the Gunnison Crested Butte area. To cover every unique mile, some rides required revisiting areas she had already ridden and many included a dirt road approach. In all, it took about 3,600 miles and 275,000' of vertical climbing on her bike (the vertical equivalent of summiting Mount Everest from base camp 22.5 times).
Back in May of 2017, several hundred competitors began a game to see who could be the first to log all 750 miles of singletrack trails in Crested Butte and the Gunnison Valley. The competition, TrailQuest, covers every mountain bike-able trail from the desert riding at Hartman Rocks to the high alpine leg burners in Crested Butte. The game is run through Gunnison Country's free
state of the art digital map app, CBGTrails, available in iTunes and GooglePlay.
Brittany Konsella is not one to shy away from a challenge. In 2011, she became the second woman to ski all 54 14,000' peaks in Colorado. The 14ers push for Brittany took 5 years and around 175,000' of vertical. While she did this on skis, it does put into perspective the mountain biking feat that she accomplished in just 2 years.
We had a chance to catch up with Konsella to see what goes into chasing a long-term challenge like this.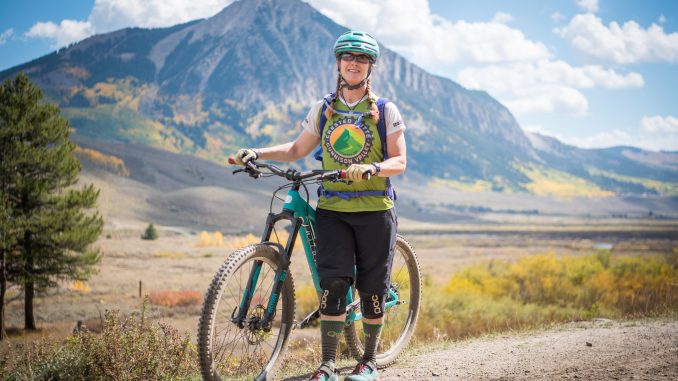 So let's start at the beginning, how long have you been mountain biking and how did you get into it?
I grew up in Ohio and mountain biking didn't really exist there at the time.  But, in high school, I discovered the freedom that I could have on a bike and would regularly go on 50-mile rides on recreation paths. I didn't actually start mountain biking until I began college at CU Boulder.  I bought my first mountain bike my freshman year. It was an aluminum Trek hardtail with RockShox in the front. I struggled with the technical singletrack on the Front Range at first. But, then a friend helped me discover easier trails in the Winter Park / Fraser area which helped me develop my skills so that I was eventually able to enjoy the difficult Front Range trails.  I have now been mountain biking for over 20 years. Six of those years I raced cross-country and downhill. I left the racing scene to pursue my goal of skiing all of Colorado's fourteen-thousand-foot peaks which I completed in 2011.
After 750 miles of unique singletrack is there a certain trail or loop you did that stuck out as your favorite?
To say I had one favorite ride would be impossible.  In this project, there were so many great rides. Some of them included routes that were already on my annual to-ride list.  But, after doing this 750-mile project, I have added so many more loops on this list. Some rides that were new to me that I really enjoyed include the Star Lily and Lily Pond trails in the Taylor Park area as well as both the eastern and western segments of the Fossil Ridge Trail.  Also on this list would be Milk Creek to the Colorado Trail to either Longbranch or Big Bend as well as Baldy Lakes to the Colorado Trail to Dutchman to Hicks. Both of those loops are near Sargents.
In order to be the first to ride every inch of trail in the Gunnison/Crested Butte area, how many days a week were you riding during the competition?
I typically rode 4 to 6 days a week. The project took me two bike seasons to complete.  During the first season, the majority of my rides included at least some segment of new trail.  However, as the project progressed, the miles became more and more difficult to obtain. Sometimes the new miles required 2 or 3 hours of driving just to get to the trailhead to sometimes only gain 1 to 5 new miles.  On the flip side, sometimes I would drive the same distance for a 10-hour ride, making it a very long day, and one I could only do when I had a full day off from work. Finding time for full days off was difficult since I worked a mix of three jobs.  Due to the time required to reach these rides, maybe only half of my rides involved gaining new unique miles during my second bike season.
At any point during your pursuit of this challenge did it start to take over your life? For instance: social events getting in the way of riding, dinner dates, sleeping?
I would argue that any long-term goal like this will take over your life to an extent.  I tend to be pretty focused on goals I set for myself and will turn down social events to in turn ride my bike, which, with friends, is really just a different type of social occasion.  I like to surround myself with like-minded people. So, I began spending more time with other athletes who were trying to complete TrailQuest as well. So, in a way, it didn't cramp my social life, I just modified my social life accordingly.  You ask about sleep? Ask my husband or any of my good friends – I basically never sleep because I always have something I am working to accomplish.
Some of our more techy readers would probably like to know what bike you chose to ride?
I currently ride a Juliana Rubion with a carbon frame.  This enduro-style bike climbs as well as it descends. TrailQuest involves a lot of technical steep riding, both up and down.  So, having a light bike that can handle loose, rocky descents is crucial. And get yourself a good pair of shoes too because there's plenty of hike-a-bike.  I still prefer clipless over flats in most situations. So, I currently ride Shimano MT5 shoes with SPD pedals.
Besides tackling these 750 miles of singletrack you have also skied all of the 14,000-foot peaks in CO. Which one of these two challenges were more difficult for you to complete.  
Skiing the fourteeners was more difficult due to a number of factors.  There are only 54 peaks, and therefore about 54 days of skiing, whereas I probably did about 150 days of riding to accomplish TrailQuest.  But, it took me 5 years to ski all of Colorado's fourteeners, and only two bike seasons to complete TrailQuest. But, with backcountry skiing, there are so many more factors involved in the condition of a route.  Not only does the day's weather matter, but so does the weather from earlier in the week as in impacts snow stability. Avalanche conditions are a primary concern and not all lines are safe to ski in winter. Many must be done in spring with a more isothermal and stable snowpack.  To complicate matters, some lines aren't even skiable every season due to lack of snow. Also, backcountry skiing and ski mountaineering require much more complex navigation. Not only are you navigating a route, but you're also navigating your way safely through avalanche terrain.  
Now that you have conquered this little project do you have sights set on any new challenges?
I am certainly always looking for new challenges in my personal, professional, and athletic lives.  Sometimes, I create these goals. But, the best goals find me. That's what happened with TrailQuest and skiing the fourteeners.  This also happened when my husband, Frank, and I wrote our guidebook Backcountry Skiing and Snowboard Routes: Colorado, which was just released a year ago and published by Mountaineers Books.  I'm not sure what challenge will follow, but I remain open to options and I can't wait for the next journey!
Besides the snow and the epic trail system, what is your favorite thing about living in the Gunnison/Crested Butte area?
I love the strength of our community in Crested Butte and the Gunnison Valley.  Our population is small, so it is easy for one person to make a huge difference in our area.  At the same time, I get chills every time I see our community come together to rally behind something.  
Living in Crested Butte has taught me to be humble because  I am surrounded by so many amazing people who have achieved so much in the course of their lives.  This town is built on heartful over-achievers, and I am only one among many. I feel truly blessed to be immersed in and inspired by a community of greatness.  
Any parting words of wisdom for someone looking to take on a long-form competition or challenge like this?
Multi-year goals require a certain mindset and a much higher level of commitment than shorter goals.  You aren't just training for one race that happens on one day. In goals like this, every day matters.  Still, once you start, the tendency is to rush to the finish line. I would encourage you to slow down just a bit, taking time to savor every moment.  Cherish the times that you laugh and cry. Grow from your experiences and frustrations. Through all my goals accomplished, I keep realizing and feeling the adage, "It's not about the destination; it's about the journey."  Really, this statement couldn't be more true.