Hike-a-Bike Diaries: I'm Starving
Originally posted on August 1, 2018 at 0:01 am
Words and Photos by Andrea Wilson
I hail originally from the hot, flat realm of Memphis, Tennessee. I moved to the Colorado Front Range almost three years ago, and I've been obsessed with finding all of the nooks and crannies of the mountains ever since. When I realized that the population density of the Denver Metro Area was slowly driving me mad, I moved to Salida, a small town in the Arkansas River Valley. The prospect of living in a place where I can disappear into the backcountry for days led to endless hours of staring at every map I could find on the internet (and in print).
***
Are you one of those people who laments the sanitizing of trails in the name of sustainability? Do the words "flagstone," "bermy," and "flow trail" make you itchy? This ride is an homage to you, Mx. Lover of Eroded Fall Lines. Enjoy.
This loop doesn't completely follow my usual Hike-a-Bike Diaries M.O. of soul- (and ankle-) crushing hours of bike pushing… at least not in this particular instance. Last year, I rode the loop while bikepacking for a night with a buddy who was through-riding the Colorado Trail. With a loaded hardtail, the route was, indeed, a hike-a-bike extravaganza- both up and down. I vowed to return with a more suitable setup and have a totally different party than the prior bikepacking adventure.
It's currently monsoon season here in Colorado. How the weather pattern of "an increase in the chance of violent afternoon weather" got to be named after the wind direction changes that bring constant rain (or constant dryness) to areas of the South Pacific, I'll never know. People in Colorado also intermix "elevation" and "altitude" the same way people in the South call all soft drinks "Coke."
I digress.
Because of the welcome return of afternoon storms in the mountains, there's no more leisurely 10 a.m. starts to High Country adventures. I parked at the Shirley Site Trailhead and was riding sometime before 8 a.m. The journey began up Poncha Creek Road to Marshall Pass. The first three miles of the climb is pretty mellow before pitching up to typical mining road grade for most of the top four miles. The morning sun through the aspens is pretty stunning, though.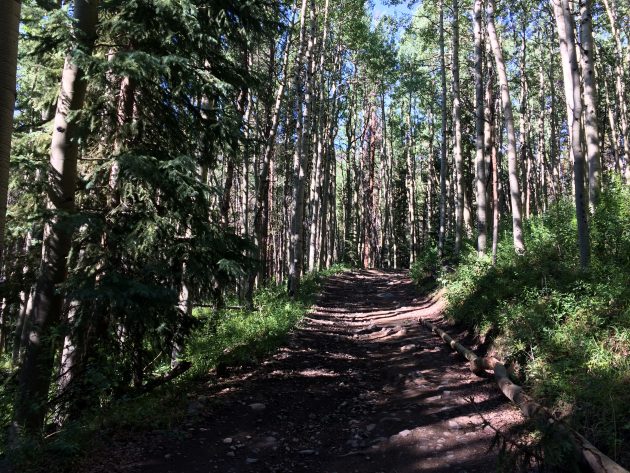 I made a detour over to Marshall Pass Road to my favorite water filtering spot (the same one from the picture at the top of the page). The creek there is the last water before you reach Tank Seven Creek.
From Marshall Pass Road, it's 12 miles of Colorado/Continental Divide Trails to the Tank Seven Trail. The first three miles climbs an additional 800 or so feet to the Silver Creek Trail. Mostly tame, this section of trail and doubletrack serves as the end for many riders' tour of the Monarch Crest Route. The overlook just before the Silver Creek turnoff is one of the best in the area.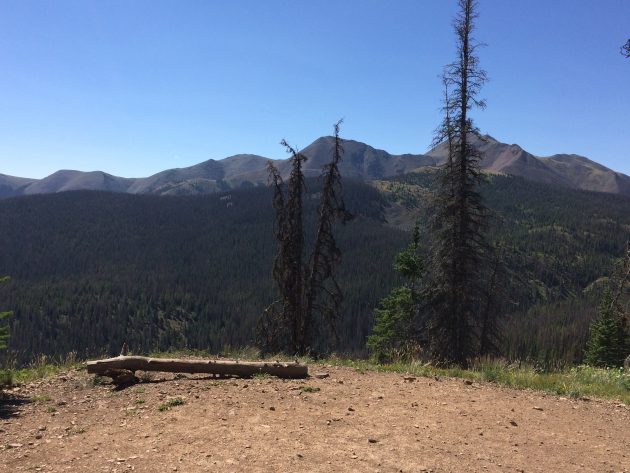 At the Silver Creek intersection, I paused for a snack and a moment of mental preparation. From there on, the trail's personality undergoes a shift— it's much narrower, steeper and looser, and the dirt shows mostly signs of through-hiker traffic intermingled with a few brave motos. Unless it's a through-rider, the section of Colorado Trail segment 16 south of Silver Creek doesn't see many people on bikes.
As the trail climbs from Silver Creek onward to the high point on Windy Peak, it goes through a wide range of surfaces and emotions. It starts as loose and sandy above treeline before giving way to moto mire in pine forest. Thinking back to my previous bikepacking adventure, I remember pushing up more than riding. Unloaded, with sticky tires and more suspension, I wasn't off my bike for more than a few minutes at a time in the steepest/most rutted parts of the trail. Not that staying on the bike more made it any easier, just slightly faster.
Once topped out on Windy Peak, the trail goes full-fucking-send, losing about 1000 feet of elevation in 1.5 mile down a wheel-deep trough of some of the gnarliest, chunkiest fall-line descending you'll find outside of a bike park. The only reason I stopped for pictures was because of a downed tree in the middle. I really hate taking pictures of stuff like this, because they never really do the grade justice.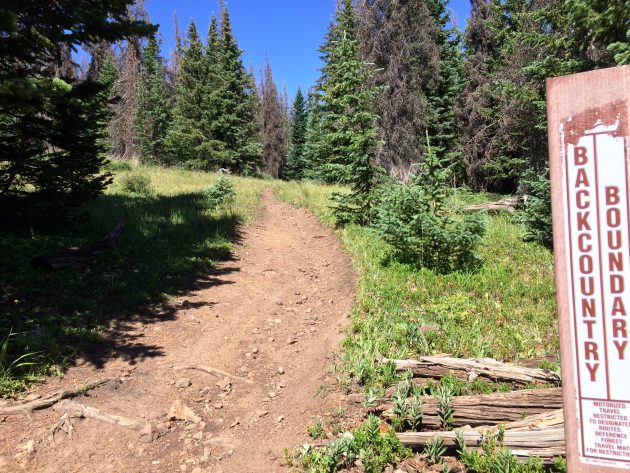 At the bottom of the steepest section, the trail meets the top of a ridgeline, which it skirts for several miles. It climbs and descends the same 50 or so feet, alternating between techy, planted rocks to more loose, steep, occasionally unrideable (at least for me) grade. At the top of every ridgeline, there's an overlook into the valley that the Tank Seven trail eventually descends into.
I've never seen such a dense collection of thong trees as I saw along that ridge. I'm insanely curious now to learn about the Native American significance of that ridgeline, because there were so many that I was able to capture three in one picture right next to the trail.
About a mile after I wanted it to, the trail, in all of its narrow and sketchy goodness, plummets again off the ridgeline and down to Tank Seven Creek. I stopped for a water refill there because I wasn't sure if the creek would be running further down where it intersected Marshall Creek along Marshall Pass Road (it's been wayyy too dry here, and everything is on fire, hence the welcoming of "monsoon" season).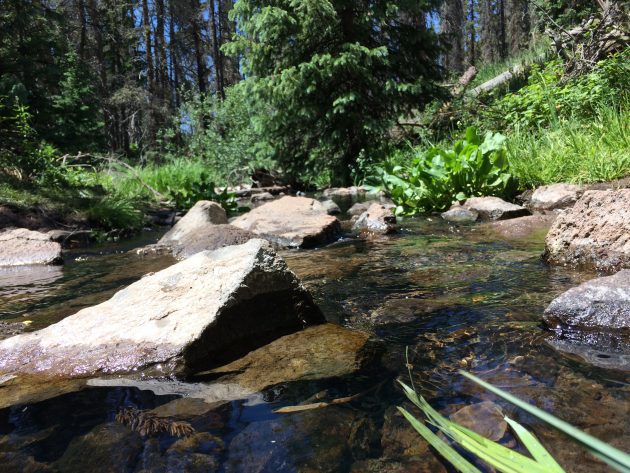 Tank Seven Trail, named after the creek drainage it follows, is another exercise in technical riding ability. It's mostly narrow and rock-lined, with several long, nearly-flat-but-slightly downhill, slightly damp rock gardens. When I was on last year's bikepacking adventure, I walked a lot. If you aren't comfortable with flat-ish, wheel-catchy rock gardens, you will as well (I will say, though, that I would never discourage anyone from trying this route just because they lack technical riding ability. You won't get better at it by avoiding it). The last mile of the trail section does some  zig-zagging out of the drainage to avoid private property just before its intersection with Marshall Pass Road, where the creek was actually flowing.
Marshall Pass Road is an old railroad grade. If you're interested in the intertwined history of mining, railroads, and Colorado, I'd highly recommend the book Marshall Pass, Denver & Rio Grande: Gateway to the Gunnison County by Walter Borneman. Now that the railroad tracks are gone, we're left with 10 miles of gorgeous, winding, 1-2% grade of pristine gravel road climbing back to the top of Marshall Pass.
The top of Marshall Pass leaves you with several options. The "easiest" way down is to continue on Marshall Pass Road. While it's somewhat slow because the grade is low, it's pretty smooth, and you may see the herd of bighorn sheep that frequent the area to feed off salt in the road that was used to de-ice the former railroad equipment. The faster option is straight down Poncha Creek Road. Both lead to the same place, it's just that one gets there in 12 miles, the other in eight miles. Or, behind door number three, you can follow Poncha Creek Road briefly to the turnoff to Starvation Creek Road, which takes you to Starvation Creek Trail. Wanting to maximize my trail time, I chose that route.
Not pictured, the infamous climb up Starvation Creek Road— a series of increasingly-steeper grade steps that some riders swear are never-ending.
The top of Starvation Creek Road is a beautiful place.
The trail is fast and narrow, and, while not extremely technical, it provides plenty of ways to off oneself at a high speed, mostly due to rocks hiding in the heavy wildflower growth on both sides of the trail. I didn't stop until I reached the bottom, where a guy was waiting for his buddies, who I'd passed somewhere mid-trail. He asked where I'd ridden to get there, seemed slightly taken aback by my route, and offered to take my picture.
I have to say, this is one of the most physically and mentally demanding routes I've ridden in the area. I'm extremely happy that I hashed through it last year to come back to take it on again. This is one I'm sending my tech-loving friends on for sure.
The Route:
https://www.strava.com/activities/1692179227
Getting There:
The Shirley Site is a nice trailhead with a vault toilet and dispersed camping at the base of Marshall Pass/Poncha Creek roads. You can definitely ride from the town of Salida as well, but you'll spend about 12 miles on the road, six of which are climbing on U.S. Highway 285. There's a big shoulder, but the wind is very blustery, and the drivers seem to have no concern for whether or not they're riding the white line at 70mph.
What to Bring:
A mid-travel trail bike, or at least something with dual-suspension. There are some downhill bike-worthy spots on this route, but also a lot of rocky flat and uphill pedaling. If all you have is a hardtail, put a dropper on that thing. You should know by now to always carry a real rain jacket on high country adventures. There's spotty phone service along the way, but I still took a Spot Tracker just to be safe. My outing took about 6.5 hours, though if I weren't stopping to take photos and sniff wildflowers, I could probably knock it out in 5.5 or 6.