WTF Bikexplorers Vermont: Cutest Capital Cruise
Originally posted on August 3, 2018 at 0:01 am
Last weekend, I took a scenic drive up to Montpelier, Vermont to check out the unassuming state capitol and spend three days pedaling along dirt roads and single track with a group of Women, Transgender people, Femme-identifying individuals and non-binary folks (WTFs), coordinated by WTF Bikexplorers. I spent a night stealth camping in a bivy sack on the outskirts of Gifford State Park before making the last hour of the drive into Montpelier, arriving just in time to park my car and ride into town for breakfast. A full rundown of Montpelier will be coming out in the next issue of Dirt Rag, so keep an eye out for the Road Trip issue, DR #207.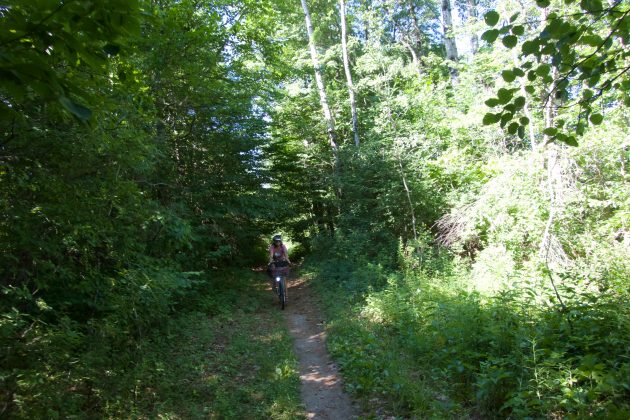 As for WTF Bikexplorers, this was the largest group in their series at 18 riders. Originally, the organizers were planning on following the Gravel Growlers route, but after riding the course and considering the challenges of multiple loaded bikes, they accepted the offer of Velo Vermonter Chloe Wexler, off-road route planning extraordinaire, to come up with a multi-surface loop that captured the essence and charm of Montpelier.
The days were relatively short mileage-wise, ranging from 22-35 miles, but the climbs were ample at 1500-3500 feet of elevation gain on swooping gravel roads and single track, made all the more painful with our loaded bikes. But we broke up the fun with maple creemees and swims in a lake.
With 18 femmes (trans men are also very much invited and welcome at WTF Bikexplorers summits and rides, but at this particular ride we all self-identified as women and used she/her pronouns), antics of course ensued. Here's a list of some of the things that happened, and a few things that didn't happen. Comment below with what you think did or didn't happen!
1) We all got naked and jumped in a public lake
2) Multiple people cried because the climbs were so tough, but we cheered each other on
3) We swam in a circle to create a whirlpool and cast spells on politicians and people we don't like
4) The whirlpool sucked in kayakers and we became true Sirens
5) Our fireside convo got very deep very quickly as we talked about representation in the bike industry
6) By the end of the first day, we were buying food and beer collectively even though we'd just met hours before
7) By the second night, we were camping next to each other, under each other's tarps, and sharing tents
8) We hung out in our underwear, comparing material and cut and brands and complimenting each others' good taste
9) We all bought baby-sized maple creemees because we didn't want to seem so gratuitous, but bought multiples
10) Our menstrual cycles all synced up
11) We had cheese, bread, and rosé at our lunch stops
12) We started a book club
13) We started the second day by pounding the remainder of the last night's beer before the summer sun warmed it in our packs
14) We all brought chocolate
15) Our cooking recipes were top notch and people brought fresh vegetables from their gardens
16) Lots of riders had never ridden without their (male) partners before and were nervous about setting up their tents alone
17) We had a seance
18) OK, we just joked about having a seance (or did we?)
19) We had a special moment on the trail with a mama bear and her baby, because aren't we all just mama bears or bear cubs?
20) By the time I got home, there was already a Google spreadsheet to help us keep in touch and write a zine