Blast from the Past: The Original Dirt Fest
Originally posted on May 10, 2019 at 0:02 am
This story first appeared in December 2016. We are gearing up for Dirt Fest PA 2019 as we speak and it always nice to look back and remember how this all got started, Planning on attending Dirt Fest? Be sure to register here and we will see you at the Lake!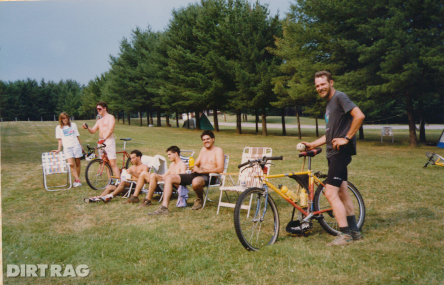 The first edition of Dirt Rag's Dirt Fest took place in 1991 at Camp Soles, a YMCA youth camp located in the Laurel Highlands, just east of Pittsburgh. For me, that era represents a magical time, marked by glorious tribal gatherings known as mountain bike festivals.
In fact, I'd learned about Dirt Fest from some friends that I met at the legendary Jim Thorpe Mountain Bike Weekend. I attended the first Dirt Fest as a "civilian." A few months after the event, I became friends with the Dirt Rag crew by showing up at their weekly rides in Pittsburgh, and about a year later I landed my first job at the magazine.
Compared to Dirt Fest's current incarnation, the original event was decidedly chill. There was no vendor expo bristling with the bleeding edge of bicycle technology. Demo rides amounted to swapping bikes with a newfound friend. I seem to remember a bonfire, and somebody playing a guitar—a far cry from The Earthtones jamming for a circus tent full of free-beer-lubricated mountain bikers.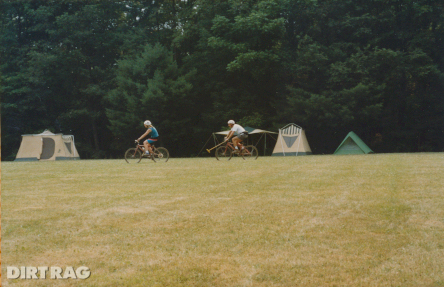 Instead of flowing miles of purpose-built single-track, the surrounding terrain offered a loose-knit network of forest roads and primitive "whatever" trails. Led by a handful of troopers with local knowledge, group rides fanned out into the surrounding mountains. Independent thinkers grabbed a hand-drawn map and rolled their own adventure.
Camp Soles offered an expansive grassy field where we played mountain bike polo until we became dizzy. Maurice talked the camp director into constructing a bomber wooden ramp for the lake jump contest. That was some fun. But that's another story for another day. Today I'm here to talk about the mud bog competition.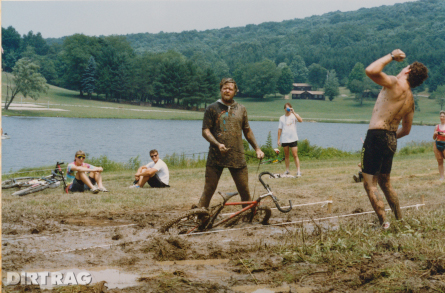 Above all else, the mud bog is etched into in my memory banks. I remember the sparkle in the camp worker's eyes as he manned the controls of his backhoe and gleefully gouged out a strip of turf that he later hosed down to create the mother of all mud bogs. The evil genius was damn proud of the mess he'd just made.
And the crowd loved it. Like moths to the flame, the attendees gathered at the muck hole to test their mettle and to cheer, or heckle, the other contestants.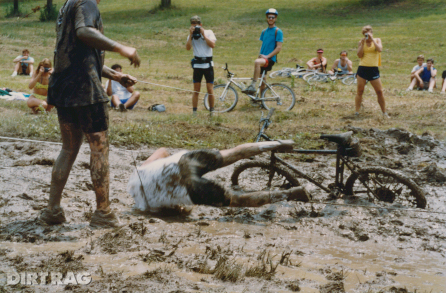 A gradual slope provided a downhill run-in to the bog. Getting up a head of steam was not a problem. How to keep moving after you lost momentum was the crux of the biscuit. I remember discussing alternative strategies with the other members of Team Chicken and deciding to adopt Galen Van Dine's suggestion.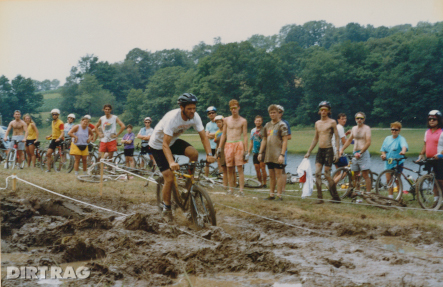 Galen's strategy was to start out in the big ring up front, and a middle-sized cog in the rear, and crank hard to develop a shit ton of initial momentum. When you felt yourself getting bogged down, the plan was to dump gears quickly by shifting into the middle ring. And if at that point you hadn't submerged your front wheel and gone sailing over the bars, the final move was to shift into the granny gear up front and eek out a little more distance. Needless to say the "hit it hard and hope for the best" game plan produced some spectacular crashes. All the better!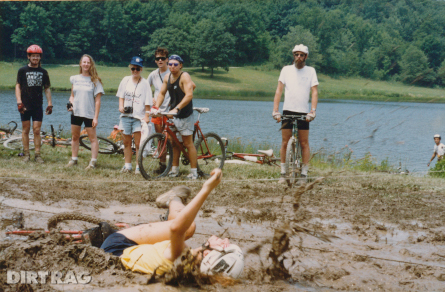 I remember Elaine and Maurice Tierney, one at either end of a measuring tape, knee deep in the soup, recording the exact distance of each competitor's run. They awarded handmade trophies to the top three finishers.