#vanlife is dead, long live #tentlife
Originally posted on July 18, 2018 at 0:01 am
by Colleen O'Neil
A recent Facebook ad read:
"Ready for Adventure! 1978 Minnie Winnie Camper $4900"
It was a real classy remodel: white with blue and brown stripes, a bright new coat of interior paint over the original particle board walls, some amateur woodworking, and a few tasteful decorative accents à la Target.
"This Minnie Winnie (JACK)," the ad read, "is looking for a new adventure! He's by no means in perfect shape, but boy is he a lot of fun. 19 feet. Sleeps 5 comfortably! RUNS AMAZING — engine is great. 80,000 miles. MUST SEE!"
"No!" A commenter moaned. "You can't sell Jack! He too awesome!!!!!" Sad face.
A bunch of other people got in line behind the sad face, asking for trades and tagging their friends, significant others, spouses. "This could be us!!!" One of them web-shouted. Somebody snapped it up in under a week.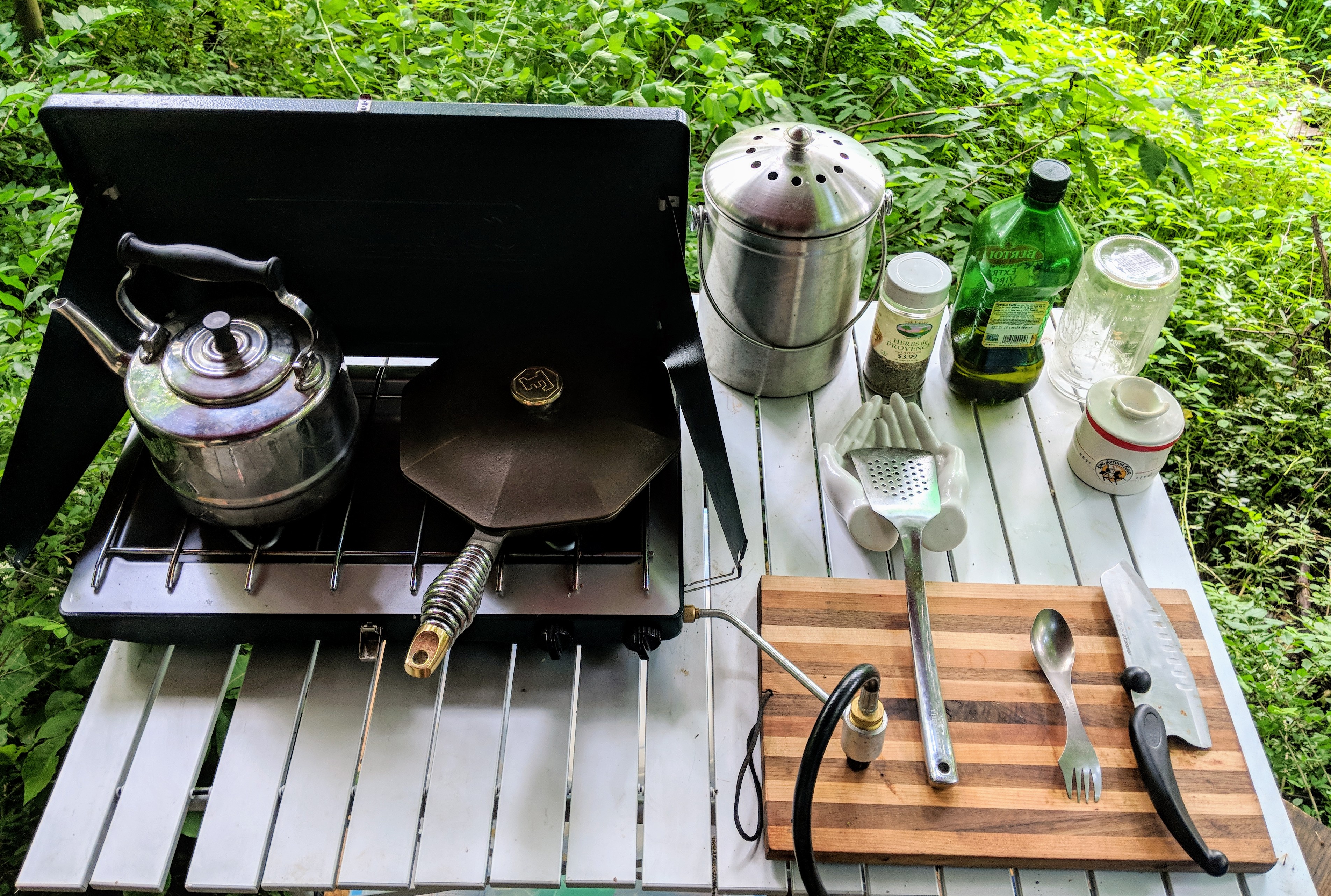 That post made me a little sad. Jack was almost identical to the Shark, the bright blue 1975 GMC Vandura my husband and I bought three years ago to live in. The Shark cost us $3000, a big investment at the time. But we were getting crushed by our Colorado mountain-town rent, and we wanted out of the system.
In 2015 #vanlife was an aspiration. I pictured incredible sunsets, starry skies and lots of time to laze around in the forest drinking coffee. We could live without rent or a landlord. And our house could move around! We made plans to camp at every cool trailhead in the state.
At that time, the only person we knew living the #vanlife was a guy named Steve, who lived in a red minivan that he parked near some local mountain bike trails. His windows were covered with old blankets, and his fenders were rusty. Steve's van wasn't glamorous, but he sure seemed happy.
After we bought the Shark, I obsessed over #vanlife Instagram accounts for remodeling ideas. (None of them focused on redoing an old GMC, because that vehicle will never be trendy.) We ripped out a bunch of nasty shag carpet and hideous particleboard cabinetry. I gave it a messy new coat of paint and we threw away anything we had that didn't fit inside. The Shark became our home.
For three years, we lived the #vanlife and loved it, with a few caveats. It's a cheap and beautiful way to live. But it can also be dirty, cramped and hot. And when your super old camper breaks down (and it will), you have no house. But it also kept us mobile, stopped us from buying junk, and freed up our money to get new bike parts.
But I'm not stoked about the direction in which this whole #vanlife thing is headed.
What seemed like a way to live simpler has become a lifestyle brand. On Instagram, there are almost 3 million posts using the hashtag. There are magazines and photo books about the #vanlife. You can buy #vanlife as a patch or a sticker. People who have worked that hashtag hard enough even get paid to place brand-name products in their social media photos.
In Colorado, there are so many people living out of their vehicles that many mountain towns have anti-camping ordinances. Crested Butte, with all its ski bums and expensive rentals, cracked down on dispersed camping (a.k.a. forest squatting) in the National Forest outside town. The Wal-Mart near Breckenridge, usually a safe haven for drifting RVs, has "NO OVERNIGHT PARKING" signs posted on every light pole. I even saw a classified ad in a Colorado newspaper from a guy offering $800 a month to anyone who'd let him park his camper permanently in their yard. Yikes.
Now AirBnB is loaded with vintage campers. Sleeping in someone's old van can set you back $100 a night or more. You can live the vanlife for a weekend and then go back to your big house with all its regular-sized appliances and normal toilets.
For me, what really buries #vanlife are the GoFundMe campaigns. Google it for a second and try not to feel grossed out. My favorite one is run by three teen girls begging the Internet for $10,000 to help them repair a Vanagon and drive it across the country. In exchange for this outpour of generosity, the world receives "good vibes" and lots of photos of the girls posing with their van.
This summer we're giving up the #vanlife for a little while. Pennsylvania is too humid for it anyway. We're not selling the Shark, because we put too much love and money into it. But we've stopped using the Shark as our daily driver and bought a Volkswagen Rabbit truck instead.
Instead, we're trying the #tentlife for a while. We got a 10-by-14 foot canvas tent, which we're planning to set up in the woods for the summer. It's like a yurt but more portable. The tent rolls up in a nice duffel bag and fits in the bed of the truck.
From what I can tell, #tentlife isn't really a thing yet. And I think that's okay.
Check out more of Colleen's photos of her tent in this gallery. We are a little jealous!
[wonderplugin_gallery id="70″]