Review: Shimano AM7 MTB shoe
Originally posted on July 17, 2018 at 0:01 am
Shimano's component arm moves slowly with new product development, but when it comes to its shoes, Shimano clips along at a pretty fast rate. The new AM7 is Shimano's newest clipless all-mountain/gravity shoe, also known as the SH-AM701. The old AM700 was a platform pedal shoe. The platform pedal version of this new shoe is now the GR7 (SH-GR700). Such clarity and creativity in naming conventions…
The shoe uses a plastic-y looking material that absorbs almost no water. They are well-ventilated, but since the water doesn't soak in, even on wet rides, these never end weighing a thousand pounds after a few water crossings. A stiff brush or a quick spray down with a hose gets these looking like new again, another advantage of the water-resistant material.
The laces and the single strap can be adjusted for full-snug or almost-loose-enough to slip on. I had some issues with a hot spot on the side of my foot from the metal buckle, but after talking to a few other riders with the same shoes, this seems to be an issue with my high-volume feet and maybe a particularly sensitive nerve. I've cut out some plastic to spread out the pressure and so far, so good.
The sole is a 6 out of 11 on the Shimano stiffness scale. This is stiff enough to ride even minimalist pedals all day but barely feel like bike shoes while walking. The rubber isn't up to the high traction standard set by 5.10 Stealth, but they do just fine. There are some lugs on the front for scrambling up hills and on the back to help control the slide back down. The cleat pocket is huge, making it almost impossible to miss the retention mechanism on any pedal I tried. The adjustment slots are long enough to get the cleats really far back.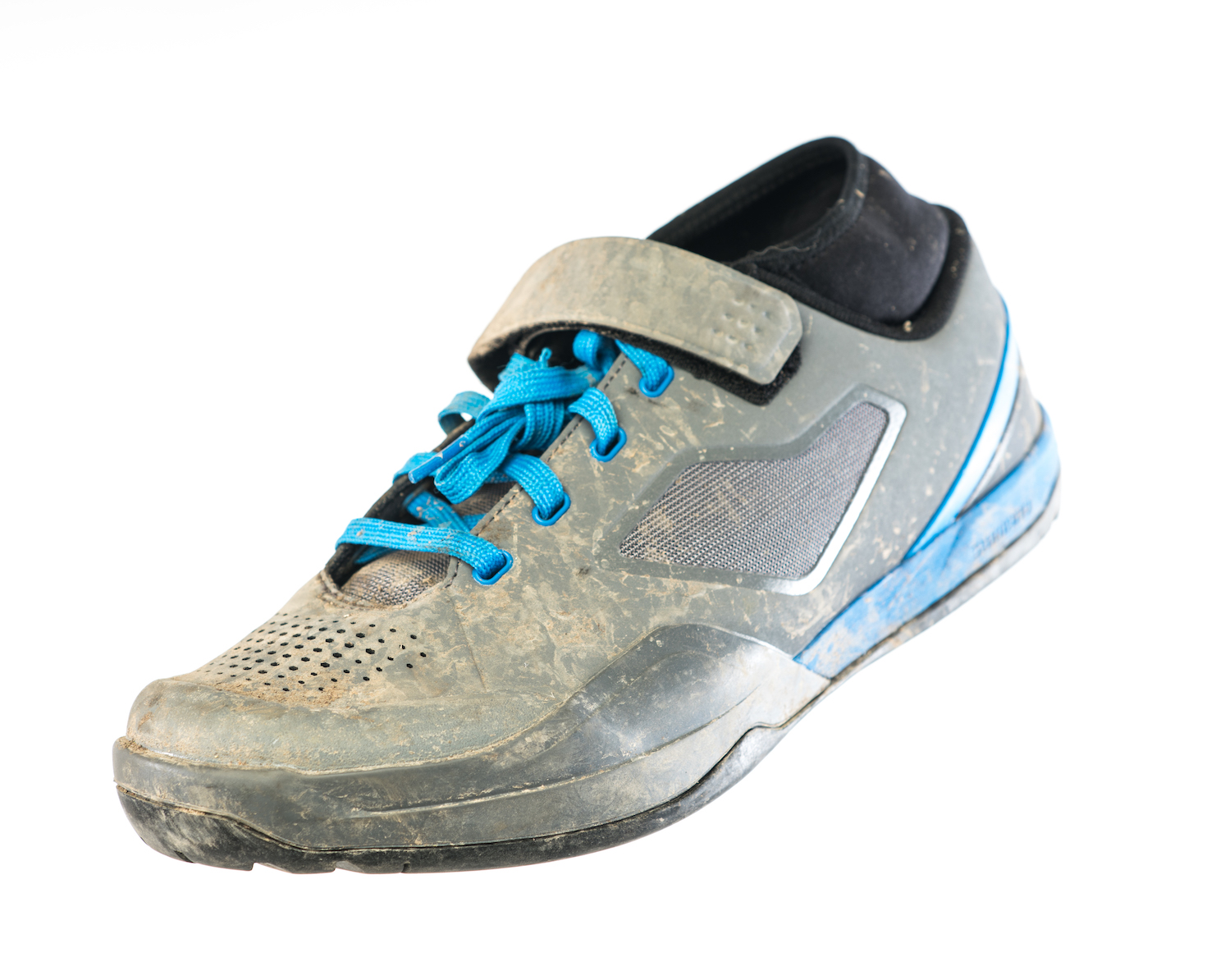 The blue/grey color is more normal looking in person, but if you want some statement shoes, there's a lime green option. Shimano's more-expensive AM9 is lighter and uses a covered speed-lace system for another $20 should you want more of a "Star Wars" stormtrooper gym shoe look.
Even with my hot spot issue, these have become my first shoes off the shelf for everyday rides. I'd still love to see a more traditional looking shoe that functions just like this, but until then, the AM7 will do just fine.
bike.shimano.com