Hike-a-Bike Diaries: A Tale of Three Ghost Towns
Originally posted on June 27, 2018 at 6:00 am
Words and Photos by Andrea Wilson
I hail originally from the hot, flat realm of Memphis, Tennessee. I moved to the Colorado Front Range almost three years ago, and I've been obsessed with finding all of the nooks and crannies of the mountains ever since. When I realized that the population density of the Denver Metro Area was slowly driving me mad, I moved to Salida, a small town in the Arkansas River Valley. The prospect of living in a place where I can disappear into the backcountry for days led to endless hours of staring at every map I could find on the internet (and in print).
***
I'll start by saying that this is a burly gravel road route. There's no singletrack, and you'll be sharing the path with motos and Texas Wheelchairs. A vast majority of my interactions with those trail users have been positive. They normally wave, express some sort of surprise and enjoyment at your physical prowess, and will offer you water or a beer if you look to be in mild distress (not to mention the cute dogs that always seem to tag along). Also, considering that most of my adventures are undertaken solo (with a Spot Tracker), I don't mind that other people are around, no matter what their chosen mode of transport may be. I also don't really care if it's singletrack or not as long as the climbs are hard, the location remote, and the scenery breathtaking.
For maximum enjoyment, if you plan to complete this route, you should start in either Mount Princeton or St. Elmo. I rode it from my house in Salida, so I had about 20 miles of pavement to cover before reaching a dirt road, and another ten before I was really "out there" on a road not suitable for normal passenger vehicles. With an unloaded bike, a fit set of legs (and lungs), and no snow detours (more on that in a minute) you could ride the loop from Mount Princeton or St. Elmo in a single day. However, that's not the adventure I was looking for.
I loaded up my Spot Mayhem and struck out on a route to clear three >12,000-foot mountain passes from town at a leisurely pace in an overnight trip.
The joy of riding from town is the anticipation of watching the Sawatch mountains get closer as you cross the Arkansas River Valley. I arrived at the beginning of the Alpine Tunnel railroad grade 22 miles from my door.
From there until you reach the small (former) mining town of St. Elmo, the climb is leisurely and scenic as you parallel Chalk Creek up a smooth gravel road. In St. Elmo, there's a general store where you can get a snack. My snack of choice- ice cream and a Coke.
I then traveled on to Tincup Pass. The grade climbs in steps for the first few miles, crosses the Continental Divide Trail, then gets extremely steep before leveling off in a huge above-treeline basin. My mind is blown every time I go over 12,000 feet.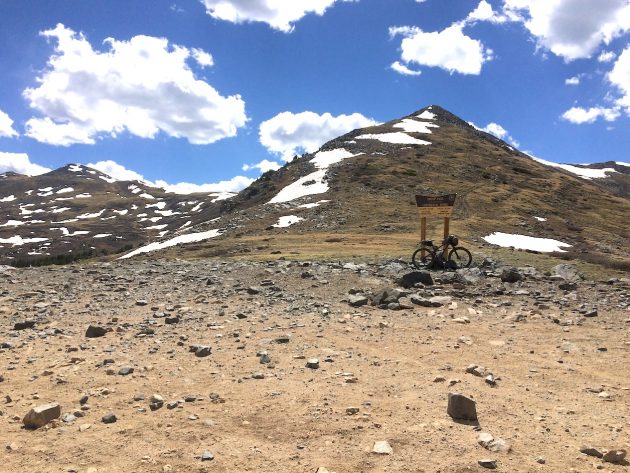 While this year's winter snowpack in the Salida area was poor- about 60% of normal, early June is still very early in the season for this sort of undertaking. I was greeted by a short snowdrift just before the summit, then several larger ones on the way down the other side. In normal snow years, this is a July or later route. I was able to post hole/navigate my way through the drifts on the way down to Mirror Lake and on to the tiny mining/ghost town of Tincup.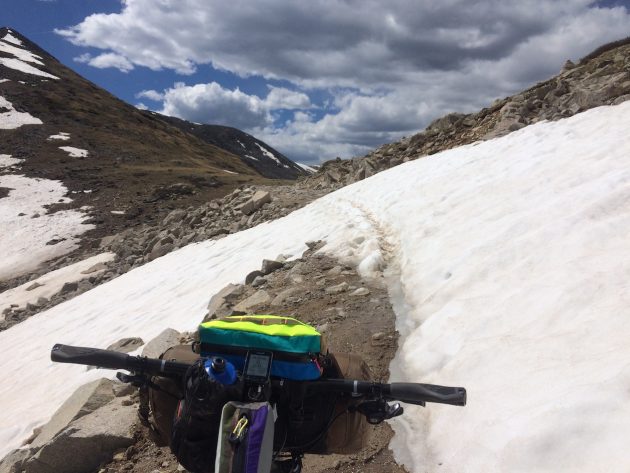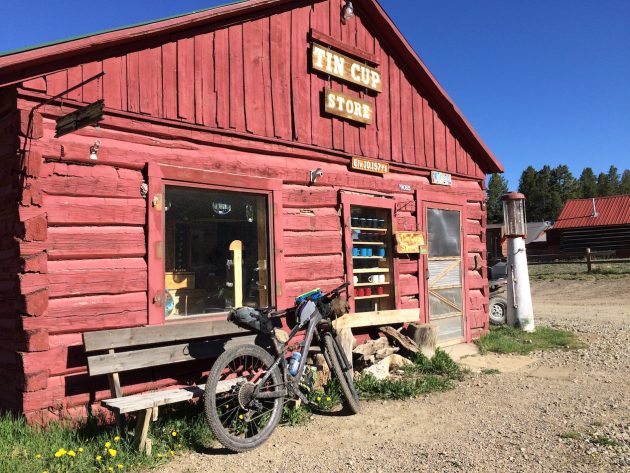 From there, you've got options. According to my topographical maps, there is a little-used "road" over Napoleon Pass numbered 765N or 465.2A, depending which map you study. The "easier" option is to take the "main" road 765 over Cumberland Pass- a well signed, somewhat maintained gravel road. Since I wanted to explore, I followed the signs to Tincup Cemetery and found the lesser-known, very poorly signed 765N/465.2A. It's basically a heinous mining road that goes straight up the Middle Willow Creek drainage. It passes through an abandoned mine (the "New Gold Cup Mine" if you're looking at a map)-  always a cool place to stop for photos. Soon after, it turns left and crosses a creek… a turn that I missed at first, resulting in pushing my bike up another mile or so before reaching a dead end. Luckily, I had a handheld GPS and was able to see the error of my ways.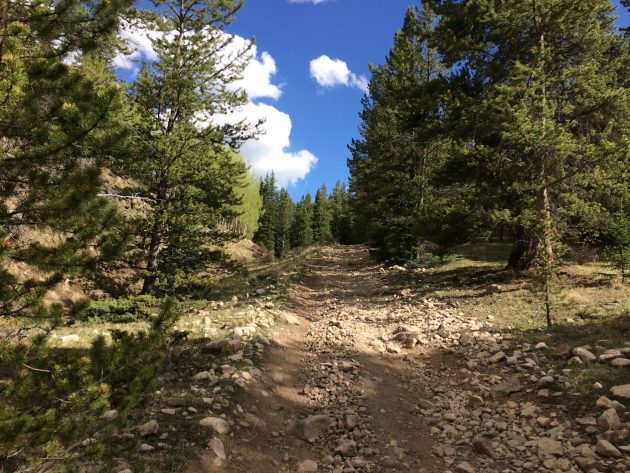 Somewhere around 11,400 feet, I decided I'd found a good camping spot next to the creek in a somewhat flat area. There's something to be said about the solitude of an extremely remote camping spot.
The next morning, after being awoken to the sound of weird, probably elk noises, I packed up and started the final push up to Napoleon Pass. It was only about half a mile to treeline, but once I arrived there, I was greeted by a beautiful, brutal sight- the doubletrack I'd been following was blocked at the top by two snow drifts and a wall-like cornice. While I could probably post-hole my way through the drifts, the cornice was something that a 35-40 pound bike was not going to navigate through or around safely. I had to descend back down (about 5 miles) and take the "main" road over Cumberland Pass.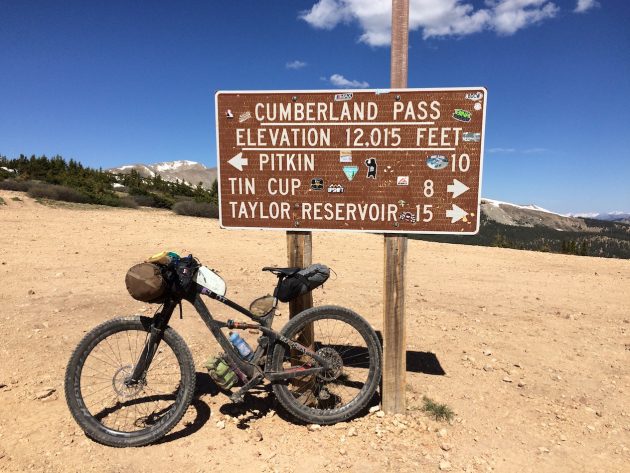 I was really craving some calories at that point, and the ToastChee Crackers I'd picked up at the Tincup store weren't cutting it. So, I detoured three miles one way to Pitkin to stop at the Silver Plume general store & food truck for a BBQ sandwich. While it wasn't quite up to to Memphis BBQ standards, it was damn good given how hungry I was (they have non-BBQ and vegetarian options as well). Bonus: it was the first place where I was able to get phone service on my route. I was able to text home and say that I was behind schedule, but OK.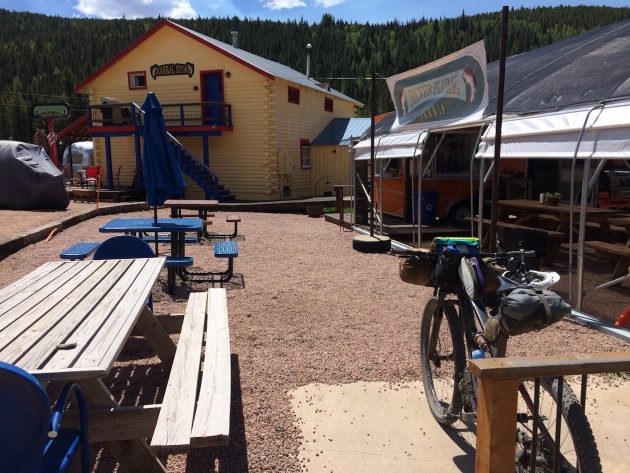 Once I'd stuffed my face with pork, I climbed the 3-ish miles back up to the turnoff for the Alpine Tunnel Road, an important instrument in Gold Rush lore. As you climb, you get to see relics of the area's mining and railroad past.
After seven miles of railroad-grade climbing, I reached an intersection. Again, you've got options. There are three ways back over the Continental Divide nearby: Alpine Tunnel Trail, Williams Pass, and Hancock Pass. I chose door number 3, as I have an emotional attachment to Hancock Pass. Last year, I raced and won the Vapor Trail 125. The route (since 2014) crosses Hancock Pass, and although it's a pretty heinous climb, I'd heard that the pass was gorgeous in the daylight (it's witching hours when you cross it during the VT125 race). So, I decided on that route. From what I could tell on my Garmin, it gains approximately 700 feet of elevation in one mile.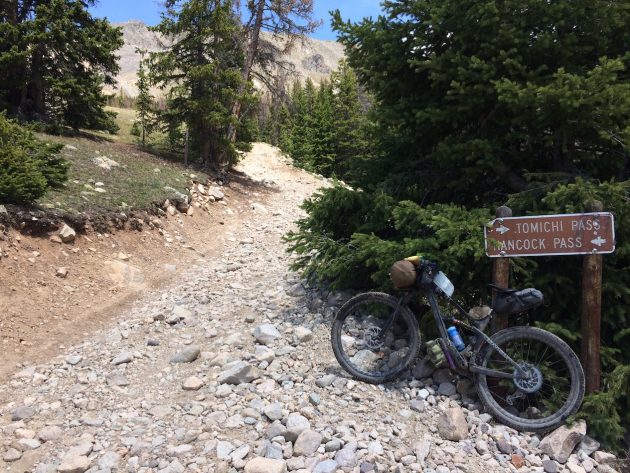 From the top of Hancock Pass, it's all downhill back to Mount Princeton. I had to navigate some sketchy snowdrifts and a lot of slick rocks on the east side, but after that, it was railroad-grade cruising again.
If you parked at St. Elmo or in the Mount Princeton area, you'd have finished at this point. However, my adventure involved the 20-ish miles of road pedaling back to town. Based on my experiences, the more brutal your journey through the mountains, the more vicious the headwind back across the valley and into town. This trip followed exactly along those lines. After 125 miles and two days of pedaling and pushing, my hunger was relieved at home by a Nalgene full of Gu Blueberry-Pomegranate drink mix along with at least half a loaf of bread (with the requisite ¼ tub of butter) from the most excellent local bakery, Little Red Hen.
The route:
https://www.strava.com/activities/1620714933
https://www.strava.com/activities/1620714917
Getting there:
Ride from anywhere in Salida up Highway 291 and onward if you want the full experience (the route I took is the most popular local's route from town to the Mt. Princeton area). If you want to knock it out in a day, park at the "Narrow Gauge Trail" trailhead at the end of CR290 (near Mt. Princeton) or a few miles further up at the "last chance" bathroom and parking area in the town of St. Elmo.
What to bring:
Yes, this route is technically all "gravel road." Take something with 2" tires or bigger and mountain bike gearing. Trust me: I love riding my gravel bike in stupid places as much as the next schmuck, but if you try to do it on this route, you're going to have a bad time. If you're tackling it on a singlespeed, my recommended gear would be 32×20 or easier, depending on your studliness-level, elevation acclimatization, and tolerance to hike-a-bike. Unless you plan to take on Napoleon Pass, the three major climbs on the route get progressively easier as far as steepness (with the exception of the final push over Hancock pass, which you won't ride much of no matter what your gearing).
If you plan on overnighting it as I did, you generally know what you need. It's usually below freezing at night when you're over 11k feet- even in the summer, so pack accordingly. Also, I always take/use a bear bag when camping in the Colorado backcountry. Water is plentiful along most of the route, so a filter and a couple of bottles will serve you well. You could, theoretically, purchase water in the towns of St. Elmo, Tincup, and Pitkin. However, the general stores in those towns are subject to seasonal closures and odd hours. A filter or other water treatment is your best option. As always, when traveling Alpine routes, bring a real rain jacket. Since the majority of the route is outside of phone service, an emergency beacon of some sort is highly recommended.