First Ride: Engin Cycles Custom Ti Hardtail
Originally posted on May 29, 2018 at 13:53 pm
This past weekend we paid a visit to Drew Guldalian of Engin Cycles to find out more about the man behind the brand and the work that goes into each one of his handmade frames. Drew had his personal mountain bike on hand, and I don't know about you but seeing what builders create for themselves is a real treat.
After we finished the photo shoot, I rolled Drew Guldalian's personal bike back to the alleyway wall where it had been casually leaning. He gave me a once-over from the rear entryway of Wissahickon Cyclery.
"We're about the same size," he said. "Wanna take it for a spin?"
This was the last bike Drew built without his custom yoke design that allows for greater tire clearance and larger chainring. He also used his personal bike as an experiment in just how short chainstays can be—405mm is the shortest, it turns out, without becoming a "wheelie machine" (which actually sounds pretty fun).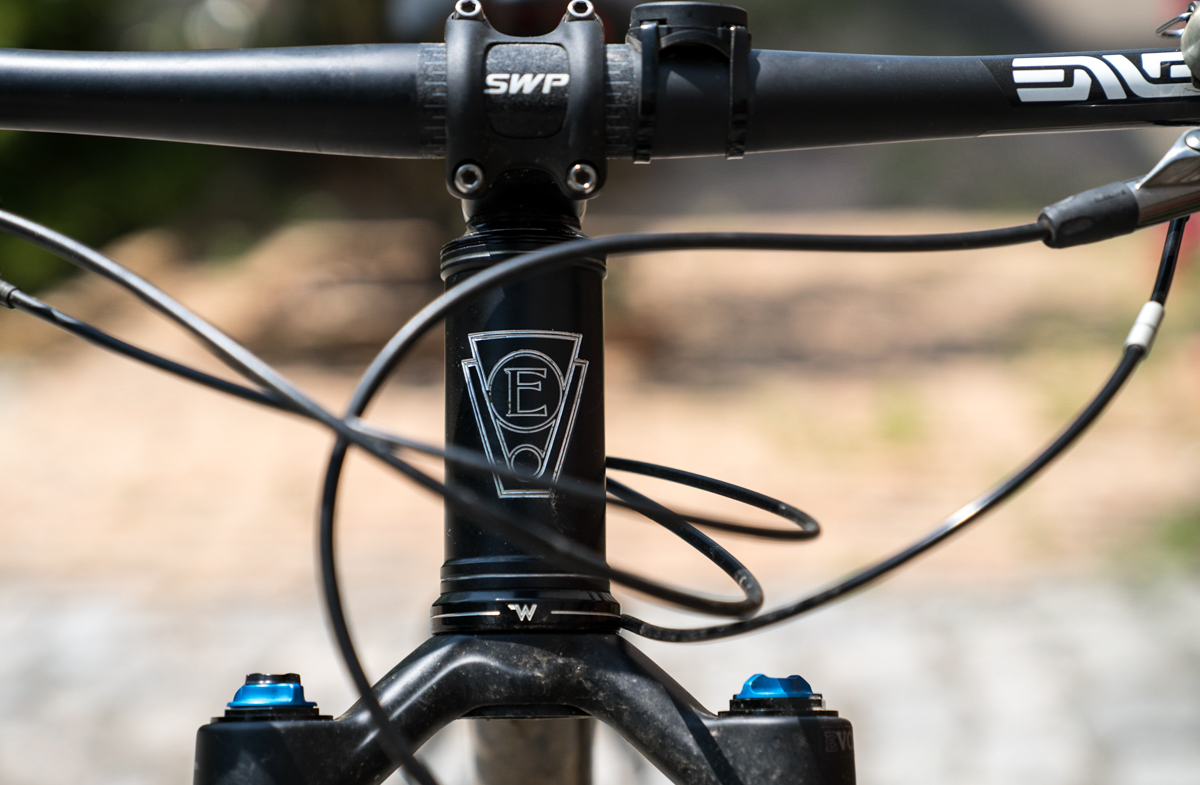 I took his bike to Philadelphia's Wissahickon Valley Park, aka The Wiss, for a small group ride of two locals and two Dirt Rag staffers. Immediately I could feel the difference in geometry from my hardtail Scott Scale and my fully rigid Niner Ros 9 Plus. Just short of being a Wheelie Machine, this bike annihilated logs without effort. Even before engaging the dropper post, I could feel the difference in geometry during steep, slick, rocky descents. I could comfortably lean back and swim down the Wissahickon Schist, the main rock of the area made up of layers of multiple minerals, particularly mica and quartz (and named by the first female geologist, Florence Bascom). The schist's layers are delicate at first but harden considerably as they oxidize, creating great trail material as well as an impressive layer of mica glitter on your bike and skin after a fast descent.
The titanium frame was predictably light and stiff, which was most noticeable in the control I had during fast sections of trail that presented sudden sharp turns on trails I'd never ridden. I had uncharacteristic confidence riding a new bike on new trails, and I credit that partially to the supportive dynamic of our group ride and partially to the incredibly capable and playful Engin frame design.
Stay tuned for more on Drew and Engin Cycles
[wonderplugin_gallery id="61″]