Hike-a-Bike Diaries
Originally posted on May 30, 2018 at 10:00 am
Words and Photos by Andrea Wilson
I hail originally from the hot, flat realm of Memphis, Tennessee. I moved to the Colorado Front Range almost three years ago, and I've been obsessed with finding all of the nooks and crannies of the mountains ever since. When I realized that the population density of the Denver Metro Area was slowly driving me mad, I moved to Salida, a small town in the Arkansas River Valley. The prospect of living in a place where I can disappear into the backcountry for days led to endless hours of staring at every map I could find on the internet (and in print).
***
You've probably heard of the Monarch Crest Trail near Salida, Colorado—a bucket-list ride for many mountain bikers. It's a section of the Continental Divide Trail shared, in part, by the Colorado Trail, running from Monarch Pass to Marshall Pass Road. Heading north from the usual shuttle drop-off is called the "North Crest" by locals. Before I moved to Salida a year ago, I'd already developed a fascination with the Continental Divide Trail and the high-elevation squiggle bearing the unofficial name of North Crest.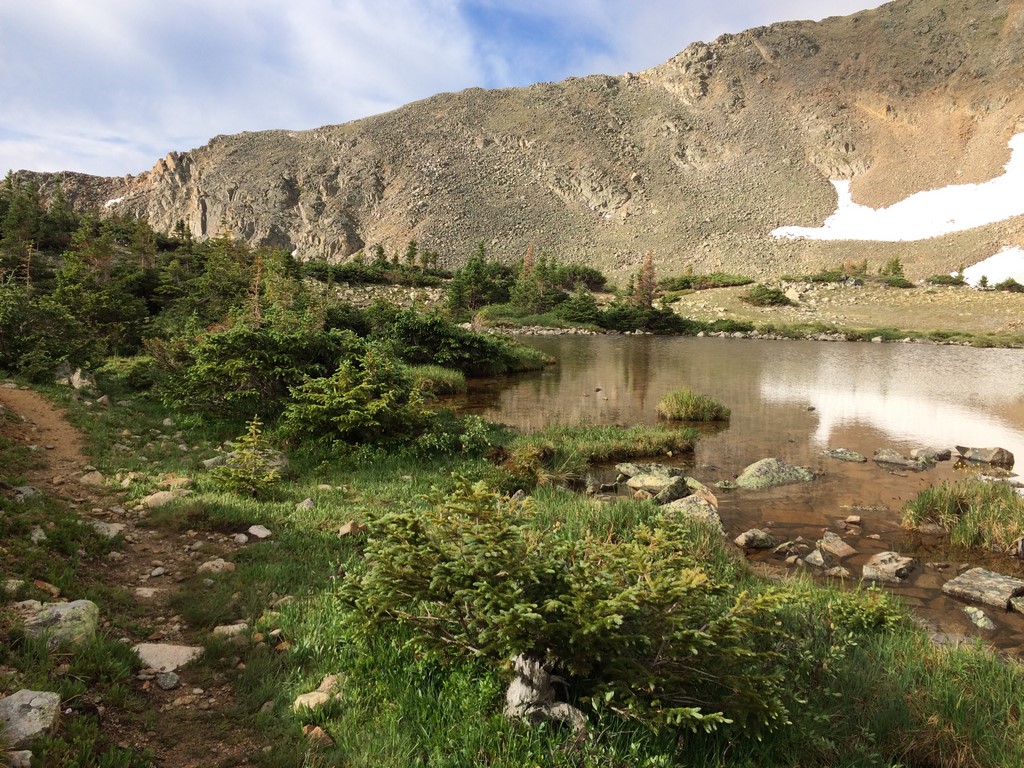 I opted for the Absolute Bikes shuttle for my journey. While everyone else was rolling up the service road to the "normal" Monarch Crest, I grabbed my bike and headed across Highway 50 to the signpost for the Continental Divide Trail.
The first mile or so of trail is mostly rideable singletrack through the pine trees to Old Monarch Pass. From there, the route turns to gravel road. The Continental Divide Trail follows Old Monarch Pass down to a service entrance of the Monarch Mountain ski area.  I traversed through the ski area and out the other side. From there, the trail stays above treeline for about four miles, alternating between barely granny-gear-able and hike-a-bike (with a heavy bias towards the hike-a-bike the further you go). All the while, bluebird sky peaked out from otherwise engulfing clouds.
At close to eight miles into the adventure, the trail turned and plummeted off the Divide and into the basin beneath the clouds. On a mountain bike, it's basically a controlled fall as the trail loses 2000 feet in three miles on its way past Hunt and Boss Lakes down to Country Road 230.
Once you land on County Road 230, it's time to work your way up the valley to Chalk Creek Pass. I was briefly lost trying to find a new-ish section of CDT that turned out to be riddled with blowdowns. It switchbacks up and across a hillside parallel to CR230 before switchbacking down and joining back up with it. Several of the blowdowns were huge and required a lot of off-trail navigation. Next time I ride this route, I'll skip that section and stay on CR230. A mile or so up the forest road, the trail splits off again to a ribbon of skinny, rooty alpine singletrack traversing the western base of Mount Aetna. As I worked my way up the valley, I passed several southbound CDT hikers- all somewhat stunned to see a person with a mountain bike.  
Them: "Can you actually ride that up this trail?"
Me: "It's mostly pushing at this point"
Them: "Have fun!"
As I rose above treeline, I saw two things ahead that worried me: a large snowfield and a gathering of dark clouds. Like most Alpine trails, it involves a good bit of cairn-hunting to navigate through the rocks, willows, and springs above treeline. The snowfield just before the top was a challenge in and of itself—a vast, steep bowl of mushy, slippery summer snowpack. After attempting to walk on top of the snow and sliding backward to the bottom a couple times, I quickly figured out that, rather than walking on top, I needed to jam the front half of my foot straight into the snow to get traction. Success!
From the top of Chalk Creek pass, I could look back at what I'd just climbed and watch the clouds I'd ridden through earlier boiling over the Continental Divide, filling the entire valley behind me.
While this spot was one of the most beautiful and serene places I've ever visited, the weather was telling me I'd worn out my welcome. I plummeted back into the basin below (the CDT doesn't mess around with the likes of "sustainable grade," it just goes where it's going, and you do your best). Once I was around Hancock Lake, I reached a jeep road that took me to the Alpine Tunnel trailhead. From there, the CDT climbs back up above treeline and continues to Tincup Pass Road. That was my original plan, but messing with bad weather above treeline is asking for trouble.
With dark clouds hovering and thunder nearby, I hit the 30×10 and turned down Hancock Road to Chalk Creek Road. The storm rumbled behind me the entire way, occasionally pelting me with rain and tiny hail. I'd later come to find out from a friend that was riding the Alpine Tunnel Trail at the same time that I'd avoided a hellacious lightning & hail storm by turning off early.
The Route
https://www.strava.com/activities/1083462849
Chalk Creek Road serves as an artery to many high Alpine adventures. It's almost a local rite of passage to get chased down that valley by a thunderstorm, so enjoy the experience if it happens to you as well! The ride back into Salida is mostly downhill, but can often be accompanied by plenty of wind: tail, cross, and head, as you cross the Valley. Personally, I ate half a tub of ice cream when I arrived back at my house. While that's nice if you have a freezer to come home to, my recommendation for out-of-town guests is to check out Gnarly Taco for your post-ride food and libations.
Getting There
Riding up Monarch Pass is a difficult (albeit not impossible) task (the time I've done it myself sans highway is another excellent story for another day). Most people choose a shuttle, not only for the physical and logistical ease of getting there but also because it gives you a head start in front of afternoon lightning storms. If you choose a commercial shuttle, I'd recommend reserving your spot as far in advance as possible because the two local shuttle companies- Absolute Bikes and High Valley, are limited by the Forest Service in the number of users they can shuttle every year. Last year, they sold out of allowed spots sometime in August. Alternately, you can book a guided ride through Absolute Bikes (the guiding trips get their own allotment of users and normally don't sell out. Plus, you'll have a local guide). If you have a friend and an extra vehicle, you could park one car in St. Elmo and avoid the road ride back to Salida.
What to Bring
You'll need enough food to be on your bike for most of the day. The only place where you can get treated water and snacks is the general store in St. Elmo, and you don't pass it until you're off the trail and riding back to town. Filterable water is plentiful, though. You could easily take one water bottle and drink cold, wonderful Alpine water the entire time. If you don't like filtering, a three-liter hydration reservoir should suffice. It's cool up there, even in the middle of summer. Even if it's a rare 90+ degree day in Salida, it's normal for Alpine temps to stay around 50-60 degrees. It's possible that you could get snowed on if bad weather rolls through. While your usual summer kit is fine on sunny days (with copious amounts of sunscreen), pack a real rain jacket (fully waterproof jacket with a hood). The scenery on this ride is a 10/10 on the mind-blowing scale, so if you have a packable camera that's not attached to a phone, bring it.