I Caught A Ride With A Stranger To Be Dropped Off In The Desert
Originally posted on May 7, 2018 at 4:20 am
Words and Photos by Aaron Couch.
Imagine catching a ride with a random stranger, being dropped off in a desert town with just your bike and some gear, then heading out on solely your own human power across the red dirt as the sun sets. It may sound appealing to many, as it was to me, but instead, I was instantly overwhelmed.
Last November I headed down to Moab, Utah. This trip was like no other I had attempted in previous visits. I had no vehicle, other than my bike. My trip was heavily dependant on the kindness and integrity of others, instead of relying only on myself like I'm used to. There were numerous logistics involved, which is out of my comfort zone in itself, as I prefer simplicity. I don't mind if they're difficult and physically challenging, but as soon as things get complicated with arranging rides and sorting out sleeping in towns, I quickly lose interest.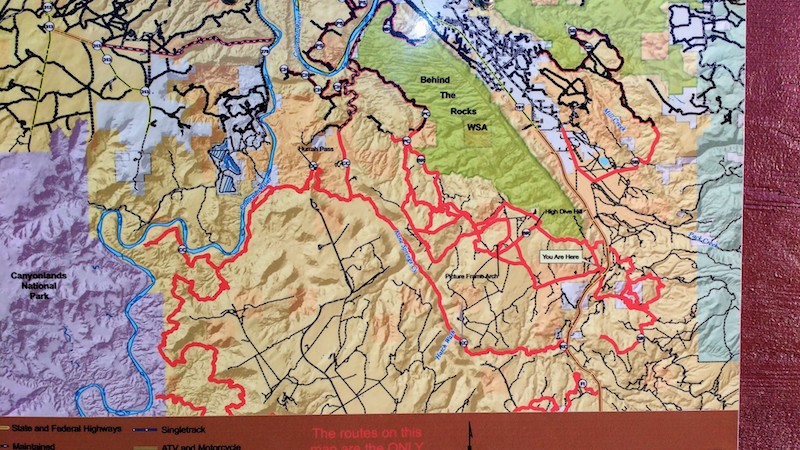 Aside from just arranging a ride with a random stranger to get down there, I had to figure out where to stay in Salt Lake City the first night on the way there without spending money. Then once I was in Moab, where would I store my extra gear and food needed once I came back into town to resupply before my next excursion? And where would I sleep that night?
All of these things were challenging to think about and plan for not including that I had never bikepacked in the desert. In addition, I was experimenting with new methods of carrying extra water, as well as testing all new bike bags and gear. And never mind coordinating the actual trips and mileage, hoping I'd be done in time to catch my ride back home.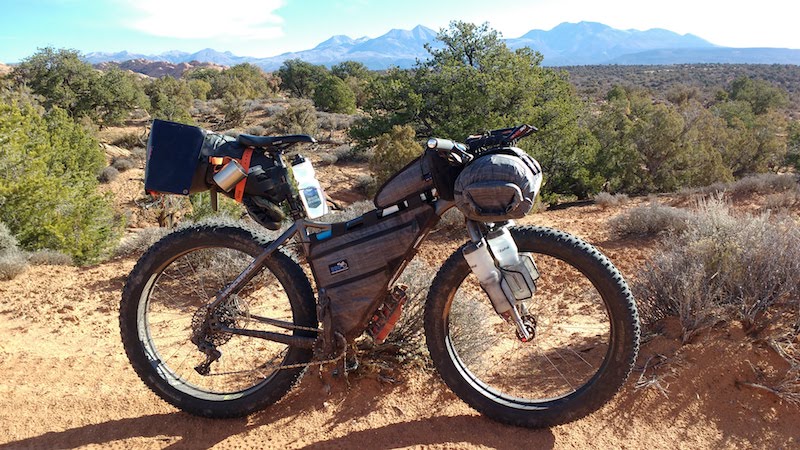 The feeling of being stranded was daunting. It's one thing to leave from civilization with the option to retreat back to your home if needed. It's another to be stuck in a town, unsure where you might sleep a couple nights or where you'll leave extra gear that you will need later on.
I came into this trip with hundreds of miles of solo bikepacking experiences, but most beginning at my front door, allowing for the comfort and security of having all of the gear, food, etc. for one specific outing. Here I had to bring it all with me and plan in advance for two different, but completely self-supported trips: The first one is a 60-mile route with plenty of water along the way, but very rough terrain, involving hiking and carrying/lowering a bike down large rock drops in the Kane Creek and Pritchett Canyon area. The second would be a 150-mile ride from Moab to Canyonlands National Park, along the White Rim Trail, then back into town. I planned 2 days for the first trip and 3 days for the second.
Thanksgiving afternoon we drove from Victor, Idaho to Salt Lake City. On the way, I finally arranged a place to stay at a friend's house where we had a little Thanksgiving dinner, just the two of us. The following morning at 8 AM my ride came to pick me up, just like they had promised and we continued to Moab. Four hours later I was dropped off in town with my gear. I managed to find an acquaintance who was willing to let me leave the bulk of my food and additional gear at their house. Here I faced an unforeseen challenge — having to carry out an obligatory conversation while organizing my gear and loading my bike. This caused me to forget some items and pack extra and unnecessary ones. I later discovered one of those missed items was a whole night's dinner. Great.
I finally got rolling around 4, leaving only an hour of daylight. This was fine as I planned to do the bulk of the riding the next day, but it would have been nice to find the camp in the light. The next day went well despite accidentally going 6 miles in the wrong direction.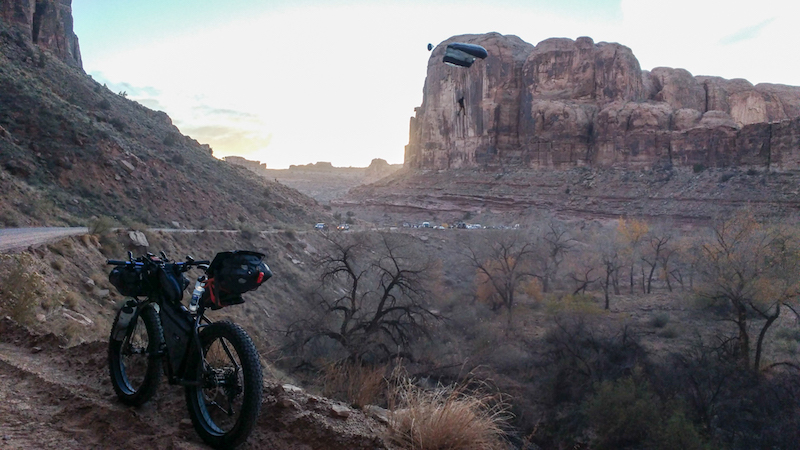 I found a terrible excuse for a convenience store along the highway before getting to camp the second night. I bought an overripe banana and a couple microwaved burritos. I ate one there and saved one for dinner — it sufficed. Everything tastes better in the wilderness. The next evening I arrived back in Moab and reached out to my ride to see if they were back in town too. She was! We gathered my gear and extra food, hung out at the local coffee shop for an hour to coordinate plans with some of her friends, who invited us to join them at camp.
Yet another fear of mine no longer existed — I had a place to sleep. It may have been on the ground, but it was under the stairs and without worry of being kicked out. We made elk steak and shrimp tacos in one fancy Sprinter van and hung out around a campfire. I couldn't have planned for a better arrangement.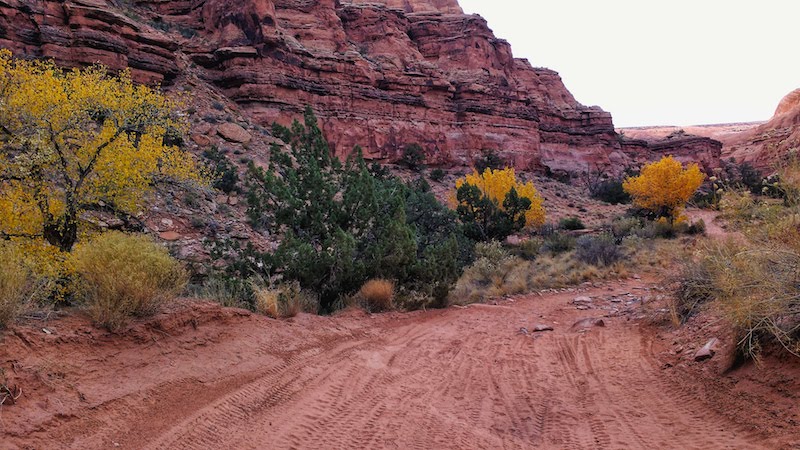 The next morning, I loaded up my bike again for my second trip. I got dropped off at the intersection of Highway 191 and 313, which I would ride into Canyonlands. It was a different approach than I originally planned, but the same mileage. Given the late start of 10 AM, I worried about making my reserved campsite. 25 miles of pavement later, I arrived at the Canyonlands Visitor Center to see if I could change my campsite. Changing a campsite last minute is something they will tell you is almost impossible to do, but I had no problem.
I completed the incredible trip along the White Rim, then followed some of the Mag 7 singletrack and the Gemini Bridges road back to Moab on day 3. Again, where would I sleep in town? Is my ride around to meet me?
I heard back, and to my delight I had a place to hang out and shower. Not only did I have a shower, but a place to sleep… in a bed, under a roof, for free. Yet again, my concerns weren't even necessary.
The following morning we left to drive back to Idaho. By this time, my "ride from a stranger" turned into an acquaintance and I now call her a friend. A friend who a few months later would invite me to join her and 14 others on a rafting trip down the Grand Canyon for 11 days. Yet another first and another story for a different time.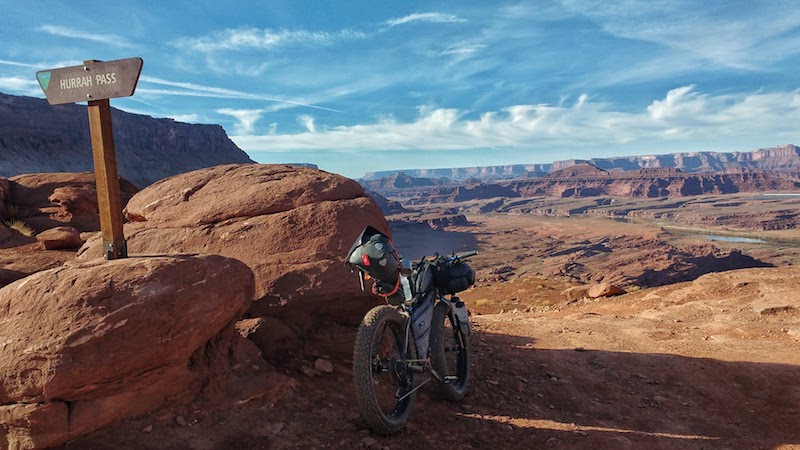 So when you see photos of others' adventures, riding through canyons, up and over mountains, across the Midwest plains, and through the vast desert, it may appear simple and easy, until you begin planning your own trip… your trip away from the comforts of your car and house. Your trip that begins with being dropped off in a desert town 500 miles away from those securities. But know that when you do get dropped off, those concerns and discomforts you feel will work out far better than imagined. And when they don't, well, they turn into a good story, like my sleepless night on the White Rim.