Review: Leatt DBX 3.0 All-Mountain
Originally posted on May 2, 2018 at 1:32 am
Leatt is well-known for protecting vertebrae and collarbones with its line of neck braces, but after riding with this DBX 3.0 All-Mountain for half a year, I suspect we'll be seeing the Leatt name on a lot more heads.
The protractedly named DBX 3.0 All-Mountain is a modern, extended-coverage helmet, keeping skulls and their contents safe with a few technologies. Harder and softer foams are molded together to reduce impact forces, which protects against a broken skull. For protection from concussion, Leatt adds its 360 ̊ Turbine Technology, a series of mushroom-like, soft discs that are claimed to reduce rotational acceleration.
We are going to have to trust Leatt on those concussion claims. Helmet testing standards are still playing catch-up in the concussion-prevention game, and no national or international safety testing organization has a test protocol for concussion reduction/prevention. I would expect that to change soon, but in the meantime, it seems technology like 360 ̊ Turbine and MIPS are still in the "it can't hurt, better safe than sorry" category.
This is a well-ventilated helmet, the 18 vents working better than I expected. I still got sweaty and hot in the summer, but with a hat made from the same material as the insulation in coolers, vents can only go so far. That's not really a complaint as much as an observation on all helmets.
The visor seems a little small, both visually and for blocking sun. I managed to lose one of the plastic visor screws pretty quickly, so keep an eye on them. The visor is designed to break away in a crash, which is a good thing, and worth the trade-off in regular attention to the tightness of the visor screws. Leatt told me this isn't a problem other riders are experiencing, so your mileage may vary.
The strap uses a Fidlock magnetic buckle. This is the third or fourth helmet I've used with this buckle, and while it is bulky, its easy functionality is growing on me. I'd forgotten about it, which is a good thing, until I dropped it while standing on a slag heap. Slag is a byproduct of ore smelting, and this pile was particularly ferrous. That little Fidlock magnet filled right up with bits of iron and stopped working until I carefully cleaned it out. A minor issue, yes, but one worth avoiding.
I have an ovalish head, large enough to be right on the edge of fitting most brands' size medium. I ended up with a large DBX, and it was a great fit and adjusted nicely to fit a thin hat underneath when the temperature dipped. The padding is plush for a modern helmet, but manages to resist stink. A quick sniff reveals it to be stink-free, still unwashed after a full summer of use. Impressive.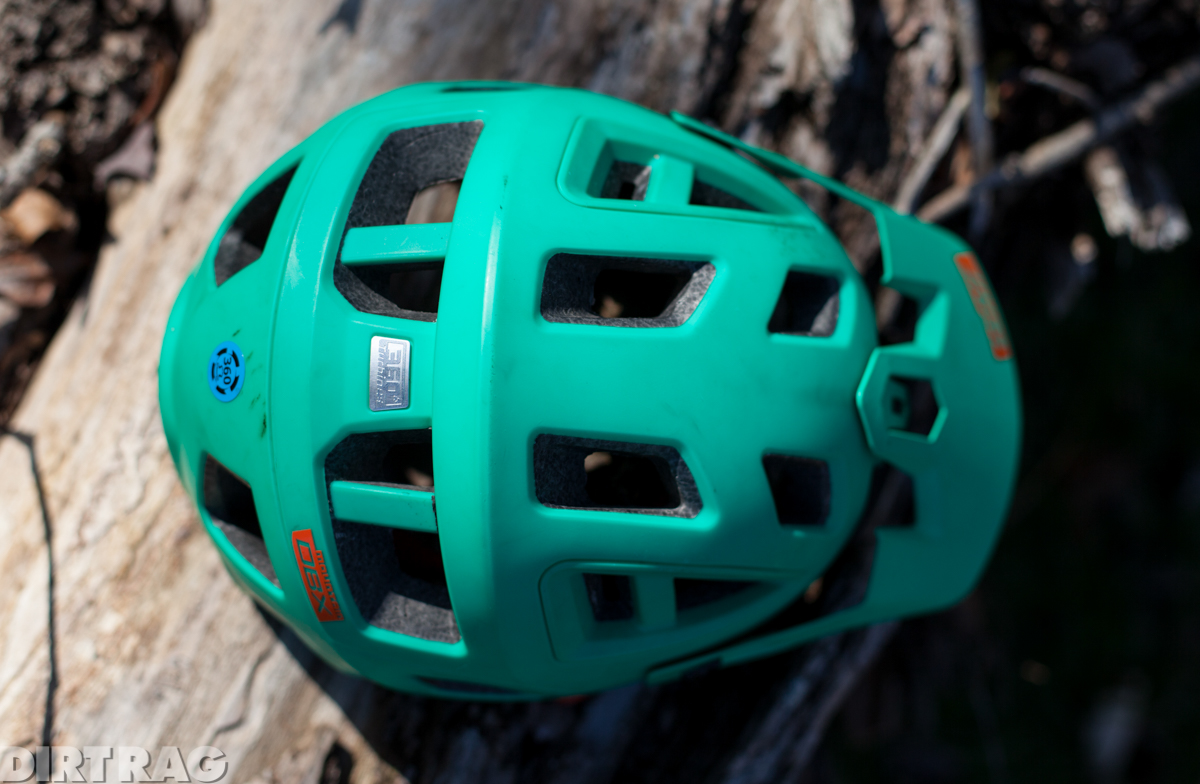 Leatt sells a version of this helmet with a removable chin bar, the DBX 3.0 Enduro. You can NOT buy the chin bar separately, so if you want the convertible helmet, buy the $240 Enduro version up front, as without the chin bar, the Enduro is functionally the same helmet as the All-Mountain. There isn't any one thing that made the DBX 3.0 a favorite of mine. Comfort and fit are always important in a helmet, but the rotational protection, dual-density foam and not-trying-too-hard looks don't hurt either. Leatt might not be the easiest brand to find for sale, but if you aren't happy with the more easily found competition, it is very much worth the hunt.
Price: $170