Ten things you didn't know about Big Bear Lake Trail Center
Originally posted on April 3, 2018 at 1:47 am
You may know that Big Bear Lake Trail Center is the home of Dirt Rag Dirt Fest West Virginia.  But how much do you really know about this magnificent mountaintop milieu?
How did Big Bear Lake Camplands and Trail Center come to be? Is there really a lake there? And what's the story behind the "airstrip" on top of the mountain?
Those are just some of the questions that Big Bear Lake Trail Center's recreation land manager Jeff Simcoe answered for me. Read on and learn the story behind this badass bear.
Q: How and when did the campground first come into existence?
In 1969, Mr. Paul Garbart bought an RV and drove it to Alaska. This road trip sparked an idea around developing an RV campground. Once returning home, Mr. Garbart started purchasing property in Preston County, West Virginia.
Big Bear Lake Camplands has been in existence since 1972. It is now in its third generation of family ownership.
Each campland parcel is a deeded lot, allowing the property owner to build certain structures and to leave their RV/camper on-site.
There is also the Beaver Creek Village camping area that provides accommodations to the public.
Q: How large is the property?
Total ownership is approximately 5,000 acres.
1,500 acres is currently allocated to the campland area.
The other 3,500 acres is made up of recreation lands.
The Big Bear Lake property is privately owned.
Q: How many miles of trails does Big Bear Lake have?
The property contains almost 50 miles of trail.
It is a mix of singletrack, doubletrack and dirt roads.
Several different forest types exist on the property.
The trails wind through many unique natural features, including "the crack."
Q: When did Big Bear Lake first get involved in mountain bike racing?
Starting in the early '80s, before mountain biking was a thing at Big Bear, motorcycles ruled the scene. For 10 or so years Big Bear hosted a GNCC (Grand National Cross Country) race, which was part of the Blackwater 100 series.
Rumors indicate that at some point, Dave Coombs, the organizer of the GNCC event would hold a mountain bike race before the motorcycle event in the mid- to late-1980s.
In 1989, the West Virginia Mountain Bike Association held its first statewide race series. The mountain bike race scene grew and has had a series ever since.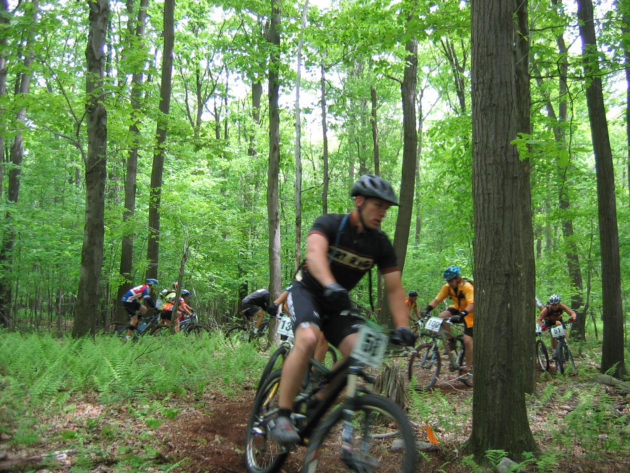 Q: At one point, the 24 Hours of Canaan moved to Big Bear Lake. Tell us about that.
Big Bear was part of the Granny Gear 24-hour race series from 2005-2009. This race started was originally located in the Canaan Valley area, before moving to nearby Timberline ski area, then Snowshoe, then Big Bear.
These events, put on by mountain bike hall-of-famer Laird Knight, were some of the biggest to ever be held in West Virginia.
Once this race ended, Mark Schooley, the general manager at Big Bear, decided to continue holding an event on the second Saturday in June [The traditional date of the 24-hour race.–Ed.]. This year will be the 9th running of the duo team relay event, which involves two-person teams racing multiple 12-mile laps relay style. This year's race will be held on Saturday, June 9, 2018.
Q: How many private campsites are on the property?
There are 3,000+ parcels within the camplands area of Big Bear Lake with over 2,500 property owners.
The Big Bear Lake Camplands is a gated community but is open to mountain bikers and hikers who pay a trail use fee.
Q: What camping/cabin options are available to the public at times other than during organized mountain bike events at the airstrip?
Big Bear offers camping to the public in the Beaver Creek Village area. It is a small campground area close to the trails and the front entrance to the property.
The Beaver Creek Village area contains three cabins, 13 sites with electric, 10 full hookup RV sites, and 11 tent sites with tent platforms. There is also a bathhouse with showers and potable water.
The Beaver Creek Village area is open from the middle of April until the end of October. Reservations can be made online by visiting bigbearwv.com.
Q: So is there actually a lake at Big Bear Lake?
Yes! Big Bear Lake is a 34-acre lake that allows swimming, fishing (no license required) and non-motorized boating.
Baby Bear Lake is a smaller lake with a swimming beach.
Bearfoot Springs is a waterpark with two 350-foot slides, a children's splash area and a 400-foot lazy river.
There is also a newly built mini golf course located next to the waterpark.
Don't forget to stop by the Big Bear Country Store for ice cream, beer, or any of the other stuff that you forgot at home. It is located on the main road approximately one mile from the property entrance.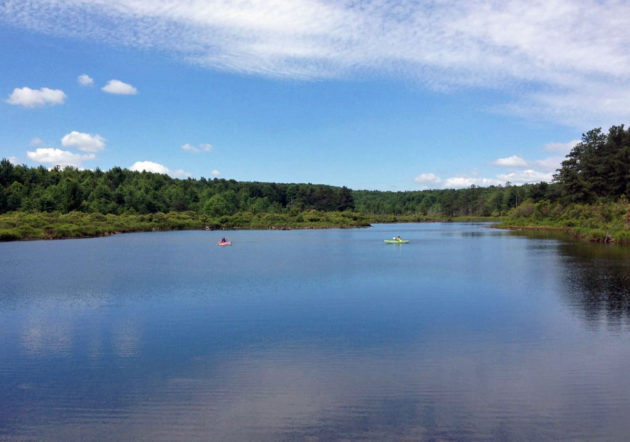 Q: What's the story behind the "airstrip"?
Mr. Garbart, the founder of Big Bear, was a developer who worked on very large infrastructure projects throughout West Virginia.
When Big Bear was developed in 1972, a master plan was developed; this included a project that would have been called Grand Bear Lake. There would be another lake, golf course, and other high-end amenities. Guests would also have the option of flying in for the weekend.
Due to a turn in the economy, the Grand Bear Lake project never ended up becoming a reality. Yet, we now have a really nice area to hold large events. In 2015, the large pavilion was built and other improvements were made to the mountaintop venue.
We're pretty sure that fixed-wing aircraft have never landed on this "airstrip," but we do know that the military has used the area for rotary-wing aircraft training.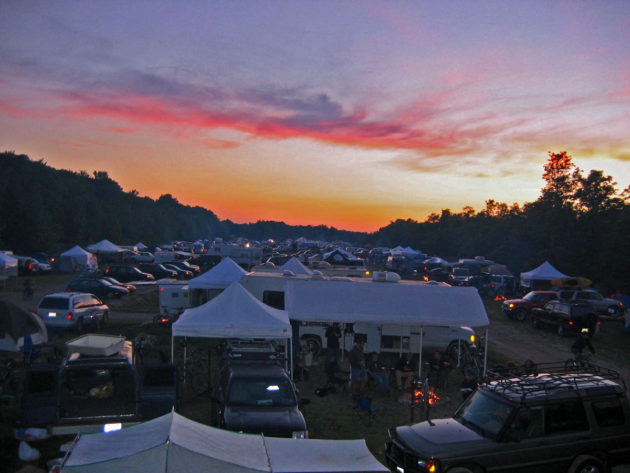 Finally, here's some background on Jeff Simcoe and Mark Schooley — the folks who make mountain biking magic happen at Big Bear Lake:
Mark Schooley, who has been the general manager since 1992, married his high school sweetheart Julie and became a part of the family that developed Big Bear. He also happens to be a die-hard mountain biker and is the main reason why there is access to trails on the Big Bear property.
Mountain biking and associated events have always been a part of the business at Big Bear. In 2015, Mark decided that he needed some help managing the trails and putting on events, and Jeff Simcoe was hired as the Recreation Land Manager.
Jeff was tasked with improving trail signage, maintaining trails, managing events, marketing, etc. for the trail program.
If you have questions about the trails or need help planning your next adventure, you can contact Jeff through the "Big Bear Lake Trail Center – WV" Facebook page or connect via email at bikebigbearwv@gmail.com.