Review: Women's riding hoodies from Garneau, Pearl Izumi and Club Ride
Originally posted on February 16, 2018 at 16:26 pm
As a curvy woman, I often struggle to find technical clothing that fits well. Investing in an outer layer that fits right and checks all the boxes on my "must list" is not an easy task. I decided to seek this golden chalice of perfection and gather three outer layers for riding that I thought might be "the one."
Garneau Women's Mid Season Hoodie
Price: $110
Sizes Available: XS-XXL (MD reviewed)
This hoodie was designed for fall-winter cycling in mild conditions. I would agree that the Mid Season Hoodie did really well in 20-40° temperatures, while lower than 20° required more under-layering pieces to keep my body temperature at a tolerable level. The 4-way stretchable fabric made it easy to layer or accommodate my winter donut habit.
The Drytext 4002 fabric technology keeps in the warmth while allowing for moisture to escape. There is additional material on the shoulder, chest, and elbow for abrasion resistance.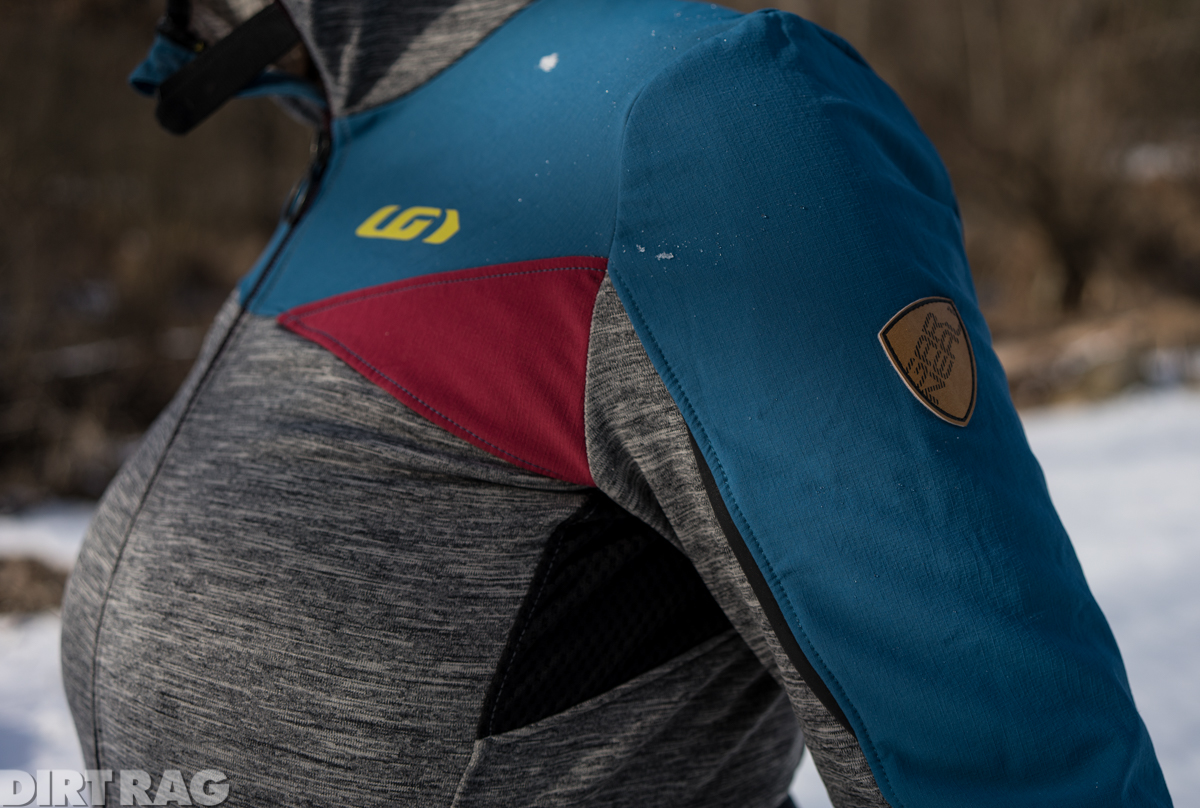 Women rarely get pit vents in our technical clothing, so this hoodie got bonus points from me for having mesh underarms which did not compromise the warmth factor. The hood has an extended visor that fits under a helmet and there are slits on each side to secure the helmet straps through. There are thumb loops on the cuff and two full-size zipper front pockets that an entire open hand fits in. There is also a ponytail opening in the back of the hood that I did not use due to my short hairstyle.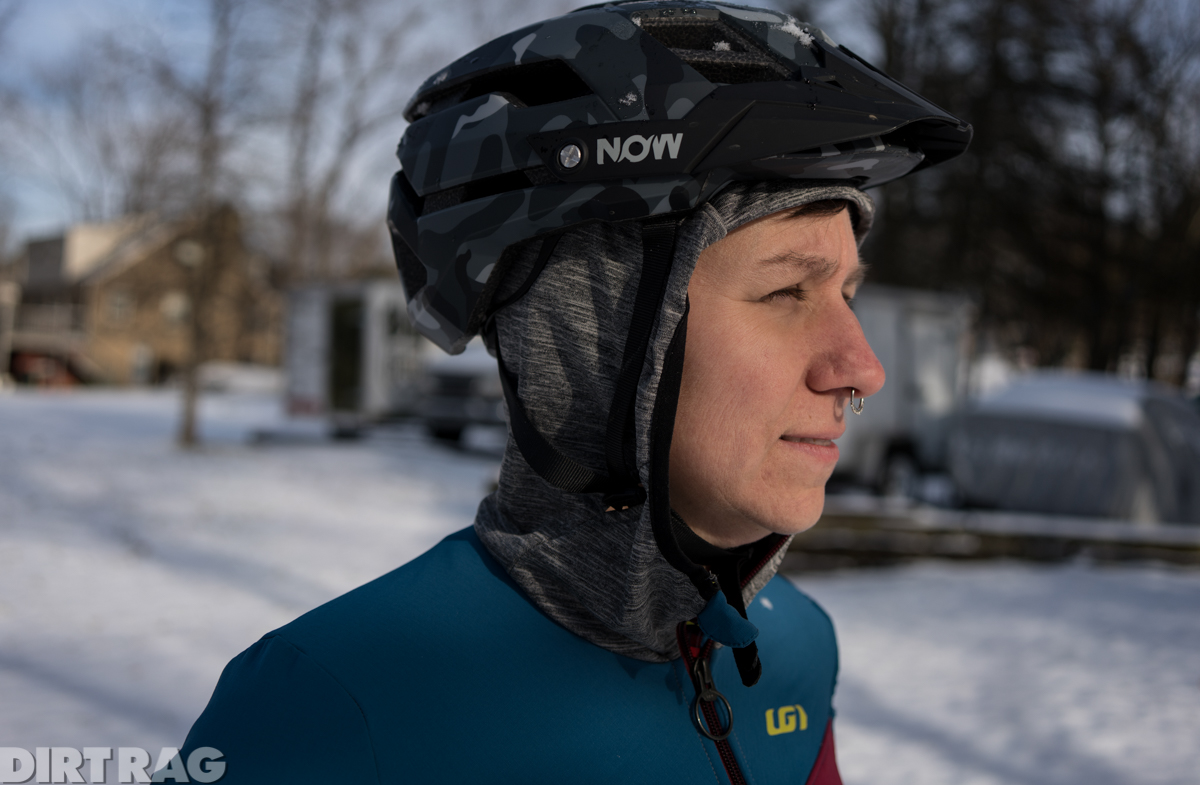 I really liked this hoodie. It fits true to size and has a good amount of complementary qualities to be worth the value of a technical piece of apparel. The Garneau Mid Season Hoodie is available in two colors, and there is a men's version also.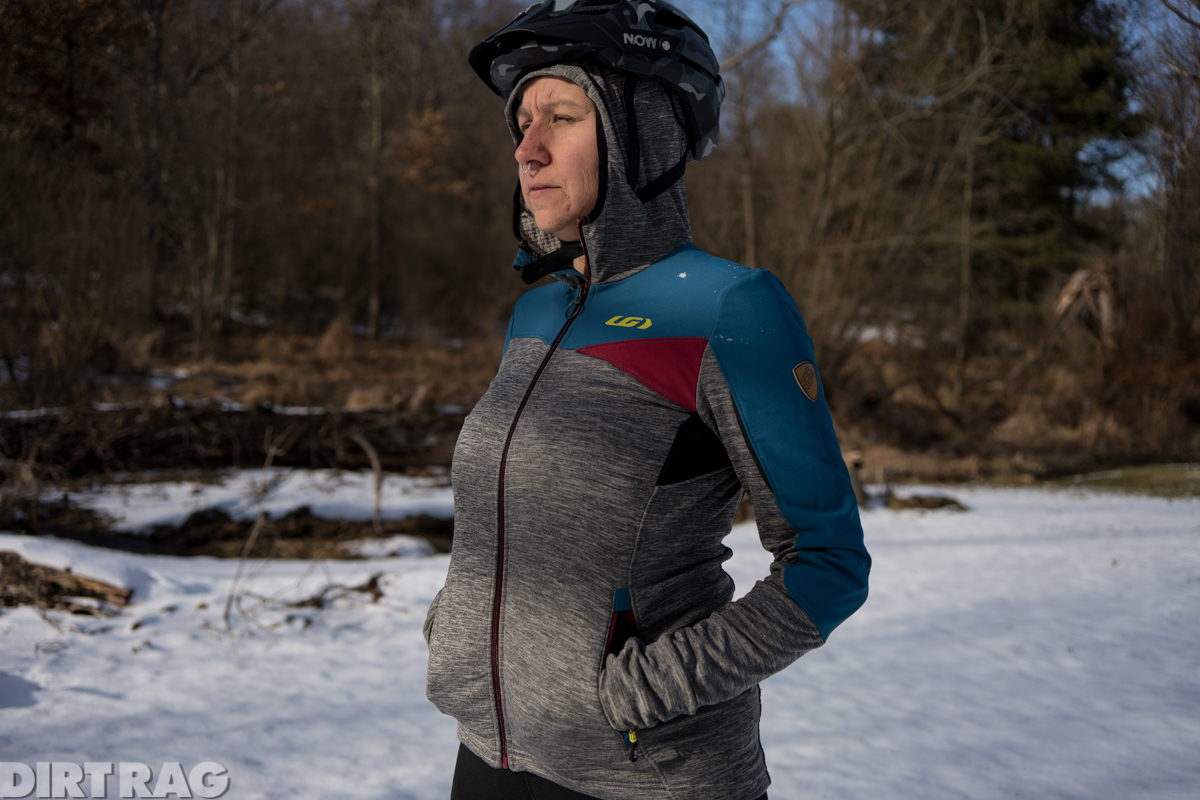 Pearl Izumi Women's Versa Quilted Hoodie
Price: $220
Sizes Available: XS-XL (MD reviewed)
When I saw the Versa Quilted Hoodie for the first time I thought, "This is firey, like my soul!" It is such a great color scheme and style. And at $220 I might have to sell my soul to purchase one. All jokes aside, this is the most expensive of the three but before you judge it based on price or it's amazingly cool look, read on.
The hoodie is a mix of softshell fabric on the sleeves and a quilted core consisting of 100g PrimaGold insulation in the torso area. I found it got almost too warm after more than an hour of activity, but Pearl Izumi designed this jacket for an average one-hour ride. I was surprised that it is rated at 40-55° temperature and I was wearing it mostly for 20-40° rides.
The fabric in the arms and waist has a good amount of stretch. But the chest area into the armpit does not have a lot of stretch to it, and I found it to be a little snug for me in that area. I would recommend going up a size. Reference for the ladies: I am in the 37″ territory, which falls in line with a medium according to the size chart.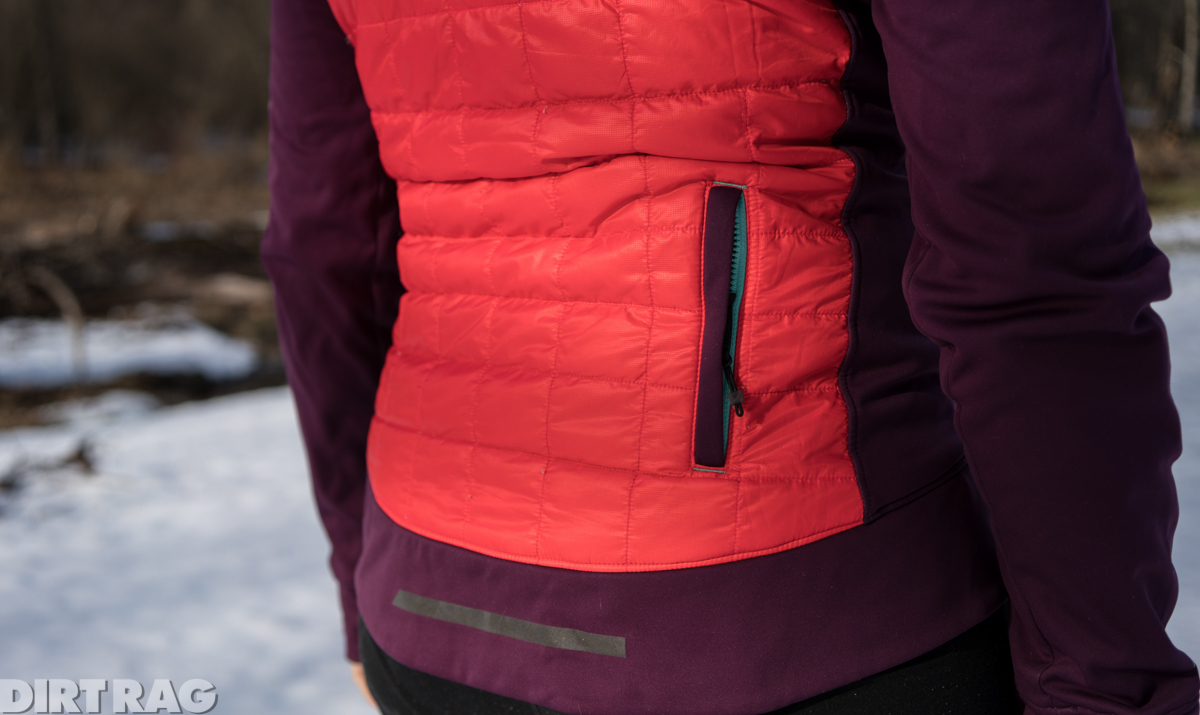 The Versa is water resistant, has drop tail coverage and a side zipper back pocket. There is a front stash pocket big enough for a set of keys. There are thumb loops hidden in the cuffs.
The biggest disappointment I had with this jacket was the small hand pockets. Although this jacket is designed for a one-hour ride, it would have been nice to wear as a casual jacket off the trail. There is just enough room for my mighty fist. Tiny pockets are one of those ongoing problems with a lot of women's clothing designs.
I still love the look of this jacket and how warm it is! But at the price point, I was definitely disappointed by the fit it had on my curvy body type and the tiny pockets. As a side note, one of my co-workers also gave this jacket a try. She also found the hoodie to be almost too warm unless temps were below 20º and to be too snug to really layer with. She and I both found ourselves not wearing it as much as we would have liked.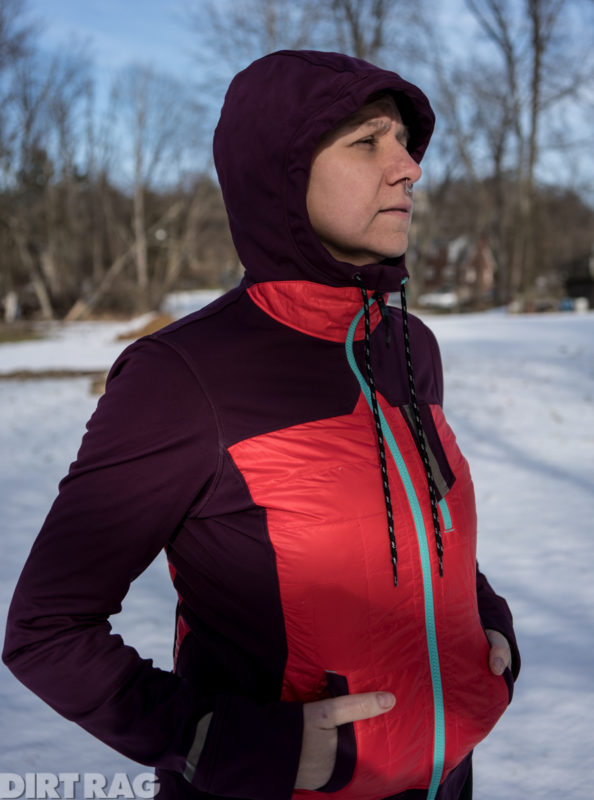 Club Ride Two Timer
Price: $110
Sizes Available: XS-XL (MD reviewed)
Last but certainly not least is the Club Ride Two Timer shacket. The Two Timer is made of breathable, quick-dry fabric. It has a lightweight synthetic thermal filled insulation on the front and back, knit sleeves, and a wind resistance front. It also has UV protection, meaning that it has a tight enough weave in the fabric to not let sun rays in.
The Two Timer has a top-zip, large rear pocket with a media port for headphones and two full-size pockets in the front with zipper closures. There are a few reflective accents and thumb holes on the cuffs. The fit is comfortable, and contrary to a few reviews on the Club Ride website, I found the fit true to size. With that said, there was room for a baselayer and a mid-layer in 20° or below temperatures, like a traditional jacket. The wind resistant front is a nice addition to the jacket and it would have been great to have that on the back as well. The Two Timer is warm, and in 40° weather, just a single underlayer works really well.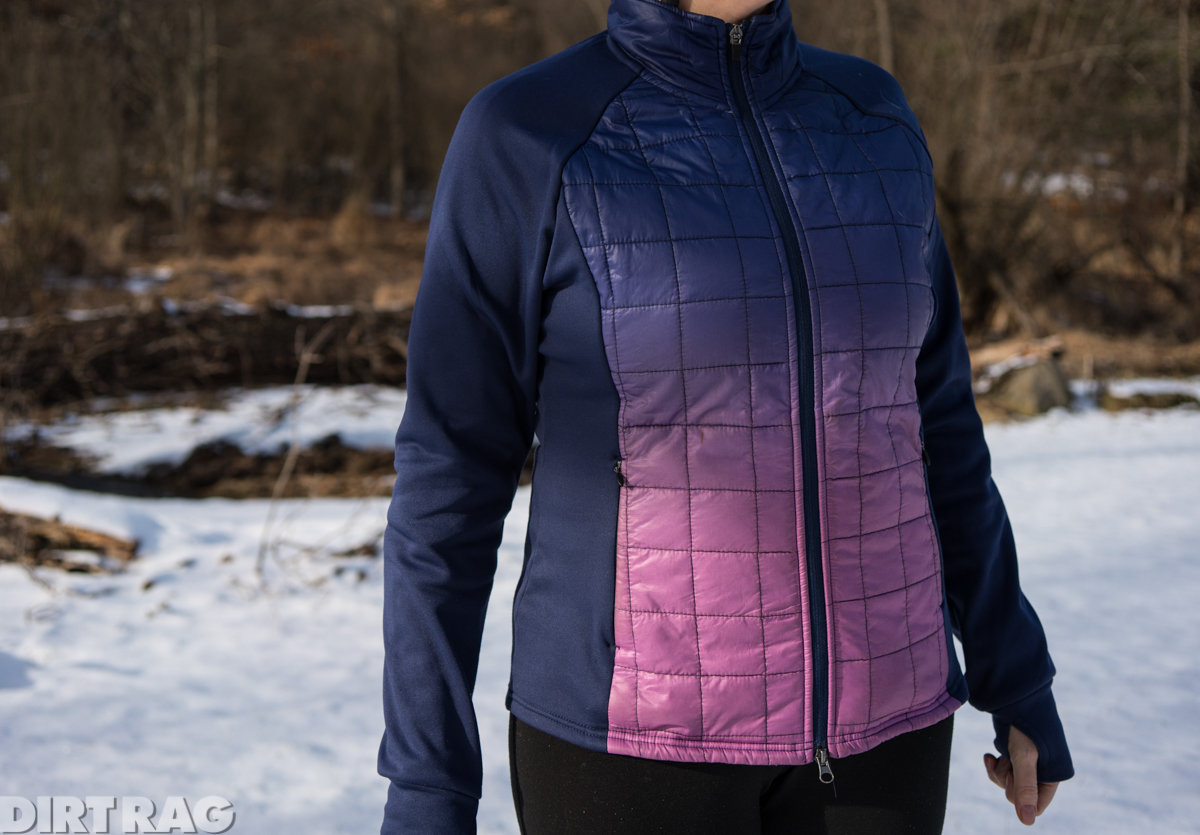 Side note; Two Timer name has nothing to do with deceiving your partner, but to do with the two materials that created this item.
Overall the Two Timer is a really nice outer-layer – it's comfortable, warm, and has a casual enough look to cruise to a bar for an after ride beverage.
Conclusion:
I do not envy clothing companies trying to figure out the great mystery that is the many shapes of the human body and how to accommodate them all. Out of the three of these, I wore the Garneau and the Club Ride jacket the most and they both have similar qualities: comfort, layering capability, warmth, thumb holes and full-size pockets.
The Garneau has a couple qualities the Club Ride does not: moisture wicking and pit vents. It is a sporty looking piece that can be used for any activity that has a lot of movement and requires flexibility in your clothes. If you are looking for a hoodie to run and ride in, the Mid Season Hoodie may be a good fit for you.
The Club Ride also has a couple qualities that the Garneau does not: wind resistant front and UV protection. It has a nice casual look that works great if you want a jacket to wear on and off the trail and not look like you have just been riding.
What do you think about women's technical bike clothes? Have you found that golden chalice outer layer that no other can compare to? Comment in the box below and let's discuss.