Riding the Abandoned Pennsylvania Turnpike
Originally posted on January 23, 2018 at 1:13 am
I have a certain fascination with and interest in exploring abandoned manmade things. There's a surrealness that comes with being in a place that is in between urban and wild, developed and natural. Rusty metal, crumbling concrete, smashed windows. The ruin, decay, and nature taking over, perhaps as it should have been all along.
I love to wander through old, dilapidated buildings and ride decrepit stretches of road, though oftentimes, these places aren't open to the public and perhaps that adds to the fun. But there's something to be said for getting to enjoy them without worrying about consequences.
One such opportunity to do this is on an abandoned stretch of the Pennsylvania Turnpike near Breezewood. Thirteen miles of the road was bypassed in 1968 in favor of a newer route that did not require the use of tunnels, which had been causing a lot of bottlenecked traffic issues on the old road. In 2001, the Southern Alleghenies Conservancy, an organization that seeks to preserve natural, cultural and historic resources in south-central Pennsylvania, bought the property and it is now open for hikers and cyclists to explore.
Plans to convert this section of road into a multi-use trail called The Old PA Pike are underway, but for now, the cracked and crumbling roadway exists in a very raw and untouched way (except by graffiti artists) that is reminiscent of apocalyptic times. In fact, scenes from the post-apocalyptic film "The Road" were filmed there.
The section of former highway includes two tunnels, one of which is almost two miles long – long enough and sloped enough that you can't see the light at the end of the tunnel until you get halfway through.
Above each tunnel, there are rooms that house giant fans that were used to provide ventilation via a channel running above the ceiling of the actual roadway. Holes in the ceiling allowed air flow from the tunnel itself to and from this channel. There are also remnants of other infrastructure in this secret raised cavity, such as a rail line that was presumably used to transport building or repair materials into the depths of the tunnel. It's worth it to take a moment to get off your bike and check out all the little rooms above and beside the road itself; it's pretty interesting, if you're into that sort of thing.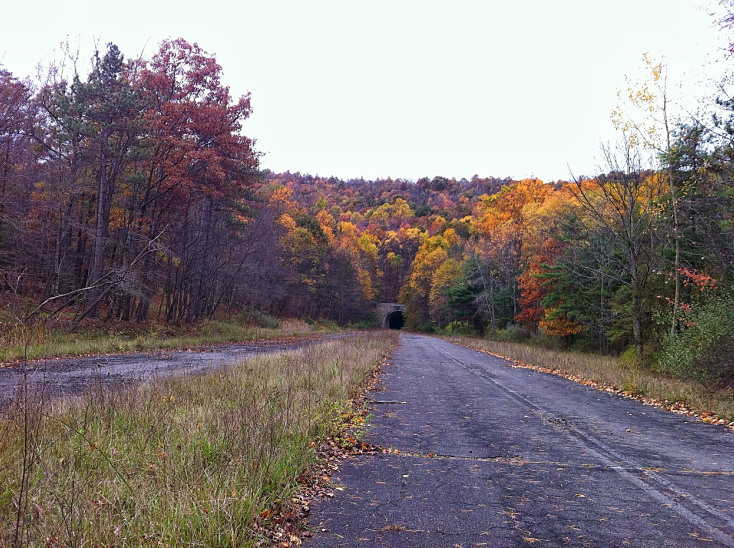 The bikeable section of abandoned road ends at a second parking area and back road that makes for an excellent connector if you want to do a longer ride in the area that includes B-roads and gravel as well as the Pike 2 Bike. Or you can turn around and ride the nine miles back for a total of 18 miles and it's still a fun ride that is relatively flat and easy. It's a great ride for families or people who might not ride a lot, and the extra element of history and exploration add to the fun factor for those who might need a little extra incentive to jump on a bike. Though be warned, some of the graffiti in the tunnels is not exactly family-friendly, so just be aware and be prepared if you're sensitive to that.
The abandoned turnpike also passes through Buchanan State Forest, which offers singletrack and snowmobile trails open to mountain biking that connect directly to the Pike 2 Bike, so opportunities for continued exploration abound even if roads aren't your thing.
If you go:
Parking is available on either end of The Old PA Pike. One parking area is just off Rt. 30 east of Breezewood on Tannery Road (it's just a gravel pull-off). The other is off of Pump Station Road in Waterfall, PA.
The surface of the abandoned turnpike is a bit rough and crumbling in a lot of spots. I wouldn't recommend taking a true road bike with 23c tires on it. Gravel/cross bikes, hybrids and even mountain bikes will offer a more comfortable and enjoyable ride. Basically, anything you'd ride on gravel would be fine.
Be sure to bring a light.
As always, be respectful of the land and other users, and be safe and use common sense.