Behind the Veil of Faranak Partoazar
Originally posted on January 12, 2018 at 1:55 am
By Steve Thomas
Iran, mountain biking and women: There's a combo you don't see every day. Meet Faranak Partoazar, the Iranian national cross-country champion, who is shredding convention and preconceptions.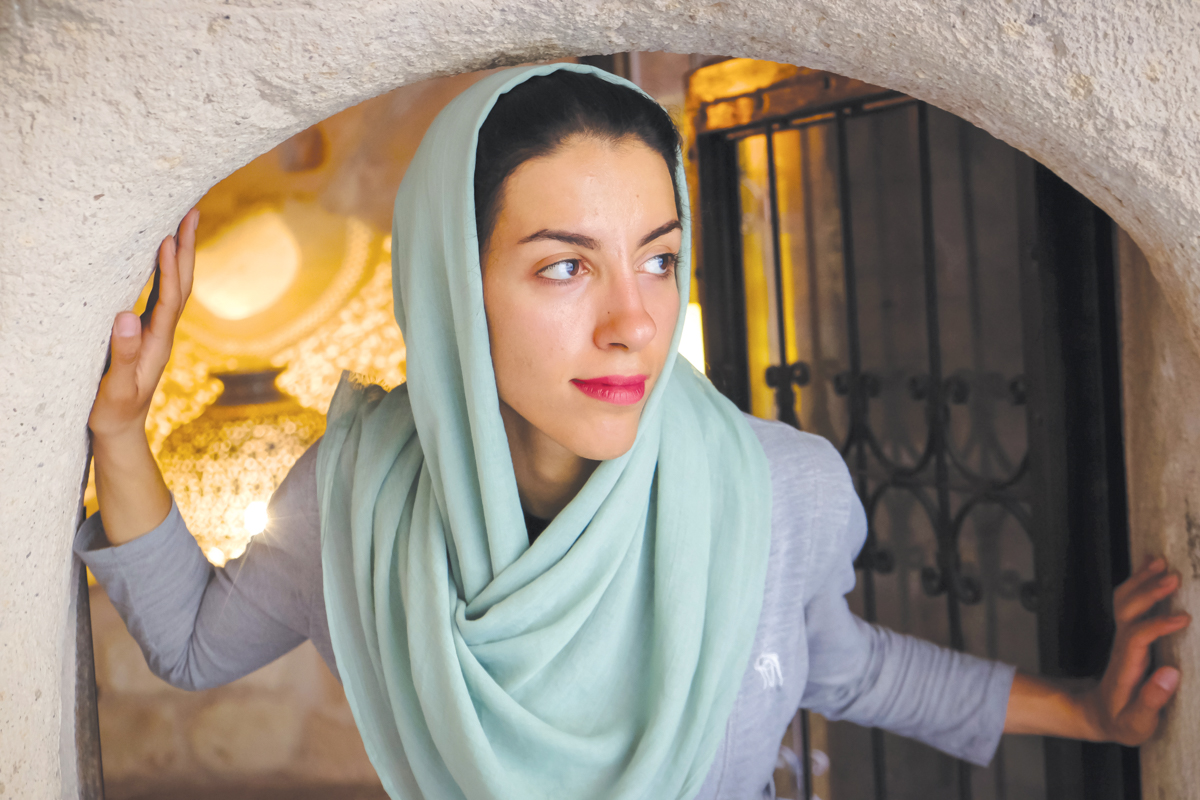 Can we get our prize money, please?" There was little doubt as to who was the leader of this prize-hunting pack: It was the slender, confident, well-spoken and elegant girl standing before me in a tracksuit, the one also wearing a headscarf, who was backed by a more timid gaggle of male riders.
I was editing pictures from a road race I'd just shot at a Turkish ski resort, so I guess it was something of a bizarre cocktail all around. Then came the tipping realization that this girl was Iranian, and that she had obviously earned her prize money in the UCI-ranked cross-country race that had just taken place on the same mountainside.
Over the years, I've worked with many of the leading Iranian road riders—all damn fine bike racers. Men's road racing is very popular in Iran—it's the country's fifth-most-popular sport—which often comes as a surprise because, due to visa issues, its top riders rarely make it outside of Asia to race apart from world and Olympic championships. Through their Asian racing schedules, Iranians rack up enough UCI points to field squads the size of the Australian team—double that of the Colombian team at major events—which shows the depth of quality athletes.
But women and mountain bike racing? That was something totally out of the box for me. I had seen a couple of novelty images of fully covered Iranian girls riding in a velodrome, but it certainly didn't seem to be anything too competitively serious. Yet here was a young female rider who was matching, and then ultimately beating, the European cross-country champion.
Behind the Veil
Iran is very much a veiled and closed society, or at least it seems so to the majority of Westerners—and much of that comes down to politics and media coverage. Few of us really know a lot about the country, which was once a leading world power in many ways. One thing commonly known is that Iran is majority Muslim, and along with that comes certain restrictions, especially for women—even more so for women who actually want to ride and race mountain bikes.
During the course of the Cappadocia Stage Race in Turkey (which took place a few days after our initial encounter), I sat down several times with Faranak Partoazar, the 28-year-old rider in question from Shiraz, a city well-known for its cultural and historic sights, and ironically believed to be the originating region for the Syrah grape. We talked candidly about just how and why she got to where she is, and where she hopes to take her passions for riding.
Even though I'd met and spent time with many male Iranian riders (and also media), this was a new one for me, and not at all what I'd expected.
"I've always been adventurous, and I also love being out in nature. Mountain biking allows me to combine these things. I could not imagine road riding in all of that traffic. I have a friend who also paraglides; I really want to try that too, and to ski and skydive; I just love adventure," she explained.
My own preconceptions were blown straight out of the window as she beguiled with her opening gambit of what got her into the sport. Riding a mountain bike doesn't exactly seem to conform to Western expectations for an Iranian female.
"I don't really know how it is in other countries, but in Iran if you ask most women they will tell you that they like, or even love, cycling. But [in our] society, people are just starting to accept it a bit more now. About five years ago it was really hard to do. In some cities it just was not accepted at all," she said.
Things have changed a lot in Iran over the past decade or so, and increasing Western sanctions and attitudes are definitely escalating the power of political and religious hard-liners, which is to be anticipated. "Still, in some areas it's not allowed [for women] to do cycling, so we only have races in certain places," Partoazar said. "Therefore, we don't get much support."
This attitude and resulting lack of support has caused an overall decline in women's cycling in Iran. "Before, there were more [female] riders, teams and sponsors. We only have a few riders at the national championships now," Partoazar continued. That said, there are fewer male mountain bikers too, although that is slowly improving thanks to growing support. "It is getting better," she explained, "mostly for the men, but there is no clear program from those responsible, so how can we attain Olympic slots without support and investment?"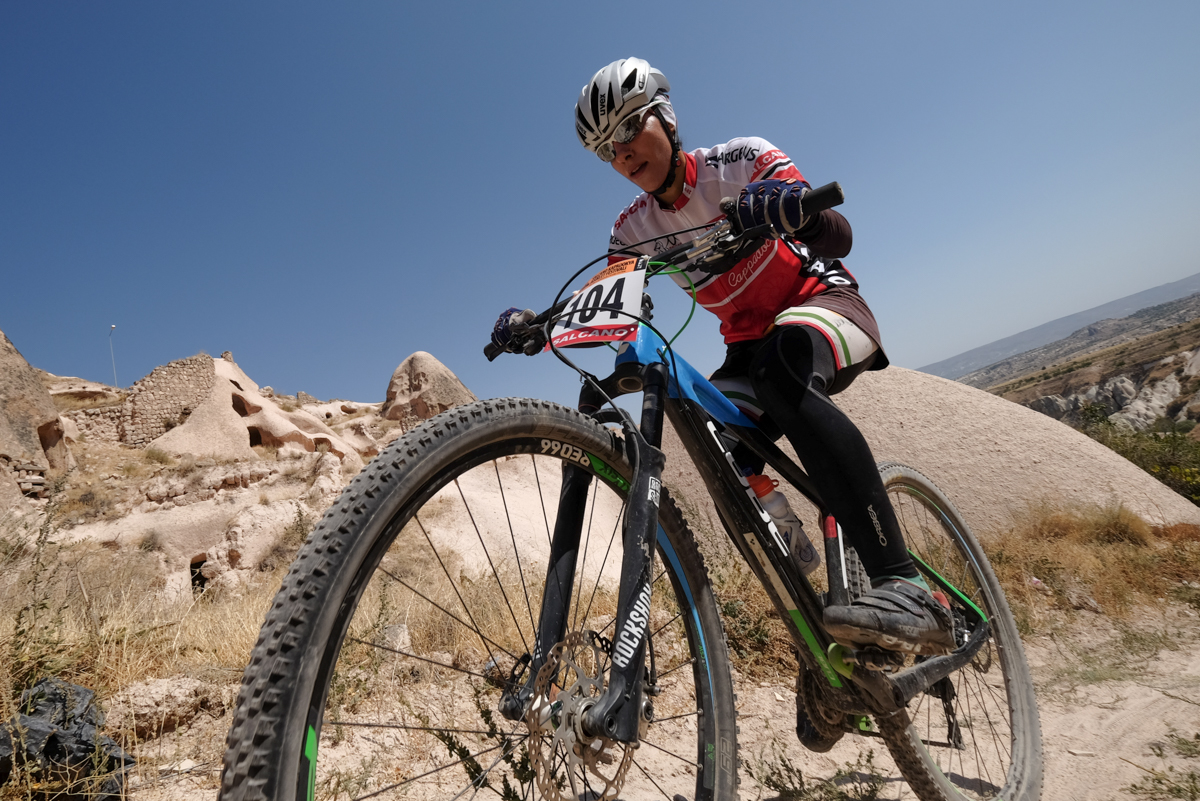 Hot on the Rocks
In the relentless dry heat of midday Cappadocia, it was a simmering 98 degrees, and yet Partoazar was out there racing in full arm and leg warmers and a headscarf. "I have to cover my head, and also I have to wear long sleeves and pants—always," she shared. "I always have to cover. It's the rule in our country, and we have to respect it."
It was hard to imagine how hot it must have been, although it didn't seem to be slowing her down any. "If we are racing outside of Iran and representing the national team, we are also representing Iran, and we must be covered. At home, in the house, then I don't have to cover up," she said.
Going hard into the raging headwind of set protocol (simply by being a woman riding a bike, for one) must be a tough act, and one that could be hard for those around you to underwrite. "About six or seven years ago, when I started, it was not really popular in our city. Women would not ride alone in or around the city [of Shiraz]; they would just ride in a crowd with the men so that it wasn't obvious that there was a woman riding a bike," Partoazar remembered.
Coming from an educated middle-class family who are active with hiking and mountaineering, it still took a strong will to stick it out in those early rides. "At first my family didn't accept or like it, as they thought it could be dangerous for me," she said. "Some people object and can take action. As they saw how I insisted on doing it, they started to accept it more and support me. I also have a twin sister, and she is really supportive of me."
There is also a brain behind Partoazar's defiant brawn, and in keeping with her character, it is also applied in a not-so-stereotypical way: "I study at university; I'm working on my thesis as a master of structural engineering, which is also seen as a manly job in Iran, but this is what I chose."
Having that academic backup plan is a wise move for any aspiring rider, yet Partoazar still has her hopes pinned on becoming the first Iranian female pro mountain biker. "I'm always looking for any opportunity to race outside of Iran and to further my career," she shared.
There were also several Iranian men in the same race, all riding independently and outside of the national team. They seemed to accept Partoazar on level footing. "I came here alone," she stated. "There are other Iranian riders here because it's close by in Turkey and there are UCI points on offer. When I travel with the national team, we are all treated equally."
Travelling can be tough for Iranians, though, and visas are not easy to attain from "non-friendly" countries. "With the national team, they always take care of these things. I always wanted to try this alone for myself, and Turkey was actually the first time I travelled to race on my own, being as it's Turkey and I don't need a visa," Partoazar said.
With official help and careful selection, it can be a lot easier to travel. "We did a training and racing camp in Italy and Slovenia last year [the national coach is Slovenian]; everything was arranged by the federation and sports ministry, so we didn't have to do anything," she continued. But increasing travel restrictions over the past year have scuppered many of Partoazar's dreams for the moment. "For sure, if I wanted to travel alone to race in Europe I would have problems. I also had plans to go to the U.S. to race, but I cancelled that one. I cannot accept to be treated as a threat to humanity," she stated. "My country is not as it's portrayed in the media."
Although it's hard to even notice her headscarf beneath a helmet (no more so than a Buff), she (as well as the male Iranian riders) still stands out and attracts attention. "We were for one month in Italy and Slovenia last year, and it was really cold, so then it was normal that everybody was covered up; it wasn't strange for people to see," she told me. "In the races, I think some people wondered why I was covered up, but it was not an issue."
On the racecourse, some things were a little different. "I feel that I am probably wrong, but I felt that the photographers and journalists didn't care about us at all," she said. "I had top three in some races, and they didn't take photos of me—just first and second. Usually when you are top three you have many photos."
With national team trips, exposure to the outside world is often very limited. "Before the race in Turkey, whenever I travelled out of Iran I was always with my teammates and coaches. In that situation, you really don't get to communicate too much with other people, so I don't know how they really take to me or other Iranians," she said. The Turkish experience was something of an eye opener, and she has recently followed up on it with other racing trips to that country. "Travelling alone was great for me," she said. "I made lots of friends and people were really nice and supportive towards me, but there are a lot of Iranians visiting Turkey, so they are used to that."
This year she and some male Iranian riders made a foray to Nové Mesto in the Czech Republic for the opening round of the UCI World Cup. "It was the first time that we'd been able to represent Iran at a World Cup, all thanks to the support of our coach and sponsor Fastos, an Iranian cycling-goods distributor," Partoazar said. "The atmosphere was like no other race I've done—very energetic. The course was fantastic and demanding. When you experience that highest level [of competition], it can be both motivating and disappointing at the same time."
On the racecourse, the riders received a warm welcome—though, sadly, once off, it was a different story: "No matter what our nation, on the racetrack it was all about how good you were. Outside of the circuit, we were not welcomed at all."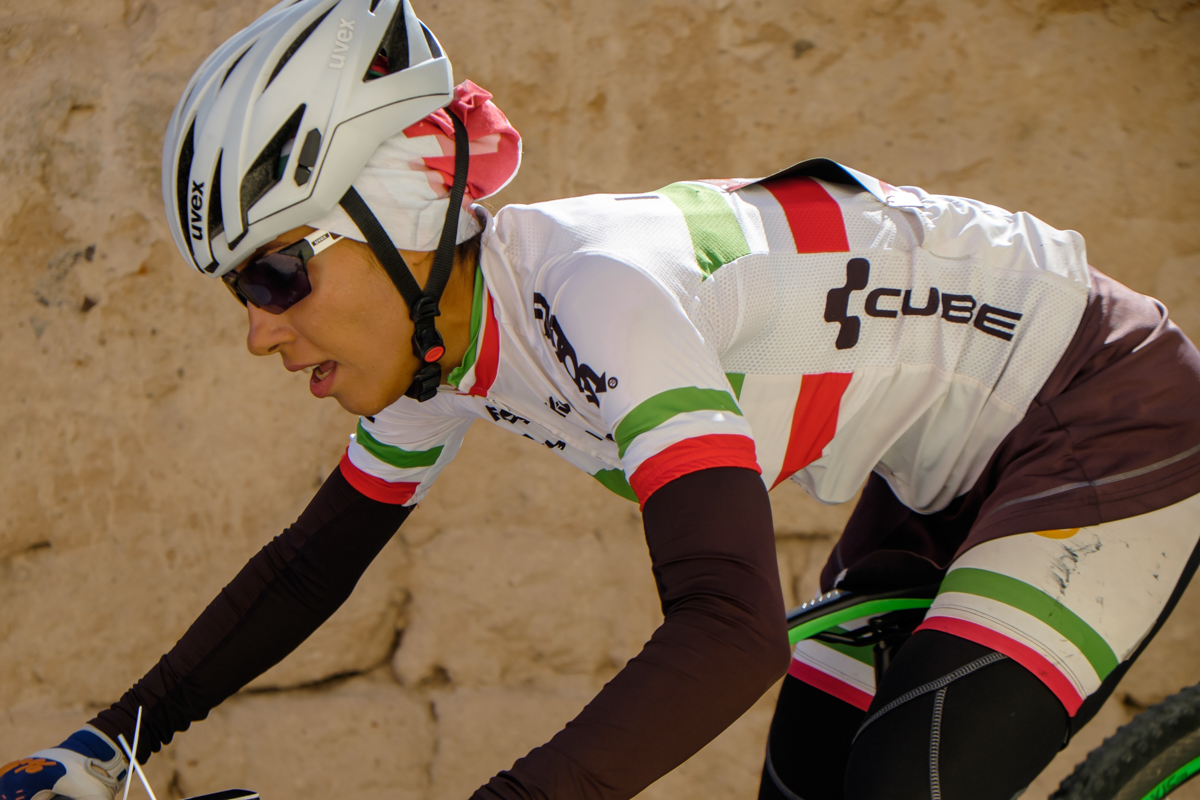 Breaking Barriers
Partoazar's passion and commitment are borderline infectious, and she's determined to use them to break down barriers and to encourage other Iranian women to take to the trails. She motivates not only from a distance, but also in person, and she goes on rides with cycling groups whenever she can. "I have a mission to encourage anyone who thinks that this way of living is limited," she shared. "Nothing else matters to the one who has dreams. I try to share this and inspire through my race performances and by sharing my passion and experience with people I meet and through social media."
There's little doubt that Partoazar makes a huge dent in preconception and that her efforts are going a long way toward encouraging more Iranian women to ride. Long may she and her mission prosper.
Find more at: instagram.com/faranakpartoazar/