Access: Where will the bikepackers go?
Originally posted on December 29, 2017 at 10:09 am
Words by Kurt Refsnider, photos by Kurt Refsnider and Kaitlyn Boyle
I stood chatting with my friend and trail advocate Tom Riggenbach on the sidewalk in front of a plaza in the Navajo community of Cameron, Arizona. This town, built upon a treeless landscape of colorful rock between the Painted Desert and the Grand Canyon, sits adjacent to the essentially undeveloped Little Colorado River Tribal Park. This park includes the East Rim of the Grand Canyon and features natural beauty rivaled by few other places in the West. Riggenbach and I had just been in a meeting with park and community officials to discuss, among other things, the creation of a bikepacking route around the eastern edge of the Grand Canyon through the tribal park. This route would serve as an Arizona Trail mountain bike detour because the trail crosses the Grand Canyon, forcing riders to either hire a shuttle around the national park or strap their bikes to their packs for a 23-mile hike to the opposite rim.
This proposed bikepacking route would also be part of a new Canada–Mexico bikepacking route dubbed "The Wild West Track" being created by a new nonprofit organization called Bikepacking Roots. Beyond serving bikepackers, the route would be one small piece of an effort toward increasing ecotourism in the small town of Cameron, and local officials are supportive of the concept.
As Riggenbach and I shared ideas about his other trail projects on the Navajo Nation, he pointed up the road at a cyclist rolling toward us—knobby tires humming, handlebar and seat bags bulging and a layer of Arizona dust encrusting everything. It was a bikepacker, a sign of sorts that the vision Riggenbach and I shared of a bikepacking route through this region was well founded. We started chatting with the rider, hearing his story of starting at the Mexican border, following the Arizona Trail north and encountering far more snow than anticipated before detouring onto dirt roads. He had been aiming for the 4×4 tracks through Grand Staircase-Escalante National Monument in southern Utah before heading toward Moab, then following the Kokopelli Trail back to his home in Fruita, Colorado. It sounded like it had been quite an adventure already, and he still had hundreds of miles left to go. I shared with him the project we were working on, and the bikepacker's eyes lit up with delight. He was thrilled to hear of route-development initiatives focused on bikepacking.
"I've only been doing it for a couple years, and this is my first big trip. I can't get enough of traveling like this," he shared. "And we really do need more long routes; I'm hooked on big trips already and I'm not even home yet!" This bikepacker's words echoed those I've heard from so many others in the past few years: Create routes and we'll excitedly go ride them.
The Rise of Bikepacking— and its Growing Pains
Much of the cycling industry has recently embraced bikepacking as the next big thing (along with enduro), and "bikepacking" was one of the buzzwords at last year's Outdoor Retailer Summer Market. But the term has been used sporadically for at least four decades, first applied to bike tour'ers who ventured off the beaten path and onto particularly far-flung dirt routes. Since the early 2000s, "bikepacking" has come to refer to lightweight, off-road mountain bike touring—riders embodying the essence of backpacking, but traveling on mountain bikes, whether it's on trails or dirt roads. (Today, some riders are venturing so far as to lump ultralight road touring into the realm of bikepacking, but surface type—pavement versus dirt-focused touring—seems to be the logical distinguisher separating bikepacking from road touring.)
The past five years have seen a dramatic rise in the popularity of bikepacking. The number of mountain bikers heading out for multi-day self-supported rides on routes like the Colorado Trail, Great Divide Mountain Bike Route (GDMBR) and other, lesser-known trails is climbing steadily. The GDMBR is seeing thousands of bikepackers per year, and the Arizona Trail Association is actively catering to mountain bikers and bikepackers as one of the primary user groups on the 800-mile interstate trail. To outfit all these bikepackers, small gear companies have sprung up all across the U.S., and big-name brands are selling bikepacking- specific bikes and equipment. Magazine features and commercial websites devoted to bikepacking are proliferating, and here in Arizona it seems as though it is becoming impossible to spend a weekend riding without crossing paths with a rider on a fully loaded mountain bike.
With such a rapid increase in the popularity of bikepacking, demand for new routes in all parts of the U.S. has gone up. The bikepacking community has a history of developing and sharing multi-day routes on its own, linking together existing trails and dirt roads. Some of these, like the Stagecoach 400 in Southern California, the Coconino 250 in Arizona and the Huracan 300 in Florida, see many riders each year. But most such routes tend to be only a few days in length, trip-planning resources are limited and the riding experiences vary widely and can be rather unpredictable. Conversely, for decades the Adventure Cycling Association (ACA) has been supporting the bike-touring community, developing a road-touring network throughout the United States, creating the popular dirt GDMBR, printing detailed route maps and engaging in advocacy. But ACA's future in the realm of route development is focused on the creation of new paved touring options, with no emphasis placed on catering to the bikepacking community.
Additionally, the growing number of bikepackers embarking on longer trips in areas that are often less frequented by mountain bikers is causing access issues to become more abundant. For example, mountain bike access to the Continental Divide Trail, perhaps the most rugged long-distance hiking route in the country, is dogged by an attitude that bikepackers aren't seeking the same experience as backpackers and thus shouldn't be allowed on some sections of the trail. Access to spectacular backcountry singletrack in Montana that was part of the Idaho Hot Springs Bikepacking Route was lost with the designation of new wilderness in 2015. A new wilderness proposal in Oregon, while potentially protecting hundreds of square miles of remote land with wilderness character, threatens mountain bike access to the only two bike-legal singletrack routes across the Cascade Range in central Oregon as well as access to several popular long-distance mountain bike trails. The John Wayne Pioneer Trail, a gravel rail trail of more than 300 miles in Washington state, is under siege as local politicians are attempting to give some of the land to private interests. The list of access challenges that affect bikepackers goes on, and the public-lands heist, steadily gaining momentum across the U.S., threatens the future of all of these public lands. The International Mountain Bicycling Association (IMBA), an organization whose membership is dominated by front-country trail users, understandably is unable to address backcountry and long-distance trail-access issues in many areas.
Bikepackers, like mountain bikers in general, are also faced with a public-perception problem. Many other trail users tend to see mountain bikers as gravity-hungry shredders who are always in search of the next adrenaline rush. Flip through most any mountain bike magazine and you'll see ad after ad that targets the relatively small subset of mountain bikers who are accurately portrayed by such stereotypes. And although it is impossible to paint any group of individuals with a broad brush, many bikepackers venture out on multi-day trips in search of nothing different than what backpackers may seek: solitude, inspiring wilderness experiences, an escape from crowds, exploration, beautiful landscapes and personal challenge. But this reality eludes the broader recreation community and some land managers, creating a stumbling block to access in some places.
The Emergence of Bikepacking Roots
As mentioned above, the rapid growth of the bikepacking community has created a need for higher-quality bikepacking routes, route development and destinations as well as the necessity for advocacy related to bikepacking. The importance of promoting landscape conservation has never been more dire. Toward these ends, a group of long-time bikepackers and conservation advocates have created Bikepacking Roots. Launched last May, the 501(c)(3) nonprofit is setting forth with the mission of supporting and advancing the bikepacking community by developing new long-distance routes and trip-planning resources, advocating for continued bike access to backcountry trails and promoting conservation of the landscapes through which we ride. Bikepacking Roots aims to augment the work of the ACA and IMBA, organizations that both have done and continue to do great things for the cycling community.
The backbone of Bikepacking Roots' goals for 2017 was route development, giving riders more routes in different parts of the country, whether it's on dirt roads or singletrack, through historic towns or seldom-visited wild lands. Routes will be developed with clear intention, designed around a specific travel experience with extensive trip-planning resources available at no cost. New routes this year include the 1,200-mile Plateau Passage, an adventurous traverse of the rugged, remote and peerless Colorado Plateau from Las Vegas to Moab, Utah, and on to Durango, Colorado.
Singletrack enthusiasts will also be drawn to a 280-mile loop in central Colorado with numerous mountain-town resupplies and options to hike—or, for the really motivated individuals, pedal—some of the only bike-legal and semi-rideable 14,000-foot peaks in the state. New dirt-road routes in Arizona will link the Phoenix airport to the Grand Canyon, and the Wild West Track will span more than 3,000 miles of rugged dirt roads from Canada to Mexico through Idaho, Utah and Arizona. Beyond the West, future route-development efforts are planned in the Northwoods of Minnesota and Wisconsin and through the Appalachians.
By empowering more bikepackers to experience and learn about wild places, Bikepacking Roots also aims to foster a strong ethic of landscape conservation in the community by educating bikepackers about the places through which they ride. Bike travel allows riders to cover more ground than other means of quiet recreation, effectively shrinking the landscape. Because of this, bikepackers rely on large swaths of public land and uninterrupted landscapes for immersive backcountry experiences. As individuals experience a place during extended backcountry travels and connect intellectually to the same place by learning about it, a passion to protect and conserve is developed. It was through such immersive and inquisitive wilderness experiences that American conservationists Aldo Leopold, John Muir and Henry David Thoreau developed the conservation ethics that inspired the environmental movement in the United States. In the current political climate, in which environmental protections are threatened and the privatization of public lands is a potential reality, conservation advocates are critical for ensuring that our access to public wild lands is preserved.
As the world of cycling continues to grow and diversify, relatively new pursuits like bikepacking develop unique communal needs. Bikepacking Roots is focused on such needs, advocating for the bikepacking community, reshaping the public perception of bikepackers and helping more riders venture out on multi-day dirt trips. With considerable support from the cycling industry and individual riders, Bikepacking Roots is presenting several new routes and announcing further details about route- development plans for 2018 and beyond.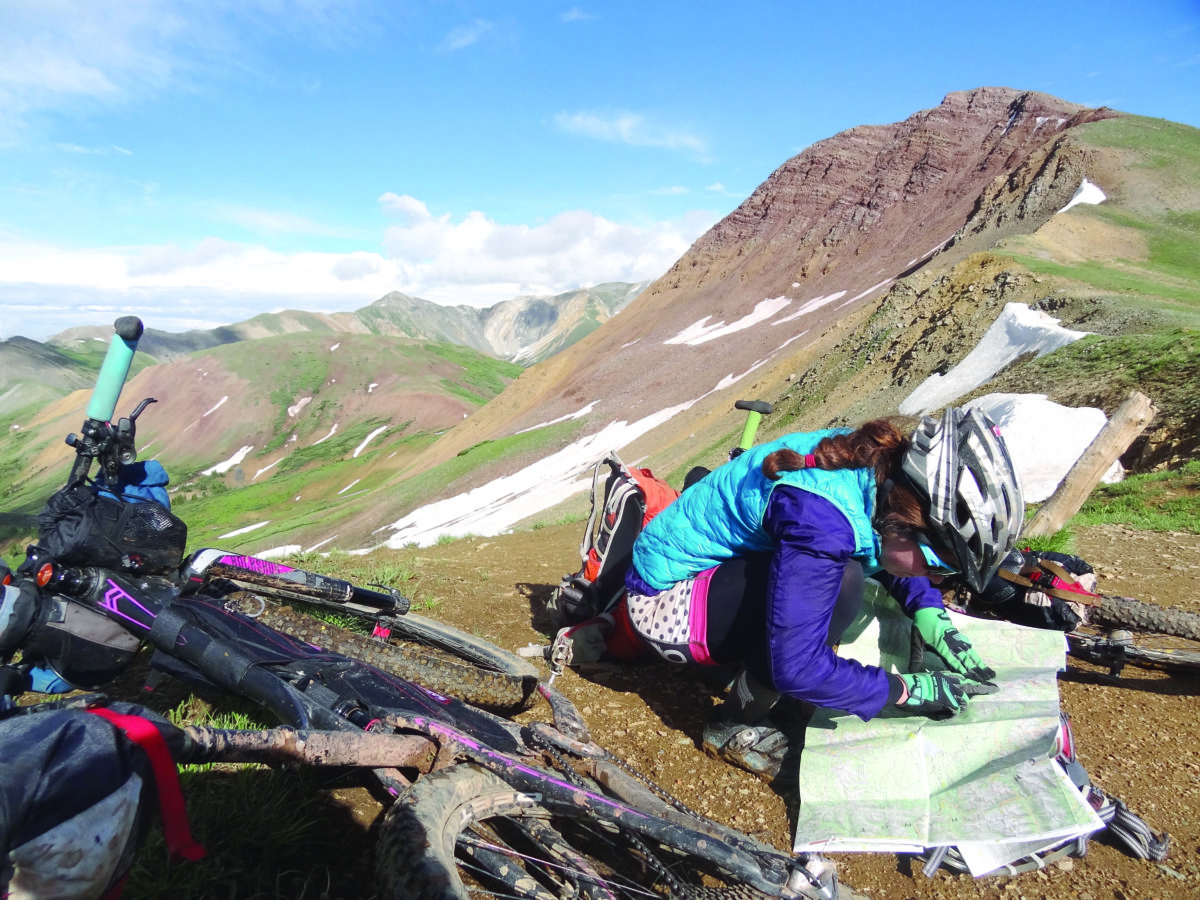 Kurt Refsnider is a professor of geology at Arizona's Prescott College, an endurance mountain bike coach and a longtime bikepacker with a passion for exploring wild places on two knobby tires. He co-developed a class titled "Geology Through Bikepacking" to expose college students to this way of experiencing and connecting to landscapes, and he is the founding executive director of Bikepacking Roots. For more information, go to www.bikepackingroots.org.
---
Editor's Note: In September, when this piece was originally published in Dirt Rag 201, Jim Sayer, Executive Director of the Adventure Cycling Association, wrote us this response:
To the editor:
I was reading the most recent issue of Dirt Rag and enjoying it as usual, when I came across Kurt Refsnider's article on Bikepacking Roots. 
I'm grateful for the emergence of this new group but I was disappointed when Kurt wrote that Adventure Cycling Association places "no emphasis on catering to the bikepacking community." That is flat out wrong. 
Not only did we pioneer one of the most iconic bikepacking routes in the world (the Great Divide Mountain Bike Route), we are devoting huge resources to completely revamping the maps, extending the route north from Banff to Jasper National Park, and developing new digital tools in addition to our renowned paper maps. The updated route and new navigation products will be out next spring, the 20th anniversary of the GDMBR.
There's more. One of Adventure Cycling's most recent new routes is the popular Idaho Hot Springs Mountain Bike Route, a unique combination of gravel road and technical single track. After releasing our latest paved route this year (Chicago to New York City), we started research and mapping work on our next one: the Arkansas High Country Mountain Bike Route, more than 1,000 miles of gravel goodness in Northwest Arkansas, which connects much of the excellent single track that is popping up all over the region.
Our route development schedule signals that Adventure Cycling continues wholeheartedly on our mission to inspire and empower people to travel by bicycle, on pavement and most definitely on dirt. I am not even including the regular coverage of bikepacking and dirt adventure which we feature in Adventure Cyclist magazine and our blog, social media, calendar, tours, instructional courses and more. If people want to experience the joys and benefits of traveling by bicycle — in all its incredible forms — there is no better resource than Adventure Cycling. To see for yourself, find us at www.adventurecycling.org or call us at 800-755-BIKE.
Thanks and best wishes,
Jim Sayer
Executive Director