Salsa Cycles launches Timberjack for kids
Originally posted on December 16, 2017 at 11:56 am
Salsa's Timberjack has been a great quality starter bike for those who are fairly new to mountain biking, or those looking for a plus hardtail as a second or third bike. Salsa has taken its entry-level plus bike to the next level by introducing two versions for kids, one with 20-inch wheels and one with 24.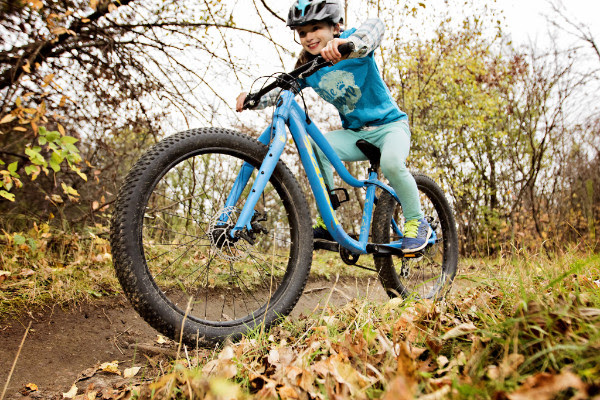 The Timberjack 20 and Timberjack 24 feature 3-inch tires and geometry that accommodates the riding styles and abilities of kids. Steering is quicker and more responsive due to the lower strength and skill level of kids versus adults, and a low standover height helps build confidence and improves safety. A parts kid that keeps smaller bodies in mind includes size-specific pedals, saddle, grips and brake levers, and a 1×8 drivetrain with a grip shifter is easy to get the hang of.
But while kids-specific features abound, these bikes are also packed with cool features that will make them feel just like mom and dad, including plenty of bottle mounts (such as 3-pack mounts on the fork) for hauling gear just like the adults, Boost spacing and full plus-sized tires, internal cable routing and a rugged aluminum frame.
The Timberjack 20 is built for kids 4'1″-4'9″ and the Timberjack 24 is designed for kids 4'7″-5'2″.
The Timberjack 20 will retail for $549 and the 24 will retail for $559. Both will be in shops mid-January.
Check out a geometry chart, specs and more info here.