Peek inside Nick Legan's "Gravel Cycling: The Complete Guide to Gravel Racing and Adventure Bikepacking"
Originally posted on November 22, 2017 at 12:50 pm
Gravel Cycling by Nick Legan is a comprehensive guide to many aspects of the latest up-and-coming niche in cycling – gravel riding and bikepacking. The 300-page book is packed with photos and covers gravel races and events and adventure touring routes, as well as tips for race prep, choosing a bike and outfitting your bike for a long ride or multi-day excursion.
Legan starts with a brief history and background of gravel riding, and what sets it apart from other forms of cycling. He then dives into tips for race prep, from nutrition to washing your bike to navigation.
A large chunk of the book is devoted to detailed descriptions of the biggest and best-known gravel events both in the United States and internationally. Legan includes an intro to the event and what sets it apart, a quick-look list of defining features, a simple map of the course, elevation profile, and advice from the race promoter and pros who have completed the course. He also lists essential gear, such as whether or not you'll want low gears or if plenty of spare tubes are a must. Of course, plenty of high-quality photos whet the appetite for adventure and will have you dreaming of signing up for some of these events. The info on each event is easily-digestible and fun to read, even if you do have no intentions of ever racing gravel or making it to some of the exotic international destination events that are included.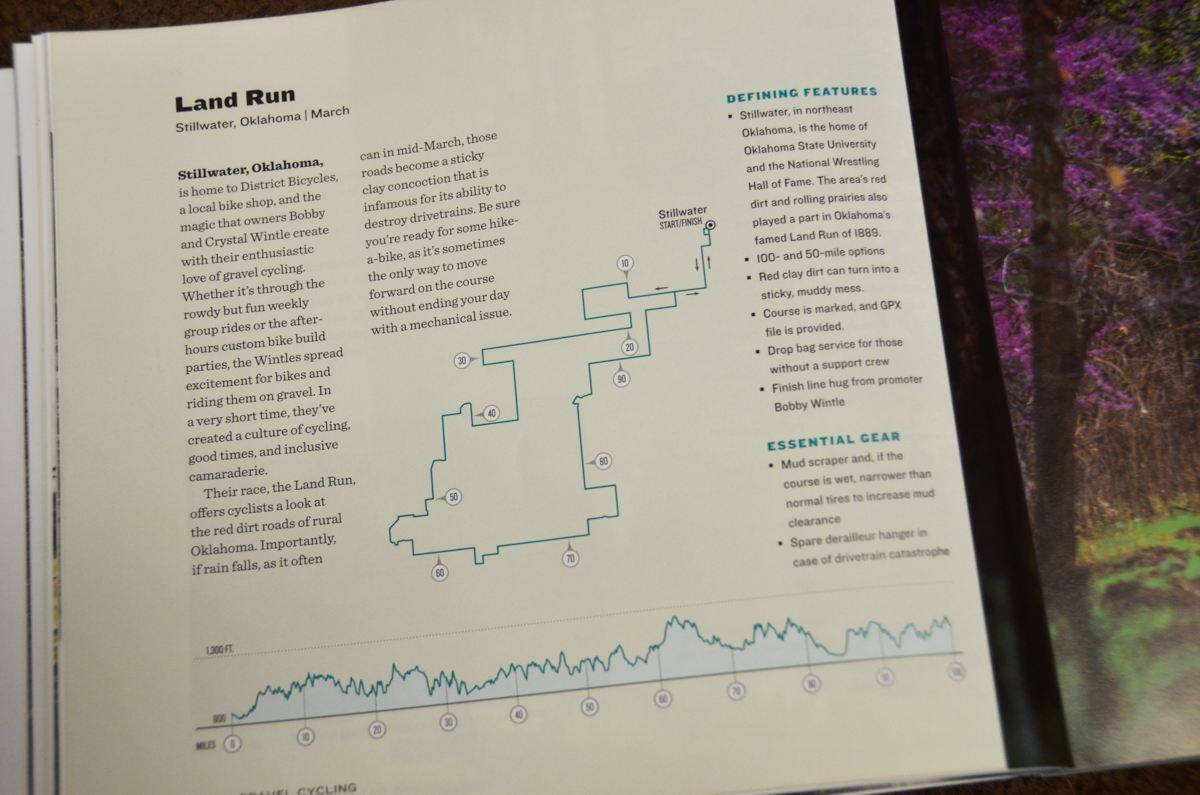 From one-day (or all-in-one-shot) gravel rides and races, Legan then delves into multi-day adventures such as the Great Divide Mountain Bike Route and Tour Divide race, as well as shorter and lesser-known routes like the Denali Highway, Oregon Outback, Katy Trail and Great Alleghany Passage/C&O Towpath. He also touches upon a few singletrack routes like the Colorado Trail and  Arizona Trail.
The last third of Gravel Cycling is devoted to tips for finding a bike that works for you on gravel, outfitting it properly and finding the right gear. Legan goes into a lot of detail about all these aspects of riding, from explaining rim and tire width compatibility, tread patterns and gearing to the differences between different types of bikes that are typically used for gravel riding, from gravel-specific bikes to cyclocross bikes and adapted mountain bikes. He also discusses bikepacking and overnight gear and how to carry it all on your bike, then gives a number of examples of drastically different bike setups for different types of trips.
Overall, Gravel Cycling is a great read for anyone interested in gravel riding and bikepacking. It's definitely geared towards beginners and people looking to get into one of those endeavors, whether it's gravel itself, long-distance racing and riding or bikepacking and overnight trips. Legan's attention to detail has resulted in an informative guide in an aesthetically-pleasing package that is sure to inspire future adventures, whatever your level of riding.
Gravel Cycling retails for $24.95 and is available from VeloPress.