The Tale of Blue Derby: Singletrack in Tasmania
Originally posted on November 22, 2017 at 1:22 am
By Carmen Freeman-Rey
Chances are that in the past, if you had heard of Tasmania, it was for one or maybe all of the following reasons: It's a decent-sized island 150 miles off the big island of Australia; there is a tough little creature that lives only there called the Tasmanian devil, immortalized by the Looney Tunes cartoons; and there are a lot of poisonous snakes and an abundance of wilderness for them to thrive in.
Now there is something new that is putting "Tassie" on the map: mountain bike trails. Not just any mountain bike trails, either — rather the kind that are nirvana to those on the hunt for flow, for a roller coaster ride of dips and peaks and beautifully carved berms that allow you to pump, rail and be filled with exhilaration as you suck up the dirt beneath your tires with scarcely a pedal stroke in between.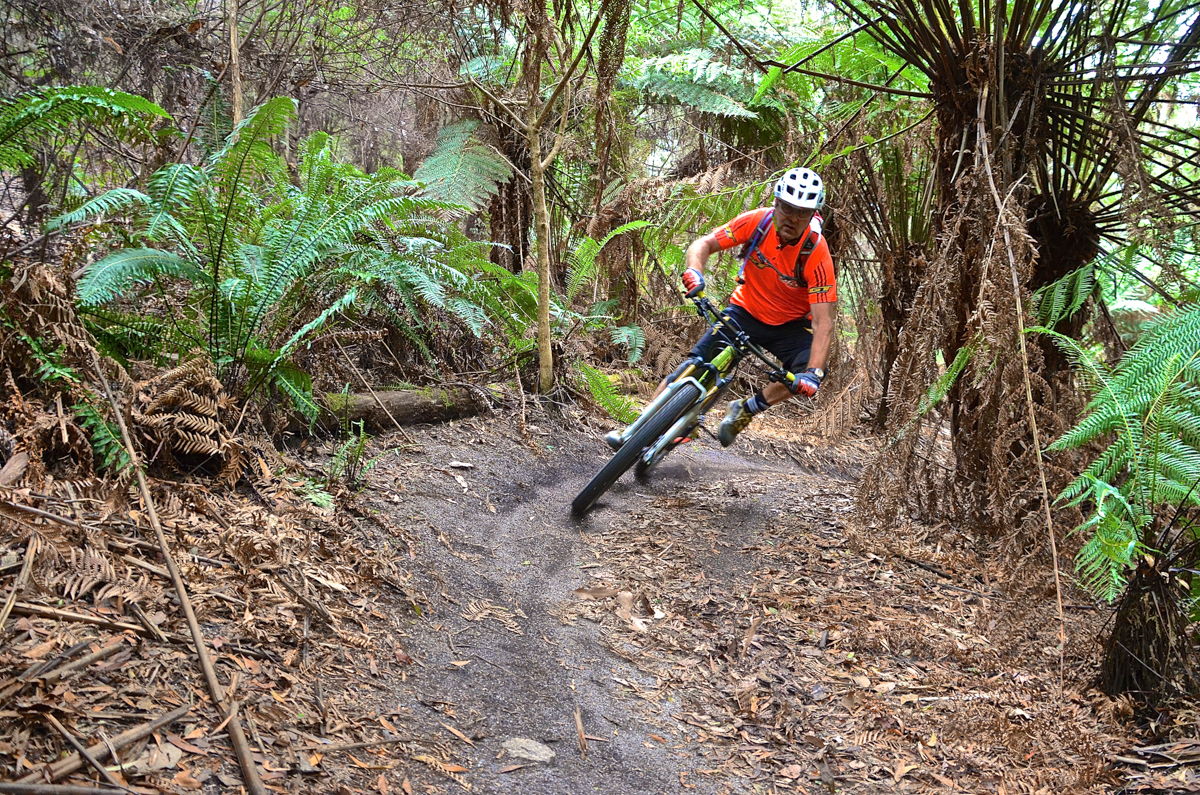 And what about the ups, the painful part that a rider has to endure in order to gain a reward of the rush? Imagine perfectly sculpted switchbacks, not too tight and not too steep, hardly any effort at all. Imagine these turns and uphill trails formed around and between giant eucalyptus and tree ferns, hugging the sides of gigantic granite boulders. Imagine trails that allow little sections of rest in between pedaling. You don't have to imagine any longer, because this kind of riding is here and these very trails are the new thing putting Tasmania on the map. They are the purpose-constructed, Glen Jacobs–designed, World Trail–built Blue Derby bike trails embracing the temperate rainforest around the small former mining town of Derby, County Dorset, population 250.
Early this year I traveled to Tasmania with GT Bicycles athletes Hans Rey and Tyler McCaul and together we experienced this trail candy. At the same time, I observed how an all-mountain rider and adventurer like Rey and a top freerider and Red Bull Rampage veteran like McCaul could enjoy 50 miles of flow that Blue Derby has to offer.
As much as mountain biking is fun, it is also an economy-thriving tool for forgotten communities. Across the world we are seeing that small towns with seemingly no future now have an exciting one. This is something that the Australian town of Derby, Tasmania, is experiencing firsthand thanks to the Blue Derby trail network. Residents now even have a new town slogan: "Derby, a historic past with an exciting future."
A little place on the banks of the Ringarooma River in the county of Dorset, located in the northeast of Tasmania, Derby saw its first settlers arrive in 1874, and with them, a valuable discovery was made: tin. With the Krushka bothers, tin mining commenced, and in 1885 the settlement created by mining brothers was given a new name: Derby. The mine was renamed too — the Briseis Mine — and it became one of Australia's largest producers of tin, producing 120 tons a month. This tiny settlement grew to have a population of 3,000, and with this came the infrastructure to support it, including a school, a hospital, three hotels, churches and grocers, two bakers, a boot maker, a draper and a jeweler. The town thrived and the future looked good. Then, in 1929, disaster struck. On April 4, after a torrential rainfall, the river swelled and the dam so necessary for mining burst. Millions of gallons of water rampaged down onto the town of Derby, decimating all in its path and taking 14 lives.
The mine reopened in 1934, but things were never the same again. It could not survive such destruction and devastation, and so in 1948 the mine shut down for good — and so did Derby's economy. Unemployment reigned; with no jobs, people moved away, businesses closed and the population shrank to mere hundreds. For six decades it seemed that Derby had no future, that it would simply continue to shrink and eventually die out completely. That is, until 2009, when some people had a very bright idea: a network of purpose-built mountain biking trails, trails of a world-class standard that would entice the world to ride them.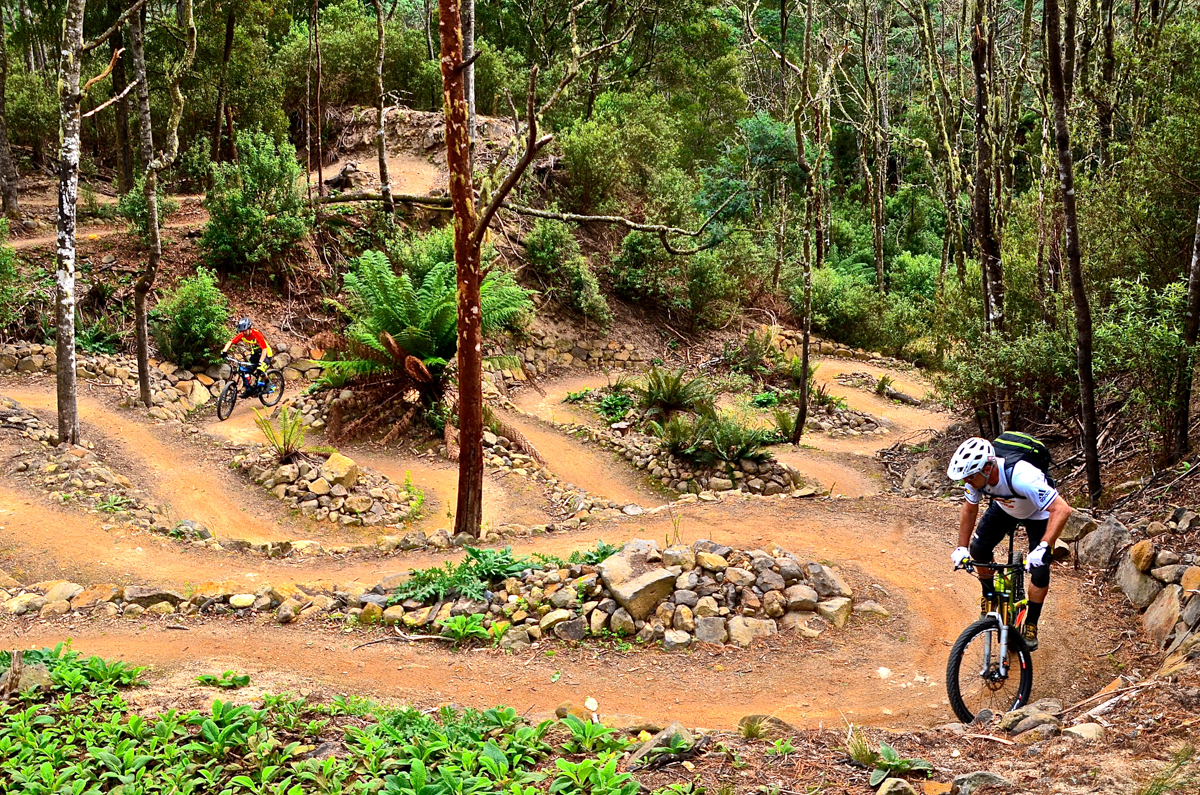 Tim Watson, the general manager of Dorset County Council, explained to me how this all came about. Back in '09, the Tasmanian government published the Tasmanian Mountain Bike Plan; this highlighted North East Tasmania as one of the priority areas for the development of mountain bike trails. Subsequently, in 2011, Northern Tasmanian Development (NTD) commissioned its own report, titled "Mountain Bike Tourism Potential in Northern Tasmania." They then enlisted a trail-building company named Dirt Art to come up with an Eastern Mountain Bike Plan that would involve approximately 50 miles of trails. However, this plan was to have seen trails spread over three separate locations, including Blue Tier, Mount Stronach and Hollybank. That was when, in 2012, the NTD approached Watson to find out whether Dorset County Council would be interested in being a part of this project.
Not being a mountain biker himself at the time, Watson knew that he had to do some research into what the likes of Whistler, British Columbia, Rotorua, New Zealand, and other mountain biking destinations around the world had to offer. What would it entail logistically, was it viable, what would it cost, what do mountain bikers want and need, who would build the trail network and, crucially, could they get funding?
"As a result of this research, we became convinced that the dispersed trail network that was being proposed would not work because it did not involve a trailhead in or close to any town and also lacked a critical mass of trail in any one location. We also knew that it was unrealistic for people to ride 10 miles in one location, jump in their car and drive 40 minutes to get to the next location to then ride another 10 to 12 miles of trail," explained Watson. "It seemed very clear that the trailhead must be located in the town so that no driving would be necessary once there, and there had to be facilities, an infrastructure and enough riding to keep people around for more than one day."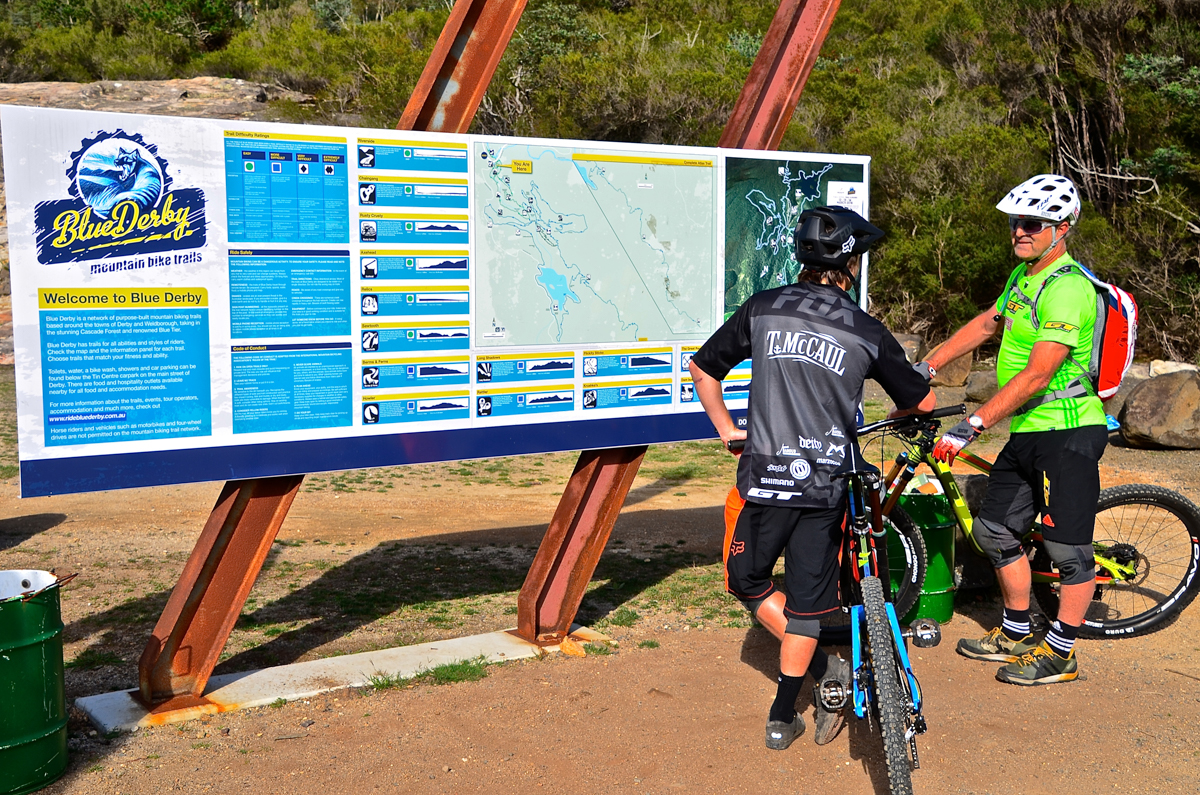 On the advice of a local elite marathon cross-country rider, Ben Mather, Dorset County Council started to take a good look at Derby. Mather felt that because of the soil conditions, elevation and potential for that desired "critical mass of trails," Derby would be the perfect location. There was considerable opposition to this idea, but in the end, as Watson put it, "We laid it on the line: We wanted Derby to replace Mt. Stronach in the three-location network or we were out."
Enter Glen Jacobs and his company, World Trail. According to Rey, "Glen is one of the foremost trail builders not just in Australia, but in the world, in part because of his deep knowledge and understanding of mountain biking and what makes good trails, but also how to build them. He is extremely good at passing this knowledge on to his crews, training and teaching them how to do it right."
With Jacobs' plan on the table, along with the economics of it all, in April 2013 Watson and NTD started the process of chasing funding, with an application in to the federal government's grants program. He then hopped on a plane to Rotorua to find out a little more about what all the fuss about mountain biking was really about. Back then, Watson had ridden a mountain bike only a few times, so he wanted to understand the culture, needs and wants and to have answers to all of the questions he had been asking himself. "After the trip, I was absolutely hooked — couldn't wipe the smile off my face for about a week," he said. He also came away with a lot of those answers, so with the news in June 2013 that they had their funding of AUS $2,450,000, he and Jacobs were ready to begin.
So what did McCaul have to say about Blue Derby? "The trails are awesome! What surprised me the most were how much Blue Derby has to offer and the different terrains in the area. You can ride a trail that takes you through a rainforest full of tree ferns and black dirt, then all of a sudden you link on to another trail in the eucalyptus trees with a different type of dirt and completely different kind of environment," he says. "The climbs were surprisingly enjoyable and wound around so much that sometimes you didn't even feel like you were climbing. It gives you a chance to enjoy your surroundings rather than being so out of breath that you just want to get to the top and have the climb over with.
"World Trail's attention to detail with drainage and making the trails sustainable means that these trails are built to last. Jacobs told me they hike the whole area before breaking ground to make sure that they are putting trails in the best possible path, where it will flow the best, where you can experience a waterfall or ancient gum tree; it definitely shows that they put a lot of thought into what they built. The trails are suited for every level of rider and built to be safe with no blind drops or anything that could get a beginner into trouble, but at the same time, someone who falls into the advanced category can still go fast and have a blast."
McCaul added that this is a different environment from something like Whistler Bike Park, and for this reason at Blue Derby it isn't about hitting the biggest jumps or riding the most-technical downhill. It's about getting out and getting lost in one of the forests that Tasmania has to offer, about meeting people, seeing new sights and riding really well-built trails along the way.
Like Rey, McCaul feels that purpose-built trails that are attainable for all skill levels "make it even more awesome and will get even more people into the sport of mountain biking. That the Tasmanian government put effort and resources into such a project is a great thing and I hope that other countries, states, towns, etc., catch on and do the same thing."
Getting back to the concept of flow and purpose-built trail networks, how they should be created, how such a thing can impact a local economy and what the locals make of it all, there are several vital components. Possibly the three most crucial ones, in Rey's opinion, are "location, planning and execution."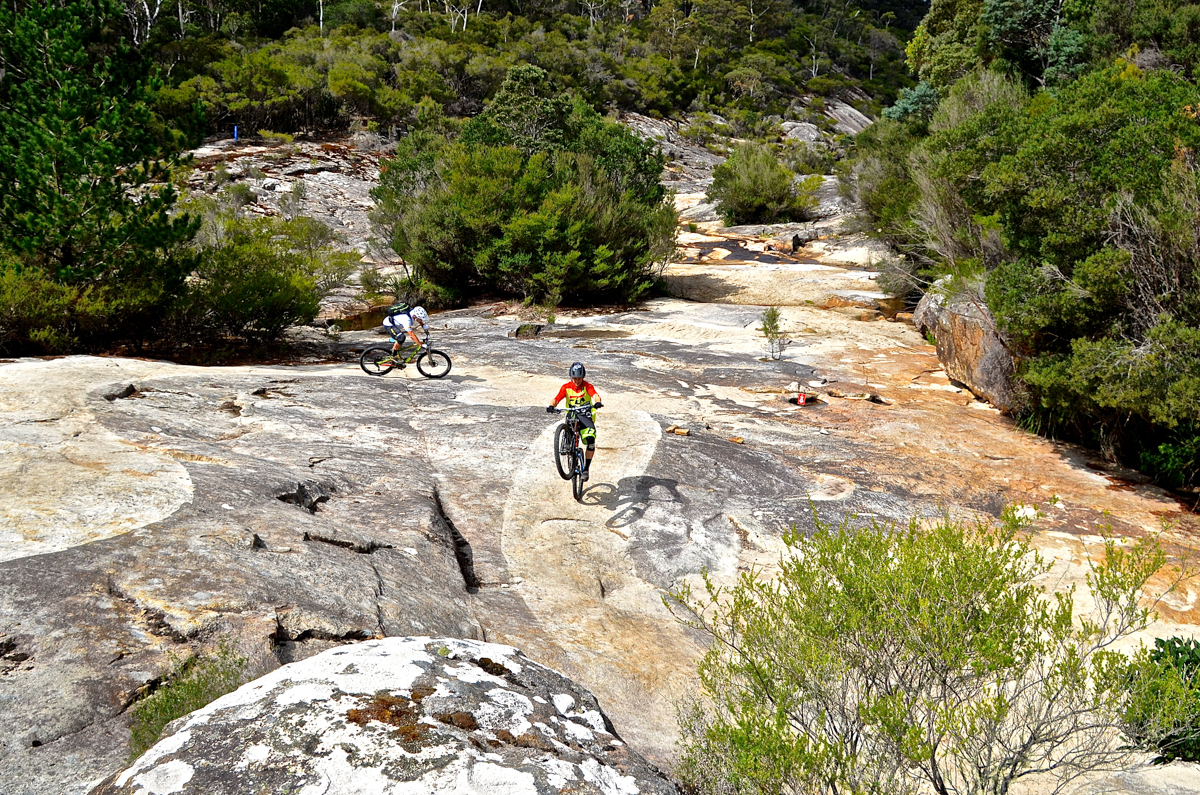 But what about the locals' attitudes toward the creation of the trail network in Derby? In a small town like this where not much has changed in the last few decades, it could really go either way. The locals could either be wary of change and not very welcoming of outsiders coming into their town, or they could be stoked on the tourism and economy boost that it's giving their community — and it seems like the latter is exactly what's happening. Every single local we talked to was happy about the changes that were going on in their community thanks to the Blue Derby trails, and they seem to be embracing the culture as a whole and welcoming anyone and everyone to come check out what they have to offer.
We heard numerous accounts about just how much the community is benefiting commercially from having such a great trail network and how good they think it is that the mountain bikers are coming not just to Derby, but to the surrounding area, too. Situated on the main street in the heart of the town, right beside a free bike-wash station, showers and the Vertigo MTB Shuttle Service, is a café called The Corner Store. Co-proprietor Michelle Rowe explained to us that not so long ago, she would be twiddling her thumbs with barely half a dozen customers a day crossing her threshold. "Now I can barely keep up," she says. "There can be 20 for breakfast, 40 for lunch and more later on for dinner."
You can tell when talking to Rowe that she is a grifter and a savvy businesswoman; she isn't one to overlook an opportunity to make her business more successful. When mountain bikers wanted dinner, not just breakfast and lunch, she opened for dinner. She saw the potential in having a shop right there in the café that sells bike accessories including tires, gloves and pumps along with a bike-rental station.
One of the few businesses that survived the decades of decline in Derby was the post office. A couple of years ago, Shannon Rattray bought the business along with the run-down Postmaster's Lodge in which it was housed. Rattray, like Rowe, saw an opportunity at a time when it wasn't yet certain just how successful the trail-network project would be. She had faith that riders would come along with hikers and trail runners. Rattray embarked on a restoration project to bring back the 100-year-old Postmaster's Lodge to its former Edwardian glory. Stripped wooden floors and stained-glass windows have been lovingly preserved. A deceptively large and charming house, it also boasts a secure bike room with a workbench, tools and bike racks. This investment will turn out to be an extremely good one: Not only is the Postmaster's Lodge constantly booked up, but the house prices in Derby are shooting up — this in a town that, not long ago, no one wanted to buy into. That is the power of marvelous mountain biking trails.
You have heard about the aesthetic beauty of this place, the exquisite symphony of the trails, the euphoria, the craftsmanship and creativity of a master trail-builder. This mastery is achieved through trial and error, experience and immense knowledge of topography, geology, machine and tool handling and dirt. Dirt: That is another word that you will hear often from the lips of mountain bikers. The dirt was good, the dirt was bad, the dirt was dry, the dirt was awesome and the dirt had good traction. But how does Jacobs make his dirt into dirt that everyone wants to ride? He has rules and methods and they are adhered to meticulously. Jacobs insists that his trails have time to cure; a trail is built, berms are sculpted and then they wait. They wait for rain and then for approximately six months for the dirt to settle and compact naturally.
Woe betide any overeager riders who refuse to accept this waiting rule, because the riding community polices these "trails in waiting" and will kick you out in a heartbeat. There are no nasty ruts on a Glen Jacobs trail (unless you are riding a designated black-diamond run for experts only, which Blue Derby also has to offer); this is because he builds with just the right amount of camber to allow a natural runoff for water. If a section is boggy, sandy or unstable in any way, he lays an ingenious system of concrete "rocks" attached to a mesh backing that holds them together securely in place like a mat. Trust me, they don't move, wobble or skitter. We rode them for two days having no idea that they were man made and not part of the natural geoscape until Jacobs told us.
On top of his trail-building ingenuity, he is a trail-marking genius. The trailhead greets you with free parking and clearly illustrated maps, listing quirky names like "Flickity Sticks," "Howler" and "Dam Busters." Alongside these names are descriptions of the trail, the length and the difficulty rating: easy, intermediate, difficult. Then, once you are out there in the wilderness, you may be reassured that at every trail merger and intersection you will be met with a clear marker giving you the options and directions.
Jacobs also has many "Glenisms." One of my favorite terms is "CRC": Climb, Rest, Climb, as he puts it. "As we design a trail system, we insert the CRC system when we need to gain elevation," he explains. "We never allow a trail to continuously grind up a steep hill unless it is [a] specific black-diamond trail or a racecourse. The CRC allows for a rider who has climbed for a few minutes to have a descent on a climb, even if only for 20 to 30 seconds. Sure, we throw away 20 percent of the entire section a rider has climbed, but it allows for regeneration and rest on the way to the top. Depending on the entire climb, we usually throw these rests in every few minutes, allowing for a way more enjoyable ride overall."
Ultimately, these trails are about more than just Derby and tourism growth in Tasmania; they are about what the future of mountain biking can be worldwide. They are an example of tourism growth that so many resorts and towns can aspire to. Even if they are already a popular biking destination, they can be even more successful and appealing. Often people can't imagine anything different or anything better until they experience it. Maybe it's time for a lot more places to take a page out of Derby's book.
Ed. Note: This piece was originally published in Dirt Rag 195.