Review: Ketl women's bib shorts
Originally posted on October 3, 2017 at 1:44 am
Let's face it ladies, sometimes we have to take a nature break on the trail. I would say that more often than not I have to pop a squat during a ride, so it's important to me that this be a simple and efficient process. This used to be a deterrent for bib-wearing, but in recent years, a number of companies have tried to solve this problem. Each one seems to have their own take on how to best allow women to pee in the woods without undressing almost all the way, but I have to say, Ketl's approach is one of the more unique I've seen.
Ketl Mountain Apparel is a fairly new player on the market, launched at the beginning of the year at QBP's Frostbike. The brand focuses on creating functional bike clothing that doesn't look overly like bike clothing, but more reminiscent of general outdoor apparel (aside from the bibs, obviously). It's current offerings include a sleeveless jersey, three quarter sleeve, long sleeve, baggy shorts and bibs for both men and women (see our review of the women's jerseys and baggy shorts here).
The highlight of the women's bibs is the IPF system, which stands for IP Freely (I pee freely, get it?). It consists of a three panel system, one that holds the chamois and the other two to keep things in place. The chamois panel is held in place by a small zipper on the front of the bibs a few inches below the waist. When nature calls, just unzip, drop the chamois and hold it behind you as you pee through the hole that's created in the absence of the chamois. When you're done, stuff it back in place, zip back up and push the other two panels back into place to hold everything in.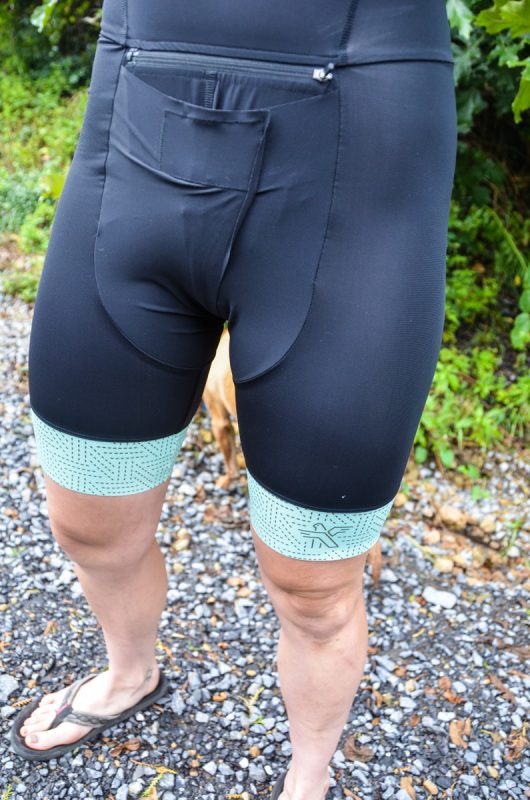 There's a lot going on down there and it seems pretty complicated, but in general, I found that the system worked well. You just have to make sure everything is tucked back into place, or risk exposing some private parts to the world (that didn't happen to me or anything, cough cough). It's definitely not the speediest process but it gets more efficient after the first few tries. The panels mesh together well and I didn't notice that they created any uncomfortable bunching, which is something I originally thought might be an issue.
These bibs also feature a nice wide leg band that provides a comfortable amount of compression without being too constricting and a slightly-but-not-too grippy coating on the inside to keep the legs from riding up. Two large rear pockets are designed to hold snacks and tools, and are even large enough for a water bottle. The pockets are sewn into their own panel on the back of the bibs so they lay on top of the waistband of baggy overshorts while seated on the bike.
I at first didn't understand the reasoning behind having pockets on bibs – as someone who doesn't use jersey pockets all that much (I either go frame bag or hydration pack/fanny pack), I couldn't imagine putting anything in pockets under a shirt (that seems uncomfortable?) and I also found it hard to believe that Ketl designed these bibs to be worn by themselves. But then when I showed the pockets to a fellow lady rider she was totally stoked and said she would definitely put them to use, even with a shirt on top, so it's just a matter of preference. If you choose not to use the pockets, they are only slightly noticeable when empty.
Overall, these bibs are comfortable and don't constrict, pinch or rub in any of the wrong places. I did however find them to be a bit hot in the summer. While the material covering the torso is fairly light and breathable, I would prefer more mesh for summer use. They're great now that it's getting cooler though. The construction seems pretty high-quality, so I imagine they'll withstand a lot of wear, though a few month test period isn't long enough to say for sure.
One last thing: I must give kudos to Ketl for their acknowledgement of different body types. On their website, rather than just showing one skinny-but-athletic-looking person wearing their product, they show multiple different people of all shapes and sizes modeling each outfit. Each model's height, weight and body measurements are listed, as well as the sizes of each piece of clothing that they are wearing, so that customers have a better idea of how each garment fits and can make a more informed decision about sizing.
My final verdict? I'm a fan of simple, and these bibs definitely aren't that. But I suppose the true test of a product is if I'll keep using them after the test is over, and despite my mixed feelings about some of the features, I'll be keeping these in my cycling apparel rotation.
Price: $150