Review: Ketl women's shirts and baggy shorts
Originally posted on October 3, 2017 at 1:36 am
Clothes: it is suggested to wear them when riding bikes. Good to know. All jokes aside (not possible!), I got my hands on a few of items from the relatively new brand Ketl Mountain Apparel. The two collaborators behind the brand came from the outdoor industry and have taken some attributes from outdoor specific apparel and infused them into these mountain bike clothes. The differences between hiking, climbing, and cycling apparel are actually kind of interesting. But that's another post.
One thing I will immediately say "nice job" to Ketl is gender parity, meaning they don't take men's apparel and just shrink it. They look at the needs for every product and integrate those needs into a cut that fits best for that gender. So there are differences between the men's and women's cut and the material quality between the two is the same. Women want quality fabric and not a lighter, cheaper fabric than the men's stuff.
Sleeveless Jersey – $85
¾ Sleeve Jersey – $100
The two tops are fairly similar, except one has sleeves and one doesn't. The fabric on both tops is Polartec Power Dry, which is temperature regulating, moisture wicking and quick drying. They also feel fitted but not too tight. As someone who has BEWBZ and often struggles to find clothes that fit comfortably in that area, I was very happy with the fit of both these tops. Flattering fit but comfortable.
Neither have standard rear jersey pockets, which is ideal for a looser fitting top. You don't want the back of your jersey weighted down and swinging about while you are riding. They both have a henley style 4-button front, a chest pocket with an eyewear loop and an earbud loop in the collar. I wore both these tops riding and running. The fabric qualities are great; the material is soft, it wicks well and had no signs of a popped seam after several washes. I found myself wearing the ¾ sleeve frequently as a day-to-day top to the office. Both of these tops are multi-useful and would work for commuting and the trail.
Overshort – $160
The Ketl Overshort has a double weave Schoeller fabric, which is breathable and has a 4-way stretch to it. As with the tops, the short is fitted but not too tight. There is a gusseted crotch and reinforced rear panel. The waist is adjustable, which is great for sweat-sag. It took me a little bit to figure out where to tuck the excess strap so it would stay put. Weaving it back through the adjuster was the way to go.
I really like the slit-side on the bottom of the short. It's crazy what a half inch slit will do for movability. There is enough room for knee pads as well. The rear facing hip pockets are very cool. I snickered at them at first, but carrying my phone in a rear facing pocket is crazy more comfortable. My only other critique about these shorts is the length and that is straight personal preference – I like a mid-thigh short. With that said, these shorts have made into my "shorts-rotation" along with one other pair I really enjoy. The additional attributes included on the Overshort compared to my "favorite shorts" definitely stand out in Ketl's favor.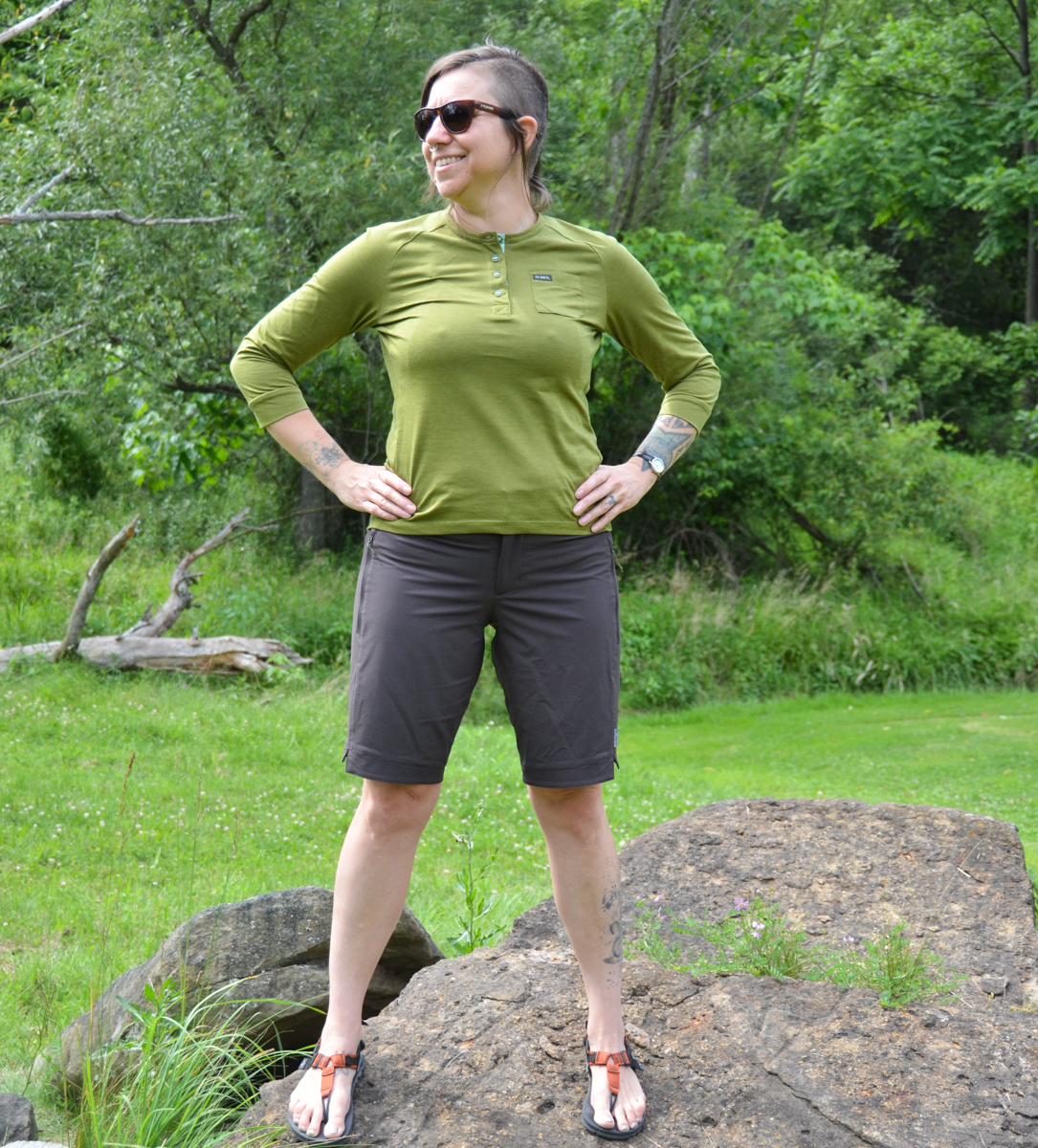 Overall, I'd put Ketl Mountain Apparel up there with some of the known high quality cycling apparel brands but at an affordable price.
See also: Ketl women's bib shorts review