Issue 201: Our third personality issue is here!
Originally posted on September 14, 2017 at 1:25 am
Cycling is full of unique personalities and here at Dirt Rag, we love to embrace them all. Peek inside issue 201 and see what we have in store.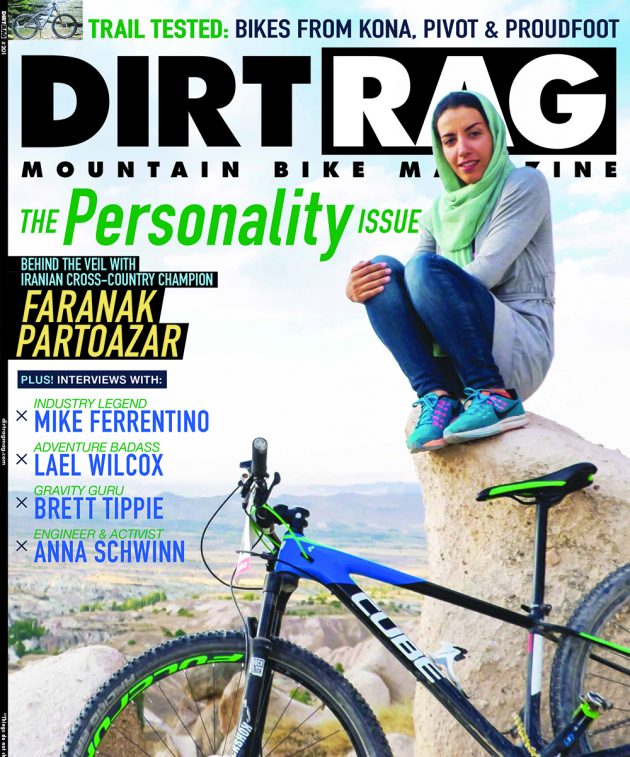 ---
Editor's Letter
Welcome to our third Personality Issue. It's a favorite of mine for reasons beyond just the final product you're holding right now (which I hope you'll thoroughly enjoy).
It obviously begins with deciding whom to feature. This time around we have some very special "personalities" that include Anna Schwinn, a leading advocate for equality and acceptance for everyone in the bike industry (who also happens to be a fifth-generation Schwinn); there's a revealing look at the famous yet reclusive Mike Ferrentino; a special tell-all with Brett Tippie, who discusses his collapse into drugs and addiction and how he defeated it to come back to the freeride scene happier and healthier than ever; and a very special and rare chat with Iranian World Cup racer Faranak Partoazar, who graces the cover of this issue.
The second fun part is deciding if any said subjects require a "celebrity" interviewer to really pull out the best quotes, comments and opinions. In the case of Schwinn and Ferrentino, I think you'll recognize those names immediately.
Finally, as I sat down with the finished issue, opened the cover and read through the pages, beginning with our columnists, then on to our interview subjects, I couldn't help but feel like I was sitting in a virtual (paperbound?) round table discussion with friends and influencers. Soaking in their history, wisdom and wit that only comes from years in, and with a great love of, the sport of mountain biking.
I got to the final page and closed the back cover, ending the conversation and dimming the proverbial lights that signal "last call." It felt like a fitting end to my own discussion of all things dirt with you, the reader, because this is my final issue as Editor-in-Chief on this fantastic journey.
I've made many new friends, been part of a great family and have nothing but pride for what we've accomplished in the past five years. The keys to the magazine are being handed over to a "personality" you may recognize, Mr. Eric McKeegan, who has been our long-time tech editor. He's also, behind only Karl Rosengarth (the first employee here) and Maurice himself, the longest-serving staff member at Dirt Rag, so he knows a thing or two about the magazine.
And with that, it's time to kit up, grab my bike and ride down a swoopy singletrack into the sunset of change. See you out there on the trail.
-Mike Cushionbury
---
Columns and Readings
Watts Dixon reminds us that people can change and that speaking your mind can sometimes pay off, Stevil Kinevil finds inspiration and rediscovers his groove on his old home trails in Colorado, Simon Stewart sheds light upon the BC Bike Race patrol and we go in depth into the impact of Trips for Kids.
Rebecca Rusch chats about personal thrones and in The Rant, Eric McKeegan points out that the days of extreme revolution in mountain bike technology may be over.
In Access, we delve into bikepacking and the need for more routes and advocacy organizations as its popularity grows.
---
Features
For our third personality issue, we take a look at five different people who each bring something distinctive to the table in the cycling community.
Peek behind the veil of Iranian cross-country champion Faranak Partoazar and see the intersection of three things that don't usually merge: Iran, mountain bikes and women.
Read about what makes Mike Ferrentino (aka Mr. Surlywrench) tick and get inspired by the rise, fall and rise again of freeride king Brett Tippie.
Look into the life of the rising star, adventure badass and endurance queen Lael Wilcox and hear from Anna Schwinn, a leading advocate for acceptance and equality in the bike industry, about what we can all do better.
---
Reviews and Stuff
Just like people, bikes can have different personalities and in this issue, we take a look at a variety of them, including the dependable Kona Unit, a redesigned (yet again) Cannondale Trigger, the do-it-all Pivot Les and a steel full suspension bike from Proudfoot.
Also included in this issue are two different hitch racks from Yakima and RockyMounts, Shimano shoes, WTB all-road tires, a Bontrager hip pack and the first foray into brakes from cables and housing manufacturer Yokozuna.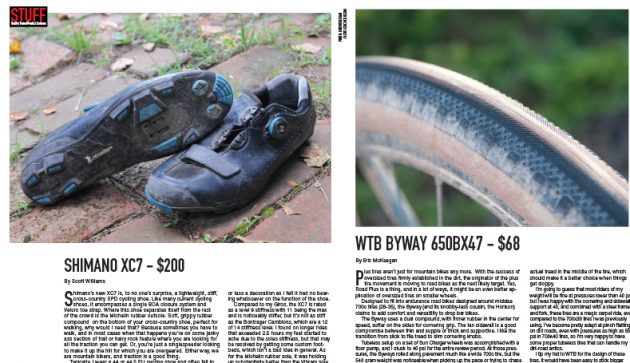 If you don't already, be sure to subscribe so that you never miss an issue, and sign up for our email newsletter to get fresh web content delivered directly to your inbox every Tuesday.