It Sounded Like a Good Idea: (Floyd's of) Leadville Trail 100 Recap
Originally posted on August 15, 2017 at 17:43 pm
Ed. Note: It Sounded Like A Good Idea is a new semi-regular column by Olympic track racer Bobby Lea and endurance mountain bike racer Ian 'Big DiRtY' Mullins who have teamed up with plans to race Cape Epic and the Leadville Trail 100 next year, among others. But, this isn't just another story about some guys going to some race. It's going to go much deeper and possibly become more polarizing to you, the reader, because of its honest look at some difficult subjects. Read on and find out why…
---
Words by Ian Mullins
"Fuck it, Dude. Let's go bowling." This quote, reference and frankly, lifestyle that is embraced by those of us who practice the Lebowski Zen was never more aptly used than in the moments directly following our departure from the Leadville Trail 100 race last weekend. Using lines from the Cohen Brothers best film as basic conversation or reactions is commonplace for those of us on the Floyd's of Leadville Varsity Bicycle Driving Team. After a long day of mechanicals, bio-mechanicals, coming-to-Satan moments and some mild enjoyment, Lebowski-speak was all I could muster.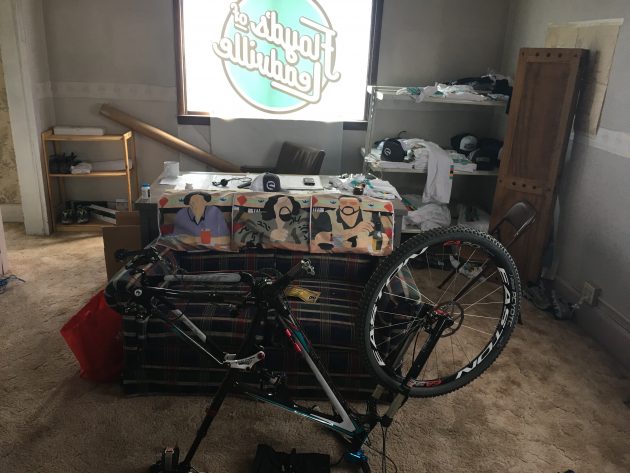 Rewind to the Thursday before the Leadville 100, I was adhering to a pretty strict drug regimen to keep my mind … uh … limber. This included lots of ibuprofen for the altitude headaches, plenty of hemp oil CBD caps (more on the magic of race-legal hemp oil CBD in a post to come) as well as more electrolytes than Brawndo sprays on crops. My four-hour travel day from Washington turned into a 13-hour plane-bus-shuttle van-Uber journey landing me at the Floyd's of Leadville HQ sometime after dark and well into the evening's festivities.
Race day started with us all sleeping in until 4:45 a.m. to be ready for 6 a.m. call-ups. If you've never dealt with a satanically early bike race start, then you obviously aren't a golfer. Dave Zabriskie, Floyd Landis, Ryan Steers, myself and some other people I'm namedropping rolled to the start, did pictures with fellow racers and pretended like we weren't shook as hell that we were about to embark on what has been called the hardest mountain bike race in the country. Gun goes off and the fast rolling pavement downhill start let us all know if we picked a big enough front chainring. It told me I didn't and I felt like a human paraquat.
Breathing through a coffee stirrer at 10,200 feet without actually getting to enjoy my morning coffee was a great way to start out the day. Instead of creating a tornado of worry in my head about the ensuing miles I decided to be a nihilist and care about nothing. With the other members of the Varsity Team in site (except for Ryan who chop-chop took the ringer and made the front selection) we settled in for the 20 or so miles of climbing up St. Kevins and Sugarloaf.
Floyd and Dave crested Sugarloaf and set in for the infamous Powerline descent. I looked down the trail, back on a life of achievement, on challenges met, competitors bested, obstacles overcome. I've accomplished more than most men. Then I asked myself, "what makes a man?" And after answering my question with "a pair of testicles," I puckered up to follow the squad down Powerline. A telltale knock-knock noise started happening in the rear triangle. On investigation, hardware for one of my rear suspension pivots had rattled loose and deposited itself on the trail somewhere. "Fuck it, man. This whole fucking thing…"
A stick served as a replacement bolt as I pulled the DNF parachute and gingerly rode back to town. On returning to HQ, it was relayed to me that The Dude and Walter (Dave and Floyd) also had to call it a day at mile 60 due to bio-mechanical issues/self preservation techniques. Not keeping in the spirit with our whole vibe, Ryan had to be a Lil' Lebowski Urban Achiever and get a PR and a top 20. Impressive but very un-Dude.
My DNF was a function of mechanical failure. Floyd and Dave were more a function of the math done after computing the effort already expended (including an ascent and descent of Columbine), the amount of awesome tasting pizza at the 60 mile feed zone and the fact that they had zero to prove to themselves, or anyone else about their already heroic racing achievements over a lifetime. Added to this math was the fact they were on 28-pound, full suspension 27plus bikes. Strong men also cry … strong men also cry….
That evening we had an after party event at a local brewery. Because after the show it's the after party, and after the party it's the hotel lobby a.k.a. Floyd's of Leadville's living room. We collectively focused our Zen by viewing that new HBO show "Tour de Pharmacy" on a pull down movie screen like the one from your 8th grade social studies class and lamenting why none of us screamed, "careful man there's a beverage here!" in the feed zone today.
A large part of bike racing on any level is managing your own expectations. The races I've trained for like mad and built up as "A" races that didn't give me the result I wanted also caused depression, questions about my limits and abilities and stress for anyone around me. If I want to continue to race these types of events, having a Lebowski mentality is my best coping mechanism. It seems to work for the rest of the Floyd crew as well, although they do admittedly less racing these days. Knowing how to manage your expectations for races, and life, will help you be more positive about the unfortunate occurrences that as competitors we would normally see as failures.
Much like the film, there isn't really a character arc in this story and things remain largely unchanged from their state at the beginning. No one lost a toe or died of heart failure during a street fight with the band Autobahn. Some self knowledge was gained however and limits were tested on the course. This year the race quite literally asked us, "Do you see what happens, Larry?!" and then we all climbed in our clapped-out, pee smelling car and went to the In-n-Out burger. That's how winners deal with losing and still remain winners. I mean, are we gonna split hairs here?