Confessions of an MTB Dirtbag: Singletrack 6 – End of Days
Originally posted on August 9, 2017 at 1:55 am
By Ryan Taylor
Well, that's a wrap! Singletrack 6 ended with a fantastic day in Nelson, BC, one the birthplaces of freeride. Luckily, the rash is completely gone and I woke up ready to attack the day. Of course, we started with a massive climb, and kept on climbing. Pavement, gravel, dirt…yada, yada, yada…climb, climb, climb. Somehow, I felt the best I had all week and was doing better than I expected. Maybe I was adapting, or the fact I could jump in the lake without having to ride into exhaustion the next day was giving me an extra boost. Who knows.
At the end of the first climb, we encountered a section of flow trail that we had to continue climbing up. It was great! A steady grade, in the cover of the BC forest, everyone was in a great mood and it was actually enjoyable!
The descents were super dusty and blown out, but they were fun. You get used to beat up trails at this point of the summer, and learn to roll with what you can't control. Everyone was in good spirits and we rode in a train all the way down.
Of course, entering the final climb of the day we were told "this is the last climb," or "you're at the top," or "only 5 minutes more.." only to be treated with ten more small climbs or forty more minutes of climbing. Or it was just a plain lie from the race volunteers. At one point, this happened so often I wondered if the whole trail network was called "only 10 minutes more climbing" it was said so often…
As I finally made it to the top of the last climb, I was super excited for the flow trail to the bottom. A long descent would be a perfect way to cap off the week. As I got momentum and pumped hard into one of the first berms, I had the split second feeling of losing it all and opened my eyes to see what the fuck happened. I got up and checked my bones and skin and nothing seemed to be wrong. Then I looked down at the race rig and noticed my bar had snapped in half.
It's every cyclist's worst nightmare. Luckily, this happened in a powdery berm, and not going down a gravel downhill at 80 mph, which is what I was just about to do. I rolled down to the finish feeling like fate had its way with me, and crossed the line happy that I was in one piece, but annoyed the descent I had worked so hard for was wasted.
Overall it was a great day, but for me, the highlight was Kaslo the day before.
Singletrack 6: A Race Review
Singletrack 6 is now over. After a couple days of decompressing and reflection, I am still exhausted, but feel that it was a great experience. The organizers created an event that as a whole had a bit of everything. There were days of great singletrack, and days of great climbing, and over the 6 days almost all types of terrain that BC offers was covered. Although I would have liked more days of less climbing and more singletrack, people have other opinions and preferences than myself…I guess…as my ex tells me.
What is most impressive is the flawless organization of Transrockies events. Everything ran on time, the food was good and mechanics were available. Anything you could want was at hand, on time, and there was always help or someone to ask if you had a question. I'd give it an 11/10 in terms or organization for this event – truly amazing considering it happens in different locations every year.
The volunteers were also spectacular. I hit a lot of low points during this event and was not myself at times. But despite that, everyone was extremely positive all the time, and super helpful. Kudos to the people on the trail – one couldn't ask for a better group.
If I could make a suggestion to the race organizers, I would like to see more activities in the evenings that included the riders. Maybe a bingo night? Where if you won, you were given prizes and had time taken off the GC? Or maybe a movie night? Salsa lessons? Karaoke? Who knows. In my experience, the things you remember from these events are not getting your face smashed in every day for 6 days, but the people you meet and the uniqueness of the experience. Of course, to do that, I think the climbing would have to be capped as I simply wanted to go to bed at 7 pm most nights.
Regardless, it was a great time and I would recommend the event to anyone, especially to see cool trails and experience neat little BC towns.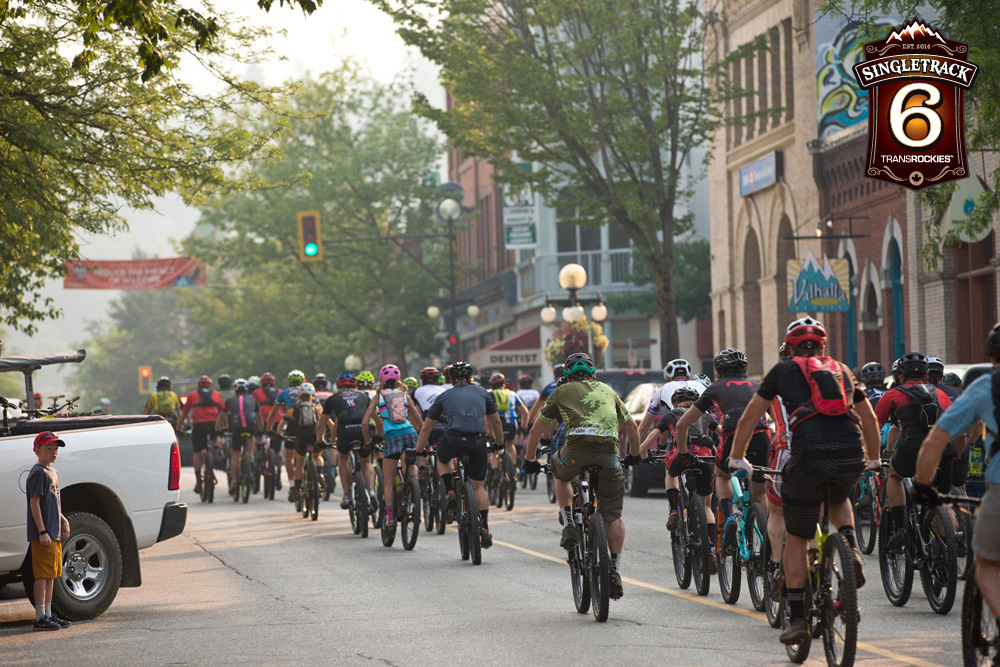 Did I reach an epiphany during the event? Mental clarity? Trail enlightenment? I absolutely had a better time when I stopped chasing a good placing and just went with the flow of the day. I had more fun, met more people, was much more fresh, and happier. Oddly enough, my placings throughout the race only varied by 3 placings each day, with substantially fewer fucks and effort given.
Maybe that's the life motto we should all be living by?
---
Did you miss Ryan's previous Singletrack 6 race recaps? Check them out here.